Welcome to Almost Famous, a weekly segment where we ask up-and-coming queer musicians some hard-hitting questions about music and life and maybe even convince them to show us photos of their pets. Get to know intimate details about your new favorite artist or band before they hit the Big Time and become too famous for us to interview for real.
Header by Rory Midhani

---
Sparrowhawks
Chester, England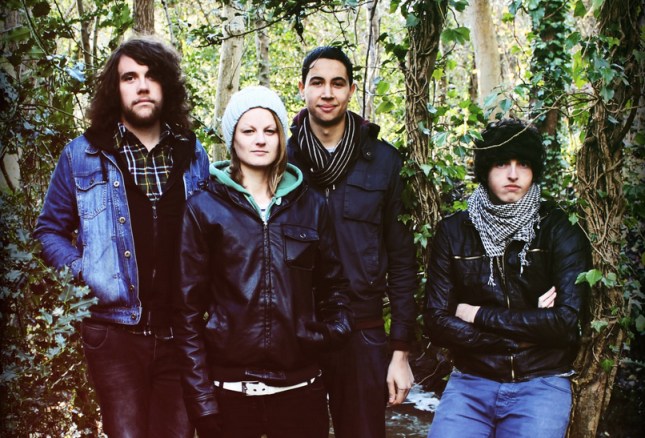 Sparrowhawks is a four-piece alt-folk-pop outfit from the United Kingdom that I've been busting to profile since being blown away by early demos in December. The band is Sophie Ballamy (guitar/vox), Jay Ronan (guitar/vox), Ben Griffiths (bass/vox) and Ash Turner (drums/vox), four incredibly talented and photogenic musicians who met at university in 2008 but only started making music together last year.
Sparrowhawks create intricate pop songs featuring "lush harmonies and flannel shirts", which is a combination of all our favorite things. Just this week they released a stunning 3-track EP that you can download right now for free. Run, don't walk. Sophie and I will wait right here.
How would you describe your sound?
Sophie: Our usual tagline goes something like this: "Alt-folk-pop from the Welsh borders. Harmonies and flannel shirts galore."
We've got a pretty rustic, vocal oriented sound that I could most closely pin to artists like Fleet Foxes, The Pierces, Bon Iver, etc. But yeah, there are a LOT of vocal harmonies, the more the merrier! The flannel shirts don't really impact on our sound, but sometimes we all turn up wearing flannel and look like a band of lumberjacks. Which isn't always a bad thing…
Which song would you most like Autostraddle readers to hear? 
A track called "Living Man's Disease" from our new EP, which everyone can download here for free. I think it's the track that best captures our sound as a band.
What were the first and last records that you bought? 
The first album I ever owned was Watermark by Enya. I was about nine and it was the only cassette tape I had. That's probably why I'm so chilled out. The most recent one was Vows by Kimbra, which is unbelievably good.
What is your 'guilty pleasure' music?
I love the Spice Girls more than is probably normal. But I'm not ashamed of that. Ben owns an ABBA t-shirt with shiny gold lettering on it. That's pretty embarrassing, even though ABBA were great. Ash will listen to ANYTHING. I'm not sure about Jay, but I know he wrote a song about anti-bacterial bathroom wipes – which is way more interesting than it sounds.
What inspires you to write?
Sounds cliché, but I write songs because I enjoy it. I love the whole process of starting from scratch and building a track until you have something complete. When I was little, my Grandma used to tell me she could make up a story about absolutely anything (eventually, I believed her after running out of stupid suggestions), and that is definitely something I think about when approaching song concepts and lyrics.
What was the last song you wrote about?
The most recent song of ours is provisionally called "Pearl". I met up with Ash and we sorted out a structure from some ideas I'd put together, then we finished it off as a band. The lyrics are all about keeping secrets and the problems this can cause. We've all been there. Pearl isn't a real person by the way, I just like the name.
What do you do when you're not making music?
We're all musicians first and foremost. Myself, Ash and Ben have recently completed our Masters degrees in Music (I know, fancy…) so we'd be daft to be doing anything else, really. When we're not with Sparrowhawks, we all play functions gigs, teach a bit and Jay cooks a lot of gammon (which is not a euphemism).
If you could only listen to one album for the rest of your life, what would it be?
A mix-tape style combination of Rumours and Tango In The Night by Fleetwood Mac. I know that's cheating, but I would definitely never get bored of it.
If you could share a line-up with any two other artists, which ones would you choose?
A Fleetwood Mac/Fleet Foxes/Sparrowhawks sandwich would be amazing.
Do any of you have pets? Can we see a photo?
Ben has a space-dog (English Springer Spaniel) called Katie. She has ginger eyebrows.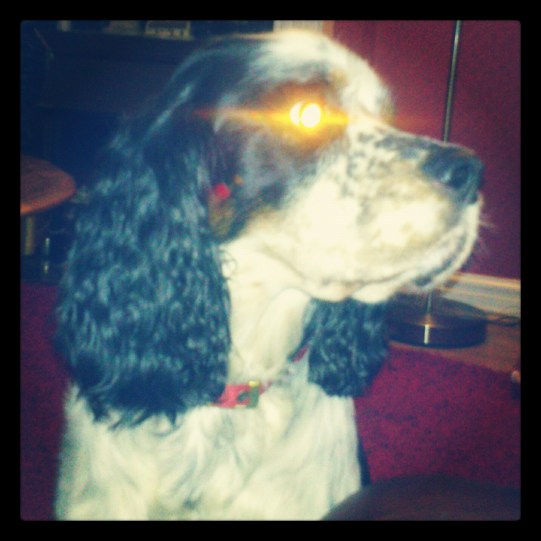 The new EP can be streamed or downloaded via BandCamp. Everything else you'd like to know about Sparrowhawks can be found here:
www.facebook.com/sparrowhawksmusic
www.twitter.com/sparrow_hawks
www.soundcloud.com/sparrowhawks
www.youtube.com/sparrowhawksmusic – features vlogs!
---
If you are, or know of, a queer artist or band that should be featured in Almost Famous, drop me the details via crystal [at] autostraddle [dot] com. Please write 'Almost Famous' in the subject line!