Do your food cravings become infinitely more intense just because they're inaccessible? I'm at the point where I'll fall asleep dreaming about sashimi and wake up swearing when I realize I'm no longer in Vancouver. Even though the hunger pangs are getting worse, I can take the edge off by eating Montreal's overpriced offerings. Sadly, this isn't always the case.
The only food on my mind right now is bobotie. I had a South African family reunion over the holidays and managed to get my first sampling at a padstal on our way to Cape Town. Cape Malay food is known for hearty curries complimented by a punch of fruit. It makes for a polarizing flavour profile that some people adore and others despise. I told myself I'd have the chance to get another bobotie bite before the trip was over, but now I'm about 12,700 kilometers too far.
What is bobotie? The basic dish calls for a curried mince topped with a creamy, broiled custard. If moussaka and quiche had a baby that went through a spicy, rebellious phase, it would be named bobotie. Given that there isn't a large Afrikaans population in Montreal whipping these up to satisfy my cravings, I have to make do with the ingredients on hand.
Do I have chutney? No, but I do have jam, vinegar and a fully functional spice rack.
Do I have ground beef? No, but I do have a vegetarian girlfriend that stocks veggie ground round.
Do I have bananas, raisins or sultanas? No, but why the fuck would I want that?
I should probably apologize to the ex-pats for messing around with their national dish. Keep in mind that this really isn't your grandmother's bobotie, but it is effing delicious.
Ingredients:
2 slices bread
1/2 cup milk
2 Tbsp olive oil
2 large onions, chopped
3 cloves garlic, minced
2 tsp salt
3 cloves
2 Bay leaves
3 Tbsp Madras curry paste
1 package veggie ground round
2 tsp ground coriander
2 tsp ground cumin
1 tsp Garam Masala
1/2 tsp cinnamon
As much fresh ground pepper as your arm will allow
1 Tbsp apple cider vinegar
2 tsp herbs de Provence
4 eggs
1 tsp salt
1 Bay leaf
Directions:
1. Get out your day's frustrations by tearing the bread into tiny chunks. Toss your newly made breadcrumbs with milk and set aside to moisten. (This will not be photo worthy.)
2. Use a wide-mouthed pan or pot to heat your olive oil. Sauté your onions, garlic, cloves and Bay leaves, remembering to add salt to keep it from burning. Once the onions have become translucent, move them to the perimeter of the pot.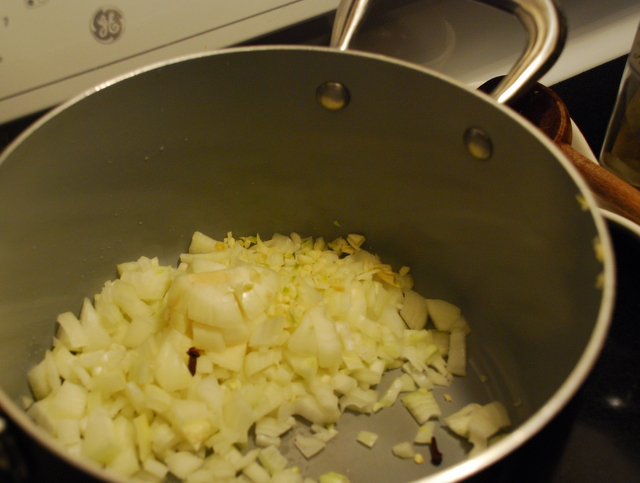 3. Fry your curry paste over medium heat (adding more oil if necessary) until your kitchen becomes fragrant. Add the veggie ground round to the pan along with the remaining spices, jelly, vinegar and bread-milk mixture. Continue frying for five minutes. Fish out the Bay leaves (and cloves) if you can. If not, remember to give your guests a pre-meal warning or a post-dinner apology.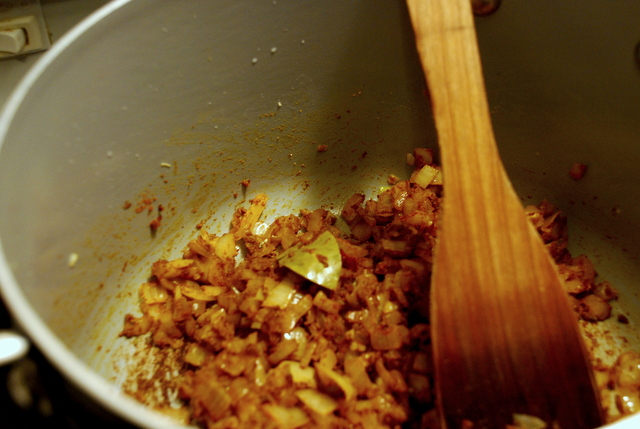 4. Spread your pseudo-meat mixture into the bottom of your largest casserole dish. Compress it as best you can and set aside.
5. Whisk the milk, eggs and salt together. Pour your custard over the meat and pop a Bay leaf on top.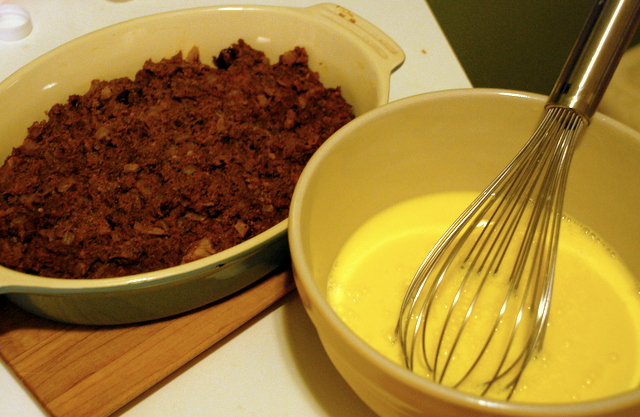 6. Bake your bobotie on a sheet pan in the middle rack of a 375°F oven. It'll be ready once the custard has souffléd, the top has browned and all of the liquid has set. This'll take about about 75 minutes.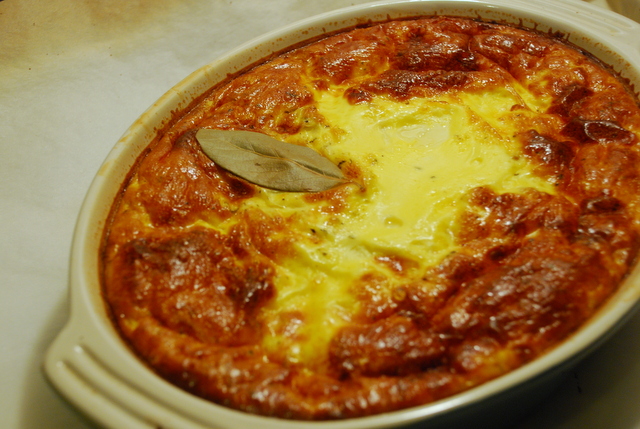 7. The only thing left  to do is serve! If you happen to have steamed gem squash and yellow rice handy, go for it! Otherwise butternut squash and steamed rice will be just fine.
Smaaklike ete! Lekker eet!