I found out this week that Lucy Lawless will be joining the cast of Marvel's Agents of S.H.I.E.L.D. and while I am not so much on that comic tip, I was super excited because Lucy "Piercing Blue Eyes" FLawless is going to be in another thing. Despite being (damn near apologetically) straight, Lawless has been a lesbian icon and beacon of ladylove hope for decades, ever since winning everyone's hearts through her role of Xena: Warrior Princess.
I know I am far from the only one who was obsessed with Xena, but I was real obsessed from day one. Five year old me just wanted to run around with a chakram and just BE her, or at least that amazing battle yell. At Blazer Laser Tag (don't judge), I always always made my handle Xena (except when I was feeling surly, in which case it was her dangerously attractive arch nemesis, Callisto).
When I was in second grade I was even Xena for Halloween. They did not have Xena costumes in stores for little ones yet so my mom made me this awesome outfit (of a more PG variety, as I was 8).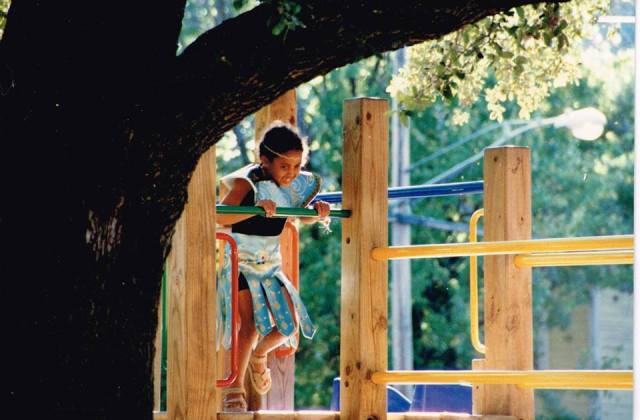 In honor of Lawless being in another thing and with great hope that she will be in all the things of the future, here are the Top Ten Gayest and Greatest Things Lucy Lawless Has Participated In
1. Coffee Talk
https://www.youtube.com/watch?v=3bLO2vq5jPE
I told myself that I would not include anything having to do with Renee O'Connor (Gabrielle) on this list because Too Easy, right? But I could not resist. Yes, the Xena & Gabrielle romance was what sparked it all but I wanted to get beyond that, until I found Coffee Talk. This is a little series where they chat at each other in the most adorable way possible: in totally normal clothes on a bed, on a couch outside, on a couch inside. Just chatting it up, about the show, about the mundane things in their lives. This is actually even gayer than their original gay because it is grown up gay; it is Established Lesbian Couple gay. No more hot-tubbing and making out because one of them is near-death on the battlefield gay, but like the boring spells of Bette and Tina gay.
Speaking of Bettina: The L Word. We've all watched it. The first time I ever lived alone, I watched the entirety of all 7 crazypants seasons in about a week. When it got to that very last episode and I was like, whatthefuckever are they doing!? and was about to throw my poor, faithful Toshiba across the room, in strolled Lawless to save the day. I realized then and there that I didn't even care what happened, because Xena was there in a No Nonsense Pantsuit and she was going to fix absolutely everything.
3. Playing Lysia, the Amazon, on Hercules
https://www.youtube.com/watch?v=TH9U-IeNjTc
Before she was Xena: Warrior Princess, she appeared as Lysia, a man hating Amazon who gave Hercules what for. Everyone knows that Amazons are the original lesbians. Big underlined rule in the City of Amazons is No Boys Allowed.
4. Getting all the way down with some ladies in Spartacus: Gods of the Arena
https://www.youtube.com/watch?v=NJQd10OC2A4
This video is a very PC version of what she gets up to in the show. While Lawless may be straight in 21st century Real Life, she has no problem playing the Sapphic role quite believably. She says of her ladylove in Spartacus, "I thank God that it was Jamie Murray that I have to do a sex scene with because she's incredibly beautiful and a tremendous and skilled actress." Ok, ok, all acting. You sure had us fooled.
5. Hanging out at Sydney Gay and Lesbian Mardi Gras/Pride
Not only has Lawless always embraced her lesbian fan base, she is also active in supporting and participating in pride benefits. In a 2008 interview with SheWired she showed some appreciation:
Well, I get lots of support from that community. And I try to return in kind. I'm very grateful to everything they did for the show, for me, for charities, for one another. I feel pro-human being. So gay rights are equal rights. I don't know what the fuss is about frankly.- lucylawless.net
6. Hosted "Warrior Women" for the Discovery Channel
This is yet another example of her propensity to love on important ladies. This series explores women who made a difference in history; many of them were undoubtedly queer themselves. Watching the series, you will delight in seeing Lawless tromp around amazing places all over the world in sensible shoes and get to watch her hair blow magically in the wind while staying ever perfect.
7. Getting arrested for her environmental activism
As you can tell from the twitter, she is completely gay for our Mother Earth. She will even go so far to protect her love as to get arrested for her beliefs. Both the greatest and the gayest.
8. Provided the voice for Wonder Woman
Is this movie for kids?!
Again with the Amazons! Wonder Woman is a wonderfully gay comic book character. She hails from Themyscria, also known as the all-female Amazon home of Paradise Island. She is also a warrior princess and the Xena of comic book characters. In the 2008 cartoon movie Justice League: The New Frontier, Lawless lends her voice to Wonder Woman and is, once again, our hero.
9. Performed in the Vagina Monologues
The out and proud thespian acted in a production of The Vagina Monologues to rave reviews.
10. She got a Planet and then a Moon named after her
Lawless inspired a scientist to name a planet after Xena. Of course, the Xena planet was such a Badass Amazon Planet that it gave astronomers a huge existential crisis about the status of Pluto as a planet and got that poor guy straight up kicked out of the exclusive planet club. Although the Xena planet's name was eventually changed to Eris, its moon was named Dysnomia. In mythology, this is the demon goddess of lawlessness (get it!?).
11. Last but not least, Lawless had this amazing daughter with an enviable Alternative Lifestyle Hair Cut!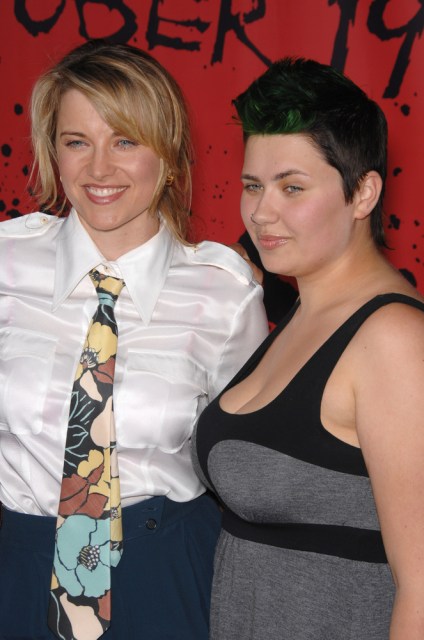 Word on the street (the internet street) is that her daughter is not gay but Lawless would be happy if she was. Of course she would!
Look how great they are!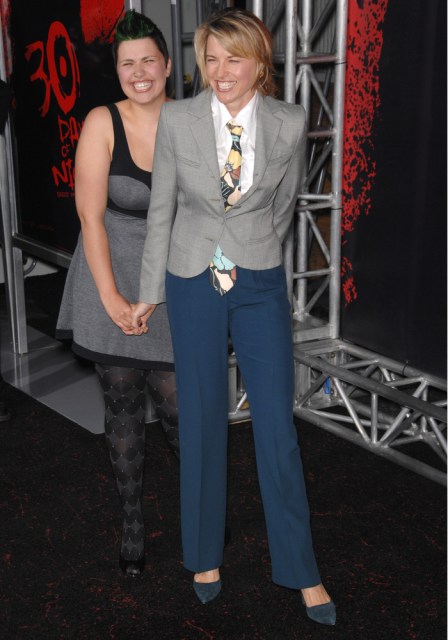 Listen to how great they are!
Go forth and crush!