Hold onto your eggs, we're getting ready for Autostraddle's International Brunch Weekend 8/23-24! Find a brunch meetup in your city or create your own by heading over to our events page. You can also load up on all things brunch by watching this space. From playlists to recommendations to personal essays, we're writing all about the brunch experience. Get excited! BRUNCH.
---
Sometimes you can't go out to brunch. Sometimes you gotta brunch at home. For those times, you need to have some perfect, secret recipes up your sleeve. We've got your essentials covered here: fluffy pancakes, crispy home fries and a damn fine bacon bloody mary.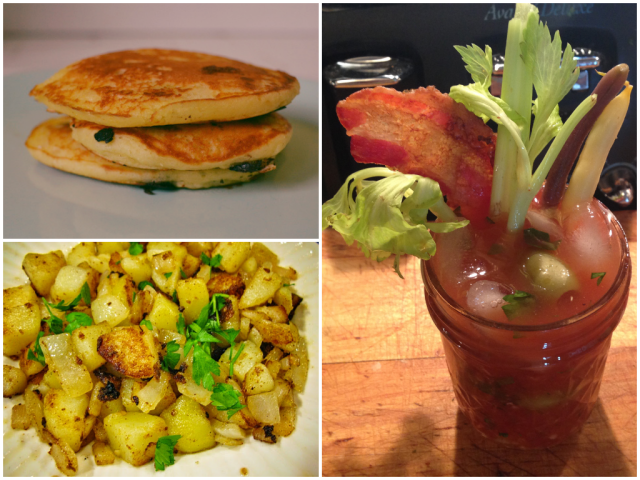 ---
The Fluffiest Pancakes In The Entire World
by Hansen
Making pancakes on lazy morning weekends is one of my new traditions. They're so easy and comforting. I make them nearly every weekend, to be honest, and I pile them high on a plate and eat them with my girlfriend while snuggling on the couch, watching a movie or planning the day. Pancakes are deceptively simple. In reality, they're tricky, because it's a fine line between getting awesome pancakes and getting a hard lump of tough dough so dry you need gallons of syrup. In fact, I used to be a maple syrup girl, but this recipe doesn't even need them.
One weekend, I couldn't find the pancake recipe we usually use, so I googled "fluffy pancakes." I made them according to the recipe even though I was skeptical as hell, and this was my legitimate reaction after taking a bite:
See, the trick to fluffy pancakes is to spoil the milk with vinegar. It creates tiny bubbles which make your pancakes fluffy, and it's super fast, and it has worked for me every time. It sounds, well, it sounds disgusting, and it looks disgusting, but I need you to trust me. I have eaten these so many times I can't even count.
Also, I've made these pancakes a variety of ways, using gluten-free flour, regular flour, whole wheat flour, regular butter, vegan butter, olive oil once (all we had!), almond milk, regular milk and soy milk. You can substitute to make it completely vegan or gluten-free and the fluffiness is there every time. You with me? Let's do this.
adapted from All-Recipes
makes 9-10 medium-size pancakes
Ingredients: 
3/4 cup milk
2 Tbsp white vinegar
1 cup all-purpose flour
2 Tbsp white sugar
1 tsp baking powder
1/2 tsp baking soda
1/2 tsp salt
1 egg
2 Tbsp butter, melted
Chocolate chips (optional, but really, I mean, just do it, and get dark chocolate morsels while you're at it because they're bigger)
cooking spray/oil/butter for pan
I like to have three bowls handy for this: my large mixing bowl, a small bowl to combine dry ingredients and a large mug in which to melt the butter, then stir in the egg.
1. Mix the milk and vinegar in the big mixing bowl, stop grimacing at the weirdness that's happening, set aside.
2. Combine all dry ingredients. (Not the chocolate chips! those are last minute additions!) I am not a fussy cook, so I don't sift it all together, but follow your arrow.
3. Melt the butter in the microwave. Pro tip: watch your fucking butter so it doesn't explode all over the place. (I may not be a fussy cook but I am a distracted cook and this happens to me almost every time.) Take it out as soon as it's about 1/2-2/3 of the way melted, then stir it together to melt the rest. Add the egg and stir together.
4. Add the butter and egg concoction to the weirdo milk mixture. Stir that all together. It's totally fine that it's lumpy, you're going to forget all about its lumpiness in .7 seconds.
5. Add half of your dry ingredients to the wet ingredients, whisk/fork/stir it all together, then add the other half.
6. Get your pan ready, and set your chocolate chips on the counter beside it. My girlfriend taught me this trick: add the chocolate chips after you put your pancake mixture in the pan. That way you can distribute evenly, and every pancake eater in your house gets chocolate chips. This is especially helpful if you are feeding small children/your roommate who can just tell that you gave another person more chocolate chips. It also prevents clumping of the chocolate chips all at the end which everyone knows leads to intense regret.
7. Pour in your pancake batter. Make them Mickey pancakes, make them heart pancakes, make them tiny or big – just make them however you'd like. I do about four-inch diameter pancakes and this recipe makes ~10 of those.
8. Your pancakes are ready to flip as soon as you start seeing bubbles pop up on the sides that pop and don't fill in on themselves.
9. Check your brownness level and transfer to a plate when they're done. I kinda burnt half of mine because I got distracted drinking coffee and playing with my cat, but they still tasted awesome, let me tell you. Serve 'em hot. You can add syrup if you'd like, but like I said, they are so moist and wonderful they don't need it.
Go be amazed by your fluffiness.
---
Next page: The secret trick to making your home fries crispy and delicious.
Pages: 1 2 3See entire article on one page