Hey, did you know Autostraddle is more than a website? It's an impactful force on the world! Yep. That's right. We do it all, my friend. Beyond A-Camp, beyond open threads and food lists and listicles that touch your heart and also tickle your funny bone, beyond podcasts and personal essays, beyond pretty much all the stuff you love, there is a fervent field waiting for you to roll around in its plentiful bounty. That world is the universe of Autostraddle Social.
Being a member of Autostraddle—whether you're an A+ member or just a commenter—automatically makes you a part of Autostraddle Social, which is of course abbreviated ASS. It's totally possible to read, comment on, and even connect with people on Autostraddle without an ASS account, but that'd be a damn shame, because Autostraddle Social is the best.
You heard me. ASS over everything. Pun. Fucking. Intended. And not just because when I'm on ASS, shit like this happens to me: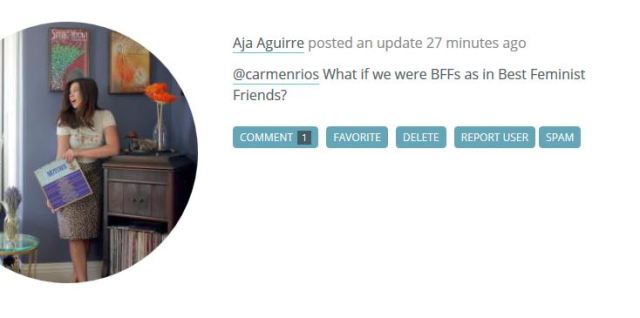 I'm on a very personal but also professional mission to convert every single person that clicks on this article into a bonafide ASS Addict, except really it's more like I want you to be my friend and @Reply me in the comments more so I feel less alone in the world. And I'm willing to bet that when you stack up the features and hidden gems that make ASS so wonderful next to the reasons you're still using Facebook, you'll realize it's time for a change.
So come on over, coooommmeee on over baaabyyy, and register on ASS. (Or, log in up there in the right-hand corner and fix your profile up so you can explore the great big online straddleverse right meow.) Maybe start a group. Maybe fill out your profile. Maybe upload an avatar. I dunno, it's up to you. We're all on our own journeys and we all make choices in this life. In the meantime, here's why I'm hellbent on bringing you into our not-so-little clubhouse.
---
10. Being an ASS Member Makes A Lot of Stuff You Can Do on Autostraddle a Little Easier
Wanna see if anyone replied to your comment on this week's Friday Open Thread? Can't remember the clever name you used to identify yourself last time you commented on this website? Wish you could show up as a unique avatar and not a sad, gray, identity-less figure in the night? Wanna submit a meet-up to our events portal?
SOUNDS LIKE YOU NEED AN AUTOSTRADDLE SOCIAL ACCOUNT. Once you're all logged in and set up, you'll be able to upload an avatar, set up a username that's yours forever, and see your comment history in your own activity feed, including replies to comments you make. And even better? If people @Reply you in the comments using your Autostraddle name, you'll get a notification either by email or when you log in next and check out your profile! (Oh, and you need one for the whole "submitting an event" thing, just so you know. I'm not letting you off the hook here.)
---
9. We're Not Harvesting Your Data
Unlike Facebook, we don't structure our profile format to cater to advertisers. You will not see weirdly targeted ads based on the information you put in your ASS profile showing up when you're perusing our website, nor will you start getting unsolicited emails from marketers (or even from us, for that matter) when you sign up. Plus, if you're super private like that, you can set up an extremely bare profile and still be a fully loved member of this community! Have it your way, not Facebook's. Come be a human in a community instead of just another response to what's really a horribly disguised marketing survey!
---
8. When You Log On, You're Supporting an Indie Queer Business That Loves You Back
Autostraddle Social was built by and for, well, Autostraddle. We love you guys, in case you couldn't tell, and having a social media component on this website — versus setting up a forum or just letting y'all live your lives in the comments of our articles — was a decision we made because we wanted to make your Autostraddle experience even better. When you use ASS to connect with each other and communicate with the queer world at-large, you're engaging with something designed with your needs and wants in mind — and you're supporting the incredible geniuses who built you this world in the first place.
---
7. ASS Puts The Straddleverse At Your Fingertips
Here's just a sampling of the things you can do with your ASS account: View the recent activity of your friends and favorite users, send private messages to the person you've been commenting back-and-forth with all night to flirt with them all cute like, see and interact with other users' statuses and posts in groups, and find out more about how to connect with people IRL or elsewhere on the Internet. If you've come here for friends, eternal love, or to find the one other person like you on this planet, you're in luck, because we've got what you need.
Also, with the click of a button you can search every member and look at them at-a-glance so basically, the entire straddleverse is your oyster.
---
6. You and Your Safety Come First Here
In addition to being queer-owned, -designed, and -operated, Autostraddle Social is also run by the same ragtag team of loving humans that keeps the main website going every day. When you submit reports about users, flag inappropriate content, or reach out to our tech team with concerns and questions, you're not being assigned a ticket number and handled via an automatic response. Instead, your message is received by a human being (again, who loves you) who will actually take the time to investigate your situation, respond to your inquiries, and reassure you about your life as needed.
Plus, we've got super advanced privacy settings — literally every single piece of information you share on your profile has a unique security setting, so you could even opt to show your friends everything and strangers nothing but your name and gender, if that's what floats your boat. Or, you could go really incognito and maintain an aire of mystery. Seriously, whatever suits you and makes you feel safe is what we're striving for here.
---
5. The First Rule of Autostraddle Social Is That There Are No Rules on Autostraddle Social
Looking to find a social network where you don't have to use your "real name?" (Whatever that means.) Wanna set up shop somewhere where your "relationship status" field is actually an accurate reflection of your queer, polyamorous heart? Seeking out a social media platform where your entire identity isn't forced into exclusive categories?
Welcome home.
---
4. Using ASS Will Help You Unplug A Little Without Even Trying
If you're burnt out from responding to Facebook group threads because they interrupt your day by blowing up your phone, exhausted from overloading on Twitter notifications you don't even remember opting into, and tired of seeing those stressful badges on all your apps reminding you a zillion people require your attention, get ready for some relief. You can be as connected to ASS as you want — whether that means setting up email notifications for every damn thing or just direct messages and replies, installing an Autostraddle sorta-app on your phone to peruse at your will, or just stopping in to check out your new messages and comments when you're feeling game to do so on your desktop. Whoever said you could have it all didn't know what it was like to join a ton of groups on ASS and never worry, not even once, that it meant you'd be receiving a flurry of annoying updates and notifications every single minute for the rest of your entire life.
NOTE: I'm aware, by the way, that a lot of you wish we did have a push notification system on ASS. While we're not able to offer that to you, I'm hoping my perspective on this situation will win you over heart and soul. And, to be honest, as someone who gets ASS email notifications about like, every single thing that happens w/r/t my ASS profile, I gotta say, it's a close second! Like, just look at this. LOOK AT THIS THING OF BEAUTY.
---
3. ASS Makes It Possible For You to Connect With Commenters, Staff Members, A-Campers, Other Superstars
Whether you're looking to connect with some of our most prolific and awesome commenters or just searching for the girl you met at that Autostraddle meet-up last night, chances are what unites them is a membership on this website. In fact, considering how differently everyone uses social media — with approximately half of the world hating Facebook, a quarter not understanding what Twitter is, etc. — it's maybe even more likely that the people from your extended Straddleverse are here than there.
---
2. …And ASS Groups Help You Connect With Like-Minded Folks You Might Not Have Met Otherwise
Y'all fucking love groups. Like, holy cow! I can't even deal with it. Whenever I go to A-Camp, a meet-up, or even really down the street I meet someone who wants to start a Facebook group to corral me and the other Autostraddlers who share my vibe. But guess what? You don't need to be part of Mark Zuckerberg's machine to do that! Starting an ASS group will help you connect with other readers, A-Campers, and meet-up regulars alike who share your interest in, say, feminism, Tumblr, cats, or even Crystal's workout plan. Our groups, like the aforementioned Facebook groups you hold close to your heart and have customizable privacy settings, let you comment on and favorite other people's posts — but unlike groups anywhere else on the Internet, they're populated only by the best people alive: Autostraddle readers, commenters, and community members.
---
1. QUEERMOS ONLY.
Which brings me, actually, to my most important point about ASS. Above all, what we offer you is being part of a smaller, closer-knit, and more awesome community online than the Internet at-large. And what that means is that ASS is populated by people like you: queermos who love this website, share a collective political consciousness trending toward common sense, care about LGBT issues but also love crafts and movies, and can maybe even make a mean chili. And ASS, in turn, isn't populated by, say, your uncle, estranged father, awkward classmates, work "friends," and former elementary school teachers. Just you, me, and the rest of our family. Sounds good? Yeah, I know it doesn't. 'Cause it sounds FUCKING AWESOME.
---
Oh, and let's be friends. Because I love you, as previously stated.