Hello there! How's your past week been? Did you climb any rocks or try a group fitness class? Me either, but I thought about it. Tonsillitis brought my wellness journey to a sudden halt. I didn't do any exercise and then felt irrationally guilty and disappointed in myself. I imagine that dumbness is the pressure of trying to make up for 30 years of body neglect at once.
So, sadly I don't have any exciting discoveries or gym stories to share with you. Welcome to the electrifying unpredictability of a weekly column, I guess! What a ride.
While on my sick bed, I spent a lot of time eating scones and pondering how we're supposed to live a healthy lifestyle in a world that doesn't give a fuck about whether we make it to the gym before closing time. Real life shit so easily disrupts my lofty health and fitness aspirations and sometimes it's a struggle to find a balance, like maintaining an exercise routine while on work trips, or eating nutritious meals in weeks when there are lots of social gatherings planned.
In retrospect it was seriously naive to assume that changing my lifestyle to accommodate a whole swag of new healthier habits would be easy-breezy. But in terms of trying find that balance, here are some of the things that are/aren't working.
Not working: Getting other people on board with my health goals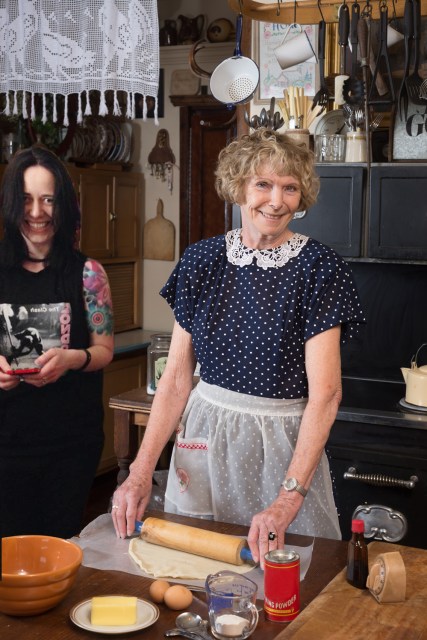 Last year I moved into my 76-year-old great aunt's apartment in preparation for my move overseas. While it's been a total blessing financially, it's blowing my healthy intentions to hell. As an example, my great aunt loves to turn fatty cuts of meat into thick stews that "stick to your ribs" and then cook the vegetables in the drippings. And the baking! Oh god. The baking. Cakes and biscuits are available 24/7. Sometimes she brings me a tray of freshly baked scones, jam and clotted cream while I'm Skyping my gal pal. It's a dream and I don't know how to turn it down.
I don't want to sound ungrateful. I would've killed for this kind of comfort food as a child. As as an adult, though, it's wreaking some serious havoc on my body. In the first month alone I outgrew all my jeans, picked up a cool cholesterol problem and started having all these fantasies about injecting pureed spinach into my veins. It's been a time!
This must be a fairly common scenario, yeah? Living with someone whose diet and lifestyle influences yours? Maybe you've got a partner who's a sugar junkie or a friend group that socialises over beer and burgers. Cooking meals myself is an obvious solution, however my great aunt is super possessive of her kitchen and takes a lot of pride in being the family cook. She's also made it hilariously clear that she much prefers the taste of her cooking better than anyone else's. So! Here are some ways that I've been able to slightly soften the impact of her cooking:
I found some 2/3 sized dinner plates and asked for my meals to be served on those instead, to limit the amount of not-so-healthy food I'm ingesting. Doing this led to the discovery that a 2/3-serve of food is actually totally adequate for my needs and just as satisfying as a full serve, except for the week before my period when I definitely need an ice cream and chocolate peanut granola bar chaser.
About 1-2 a week I'll do a late-night gym session after work so that I have a valid, inoffensive excuse for skipping for dinner. (There's an expectation that I'm present at meals).
I've started stocking the fridge with reduced-fat butter, cheeses and creams for her to use in all her cooking.
Once a month I'll elbow my way into the kitchen and cook a big batch of something meat-free and nutritious. It's partially in hope that my cooking style will slowly influence her cooking style, but mostly so that I've got relatively healthy food for the following week. Last month it was these delicious black bean quinoa burritos with a tomato and cucumber salad.
So if you've ever shared a living space with a partner or family member who wasn't on board with your health goals, I'd be super interested in hearing how you navigated that.
Working: Walking

A few months ago I quit riding the bus. For whatever reason my basic brain just accepted that buses no longer exist in my world and that if I want to travel anywhere, like to my day job, then I need to get up at a stupid hour and hike 40 minutes to the train station. So far I'm finding it to be a super effective way of making sure that I get a decent amount of physical activity done each day, regardless of how hectic my work or social schedule gets.
I'd say the biggest benefit to these long ass walks is having those 10,000 recommended daily steps in the bag, which is helpful on days when everything goes to hell and I don't have time for other physical activities like going to the gym. Also getting out of bed super early is great for organising my thoughts before the rest of the world wakes up and gets inside my head.
That's all I've managed this week. What have you been up to? Are there any health and wellness things you've been conquering, or things you're struggling with or want advice on? I probably can't help you but I bet someone else can. Let's talk it out in the comments!
Coming up next week: I've decided to start this 30 day ab challenge. I haven't done a sit-up since high school so it's gonna be interesting. Do you want to do it with me? It could be fun? Download the 30 Day Ab Challenge free phone app and we'll compare pain/progress next week.