President Obama formally nominated John Kerry for Secretary of State, a Democratic party "elder" with so much good praise it almost makes his extremely long face a little less disturbing. But the former Mister President Pageant hopeful is lacking one very desirable skill for someone occupying the throne of Secretary of State: John Kerry will never be Hillary Clinton.
When Obama nominated her for Secretary of State, most people questioned if Hillary could do it. What a dumb fucking question; I questioned if she'd do enough to keep busy. I was right in my faith: for the next four years, Clinton appeared right at home in the middle of everything, bringing peace and important change around the globe and keeping her foot in every door just like I knew she would.
John Kerry will never be Hillary Clinton. And here's ten good reasons why.
The 10 Most Amazing Things That Happened Because Hillary Clinton Was Secretary of State
10. Meeting for Drinks
Hillary Clinton defeated John McCain in a drinking competition during their time spent as colleagues in the Senate; when she began as Secretary of State very little changed in her approach to building diplomatic relationships. In April, President Obama joked that Hillary Clinton drunk texts him on her trips abroad. The best part of this joke is that no one else assumed he was completely serious.
"Despite many obstacles, much has changed during my time in office," the president said at the annual event. "Four years ago, I was locked in a brutal primary battle with Hillary Clinton. Four years later she won't stop drunk-texting me from Cartegana."
9. The Playing Of Funky Music By White Boys and Other Humans Specifically For Hillary Clinton's Grooves and Enjoyment
Are we human, or are we dancer? The only person with the answer to this question is Hillary Clinton, who has visited more countries than anyone else probably on the planet, and has danced in most of them.
8. This Photograph And What It Meant for a Nation
Remember this?
Just one of many candid photos of Hillary Clinton looking like the embodiment of "Beez in the Trap," it spurred the meme movement that became "Texts from Hillary."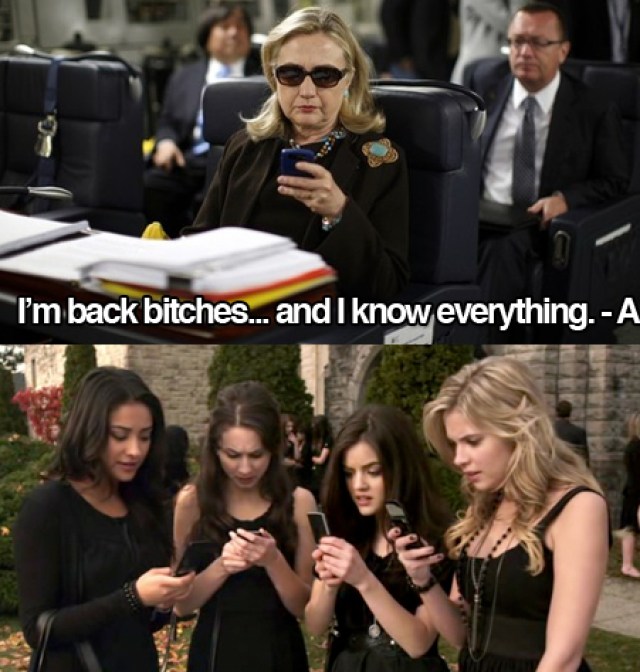 Clinton, still haunted by youthful memories of someone whispering, "this is an A/B thing… C you later," even invited the meme's home base blog creators to meet her and help her make one.
7. The Presence of Meryl Streep
Great minds think alike, and fucking amazing women travel in packs – these are two truths verified by the unbelievably perfect Clinton/Streep friendship. Earlier this month I told you about their selfie that changed the world, but well before they became Instagram-official BFF's Streep honored Clinton with a devastatingly good introduction at the Women in the World Summit in March.
"I am an actress and she is the real deal," Streep said.

Just prior to introducing Clinton, Streep held up the Best Actress Oscar she won two weeks ago for her work in The Iron Lady.

"This is what you get when you play a world leader," Streep said. "But if you want the real world leader this is what you get," Streep said, pointing to Clinton, who took the stage.
6. Ellen and Hillary Form A Rad Bromance
I just wanna make sure you remember the time in 2011 when Hillary Clinton called Ellen up on the phone and was like, "so, wanna be a global envoy for HIV/AIDS education and maybe also become good friends?" and Ellen was like, "I'm so there."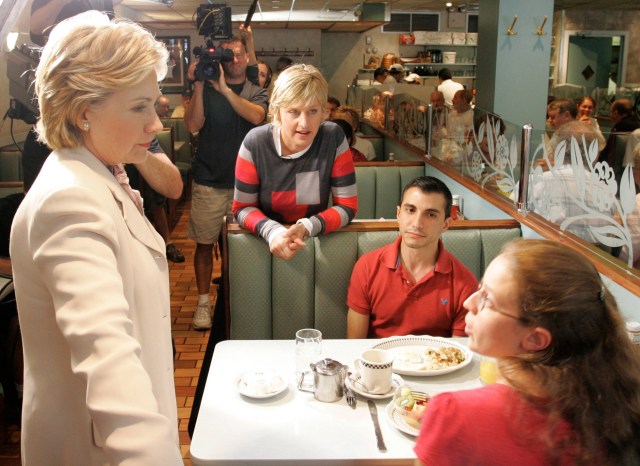 5. Having the Prevention of Sexual Violence Be A Priority for Anyone in Power
In 2009, Hillary had barely gone up to bat as Secretary of State when she embarked on a historical visit to the Congo – a feat unprecedented by any Secretary of State. (That's right, you guys: nobody else had the balls to go to the Congo. Language intended.) But Clinton, of course, did more than visit, using the trip to speak to survivors of rape and finally get cracking on the Eastern Congo's rape epidemic:
"It is almost impossible to describe the level of suffering," she said. […]

Mrs. Clinton used her unprecedented visit — she is the first secretary of state to venture into the war zone here — to unveil a $17 million plan to fight Congo's stunning levels of sexual violence, a problem she called "evil in its basest form."

She announced that the American government would train doctors, supply rape victims with video cameras to document violence, send American military engineers to help build facilities and train Congolese police officers, especially female police officers, to crack down on rapists.

"This problem is too big for one country to solve alone," Mrs. Clinton said after meeting with Congo's president, Joseph Kabila.
4. One Nation, Under Internet
Hillary's done amazing things in the tech department as Secretary of State. She stood up for the free Internet in 2009 when China was being super-weird about the content users could and could not access in that region – and by weird, I mean fucked-up and wrong. The stance she took – that of comparing China to Cold War Russia in a major speech and describing their censorship of Google searches as "a new information curtain" – was not easy, but her defiance signaled that not everyone in American government was willing to stand idly by and censor the Internet. (Because some politicians, obviously, are.)
Aside from defending free information, Clinton also views social media, the Internet, and all other digital mediums as "21st Century Statecraft," and has revolutionized how the State Department does their work, communicates with various audiences, and creates quick and impactful change abroad:
[Clinton] has been quoted as saying that she wants the United States to be on the right side of democracy, particularly in its advocacy for the disenfranchised. Clinton says on the State Department's website that to do this, the United States must begin leveraging all of its resources, including technology: "We must use what has been called smart power: the full range of tools at our disposal – diplomatic, economic, military, political, legal, and cultural – picking the right tool, or combination of tools, for each situation."

One way Clinton has used smart power to accomplish her diplomatic goals is by leveraging text messages to raise money for survivors of the earthquake in Haiti, or by sending a delegation of 12 leaders in technology, including representatives from Google and Twitter, to Africa to connect with issues that developing countries face. She views social media as a platform from which both the under-served and the mainstream populace, in any country, can speak and be heard.
3. Turning the Beat Around
Hillary Clinton's tenure as Secretary of State was so amazing that even her former detractors are left in awe. Take, for example, Nancy Pelosi – a woman I loathed in 2008 for repeatedly hating on Clinton's campaign despite more important shit was going on where Pelosi, you know, worked. But it's all fine now! Because now Nancy Pelosi thinks Hillary Clinton should be President in 2016:
"Wouldn't that be exiting!" she said. "I hope she goes — why wouldn't she?"

The House minority leader said she was confident Clinton could win the election if she decides to run.

"She could be president of the United States, and she would be great," Pelosi said. "She would go into the White House as well prepared — or better prepared — than almost anybody who has served in that office in a very long time."
2. Authority Figures Embracing Homos
If we thought Hillary peaked in the 90's during her historical speech in Beijing, declaring that "women's rights are human rights" in a global forum and eliciting a riot in response, we were wrong: last December, she declared that "gay rights are human rights" and tag-teamed with Obama to make LGBT safety and equality a consideration in America's work abroad.
I don't know about you, but I consider that one of the best encores of all time.
1. Someone In American Politics Actually Doing Their Job
To say Hillary Clinton sat on her soon-to-be-switched-over throne as Secretary of State amidst crisis would be a laughable understatement. She took her seat during a war and at the cusp of huge changes abroad, including the Arab Spring of 2009. She took on tasks, roles, and conversations that were difficult and challenging. And she excelled. She did great. She travelled more than any before her, said things no one else could say. Hillary Clinton ran shit.
And we really needed that.
"I think (the president) listens to her as much or more than anybody," Biden tells USA TODAY. "She's the main player … the one he looks to give the last wind-up pitch about what should be done."

Biden says Clinton's view prevailed over his own during a policy debate about sending additional troops to Afghanistan. Biden declined to go into details, but Rep. Mark Kirk, R-Ill., a naval Reserve officer with contacts at the State Department and Pentagon, says Biden opposed sending 21,000 additional troops and Clinton favored it.

"It turned into Biden vs. Hillary, and she crushed him," Kirk says.

Biden calls that an exaggeration.