Happy Sunday Funday! I finally got my paycheck from February and tried Root Beer Vodka this weekend. I also dug up a previously unreleased track from the one and a half years I spent trying to become a rapper. (Great timing considering the release of Nicki's new album, if I say so myself.)
This week we should all cuddle and then read a lot of interesting things and continue to create political change in Arizona. You in?
Are You Watching "Girls?"
I'm watching Girls tonight for a few reasons: because I want an excuse to eat ice cream, because I miss my childhood best friends a lot these days, and because Sex & the City has started to make me sad. Also because it looks hilarious.
Jezebel is super excited and would like for you to subscribe to HBO and tell them you love Girls. Similarly, SheWired reported that a lesbian plot arc is on the way – within the first season. What does this mean? In a world of 'best friends who are women' it sounds like it might mean watching something similar to my own life unfold on the screen. Bring it on. And pass the mint chocolate chip.
I Love Hillary Clinton
The Texts From Hillary days are over – the meme was born and then died this week (come on, in ONE WEEK?) because, let's face it, once you meet the Most Powerful And Amazing Woman of All Time you have to pack your bags and let it go. I imagine I would still be unable to sleep had I met Hillary Clinton earlier this week.
But Hillary Clinton is totally and completely still the most awesome person of all time, despite the fact that most people are only realizing this now. Ask Jezebel:
Although Hillary didn't end up being the Democratic candidate in 2008, she handled the aftermath gracefully, becoming Secretary of State for her former rival, and travels the globe, holding her own, during a time when global power is shifting we are now used to seeing her as a hard-working woman who doesn't complain or seek the spotlight but quietly gets things done. Not just a survivor, but one who thrives. There's a magic in her "too busy for bullshit" persona, a mystery. Thanks to Texts From Hillary, much like the dumb dude in a romcom, we're finally seeing HRC as she really is: Brilliant, capable, fierce.
Check Yr Stereotypes: Latinos Support LGBTs
NOM may have convinced some of us that Latino people, and the Hispanic community within the United States, did not stand alongside the LGBT community in search for our rights. That isn't true.
A new national study challenges the widely held perception Latinos are persistently anti-gay. Released Thursday by the research group Social Science Research Solutions (SSRS) and the Hispanic advocacy organization National Council of La Raza, it found Latino support for many pro-gay policies at least on par with that of the population as a whole. Latinos in the SSRS study, for example, support same-sex marriage at a rate of 54 percent, compared with 53 percent of those in the general population who indicated such support in a Gallup poll last year. And by even wider margins, respondents in the SSRS study favor policies aimed at protecting gays against hate crimes and discrimination related to jobs, housing and military service.
NYU Is Also Full of Gay People
NYU's Athletics Department released an "It Gets Better" video focused around the gay captain of their volleyball team:
Jay Hayes, who is also a senior at NYU, has directed and starred in a poignant "It Gets Better" video sanctioned by his school's athletics department. "I know I can achieve anything I can set my mind on doing, and I can do that while being out, and being proud of who I am," the Illinois says in the clip for the LGBT youth advocacy groupThe Trevor Project.
SIDENOTE: I wish that this was about women's volleyball, because that's sexy.
Good News In Arizona Is Rare
Phoenix now offers a high school for LGBT students, called "Q School." I'm kind of jealous, except I went to art school in high school and that was kind of the same thing anyway:
Kaedo Stewart is the program director at One-In-Ten, the group that operates the school, which works in partnership with Arizona Virtual Academy to provide online instruction. "They've just been like really excited about learning," Stewart said. Stewart says the majority of the 14 students who currently attend, this school was their last hope for getting a diploma. "About a third of our youth have dropped out of high school, so we have dropouts, and we have about a third who are homeless or have been homeless." Michael Wheatley hopes that one day there might not be a need for a school like this. "My ultimate goal is that bullying and dislike and hatred for gay and lesbian youth stops, and there's no need for this school." 
Geena Davis Is Badass
Geena Davis is taking on the state of California to preserve the Commission on the Status of Women, which she currently chairs.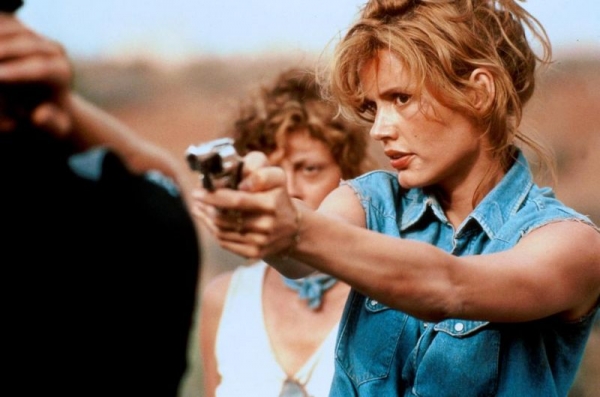 An Oral History of Gay Punk
Queercore was a call to arms and storming out of the closet. The literature came before the music. It started out as a loose collective, trading fanzines and letters, and evolved to include dozens of bands, as well as the extraordinary friendships and treacherous rivalries that come along with creative intensity. Here's an oral history of Queercore, from its inky, Xeroxed beginnings until it rendered itself obsolete.
Jump-Rope Puppy
I'm having a really hard time deciding if this is just cute or really amazing, but maybe it's both. Either way, I wish I could jump rope but I can't even eat ice cream without it falling out of the cone, really.