Hello beautiful, and welcome to How To Own It, where store-bought fashion meets DIY crafts. Each week I'll be exploring an aesthetic theme, showing you some of the best ways to wear it and how to make it for yourself.
Want to know how to own a look?
Email gabrielle@autostraddle.com or tweet to @Gabrielle_Korn.
Header by Rory Midhani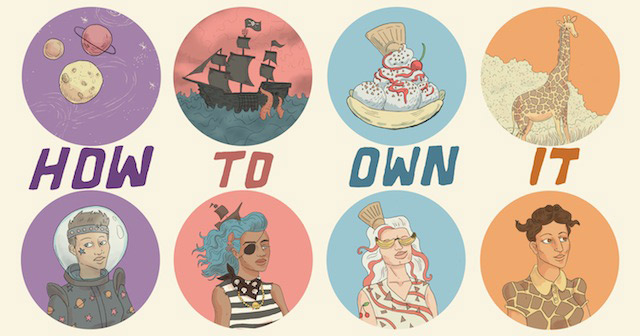 ---
If I have to read one more holiday fashion article titled "All That Glitters," I'm going quit the internet forever. Oh, you feel the same way? Great. This is not another one of those posts, as I've always found Christmas to be more than slightly puzzling. Like, why red and green? Why are certain trees "Christmas trees" while others aren't? And perhaps most importantly, how do people find it in their hearts to celebrate anything when it's so cold and miserable outside?!
Honestly, though, I'm not trying to yuck anyone's yum. My girlfriend adores this holiday with sincere wide-eyed enthusiasm, and so over the years I've grown accustomed to the various traditions that I'd previously missed out on while having Chinese food and going to the movies with my family (which is obviously an important tradition in and of itself). I've learned that Christmas is an occasion with a heavy emphasis on its own aesthetic; but it's more than just a color scheme, it's a vibe. Luckily, it's a vibe that can be accomplished with one or two festive accessories and a nice sweater, so I've rounded up some little things that I think you'll like, and then I'm going to show you how to make a Christmas collar that will look cute with just about any outfit.
Christmas Flare
Christmas has a monopoly over winter-themed fashion in general, so if it has snowflakes on it, I feel like it can pass for Christmas wear. Also, if bright reds and greens aren't your thing, it's totally okay to wear darker shades of the same idea, like oxblood and forest green. I found you some cute bow ties, scarves, leggings, belts, underwear and more that are totally recognizable as Christmas things but won't take the attention away from the tree. I included the underwear because a brief poll of my Christmas-celebrating friends revealed that a lot of people spend Christmas morning in pajamas and/or "intimates." I know it's probably too late to order these for the 25th, but maybe it will provide some inspiration (or you could do something crazy/brave and go to an actual store).
DIY Faux Faux Leather Christmas Collar
If you don't feel like purchasing a new accessory, though, you've come to the right place. I decided to make a faux faux leather detachable Christmas collar because it's cute and festive without going overboard. Also also, I feel like the collar trend might be on its last legs (or should I say, tips? Sorry), so I wanted to get this in before everyone is sick of it.
You will need:
A collared shirt you are definitely sure you will never wear
Scissors
Acrylic Paint
Tiny gold beads
Black ribbon
Fabric Glue
1. Cut the collar off the shirt, using the neckline seam as your guide. Yes, I know the pattern on this one is real cute but the cut of the shirt is awful, I promise.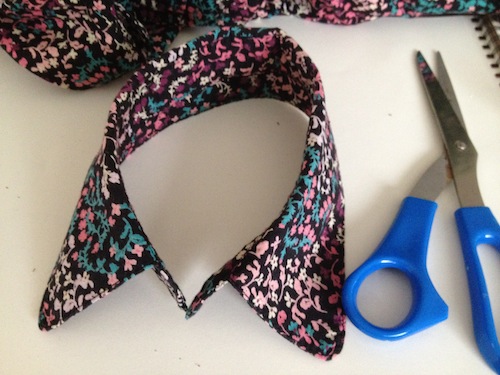 2. Paint the whole thing a shade of red that you feel comfortable with. I mixed crimson with a little bit of burnt umber. You might have to do a few coats to make sure the fabric color doesn't peak through. Using a thick layer of acrylic paint makes this look like faux leather, which I was really excited about.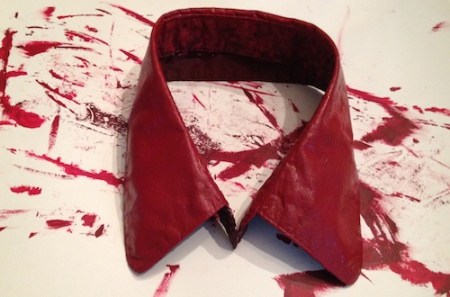 3. Glue the gold beads onto the collar. Concentrate them in the tips of the collar and then gradually space them out.



4. Sew two nine or ten inch pieces of black ribbon onto corresponding corners of where the neckline meets itself in the front. You'll be tying the ribbon into a bow when you wear it.

5. As I mentioned, you can wear this with just about anything! I'm wearing it with my glasses and a ton of concealer because I have the flu and didn't want to show my flu face on the internet (no, I didn't get a flu shot, don't blame the victim). Anyway happy holidays, see you next week!