Technically, gnocchi (nyaw-kee) is thick, soft dumpling-like pasta that can be made from semolina, wheat flour, flour and egg, flour and egg and cheese, potato, and breadcrumbs. They're like little dumplings of perfection and deliciousness that hold onto sauce really well because of their signature grooves. Gnocchi are traditionally the first course of a meal, served as an alternative to soup or pasta. Throughout Italy there are several different versions of gnocchi, like the Tuscan malfatti made of flour, ricotta, and spinach. In the beginning, gnocchi was a perfect peasant food: filling and inexpensive.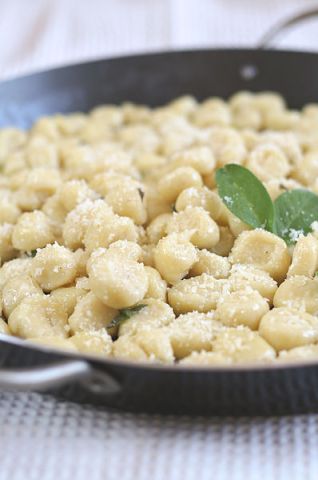 For the purposes of this Ode, we're going to talk about potato gnocchi and just call it gnocchi because it's so clunky to constantly say potato gnocchi and I need you to get on board with this early on. Okay? Okay. You can talk to me after the Ode about how your grandmother is from Italy and she doesn't make gnocchi with potatoes. I'm sure it's really good. I'd really like to try some. But right now, we're not talking about that kind of gnocchi.
The word gnocchi (I'm channelling Cara here) might derive from the Italian word nocchio, which means "a knot in wood" or nocca which means "knuckle". No one on the internet seems sure which it was. I can't decide which of these gnocchi looks more like, so let's say it's a combination.
Gnocchi has been around for over 2,000 years, and was made in Roman times from semolina porridge-like dough mixed with eggs. The use of potato gnocchi (arguably the most popular form of gnocchi today) began in the 16th century. Floury potatoes ensure a light texture, so the use of russet and Idaho potatoes provides a nice, light consistency in the dough.
Real talk: I once tore a tendon in my ankle while cooking gnocchi after I slipped in my kitchen reaching for something on the top shelf. It was really awesome. I cried a lot, had a lot of fun with the Australian healthcare system, then held a grudge against gnocchi for awhile. At this time in our relationship, we've gotten past that trouble, I'm proud to report, and we're better for it. We're back in love and stronger than ever.
Gnocchi, like most pasta, is notoriously difficult to get right, with about ten million recipes out in the world all saying "Easy, Perfect Gnocchi." It's easy to over-knead, which makes for a tougher, chewier gnocchi bite. Yuck. Everyone has a different way of incorporating the flour and potato, some say it's best to put the flour down first and then add the mashed potato in the middle and fold in. Some advocate for mashed potato in a well with the egg and flour in the middle. Some swear by potato ricers, some swear by traditional gnocchi boards, some of us (me) just mash the potatoes with a potato masher, add the flour into the recipe in small increments, have a little panic about over kneading the dough and then use a fork to make the signature gnocchi grooves after rolling it out. It's the most low stress way I've found, even with the panic part.
The most important thing to note about gnocchi dough is that it should push back against you just a tiny bit when you put your finger to it. There's no non-sexual way to take that sentence, I know, but trust me. It should give a tiny bit, but not all the way. Firm and flexible. Experiment and follow your heart. That's all I can say.
Once you master the dough, you can mess with it. Add in spinach or sub out half the potatoes for sweet potatoes (recipe below!).
Okay, I feel you. You want gnocchi, but you're sure as hell not going to mess with that dough. So buy it! That's okay! It's usually still very good. I will not even judge you. I have found the best store-bought gnocchi is in little vacuum-packed bags. There's even vegan versions (although to be honest, that link leads you to buy 12 packages, which is a lot of commitment). Don't buy the dried-pasta version, which look like little hollow gnocchi. I mean, I'm sure they're good as far as dried pasta goes, but they aren't what we're talking about here.
My favorite way to serve gnocchi is with a light butter sauce and fresh sage. It especially shines in recipes that include a light oil or butter base and toasted pine nuts, mushrooms or a touch of cream. A traditional Sardinian way to prepare gnocchi, known as gnocchi malloreddus, uses sausage ragú. Gnocchi also shines in baked dishes with cheese and veggies, like peas and spinach. And perhaps most importantly, gnocchi is amazing with a light drizzle of pesto. Add in some mozzarella or parmesan for extra deliciousness.
Here's my favorite recipe for sweet potato gnocchi, adapted from Aida Mollenkamp to feed less people (use an egg substitute and take out the cheese for vegan gnocchi). It's especially my favorite because I love sweet potatoes and I love savory gnocchi dishes. A lot of sweet potato dishes sweeten the sauce and dough to make it more like french toast, which is good in its own right, I suppose.
Sweet Potato Gnocchi with Brown Butter-Balsamic Sauce
(adapted from Aida Mollenkamp)
Makes: 4 to 6 servings
Total Time: 1 hour 10 minutes
Ingredients
Gnocchi:
3/4 pounds sweet potatoes (yams), halved lengthwise
1/4 pound Russet potatoes, halved lengthwise
1/2 tablespoon olive oil
salt and pepper to taste
1/8 cup finely grated parmesan cheese
1/2 egg, lightly beaten
1 teaspoon kosher salt
3/4 to 1 1/4 cups all purpose or white whole wheat flour
For the sauce:
4 tablespoons unsalted butter
12 to 15 fresh sage leaves
2 shallots, thinly sliced
3 tablespoons balsamic vinegar
Freshly shaved parmesan
Freshly ground black pepper
Instructions
Gnocchi
Preheat oven to 425°F. Coat potatoes with olive oil, season with a few good pinches of salt and a few cranks of pepper, place on a cookie sheet cut-side down and roast until fork tender, about 30 minutes (alternatively, you can boil them until tender, as well, but roasting is easier and leaves a nicer flavor).
When tender, remove from oven and leave them alone until they're cool enough to handle. Scoop flesh out of skins then pass flesh through a potato ricer (or mash with back of a fork because potato ricers are for chumps) and stir in cheese, egg and salt. Mix in flour, a little at a time, until soft dough forms. It's the right amount of flour when you touch the back of the dough and it is damp but not sticking to you hand.
Turn dough out onto floured surface and shape into a square. Divide the dough into 8 equal pieces. Roll the dough out into long ropes (about 1/2 inch in diameter) between your palm and floured work surface. Sprinkle the surface with flour as needed if sticky, but don't add too much additional flour as too much will make heavy gnocchi. Cut each rope into 1/2 -inch pieces. Stop here or, as desired, use your thumb, press into the tines of a fork to indent.
Bring large pot of heavily salted water to a slow boil over medium-high heat. Cook the gnocchi in batches, simmering until tender, about 5 minutes. Reserve 1/2 cup of pasta cooking water and drain the rest.
At the same time, in a large frying pan, melt the butter over medium heat. Once it foams, add sage and cook until crisp and fragrant. Remove sage to a plate and return frying pan to stove. Add shallot and allow the butter to brown. Scrape along the bottom to prevent the milk solids from sticking and burning.
When the butter is brown, immediately remove from heat, and carefully stir in the vinegar. Stir in pasta and 1/2 cup of the reserved pasta water, return to heat, and cook until just coated in the sauce. Add freshly ground black pepper, taste for seasoning and finish with additional pasta water, salt, black pepper, the crisp sage and freshly shaved parmesan. Yummmmm!