George Floyd was murdered on May 25, 2020, and we stand in unequivocal support of the protests and uprisings that have swept the US since that day, and against the unconscionable violence of the police and US state. We can't continue with business as usual, which includes celebrating Pride. This week, Autostraddle is suspending our regular schedule to focus on content related to this struggle, the fight against white supremacy and the fight for Black lives and Black futures. Instead, we're publishing and re-highlighting work by and for Black queer and trans folks speaking to their experiences living under white supremacy and the carceral state, and work calling white people to material action.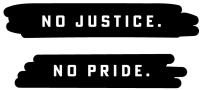 ---
The past few weeks have been uniquely heartbreaking amidst an already unprecedentedly deadly year. In the middle of a global pandemic that's already disproportionately impacted Black and Indigenous Americans, a series of killings of Black people by the police have wracked the nation (and world) with grief. From the death of Ahmaud Arbery to Breonna Taylor to the attempted killing of Christian Cooper and the murder in police custody of George Floyd, the loss has been literally unarticulable. Since the news of George Floyd broke, we've also lost Tony McDade in Tallahassee, and Regis Korchinksi-Paquet in Toronto. For the past two days, South Minneapolis has been inundated with tear gas, rubber and live rounds, gunshots and helicopters as citizens protest the killing of George Floyd at the hands of Derek Chauvin, an officer who already has a dozen complaints and multiple deaths while on duty a to his name. The Washington Post's police shooting database shows no meaningful drop in police violence since the beginning of the pandemic, when public life effectively stopped; take a moment to imagine how much effort must be expended on targeting the very few people who are out in public for that number to have remained consistent. Already, the focus in mainstream white media and among many white social circles has become 'the destruction of private property,' figuring corporations as victims who deserve the protection of the state more than its citizens, and dismissing the loss of George Floyd as an inevitable tragedy that one shouldn't overreact to. It should go without saying this is unconscionable.
It's a sad coincidence — or maybe not — that this impossible week also contained the death of Larry Kramer, founder of ACT UP and notoriously difficult person. His obituary in the New York Times, a paper with which he had had longstanding conflict, described him as "abusive," which was later redacted to "aggressive" and then "confrontational." Kramer was many things, and confrontational was absolutely one of them; he built a movement around the belief that when lives are on the line, there is no choice but to take action, even (or especially) if it means you will be considered unpleasant. Lives are on the line right now; far too many Black lives have already been lost to state violence, lives of people deeply loved that could never be replaced or made up for by ten thousand Target branches. As of our last reader-facing survey done in 2019, over 80% of those who took it self-identified as white; to those people, this violence is being done in your name, and mine. It's our responsibility, then, not just to renounce it but to take on the responsibility of ending it.
The pandemic has many of us feeling, in some ways accurately, that we're helpless, or that there's nothing we can do. The good news is, there is; there always has been. To that end, I'd like to use this day and this space to ask you, a white person reading this, to make a public and material commitment to what you'll do to work to end state violence and the endless targeting of Black people by the police apparatus. Whoever you are, regardless of your resources, ability or current knowledge, there are absolutely things you can be doing to help build a different world, and if you've never been asked to do so before, I'm asking now. We've compiled resources and guideposts for where to get started, and there are so many people doing this work and who have been for generations; you will never be alone in working for this future. When you've read through them, I'd ask you to make a statement in your community, on your social media, on this website, wherever you have a role and a voice, to share what you're committing to work on — and if you can, directly ask at least one other person in your life to join you. There is so much that we can't do and can't heal right now; this is one thing we can. Here's how.
1. Donate directly to local MN initiatives and groups doing the work
In Minneapolis, there are several established groups on the ground who are already working to bail protestors out of jail, treat people injured by the police, support George Floyd's surviving family, and defund the police and redistribute those resources to serve the community. Giving what you can do them and calling on wealthy people in your life to do the same makes a huge difference – you can also set a monthly recurring donation to give sustainably and longterm, and not just in crisis.
+ Black Visions Collective, Black-led community-centered transformative justice
There will also be financial needs in the days to come — already people are being reported missing from the Minneapolis protests; some people will need longterm medical care from their injuries, and likely many people will be impacted by COVID in the coming days as well; if you can continue to give, directly to individuals if possible, you'll be helping sustain a grieving community.
2. Financially support initiatives in your area
Your area likely has something similar to the Minnesota Freedom Fund, a bail fund that helps pay people's bail and free them as soon as possible so they aren't caged in jail awaiting trial endlessly during a pandemic. Cash bail, the system whereby people charged with a crime must pay for their freedom or remain caged even before they're convicted, is responsible for a huge amount of violence and trauma within the system of mass incarceration; Kaleif Browder's story, in which he spent three years at Rikers without ever being convicted after being arrested at 16 and who later died by suicide, is an example of the violence the system causes. Use the National Bail Fund Network to find a bail fund in your area and get involved in supporting it today; bail funds literally save lives.
3. Support incarcerated people directly
In addition to the murder victims of police violence, mass incarceration harms the millions of people in the US currently in prison. To actively support and be in community with LGBT incarcerated people, look into organizations like LGBT Books to Prisoners, Black and Pink, and the Transgender Gender-Variant & Intersex Justice Project — all work to distribute resources, care and community connection to individual incarcerated people directly. You can support these institutions financially; you can also donate AND look into whether it's possible to get involved with their work locally. Think about ways you can build relationships with the incarcerated people in your area as members of your community, and understand further how you can be in material solidarity with them.
4. Support those in your community who are targets for state violence and incarceration
Many marginalized communities are at extremely heightened risk of police violence, like sex workers, Indigenous people, disabled people, immigrants, and trans people — of course the risk is even greater when someone lives at multiple intersections of marginalization, especially for Black people within these groups. People are put at greatest risk of police contact when they're lacking key resources; when someone's well-resourced, they're less likely to need to come into contact with police, and are safer. In what ways are the targeted people in your community uniquely at risk? In what ways can you use your unique privilege and social currency to shift change in those areas? Are the homeless shelters in your area gender-segregated with anti-trans policies, such that trans people seeking shelter are forced onto the street? Are there policing initiatives in your state to arrest people without masks, which will end up targeting poor people who need to go to work and don't have access to PPE? Can you make calls, or distribute masks and gloves? Communities who have the resources they need don't need to rely on police; what can you do to better resource yours? What organizations and grassroots projects led by members of impacted communities are already doing the work that you can support without trying to be a savior or reinvent the wheel?
5. Talk to white people in your life about decarceration and alternatives to police and jails
Many of our white friends & family are in a place of being upset by police violence, but not being sure what can be done about it — or to the extent they can imagine anything being done, it is only after the fact: body cams to prove force was excessive, pressing charges to convict someone of a death. These measures wouldn't have kept George Floyd alive; they're reactive, not constructive. It's time to start talking to your loved ones about other potential futures; they won't be able to support another way of doing things until they know it exists, and you can be the reason they do. There are a ton of resources you can draw on to start having conversations with people in your life about what it would look like not to just reform the police, but to build a different system; here are a few of them:
+ Critical Resistance Abolition Toolkit
+ An Introduction to Police Abolition
+ Building a Police-Free Future: Frequently Asked Questions
+ Policy Report: Investments in Public Safety Beyond Policing
+ Research Report: Public Investment in Community-Driven Safety Initiatives
And some news stories:
+ The Pandemic Is the Right Time to Defund the Police
+ Defunding Police—How Antiracist Organizers Got Seattle to Listen
+ New York's newest protesters are right: it's time to defund police
+ The Case for Prison Abolition: Ruth Wilson Gilmore on COVID-19, Racial Capitalism & Decarceration
6. Get involved in defunding your local police and community initiatives that deserve the resources
One action many in Minneapolis are taking is calling the office Mayor James Frey about an upcoming special budget meeting, and calling on him to use it to withdraw funding from the police and redistribute it to the community; grassroots org Reclaim the Block is working to "move money from the police department into other areas of the city's budget that truly promote community health and safety." Even if you don't have a similar org in your city (you might! Look into it!) you can get involved in the local politics of your community, which is where ultimately life-or-death budget decisions are made. Many Black activists have spent years going to town halls, city council meetings, and special budget sessions that are open to the public, fighting against the millions of dollars that could go to schools or healthcare instead being given to the police to buy military-grade weapons; imagine what an impact you can have doing the same thing as a white person in business casual clothing, using your social currency and respectability to the same end. Who makes the decisions about money and resources in your local government? What are their values? What information is publicly available, and what rooms can you get into? Especially if you focus on the hyperlocal – your town, your city, your county – these meetings are often open to the public and sparsely attended, meaning your voice can have a huge impact, and send a strong message to people whose jobs are determined by elections that you're watching them. If you want less (or no) money for police departments and more money for affordable housing, community safety, or education, take accountability for making it happen. Remember that this work has been going on for a long time, and there are likely already people on the ground in your area making it happen; you don't need to take it all on yourself or be a master organizer on day one, and you shouldn't! Find out who is doing the work and show up to find out how you can put your privilege and your power to work.
7. Learn about and actively invest in solutions that don't involve police; work to defund existing police departments
A world without police and police violence is more than possible; the more of us who talk about it as a reality and work toward it day to day, the more inevitable and realistic it becomes. Read the above resources in #5 for yourself, too; think about what role the police play in your community now, and what could change about it. In what situations do your community members feel unsafe? What if there were resources they could call on that would help them; what would those resources need to look like? Community accountability? A mental health crisis response with professional medical training? Community members with experience and confidence intervening in domestic violence? What would it take to create these resources in your community? This work is possible, and is being done; would recommend looking into the work of Mariame Kaba, Ruth Wilson Gilmore, Mia Mingus, Shira Hassan and Dean Spade.
---
What commitments can you make today about what you'll do to make a safer world for Black Americans and all of us from state violence?