I think of meme-able Danny DeVito from It's Always Sunny in Philadelphia saying, "Can I offer you a nice egg in this trying time?" Well, it's the internet and I can't offer you an egg. But can I offer you some nice trans woman-written stories in this trying time? Maybe a novel about a young trans woman who finds out that her mother is also trans (Casey Plett's Little Fish), a Game Boy Camera-made comic book on dysphoria (I Still Want to Kill That Boy by Carta Monir), the tale of a sex working trans cat (The Pevert written by Michelle Perez, with art by Remy Boydell), or as in the in-progress story described here, Alexis Sara's upcoming comic that features two girls eating each other out on a pile of dead angels?
I put together a small trans woman writers' roundtable to discuss topics such as editorial input, artistic community, and a literary growing up, with a chance for our readers to get a taste for each of these burgeoning writers' work. Here are the trans women writers and artists who participated in the conversation below.
Alexis Sara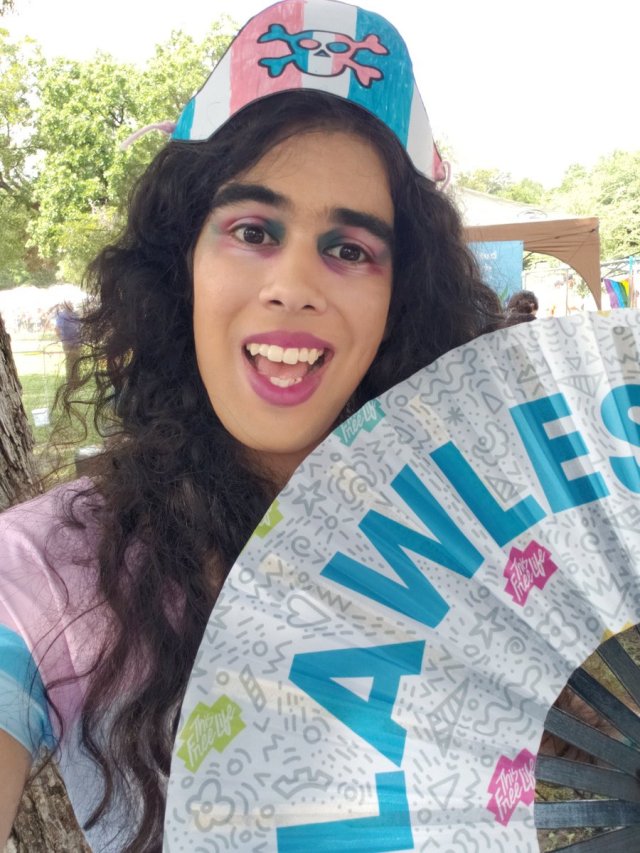 Alexis Sara is a Latina Trans Lesbian who also happens to be polyamorous and a bunch of other stuff. She writes comic books, designs games, writes articles on nerdy media, does fun queer AF podcasts and other great stuff all over the net. You can find all the links and her ramblings @transcomics on Twitter. You can give her stacks of that sweet sweet capitalist money to let her make comics about gay trans girls and cis lesbians beating up cis dudes at her Patreon.
Carta Monir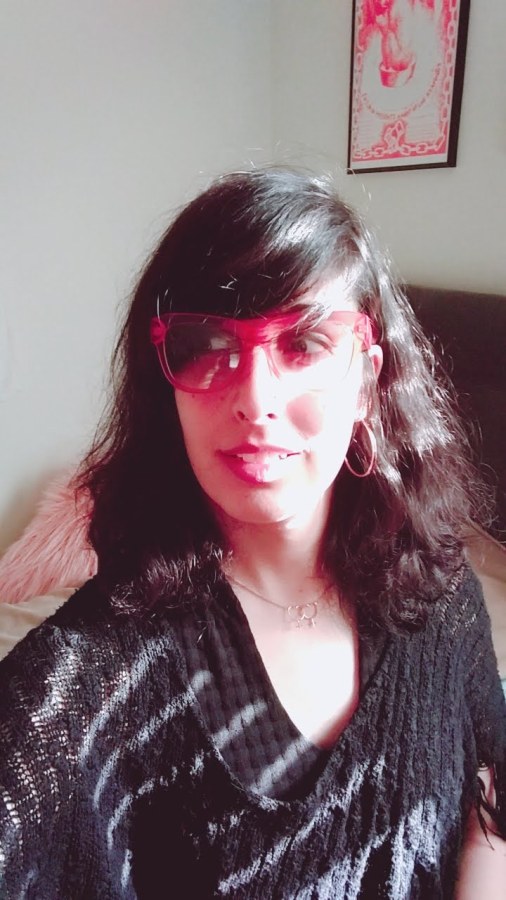 Carta Monir lives in Ann Arbor, Michigan. She's a cartoonist and podcast host. You can find her work at cartamonir.com or follow her on Twitter and Instagram at @cartamonir.
Casey Plett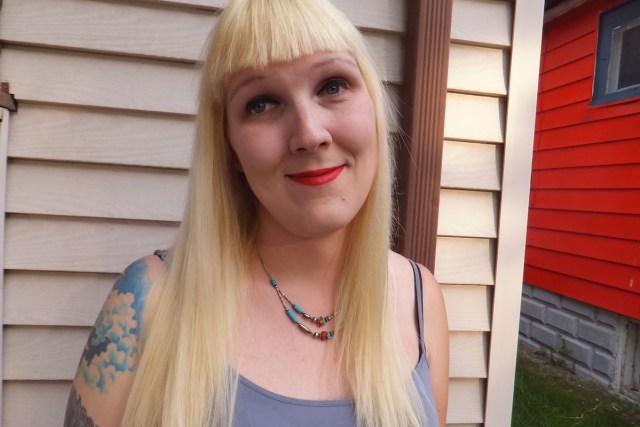 Casey Plett is the author of the novel Little Fish, the short story collection A Safe Girl to Love, and co-editor of the anthology Meanwhile, Elsewhere: Science Fiction and Fantasy from Transgender Writers, winner of the 2018 ALA Stonewall Barbara Gittings Literature Award. She is the recipient of a Lambda Literary Award and an Honour of Distinction from the Writers' Trust of Canada's Dayne Ogilvie Prize for Emerging LGBT Writers. Her work has appeared in The New York Times, The Walrus, Maclean's, Plenitude, McSweeney's Internet Tendency, and The Winnipeg Free Press. By way of the Canadian Prairies and the state of Oregon, she now lives in Windsor, Ontario.
You can find her work at caseyplett.com or follow her on Instagram at @plettsky.
Michelle Perez
Michelle Perez has written for the Eisner-nominated Women Write About Comics, and the Eisner-nominated Island anthology of comics. She is an essay writer and author, most recently having released The Pervert with Remy Boydell through Image Comics.
Find her comic Extinction Level Event with e. coffee on Patreon. It's about a dog killing everyone on earth. It's like The Punisher meets The Moon Is Down drawn by a really popular artist on tumblr who is the best at horror right now. Find more of her work at her Patreon or follow her on Twitter at @mperezwritesirl.
---
MOK: So, we're mostly comics writers with one prose writer, Casey. My first question is, do you feel commonality with other trans writers and/or artists? If so, who are those writers/artists?
MONIR: I mean… hi Michelle.
PEREZ: I've got more essay and article writing under my belt than comics writing.
MOK: Carta, you can talk about what Michelle's work and The Pervert has meant to you if you like.
MONIR: There are a lot of trans cartoonists and writers working right now, but Michelle is a good example of someone whose work moved me a lot, and whose presence means a lot to me in our creative community. Like, in terms of commonality — we have a lot of similar experiences, and address at least some similar themes in our work. I feel similarly about artists like Edie Fake and Victor Martins.
PEREZ: As far as feeling commonality as you asked earlier, I've seen a lot of people from my time in games writing branch out. For the most part, I'm happy to have went from criticism to just making my own stuff. Editors would tell me to chill out with flourishes in the writing and just chill out/do a fuckin' review. That's how I knew I was cut out for something else.
SARA: I feel like communally I am all over the place. I am for sure attached to the community but it seems more person-to-person. Webcomics are really where I hang out most now but I've got a few friends doing the bigger publisher stuff.
Probably my fave people not in this chat doing stuff are Rami H-P Lehkonen, E Jackson, Sophie Campbell and Tamra Bonvillian. Even though I just write I find I get really inspired by artists' work. Like I see cute art and stories start spinning.
PLETT: I'll second that reading The Pervert was really powerful for me. There's a few works like that that kind of touch me really deeply as just a lone weirdo reader apart from thinking about commonality as artists? Others include Fierce Femmes and Notorious Liars by Kai Cheng Thom, Nevada by Imogen Binnie, Improvise Girl Improvise by Lilith Latini and Small Beauty by jia qing wilson-yang. On the community side, there's a small group of us up in Canada that started to get published/more visible as trans women writers around similar time frames and I feel like we're often part of the same conversations. Also Cat Fitzpatrick, a trans lady poet and editor in NYC (I love her book Glamourpuss) is one of my best friends on a creative level probably. And there are others, it's wild and rules. Hey Michelle! Let me tell you that your work is really good!
MOK: Branching off from what Michelle said — and this can be separate from the question about artistic community — what has your artistic journey been like? Have you branched off from a separate path, like criticism, than you originally felt yourself going down?
MONIR: I started doing comics in college, but it was before I was out, and I wasn't making the work I wanted to. So I guess my first introduction to the wider scene was writing criticism that everyone hated, ha ha. I wrote criticism for several years, got really tired of everyone emailing to say how much they hated me, and then came out as a trans woman and started making more interesting comics. I still do a little criticism now and then (and I guess our on-again-off-again podcast We Should Be Friends is a form of criticism) but I'm primarily a storyteller at this point.
PEREZ: I was always DIY. No college. Always doing factory work. Writing in my down time. I just sharpened it like a knife for years, and when I spoke to the right people at the right time I decided to shoot my shot.
PLETT: Also, hi Annie, it was like a million years ago but I think about doing the Lizzy and Annie zine together all the time in a fond way and I think that was the first time I'd collaborated with another trans lady artist!
MONIR: Casey's writing has completely changed my life, btw. Not comics, but holy shit. I'm so in love. Torry Peters/Imogen Binnie as well.
PLETT: Aw fuuuuuuuck thank you Carta!!!
It's always a friend who gives you your first shot. — Michelle Perez
PEREZ: It's always a friend who gives you your first shot. A message board buddy I met for the first time after fingering my girlfriend in a tent near the Pacific Ocean. Some time later Brandon Graham became a mutual follow on Twitter. Then uh, I spoke to Erik Stephenson via email. It's all surreal. I'm 30 now.
MOK: Michelle, I'm sure that's a common story. 
MONIR: Michelle ,I feel like I saw you all over tumblr before I knew you for The Pervert, too. You built up a fanbase there.
MOK: I think we can all agree that that story is essentially A Star Is Born 2019. I'd like to ask a question about approach to character. What goes into character creation for you?
MONIR: Annie, I just write about myself mostly. I have a lot to write about, and it makes character creation, uh, easy because it's just me and my churning brain and stomach.
SARA: I originally "started with criticism" but I always wanted to be a writer. First for games but later for comics. I feel like I'm still fairly early in my career got a lot of shit to do. I think the biggest shift for me is making more porny stuff despite being more all ages in my brain.
PEREZ: For me, I base people off of anyone I've met. I love conversations with people, and how it's a window into their experiences. Coworkers saying dumb shit over and over, for example; that can be excellent fodder for humor, or overheard arguments. It can make your genre fiction writing a lot stronger, when people speak like people.
PLETT: Usually characters are inspired by someone in my life and then they shift a lot as they go on the page and change and shit happens to them that didn't happen in real life.
SARA: For me, I start with what I want to see about me represented, normally as many combos as possible then forge that into a character who can do things I never.
MOK: This may be a basic question, but what do you hope readers get out of your works?
PEREZ: One comic I'm doing, it's a bit different because it's propaganda, so I have to write more towards motivation and ideology, as well as what I believe to be bad ideology. Our lead starts saying weird alt right shit but ends up becoming a revolutionary.
A lot of my work is about trying to make people understand me and through that process, understand and empathize more generally, I guess? — Carta Monir
MONIR: I guess I like the idea of readers getting an understanding of me? So much of my life has been spent feeling like I'm a completely isolated person — like functionally a different species. So a lot of my work is about trying to make people understand me and through that process, understand and empathize more generally, I guess?
PEREZ: I want people to feel they got their money's worth, and feel like even if they've seen similar themes explored, that they haven't seen it done as I have. In the case of the propaganda, I want people to destroy the state.
PLETT: I feel like I have a few possible answers to that question but I'm going to be a jerk and go elsewhere with my answer — which is that whatever I hope they might, it's not something I can think about when I'm writing. Like if that question is in my head it blocks the part of me that can make stuff.
PEREZ: I also know what I don't wanna do. I didn't want to make an after school special with The Pervert. People who have never sucked a dick for money in their life can also sorta identify with Felina because the book at its heart is about what you put into work, and what it takes from you
MONIR: Michelle — yes 100%
PLETT: I can totally see that. Do you hear that kind of response often from people who've never done full service sex work?
PEREZ: Yeah, it's a common theme from people who DM me or message me.
PLETT: Cool.
PEREZ: People right now, for whatever reason, can really get behind the idea of work and the surrounding world seeming insurmountable, and for a lot of people, they're learning how it feels to lose, and lose badly.
MOK: We've touched a bit on artistic community, and Carta, you've put in a lot of work helping to foster trans artists' communities in Ann Arbor. What kind of trans arts communities do you find helpful, and what would you like to see going forward?
MONIR: God, I'd like to see a lot. More than anything, I want our communities to connect people with the resources they need to survive. And beyond that, providing a creative community that uplifts and pushes each other forward. It's so hard to create work in a total vacuum. I think that's part of the reason we see so many trans 101 narratives.
PEREZ: It's weird, do you ever feel the pressure to always teach?
MOK: Oof, that's a question. I think that's a trap we can easily fall into because it is something that people demand.
MONIR: Yeah, I do. Part of that has to do with my personality/how I was raised, I think? But more than teaching cis ppl — I'm interested in giving as much of my money and energy as I can to trans people who are struggling more than I am. Like, the work I create is not made with a cis audience in mind. (Caveat: except for the very very basic things I can get paid a lot of money for, like the comic I did for The Nib, which they edited and edited to make more accessible.)
I definitely used to worry about the pressure of teaching, especially when doing events and things. I really made myself stop worrying about it in my work itself early on, though, and it was honestly one of the best things that's ever happened to me. — Casey Plett
PLETT: I definitely used to worry about the pressure of teaching, especially when doing events and things. I really made myself stop worrying about it in my work itself early on, though, and it was honestly one of the best things that's ever happened to me. And to second Carta, like I'm not always the best at it but the time when I'm giving $/energy to other trans people is usually greater than any time that's been spent on thinking about teaching others/etc.
MONIR: (I actually killed a story I was going to do with them after that, because of the level of basic horrible explaining they demanded.)
PEREZ: LMAO. Oh man, yeah a great deal of pros can't even fucking Google shit.
SARA: I hope my readers get a feeling of belonging and a feeling of being able to be better. Able to smash the systems, find love, have sex, and generally find awesomeness in themselves. That being my audience of trans/queer readers in particular the lesser served folks of color.
Lol yah I hate explaining basic shit.
MONIR: Sam Riedel and I were going to do a story about trans women arming themselves? And all the edits we got back were like, "Can your characters look directly at the reader and quote trans murder statistics from last year?"
PLETT: OMG
SARA: Lol wow.
MONIR: Yeah. It was too much.
SARA: Like I am pretty sure that a book of mine an editor liked got rejected higher up because my characters killed bigots and didn't feel bad about it, weren't bad or conflicted about it. They want trans shit to be a PSA.
MOK: Since we're talking about editors, please feel free to either vent about bad experiences with editors, and/or speak on positive experiences because editors are the first gatekeepers in the long gatekeeping network of publishing.
MONIR: I'm getting into self-publishing for this very reason, haha. For my bigger work, I work with Youth In Decline, whose editor, Ryan Sands, is very very very good. But obviously it's a small operation, and not realistic for everyone. I haven't had great experiences with bigger-time editors. Polygon was pretty good, though.
PEREZ: I've been blessed with good editors. It's weird, people usually let me do whatever I want but catch my brain falling asleep during weird ass run-on sentences. Most of my editing stuff gets caught on the copy editing side of things. I had a shit ton of practice.
PLETT: This is kinda related to the earlier topic but I've never regretted holding the line about any stupid cis/trans stuff that's come up. When I'm working with an editor I accept, we're going to lobby changes back and forth and I'll have to compromise and they'll have to compromise but when it comes to that, no. I've been lucky that it's never resulted in a piece being killed, but I have felt myself kinda putting in an extra leg of labour when we get to that process.
SARA: Anime Feminist and Women Write About Comics have amazing editors. I never really felt talked down too or like they didn't get the shit they were talking about even if we disagreed. I always feel like I came out a better writer working with them.
MOK: I felt that with Greg Lockard when he was at DC/Vertigo — he was really just encouraging.
PLETT: Here's a positive experience. I wrote this article in The Walrus (A Canadian New Yorker-y type magazine) about trans representation in novels. That happened because an editor at the time there, Drew Nelles, saw me mention the topic in an online interview and cold-called me basically and pitched me on writing a big full-length essay for it in the mag and basically walked me through every step of the process. It was really kind and lots of work and time on his part and I had no idea how I would've tried to make something like that happen myself. I think about his efforts a lot and wish more people with that level of access took that level of time and consideration when they don't have to.
PEREZ: The only time I had an editorial layer gut my stuff was the ending of The Pervert. It was gonna be a bunch of religious and political shit. Remy fuckin' hates some religion.
SARA: But in terms of editors in comics I'd mostly rather do shit myself. I am really tired of respectability politics and all that boring shit.
I hope my readers get a feeling of belonging and a feeling of being able to be better. Able to smash the systems, find love, have sex, and generally find awesomeness in themselves. That being my audience of trans/queer readers in particular the lesser served folks of color. — Alexis Sara
MONIR: Everything you've said about the original ending of The Pervert is nuts.
PEREZ: I wanted some sacrilegious Trans Girl Furry Jesus shit where her and Judas fuck, and they were on the same baseball team. That was gonna be the book Felina was writing. It uh, did not really fit.
SARA: That is wild
MONIR: LOL
PEREZ: I'm a former Catholic. Jesus is always our boss fight whenever we make something.
Felina woulda told a priest the secret history of Jesus, he cries, renounces god, she sucks his dick.
MOK: Ha!! I'm a former Catholic too.
SARA: I'm also a former Catholic. One of my WIPs got girls murdering angels, it's amazing. Like opening is one of my girls eating out the other on a pile of dead angels.
MONIR: Oh wowwwww
PLETT: My background is Mennonite and you are all blowing my mind.
MONIR: Yeah Casey, same lol. Baha I'm not Mennonite, but same.
---
This interview has been edited for clarity and length.