On Tuesday, the International Transgender Day of Remembrance, the Third Committee of the United Nations General Assembly (UNGA) made great strides in terms of LGBT rights when it voted to keep sexual orientation and include gender identity in a resolution condemning executions for reasons of discrimination. This is the first time in history that gender identity has been included in the resolution. It's a big step for the United Nations, considering that only two years ago, the UN nearly dropped the category of sexual orientation from the list of condemned discrimination-based killings.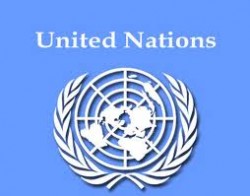 In 2010, an argument broke out in the General Assembly over whether gay people should be singled out for the same protections given to other persecuted minorities. Condemnation of executions for racial, national, ethnic, religious, linguistic reasons, as well as because of sexual orientation, were already specified in the resolution; but a committee-level change brought forth by Arab and African nations dropped sexual orientation and replaced it with the far-more-general discriminatory reasons on any basis. Luckily, "sexual orientation" was reinstated soon after it was erased from the resolution, but again, this year, many countries opposed its inclusion and were against the proposal, introduced by Sweden, to include the category of "gender identity' to the resolution. Trinidad and Tobago were concerned that the specific referral to "gender identity" would present a "particular challenge" for their country. Egypt said that it was "alarmed at the attempts to make new rights and new standards." Alhough it was opposed by the Arab Group, Iran, and the United Arab Emirates on behalf of the Organisation of Islamic Cooperation, the resolution still passed with 109 votes in favor, 1 against, 65 abstentions, and 18 absent. Those countries in favour of the resolution included the United States, Brazil, and South Africa. Asia has often been silent in matters of LGBT rights, but this time, the Asia Group voted to keep "sexual orientation" and add "gender identity" to the resolution, and Japan even made an impassioned speech stating:
We cannot tolerate any killings of persons because of their sexual orientation or gender identity. Our delegation voted against the proposed amendment to this paragraph because we think it is meaningful to mention such killings from the perspective of protecting the rights of LGBT people.
The historic resolution comes a year after the U.N sanctioned research on international violence and discrimination on the grounds of sexual orientation and gender identity. Last year, South Africa presented the proposal for this study to the High Commissioner for Human Rights. It was the first time the U.N took steps to research violence and discrimination faced by LGBT people.
Graeme Reid, the LGBT rights director at Human Rights Watch, said,
"The Human Rights Council has taken a first bold step into territory previously considered off-limits. We hope this groundbreaking step will spur greater efforts to address the horrible abuses and discrimination against people on the basis of their sexual orientation and gender identity."
The research found that, unsurprisingly, the human rights of LGBT people around the world are being violated. Same-sex relationships are criminalized in 76 countries, punishable by arrest, prosecution, imprisonment, and in five countries (Iran, Saudi Arabia, Sudan, Yemen and Mauritania) the death penalty. The study also found that LGBT people face systemic discrimination when it comes to healthcare, education, and the labour market. As Reid had hoped, the UN has indeed "spurred greater efforts" to tackle discrimination by including "gender identity" and leaving sexual orientation in the resolution condemning unjustifiable executions.
U.N. Secretary General Ban Ki-Moon spoke about the research's disturbing findings and pointed to the importance of ending silence around issues of gender identity and sexual orientation:
Some say that sexual orientation and gender identity are sensitive issues. I understand. Like many of my generation, I did not grow up talking about these issues. But I learned to speak out because lives are at stake, and because it is our duty under the United Nations Charter and the Universal Declaration of Human Rights to protect the rights of everyone, everywhere.
But unfortunately, the UN still has a long way to go. Although the resolution has passed, two-thirds of UN members have still refused to sign a separate statement condemning all human rights violations based on gender identity and sexual orientation. The U.S didn't even sign this statement until 2009, once Obama had been elected as President.
Though UN resolutions and statements are not legally binding, they are still important in setting an international standard on what is accepted. The past few years, the U.N has made great strides in showing that though individual countries still have a long way to go, the international community at large does not accept discrimination and violence against LGBT people.
As Jessica Stern, executive director of the International Gay and Lesbian Human Rights Commission summarizes it well:
With [Tuesday's] UN vote, a majority of governments worldwide decisively rebutted the ideology of hate and affirmed the simple but fundamental premise that LGBT people have a right to exist. By some measure, this is a low bar, but progress is incremental and every step must be celebrated in advancing human rights for everyone, everywhere