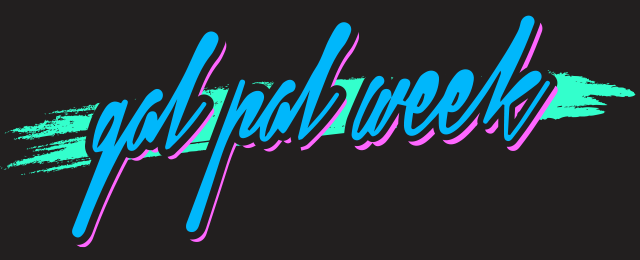 Far too often our queerness is only discussed in three contexts: relationships, family and politics. But our queerness plays a role in our friendships with other queers, too, and that's what this series is all about. We're celebrating gals who are genuinely pals (not girlfriends labeled "gal pals" by weirdo mass media.)
---
Sometimes having queer friends just isn't enough to feel whole in queer spaces. We need our queer friends of color to understand where we're coming from, to be there to support us, to help us heal, to listen, to laugh with us and to see our whole selves. Our QTPOC besties are vital to our existence so we wanted to create a list filled with our stories to celebrate just how magical they are.

Lexi Adsit and Luna Merbruja
Lexi Adsit, a fierce, femme, powerhouse of a revolutionary woman and Luna Merbruja, a magic maker, healer, writer, and one of the best performers ever, met at Gay Activist Camp in Northern California. They're the pair behind Brouhaha: Trans Women of Color Comedy Storytelling, which they co-hosted.
Some of their favorite things to do together are eating out, brushing Lexi's hair, getting their nails done, manifesting their #TWOCTakeover dreams, kicking ass on stage, watching scary movies/TV shows, making big life decisions, conferencing, co-hosting and organizing revolutionary events.
Luna says because of her friendship with Lexi she's learned how to believe in love — but not in the Nicholas Sparks kind of way that's rare and unstable. She's learned the kind of love that is honest, where they can make mistakes and come back to each other after they've had space to heal.
"I also learned how to let my curls down and be carefree, how to love myself in all my growing processes," Luna said. "This friendship has taught me how to take chances and risks on my dreams because I have someone rooting for me every step along the way. I have learned to be a better person, artist, and dreamer because my best friend tells me how proud she is of every endeavor I take, regardless if I succeed or not."
Lexi has learned numerous things from Luna, including how to shed layers of her internalized racism and trans misogyny, that it's ok to be brown, trans and femme, because they deserve everything the world has to offer and Femme4Femme love is extraordinary. She's also learned you shouldn't abandon your friends for a partner, you can let your true self shine through to someone who really loves you and it's okay to ask for help.
One of their favorite moments together happened during Luna's 21st birthday week extravaganza in Las Vegas. On the first day, after some free margaritas at the slot machines, they took a cab back to the Excalibur. Shortly after resting and then preparing for more day drinking, Lexi realized her wallet was missing. But this had no impact on their will to celebrate Luna's birthday, they say. Dressing in their finest, they ventured out to more casinos and utilized their charming looks to obtain the drinks they so heavily desired. When they tired of entertaining boys for free drinks, they swapped Luna's ID for more Vegas shenanigans.
---

Karina and Lex
Karina, a 22-year-old Chicxna, jota and first-generation college student straight out of South Central Los Angeles, met Lex, a 4th generation Latinx and a soon to be social work grad student who uses the pronouns them/they/theirs, through a mutual friend at "Healing Thursday," an event to heal from modern and ancestral trauma. Karina says they didn't click right away because of disagreements over the Catholic religion but that ultimately their discussions of controversial issues made them closer.
"We've learned that we don't have to agree on everything in order to be great friends," Karina said. "One minute we're in a heated discussion about the Prison Industrial Complex and the next we're in an open-minded discussion about monogamous/poly relationships while enjoying some Mexican food."
Karina and Lex love being politically conscious together on and off campus by attending racial justice events. They dedicate most of their time to POC/QTPOC issues and advocate for culturally inclusive spaces for their communities.They both acknowledge they have privileges as documented people of color who have access to a public university and its resources so they use them to benefit their communities as campus delegates at state-wide conferences. Some examples of campaigns that they have supported are UConsent and Increase Graduation Not Incarceration, Transform Education.
"Overall, we enjoy being angry queers of color who fuck up the patriarchy, heteronormativity, white gay agendas, and systematic racism," Karina said.
One example of their "ride or die" friendship philosophy is when they where waiting to see Margaret Cho at a campus event when Lex received a text message bug that crashed their iPhone messages. Lex sent the same message to Karina "just to see what it was" and subsequently also crashing Karina's phone.
"I was ready to murder them until I finally found a way to fix the bug," Karina said. "They thought it was hilarious. They called it a Ride-Or-Die bonding moment. I ended up forgiving them because we survived the bug. We ended the night with Margaret Cho using us as comedy props for a legit 10 minutes given that we were the only queers directly in front of her. It was AWESOME and I forgot all about them intentionally giving my brand new iPhone a bug."
---

KaeLyn Rich and Jasper Gonzalez
KaeLyn, a nonprofit leader by day and a writer and sex educator by also-day and sometimes-night, and Jasper, a biracial poet who's transitioning, met at SUNY Oswego when they were both creative writing majors and while being involved with the campus' Women's Center and Rainbow Alliance. But what really brought them together was when they pledged an international community-service orientated frat, Alpha Phi Omega — APO or as they called their very queer chapter "Gay-P-O."
"Through a lot of hard work, late nights, and chain clove-cigarette smoking, we realized we got along rather well," they say. "And then we kind of followed each other to Rochester. And ten years later we're still friends."
The pair did a lot of activist work together in college and continue to do social justice work as 30-something adults, but they also just hang out a lot. They like to meet up and eat at their favorite Indian, Thai, Chinese and Ethiopian restaurants and talk current events mixed with pop culture like So You Think You Can Dance and Steven Universe. They say "snarkiness is a consistent thread" in their friendship.
KaeLyn feels like Jasper is one of the few people who knows the realest version of herself. "He knows the 20-something KaeLyn with the bright red hair and the piercings," she said. "And he knows the KaeLyn with a mortgage and a 401k. And I think he knows the parts of those identities that are performance and those that are not. He sees all of me in a way very few people can (or are allowed to)." KaeLyn says when she gets too wrapped up in bullshit respectability politics sometimes or "pragmatic stuff that Capricorns sometimes get trapped by," Jasper pulls her out of that and provides friend self-care she can't get anywhere else, even from her partner.
"He's one of the least judgmental people I know and one of the most kind and humble," KaeLyn says. "Somehow, Jasper both grounds me and inspires me to let my freak flag fly… and to keep writing."
Jasper really values how KaeLyn has helped him to be more body positive despite having weight-related dysphoria and has helped him think critically about intersectionality of oppressions. "KaeLyn is probably one of the few long-standing friends who can be in my personal space without me being uncomfortable, and coming from a childhood deprived of healthy physical relationships on a platonic level. And while KaeLyn didn't teach me intersectionality of oppressions, she engages me actively to look at what I say and how I think to see the micro-aggressions buried in even flippant remarks."
---

Kai and Drea
Kai and Drea met at the 2014 Autostraddle Calendar photoshoot. Drea was Miss July and Kai was Miss October. Kai, being outgoing and an extrovert, volunteered her house as the official motel for the models that came from out of town while Drea, a loner with an adventurous side, was happy to stay at her own place. The way they became BFFs went like this: "Later that same week, Drea brought Kai pizza and cupcakes. Cue party of two. Kai dropped some sausage on the floor. Drea ate it. Best friends ever since."
Sadly, they've been in a long distance friendship for a little over a year. So the time they used to fill with National Geographic marathons and romantic tandem-bike riding on the beach is now spent ringing each other's phones, always knowing the other will answer. One of their favorite memories was when they spent days creating a board game called "Coochie Credit," with the objective being to "stay out of debt." They were positive it would revolutionize the queer game scene and be their get-rich-quick scheme.
They've also learned a lot of things from each other. Drea has learned to appreciate an individual's inner beauty from Kai. "I've always referred to Kai as a social butterfly and held this quality as a sort of mythical, unattainable gift that I could only hope to achieve," Drea said. "I've learned steadily that Kai's being a social butterfly is a way of floating graciously from one person or place to another in order to enjoy the unique offerings of each whilst neither accepting nor rejecting that which might be found undesirable. Kai has a way of appreciating a person in the way they are most natural."
Kai really appreciates Drea's life advice and great friendship. "We've gone through some crazy situations both individually and together, and with her, I've experienced for the first time a friendship that is 0% judgment and 100% support."
---

Coco, Eli, Edyka
Eli is a butch indigenous farmer who owns a red pickup. Coco is a queer unicorn ghetto princess who loves colors and big glasses. Edyka is a brown fire spitting dream making poet reina. As three politically inclined queer indigenous/mestiza women of color living in a small town that is close to 80% white in Texas, it didn't take very long to find each other.
While they're together they like to sit around, cry, smoke the devil's lettuce, encourage each other, make potions, cry again, make food, pray, dance, laugh, share secrets, draw, think about their futures, farm, walk around the hood, limpias, hike, share books and ideas and freak out about the government and the patriarchy.
They tell us a special time they all shared together, starting at a temazcal, a type of sweat lodge used to cleanse the mind, body and spirit. "So a farmer, a poet, and an artist walk into a temazcal. One came out with a book. One came out with seeds. One came out with knowledge. They traveled to the south gulf together across the vastness that is Aztlán and each made their offerings of gratitude. In return they received lessons on how to turn over the soil, to turn the next page, and to start a new way of doing. They both failed and succeeded in ways they could only understand when they came back together. They called this magic."
---

Elisa, Jordan, Tara
Elisa, an activist and a creative twentysomething; Tara, a social worker and believer in the power of creation and pleasure; and Jordan, a classical singer and barista, with a strong love for the Romantic and eccentric, met at different times in their lives in Buffalo, NY. Tara and Jordan went to high school together while Elisa went to a different high school. Elisa and Jordan randomly friended each other on Facebook while in high school and their friendship blossomed from a complimentary comment. Tara and Elisa met each other at a concert but actually connected via Jordan when they bonded over recent breakups and the two degrees of separation that is Buffalo's queer dating pool.
Tara's car is at the epicenter of this trio's friendship. "I think one of the main things we do together is provide a sense of community for one another and really nourish our identities that share these roots of being black/multiracial kids from a super segregated rustbelt town who grew up queer," Elisa said. "We spent our childhoods/lives straddling all these different identities and it's hard to find folks with similar backgrounds or who can understand that, even in QPOC spaces. We really reaffirm each other, definitely from afar but especially when we're together, which generally results in us wilin' out or having a kiki in Tara's car, but also going through some real-ass moments and times together in her car."
A few years back, they lost a friend to gun violence and were all home for the funeral and spent a lot of time riding around at night in Tara's car — sometimes bar hopping or DDing, or just going to Walmart. It was a way for them to just be together and to hold each other down. "It was a surreal time but we laughed a lot," Elisa said. "I'll never forget that."
---

Gloria Delgadillo Alvarado and Mónica Teresa Ortiz
In Gloria's words, Mónica is a hopeless romantic with a beautiful creative heart and is a lot wiser than one would think. In Mónica's words, Gloria is a firecracker and one of the most loyal people that you can ever hope to find.
They met one summer when they both worked/volunteered at Workers Defense Project, a labor rights organization in Austin. Although they had sort of seen each other around at different actions, Mónica added Gloria on Facebook without having a real conversation first. Luckily Gloria accepted Mónica's friend request which then began a short period of frenenemiship. Eventually they became very close.
The pinnacle of their frenenemiship was when they were at the organization's anniversary dinner and Mónica kept her sunglasses on even though they were inside."When we were standing in line to ask Dolores Huerta to autograph our "Huelga" prints, Gloria told me that only two kinds of people wear sunglasses inside," Mónica recalls. "She said only blind people and assholes wear sunglasses inside. I just laughed and knew we would be very good friends after that."
The pair loves talking to each other about everything — about their vulnerabilities and their secrets. Also, they write together sometimes and believe in justice. Mostly though, they enjoy being hopeless romantics together and indulge in their hopeless romantic fantasies.
Mónica says she's developed a better understanding of being open, of being understanding, of communication, and of building a strong Queer identity from her friendship with Gloria.
Gloria says Mónica has taught her to let things go, to let things happen. And that it's okay to feel and when you feel a lot, it's good to write it all down.
---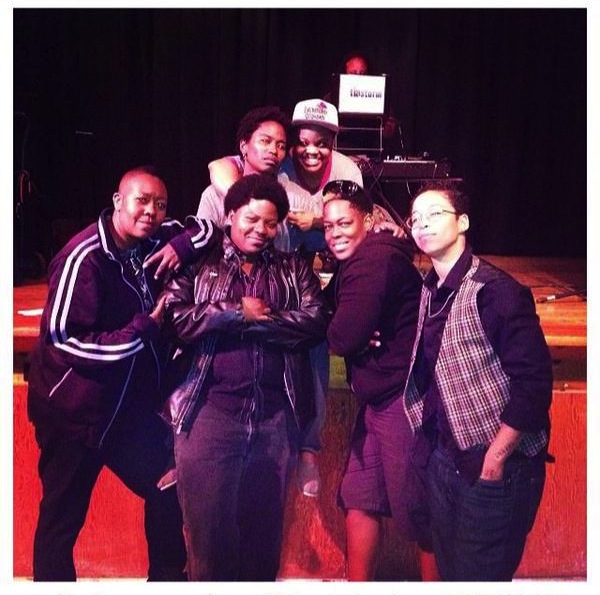 Everyone in this crew are community activists, artists and healers. They all met at various parts of their lives but became family at the Black Lesbians United Retreat. 
It's hard to get them all together but when they can they like going to LA Sparks games, shooting pool, and going to family house parties. When it's BLU time, they love getting on the African drums together and getting the ladies to dance to their rhythm. They've also gotten themselves into some shenanigans when they're together like that one time they almost got their homegirl kicked out of her apartment. "Long story short, if you are going to reenact Bell Bive Devoe's "Poison" video at a house party make sure that your neighbors are invited."
From their friendship with each other, they've learned about the power of black brotherhood and the importance of having friends that are on the same journey that you are.
---

CJ and Christian
CJ, a 25-year-old genderqueer boi from London via Trinidad and Tobago and Christian, a postgrad student, met their first-year at university. They have lots of fun going to QTPOC events together, spoken word events, ordering the same thing — a peanut butter and malt milkshake — at Ed's Diner and watching documentaries and films.
Christian values CJ's ability to be the same person in very different social situations. "It's one of those characteristics I've tend to associate with a sort of genuineness and honesty of self, whilst at the same CJ has SUCH an open mind about everything too," Christian said. "I guess I'm still learning myself on how to do that!"
CJ says Christian has definitely inspired them to go after what they want and find what they love and what inspires them. CJ's also really grateful for Christian's friendship and help while they had top surgery in Florida in 2014. "He put up with my stressing, emptied my drains, forced me to relax, and put my piercings back in post-surgery (except THAT one, he says)," CJ said. "We went out on the town and Christian was pretty much my bodyguard, making sure no one bumped into me. We took selfies with a stone gorilla and made friends with random Americans. We purchased matching Pokémon belts because we're cool."
On the way back to London, there were complications with CJ flying due to problems with their passport. Christian wouldn't leave CJ to get on the plane, even though a new ticket for him would cost more than $1,000. "It was really, really sweet and really stupid," CJ said.