Feature image via teacoffeebooks.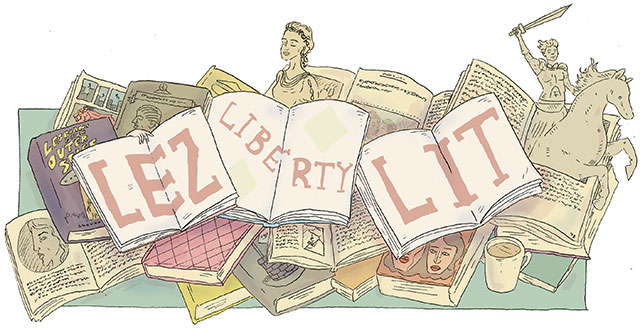 Meena Kandasamy discussed writing, geography, time, language, protest and more at Ploughshares:
"I do believe that languages are biased, fucked-up structures, clearly reflecting a lot of the status quo, reflecting the inequalities and very often reinforcing them. This does not mean that language does not contain the potential for revolution, or to serve as a call to arms. I'm with Toni Cade Bambara (who, to paraphrase very wildly) once said: 'The role of the radical artist is to make the revolution irresistible.' I think language can be used to mask grave crimes (the language of United Nations reports, for instance), or to send across stereotypes, or even sometimes to denude us of all feeling, all outrage. Capitalism does this successfully—using happiness and beauty to sell—and to extend its interests without worrying about the imbalance and inequality. I think this one reason why the role of a poet becomes important—you are not only saying things but you are also digging out the weapons in the arsenal of language, you are reclaiming love, you are celebrating beauty. […]

I think it is perhaps romantic that a poet vests so much of her faith in language, but if one does not do that, where else can she learn to dream?"
At the Millions, Stephanie Lacava wrote about Eileen Myles, the fugitive form and Chelsea Girls:
"Chelsea Girls is an example of a hybrid work that's taken on cult status. It's considered an autobiographical novel, straddling the space between nonfiction and fiction. One of the times I meet up with Myles, she is just back from a panel at AWP, the big writers' conference, with Maggie Nelson, Eula Bliss, and Leslie Jamison, among others, at which she turned to them and said, 'Isn't it a fugitive form you guys are creating?' Well said."
At Africa is a Country, Neelika Jayawardane and Ainehi Edoro wrote about how African writers are depicting queerness differently:
"Within the past five years, we've seen a sea change in attitudes towards homosexuality by writers, in part a response to virulent anti-homosexual legislation in key locations. Writers such as Chimamanda Adichie and Binyavanga Wainaina have been very open about their personal views on homosexuality and have gone on to challenge and chage how homosexuality and same-sex desire is represented in fiction."
New Shirley Jackson new Shirley Jackson NEW SHIRLEY JACKSON. (And at the Toast, her copy editor writes about editing her.)
In the Paris Review, Adrienne Raphel writes about the intersection of typography and writing:
"I'm a stickler for fonts when I read; it's one of the reasons I lug around paper books instead of a Kindle. But writing is different. When I'm writing, I'm in twelve-point Times New Roman: I want a default that will allow me to get what I'm hearing in my head onto the page. If I find myself fussing over font, I know there's something much deeper that's wrong. Fidgeting with font, for me, is a procrastination technique, like picking at my hangnails or chewing gum."
One of the struggles with reading more women is whether or not they even appear on the shelves.
Sending out your novel under a male name is one way to see how sexism in publishing is real:
"Within 24 hours George had five responses — three manuscript requests and two warm rejections praising his exciting project. For contrast, under my own name, the same letter and pages sent 50 times had netted me a total of two manuscript requests. The responses gave me a little frisson of delight at being called "Mr.wp_postsand then I got mad. Three manuscript requests on a Saturday, not even during business hours! The judgments about my work that had seemed as solid as the walls of my house had turned out to be meaningless. My novel wasn't the problem, it was me — Catherine."
But it doesn't even matter because no one takes writing seriously as a career anyway.
You need to read these black lesbian writers.
"A sunny reimagining of a classic tale," and other things you will never read in a book review.
What's your relationship to teen magazines? 12 year old Carolyn would be super excited that I finally got to go to IKEA (my family did not believe in IKEA because it was too arty and also was difficult to get to) and that it turned out there was a very good reason I never cared about boys, but would still be sad I've never had a loft bed as pictured in one especially coveted issue of YM.
Longreads has a reading list about diversity in comics.
Dr. Seuss's What Pet Should I Get may well be the foremost work of cultural criticism this year. It's a great example of his genius. Also, this review is in verse.
Are libraries the future of manufacturing?
Emily Books's next pick is Thérèse and Isabelle by Violette Leduc and I am so excited about it:
"Thérèse and Isabelle rests somewhere in the lesbian literary canon between Patricia Highsmith's The Price of Salt and Christa Winsloe's 'Children in Uniform.' It bravely and sexily navigates two of the most taboo issues of its time — youthful lust and deviant female sexuality — and had it gone uncensored, the novel had the potential to set the bar for how queer female sexuality is depicted in contemporary literature."
Casey the Canadian Lesbrarian recommended some books with queer lady scientists, including Y: The Last Man, Gut Symmetries, Ammonite and more.
An Emily Dickinson documentary is on Kickstarter.
At Lambda Literary, Stephanie Glazier reviewed The Small Backs of Children by Lidia Yuknavitch. Gena Hymowech reviewed Looking for a Kiss: A Chronicle of Downtown Heartbreak and Healing, by Kate Walter. Anna Call reviewed Orphan #8 by Kim van Alkemade.
At Autostraddle, Melanie wrote about The Mermaid In Chelsea Creek and the series it's in. Ali interviewed Maggie Nelson. Mey wrote about Team Girl #11 and Not Funny Ha Ha, a comic about abortion.
Book Things To Do In Person
15 August, Montreal: Queer between the Covers, Montreal's annual queer book fair, is back! Centre communautaire de loisirs Sainte-Catherine d'Alexandrie (1700 Amherst Street), 11 am to 6 pm.
15 August, Minneapolis: As part of the Nepantla: A Journal Dedicated to Queer Poets of Color reading series, Hieu Minh Nguyen, Cameron Awkward-Rich, Erin Sharkey and Danez Smith will read at the Loft Literary Center (1011 Washington Ave.), 7 p.m.
21 August, Los Angeles: As part of the Nepantla reading series, Ryka Aoki, Joshua Jennifer Espinoza, Imani Tolliver, Margaret Rhee and Myriam Gurba will read at ONE National Gay & Lesbian Archives (909 W Adams Blvd.), 7 p.m.
28 August, Berkeley: As part of the Nepantla reading series, Jewelle Gomez, Yosimar Reyes, Arisa White and Marvin K. White will read at Berkeley City College (student lounge, fifth floor, 2050 Center St.), 7 p.m.
1 December: Submissions for Topside's short speculative fiction anthology by trans writers are due.
1 December: #Trans: An Anthology Collection about Transgender and Nonbinary Experience Online are due.
Know of a queer event with literary merit? Send it to us! The Liberty Lit is bi-weekly.
---
Books! They are really great. You just won't believe how great they are. You may think that the Internet's great, but that's just peanuts compared to books. In Lez Liberty Lit, we talk about literary shit that's happening that you should probably care about.
The name "Liberty Lit" was inspired by the short-lived literary journal produced by Angela Chase at Liberty High School in 1994.