Hello and welcome to the third recap of the first season of "The L Word: Generation Q," brought to you by the same network that brought you The L Word, a show about a little boy named Shay who loved to drink milkshakes all day but then broke his arm. :-(
Some business:
1. Have you seen this INCREDIBLE post about our live L Word: Generation Q event? Wow check it out. We're also getting the podcast episode transcribed so it will be accessible to all!
2. On a scale of "1′ to "10," 10 being a recap that will make you laugh until you urinate in your trousers and "1" being a recap that makes you wonder if the internet was a good idea or not, I would give this one a 6. Just setting expectations here!
3. I received a very kind email from a very kind and smart person about how in the olden days, podcasts were also video. I admit that…. this is true, and I haven't mentioned that while ranting about Alice's "podcast" not being a podcast, and that my confidence in doing so has been partially informed by what I perceived to be popular consensus about Alice's "podcast" not being a podcast. But! I do indeed remember the video podcast era 'cause at one point in '05-'06, back when NPR and Slate had a solid monopoly on the podcast game, it sometimes felt like most of the podcasts available on iTunes were video, which confused and frustrated me 'cause you can't watch videos on your phone and the whole point of podcasts were that they were an audio medium! Sometimes I'd accidentally download a video podcast and be sad because what was my little hot pink nano gonna do with that? That being said, I also feel like we called them "video podcasts" or "vodcasts" and that regular video shows posted on websites, like Alice's, would've been called "vlogs." I too had a vlog. But I also feel like there is a case to be made for my case being thrown out.
4. Are y'all watching Work in Progress? It's so weird and good and you should!
5. Let's get this lez-show on the road!
---
We open NOT with sexual intercourse but with a generous sequence of Los Angeles City of Dream Angels Baby b-roll, before finally zooming in on DaSoMi's (I just made that up) chateau, where Sophie, Dani and Jose are dancing and Micah is NOT dancing. I am Micah in this scene, wishing I was Sophie in this scene. This scene is really fucking cute!!!!
Micah and Jose are going to a Dale Lewis art show tonight which Sophie would kill to attend. Jose just LOVES the way Dale Lewis mixes art with politics, which describes like 90% of modern artists but okay! Everybody is doing their best to pay tribute to Bette Porter by talking about art on this show and I see their effort and I respect it.
Upstairs in the respite of their shared boudoir, Dani's Dad calls but Dani ignores it, instead turning her focus to the pressing issue of what Sophie's gonna wear to the wedding. Everybody's obsessed with what these two are gonna wear to the wedding even though they got engaged last week. My personal dream is tankinis or riding crops. Sophie, already settling into a vision of celebrity or Real Houswife-dom, suggests a white velour sweatsuit. On a WAY more serious note — Dani's considering donning her Mother's wedding dress.
Dani: I didn't think about how hard this would be without her.
Sophie: Baby, she's gonna be there. She's here right now.
Dani: Do you really believe that?
Sophie: Of course I do.
Reader: I cried! Dead parent stuff gets me every time.
---
Dani listens to Pop's voice mail: he apologizes for overreacting, congratulates her on her engagement and says he'd love to meet up for lunch.
---
Meanwhile, Rebecca and Finley are still in bed, being sweet and naked and chatting about humping dolls. Specifically, Rebecca used to sit atop her big-headed doll Sylvia's face and just go to town. I ship it. Speaking of going to town, Rebecca's gotta go.
Finley wants her to stay in bed all day and fudge. Like so many early-stage lovers before and after her, Finley even offers to call in sick to facilitate this fuckathon, leaving poor Alice to build her own display case of very cool glasses. Unfortunately, Rebecca's commitment is far more pressing than whatever Finley's not getting paid enough to do and she's really, truly, really truly gotta go. Finley rolls around in bed with her boobs out and her armpit hair exposed and Rebecca says, "Don't do that."
"Do what?" Finley asks, knowing exactly what she's doing.
"Making it so hard to leave."
"Good, then just stay."
Finley, our local Siberian husky, offers to come along to wherever Rebecca's going but recoils immediately when Rebecca reveals her ultimate destination — CHURCH. Specifically, MCC. (MCC stands for "Metropolitan Community Church," which was founded in 1968 as an explicitly LGBTQ-inclusive congregation.) Finley doesn't know anything about MCC, but the very idea of church sends her spinning.
---
Cut to Atlas Bar and Grill (fun fact: the "Atlas" Bar and Grill scenes were filmed at The Semi-Tropic in Echo Park), where Tess and Lena arrive for a long day of selling brewskis to brosties, only to find the door is already unlocked. Tess accuses Lena of forgetting to lock up. Then Tess offers to go in first, to which Lena replies, "Oh, 'cause you're so tough?" before decidedly going in first. What is happening with these two??!!
Who's inside? It's Shane! Shane is talking to a man about how she'd like the room to be designed in such a way that when people walk in, they will feel beautiful. I think what she means is "low lighting" and I think what she did is… she bought the bar.
The unhappy couple are confused… and then, gradually, delighted.
Tess: Do I still have a job?
Shane: Uh well, I was hoping that you'd like to run this place.
Tess: Are you kidding? I get to run the floor of a lesbian bar??
Tess is so excited it's so cute!!! After giving Shane an enthusiastic hug, Tess can barely contain the litany of good ideas she's been storing up all these years! For example: a VIP area with bottle service and DJs and also, she's sober, but she can design the FUCK out of a drinks menu. This bar's gonna be lit, y'all! I've never heard of a bar having a drinks menu, let alone a drinks menu and DJs, let alone both of those things and a VIP area with bottle service. Also; stoked to see how they explore Tess's sobriety. There's a very very active queer sober community in Los Angeles and it'd be great to see that represented.
Enchanted by her interior dreamscape and likely continuing to dream of additional features, like perhaps chairs and tables, or a dance floor; Tess leaves her girlfriend alone with Shane. Lena immediately saddles up to Shane like you would to somebody you've already had sex with. Out of the side of her mouth, she tells Shane how incredible she is and that she can't believe she did this! I can't believe that Lena is doing this so I guess it's a confusing day for all of us.
---
Over the highway and through the woods to Natalice's apartment we go! Alice is wearing an unfortunate shirt, seemingly inspired by my kindergarten teacher's wall decor, and is leaving Nat alone to deal with a potential crisis involving a puzzle piece inside Eli's nose and a bunch of plastic toys on the kitchen island 'cause Alice is meeting up with her besties, Bette and Shane.
Alice pauses, realizing something that's apparently evaded her for the past two years — doesn't Nat have friends she'd like to go out with sometimes? 'Cause if so, Alice would happily watch the half-humans. Nat's pleased by the offer but reminds Alice that she's completely friendless. Apparently, all her friends sided with Gigi post-breakup even though Gigi was the cheating one, because Gigi's also "the cool one."
"She was my best friend too," Nat says, sadly.
Alice delivers an amusing bit about how Nat could take some of her third-tier friends, by which I hope she means Helena because what is Rachel Shelley even doing that means she can't be on this show?
---
Cut to Alice with her friends talking about how Nat doesn't have any friends.
Shane shows up with Lena, inspiring suspicious glances from her friends. Lena's gone ahead and almost taken off her entire shirt just in case Shane wants to remove the rest wink wink?? Luckily for my sanity, she's not sticking around — she's gonna wait for a take-out order / stare longingly in Shane's direction.
Alice is STOKED to hear Shane's bought Atlas to flip it into a lesbian bar but Bette's skeptical of Shane making impulsive decisions while heartbroken, like when Bette cancelled her fine meats and fish delivery boxes after Tina moved in with Joyce Wyshnia even though the delivery girl offered to come over and cook them all for her.
Alice suggests Shane resist the urge to "shit where she eats." Bette affirms this advice with the weary knowledge of somebody who's currently in an excruciating situation involving her former employee Felicity Adams. And you know, has a history with… Jodi… and Nadia…. and Candace…
---
Cut to the Private School for Asshat Children. A girl who looks like she just crawled out of the sewer calls Angie "Angemunch" and then says that she heard Angie's Mom slept with everyone on the school board, which I think is the plot of a gang bang porn film but definitely not an accurate anecdote from the Life of Bette Porter. The girl concludes that her previous assumption of Angie being an "affirmative action kid" was wrong, it's just that her "Mom is a slut and everyone knows it"! What I wanna know is how did this SLUT-SHAMING idiot get into this school?
Angie does the only thing a person could reasonably do in this situation: punches that zombie bitch in the face!
---
Back at The Aloce Show, Finley's recapping her Rude Awakening to Sophie — how Finley stuck around in the AM with Rebecca with intentions of sharing a morning meal with her beloved, only to have said beloved not-dine and yes-dash 'cause she had to attend CHURCH on a TUESDAY which Finley finds A LITTLE WEIRD seeing as they'd been FUDGING ALL NIGHT. Finley's got a lot of baggage from her religious upbringing that she maybe hasn't even shared with Sophie who, by the way, does not think it's weird.
Sophie: Where did she go?
Finley: It reminded me of the Mickey Mouse Club?
Sophie: Ohhh aww, you a little stupid. [Puts her hand on Finley's shoulder] You mean MCC? That place is on my venue list. Do you want to come with me?
Finley says no, 'cause she doesn't wanna burn in hell …. but then says yes, 'cause she wants to be Sophie's flower girl. "Not in those shorts," Sophie says what we're all thinking. "Burn 'em." How convenient for Finley who was already on her way to burn in hell!
---
Back at The Waking Dead Academy for Jerkoffs Named Mandy, Angie's been suspended and Mandy got a "stern talking-to." The reason for this is, of course, racism. So now it's time for Bette to talk to Angie about how she lives in a wildly racist and specifically anti-Black culture and systemic racism will confront and threaten to destroy her at every turn!
Angie — and me, honestly — expected something very different from Bette here, but what we got instead was truly excellent Bette Porter parenting.
Bette: Mandy is gonna get away with a lot in life and you won't. Okay? The rules are different for you and you know that.
Angie: I know. It sucks.
Bette: I know. It's not fair. But the only way to survive the system is to understand how it works, and then you stay ahead of it. And I know that's shitty. And I'm sorry.
Angie: I thought you'd be mad.
Bette: I am. I'm angry that this happened to you and I couldn't prevent it and I am fucking enraged that the world works like this. But there are two things you need to take away from this. One, you are too good for this place and two — you cannot under any circumstances hit people! You got that?
Angie: Yes. Yes ma'am.
It's great to see Gen Q confronting conversations like these head-on, as they were often either avoided or completely mishandled in the original. Tip of the hat to Regina Y. Hicks who wrote this episode! Also to me, tipping my hat to cover my eyeballs that get teary when Bette and Angie hold hands and walk out of the school together.
---
IT'S TIME FOR A VERY SPECIAL GUEST ON THE ALOCE SHOW!!! I want you to know that Showtime was VERY concerned about ensuring that we did NOT tell ANYBODY about Megan Rapinoe's surprise cameo on this show, which DESTROYED ME inside, but then they released this information to the public several days prior to the episode airing and guess what? That ALSO destroyed me inside.
Finley's about to jump out of her pants she's so fucking excited!!!!!! She HAS to tell Megan that she's her hero!!!! Sophie's really working to get her calmed down, and it's truly delightfully adorable.
Alice asks Megan Rapinoe for her coming out story — turns out Megan was in the dark about her Sapphic proclivities until college, and then went ahead and outed her twin sister for good measure.
Alice: If you could say anything to that little kid, what would you say?
Megan: YOU'RE GAY. Obviously. You're a really big lesbian. You're wonderful and it's beautiful and you're gonna love it. It's better when you get yourself out into the light.
Awwww.
Alice asks if any gay shit goes down in the women's soccer locker room and Megan says their celebrations are pretty gay 'cause everybody's in a sports bra tossing cold sparkly sticky liquids all over each other, which inspires the entire audience to generate sparkly liquids between their legs. Megan even concedes that "surprising hookups" may have occurred within the team, but "no mistakes." This is honestly incredible information and I'm delighted to have it, even though this entire scene has absolutely no relevancy to the plot of the show.
Finley's vagina is going to explode!
---
Back to Bette 2020 HQ where Henry Ford would be VERY proud of this campaign gift bag assembly line they've got going on. Dani and Pierce have a problem on their hands ahead of this debate, though: Angie got into a fight at school. And the school she got into a fight at? Private.
Honestly Angelica should've won a Nobel Peace Prize for punching that bitch in the face and the debate should be cancelled and replaced with a reception for Angie's award ceremony and Jordi should be allowed to attend, sorry.
---
Take me to church!!! Finley will worship like a dog at the shrine of your lies, she'll tell you her sins and you can sharpen your knife.
Speaking of sins, there's a big surprise for Finley waiting for her in church and it's not that, as Sophie reads in a pamphlet, MCC offers wine tastings and Mexican cooking classes.
Yup, Rebecca isn't just
going
to church, she's
working
at church. The entire congregation sits down. Finley remains standing. Rebecca sees Finley. Finley sees Rebecca. Sophie realizes what's happening and yanks Finley down to earth. Sophie's facial expressions throughout this scene are epic and perfect. "I fucked the priest," Finley says. It's a big year for people fucking priests!
Finley does the sign of the cross and mouths a little "I'm sorry" to God. God made Olivia Thirlby and is totally cool with the whole thing.
---
Cut a food truck where Dani's met up with Daddy to have a stand-and-eat, wherein he apologizes again and says he's set up a meeting to check out The Biltmore, a very fancy potential wedding location! The perfect venue for his darling daughter to marry her betrothed, who might be wearing white velour track suit. Dani's not sure that the Biltmore will fit into their budget, but obvs Dad's ready to shell out major moolah for a location where he could proudly invite his rich terrible friends. Also, he does seem to genuinely love his daughter and want the best for her et cetera.
Dani wonders what Mom would've wanted for her wedding and Dad says she would've wanted everything they didn't have, which hopefully includes lions, tigers AND bears. He describes his wedding, for which Mom spent almost their entire budget on flowers and they wore hand-me-downs, which Dani says sounds romantic. "She would want more for you," Dad says. "She always did." (Bears!)
---
Back at the M-C-C, Sophie's snapping pics of the spot for Dani. Rebecca's apologizing to Finley for not being immediately open about her gig, admitting she's more closeted about being Christian than she is about being queer. Okay. Finley's concerned that Rebecca's marriage to Jesus has been violated by doll-humping but Rebecca says it's open, no worries.
Finley was raised VERY Catholic and is resistant to Rebecca's insistence that churches can be safe spaces. Rebecca knows a lot of queers have religious baggage but she tries to "help remind them that they're not those kids anymore" and that "they can choose what they want to believe." For example, they've mostly chosen to believe in astrology. That's democracy!
---
At DaSoMi's, a half-naked man is smoking a cigarette by the pool and Micah's never seen him before. Is he an extra? A spy? A special friend of Jose's?
Inside DaSoMi's, the engaged couple are catching up after a long day apart:
Dani: How was your day?
Sophie: I mean, sexism is real but I got to meet Megan Rapinoe!
Sophie tells Dani that MCC looks like a great venue and also Finley fucked the minister!!!! Dani's like oh that's cool but I don't know just riffing here how would you feel about The Biltmore?
Sophie's down but her inner alarm bells go off when she hears Dad's already scheduled a walk-though. It's truly not Dani's fault that Dad went ahead and did that without her consent, but it seems like good faith assumptions have been off the table since Dani switched professions. Now Sophie's curious who's idea this was… Dani's or Dani's Dad??? Maybe Dani saw this 2013 video from The Biltmore Coral Gables "Love is Love" Gay Wedding Campaign. You never know! YouTube is free!
---
We zip merrily over to Nat's, where Alice's trying to set up a friend date with Gigi and Nat, like maybe they could go for coffee and discuss topics like carpentry and love affairs?
"She misses you," Alice shrugs. Gigi's taken aback, maybe flattered, but ultimately open to it. Nat, on the other hand?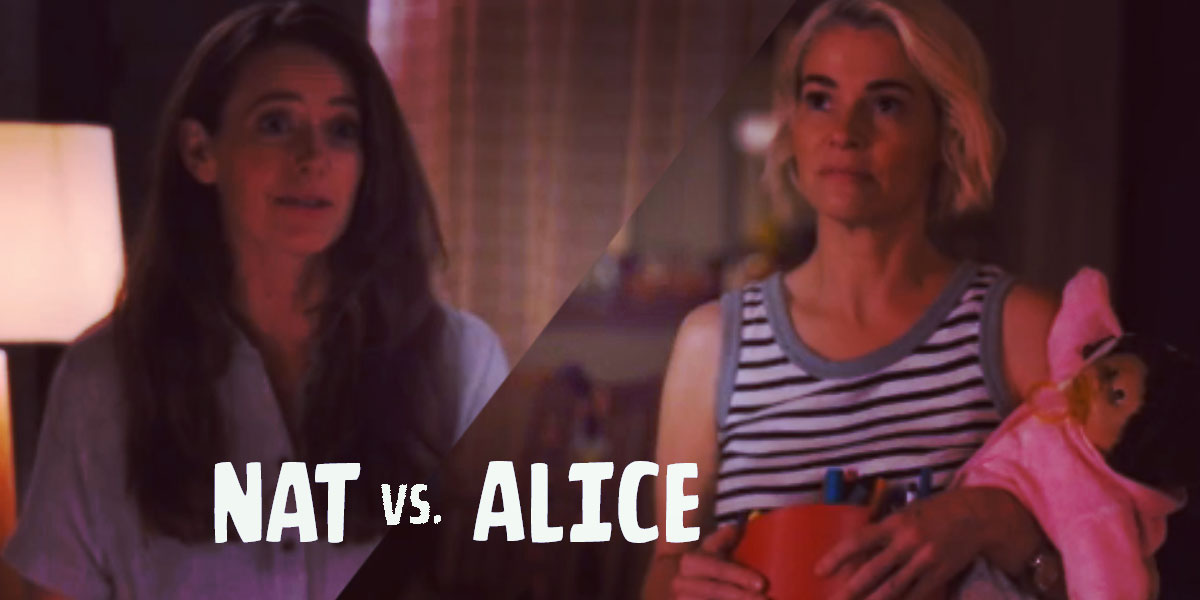 Lesbian Squabble #7: Once My Lover Now My Friend?
In The Ring: Alice vs. Nat
Content: Why would Alice tell Gigi that Nat misses her? Because she does! But she's my ex-wife!? But she was your friend!
Alice: I dated my best friend too, as you know, and when we broke up it was very painful. [Throwback #13: Alice and Dana's relationship + breakup, S2-S3}
Nat: You would really be okay if me and Gigi were just gal-palling around town having fun?
Absolutely, says Alice! They could mani-pedi, for example. They should not spa — that could involve robes and everybody's private parts being out in public — but she can totally see a mani-pedi being a valid, if brief, activity. Anyhow, Alice thinks that Nat's the cool one. Nat says now she KNOWS Alice is lying. Honestly, fair. Gigi is the cool one.
Who Wins? They actually resolve their fight and come to an agreement, so they both do! Yay communication!
---
Back in Micah's bathroom he's practicing smiling in the mirror when Jose shows up. Micah's stoked for the art show, he studied the artist on the internet and is ready to have pretentious art conversations! Jose's face does not reflect an appropriate level of excitement, and Micah asks what's up. Jose's so sorry but he's gotta cancel to take care of some personal stuff. EXCUSE ME?!!
My stomach hurts for Micah! I hate this. When you cancel literally at the moment you're supposed to leave, you owe your date more than just a casual "I'll make it up to you." You owe them, for example, a legitimate explanation or maybe some indication of empathy or perhaps physical affection or maybe even a romantic night at The Biltmore.
---
Elsewhere on the East Side, Shane's all alone at The Bar Formerly Known as Atlas when Bette shows up with flowers, which will definitely make everyone feel beautiful. Also, she'd love a drink, and to apologize to Shane for being a shitty friend, 'cause Shane's always been there for her. [Throwback #14: S2 when Shane was the only one in the friend group still talking to Bette after she cheated on Tina.] Shane admits Bette was right — buying the bar was an impulsive choice. I might be projecting here but I feel like Shane's the kind of person who never really figured out how to prioritize her own happiness, or even understand how to achieve it, and so the idea of helping to make somebody else's dream come true is what pushes an impulsive decision over the line from "interesting business idea" to "this will fill the void." So now here we are.
How's Shane doing anyway, with her heartbreak?
Shane: There are times that I feel normal and then the feeling of missing her just hits me like a fucking wave.
Bette: Are you sure that it's over?
Shane: I have divorce papers sitting in my drawer right now so I'm pretty sure it's over.
Shane says their problems aren't problems of not loving each other. She just wants to feel normal again. She wonders when that might be, and asks Bette how long it took her to feel normal after Tina? Bette says she still doesn't feel normal, sorry! Love is a lie! Bette says she misses the kind of love that she had with Tina — you know, a stir-fry and slurpee kind of love — because it made her feel alive. And. And!!!
She never thought Tina would fall in love with someone else.
She
never
thought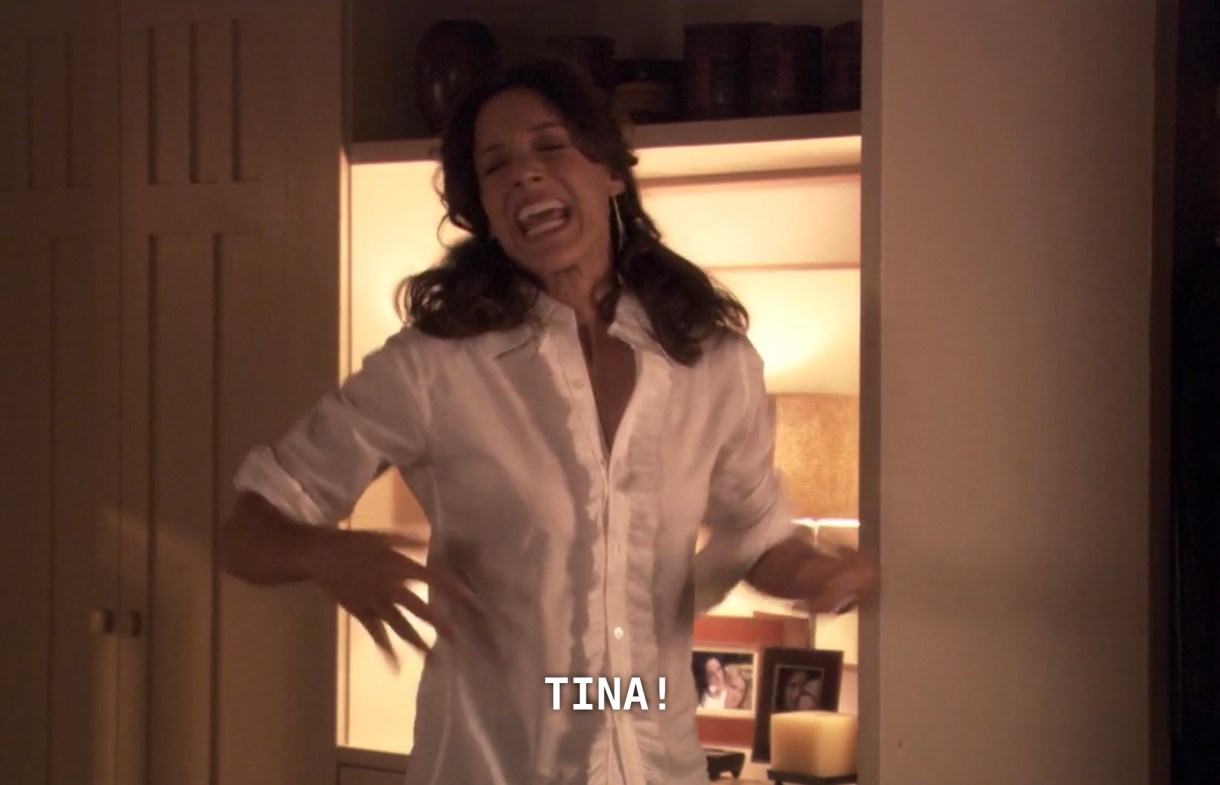 would
fall in love
with
somebody
else!!!
Phew it feels good to have that out, as indicated in the comments on last week's recap it was really killing me to not share this information with all of you! Don't worry I haven't seen 104 yet so we're all on the same page now.
Bette said everything changed when Tina left her, including that Bette began menopause shortly thereafter. Personally I'm unsurprised to hear that Tina causes menopause. But Shane's young, Bette says. She'll be okay. She needs time to pass and for days to go by. Isn't it wild that Shane is almost 40, but also that in a way, I am almost 40? ahahahsahaahahsadjkasdjklasj
---
Lest he be lonely tonight, Micah fires up the 'ol dating app and gets down to relatively immediate business with a sexy stranger named Hassan who's profile pic includes a cat, which means Hassan is a lesbian.
Queer Sexy Moment #8: Filling the Void
The Players: Micah and Hassan
The Pick Up? Swipe!
Hot or Not? Hassan says he's never had sex with a trans guy before. Micah rolls over. Honestly Micah … seems sad? I don't like it!
---
The next morning at Bette 2020 HQ, Bette's signed Angie up for a new private school where she won't have to look at Mandy's stupid face, which's not particularly exciting for Angie — or for Dani and Pierce, who suggest to Bette that her support of public schools (and opposition to increased funding for charter schools) is undermined by her insistence on sending Angie to private school. "Same assholes, different zip code," laments Angie.
Bette refuses to have her kindred baby pickle out there amongst the common people, despite Dani's insistence that many L.A. Public Schools are just as good and Angie's very clearly expressed desire to attend public school, where she'll be more than a diversity point for a brochure.
Bette: Look I get what you're trying to do, but I'm not about to exploit my daughter to improve the optics of the campaign.
Angie: You can if you want!
Angie wants to be where the cool people are. "T and I chose the best school for you," Bette tells her child. "You have to trust that as adults sometimes we can see a bigger picture."
"Are you sure that it's the best school for me?" Angie asks. "Or is it actually the best school for you?"
---
Cut to The Biltmore, where a shiny-faced white woman is leading Dani and Sophie's family through the hallowed and expensive corridors and ballrooms of this fine establishment, draped in all the finest things with plenty of room for 300+ guests and a cocktail hour and LUXURY. "Thank God," jokes Maribel with Sophie. Dani and her father move comfortably through the space while Sophie and her family don't feel entirely at ease but are fine to go along for the ride and make the best of things.
Nana wants to know where the food goes, but Lady Biltmore says outside food is not allowed, only delicious in-house catering served by ten million lithe gay men in white gloves who float from table to table on an invisible network of electric crystals, hand delivering Duck L'Orange Napoleons, Organic Tomato Tartlets and Sake-Compressed Watermelon into the eager open mouths of lesbian wedding fans. You're lucky to have gotten a spot, Lady Biltmore informs her pithy followers. Usually it's booked five years out!
RECORD SCRATCH.
Yup, Dad's already booked the Biltmore. For May 10th. It's just that this is very important to him. He wants a location where all his colleagues will feel comfortable and know that their Arcadian salad will be Hearty and contain farm-fresh vegetables. Sophie's livid. "Thank you," Dani says, tersely. "We're gonna discuss this and I will let you know."
As Drew and Analyssa talk about in this week's podcast, this scene and the next are getting into interesting dynamics around class never really approached in the original series, where families were too far away for anybody's background to inch its way to center stage. Everybody adapted to wealth, or aspired to it. But class differences in relationships are always complicated, and never easy to talk about, and I hope they dig into this a little more.
---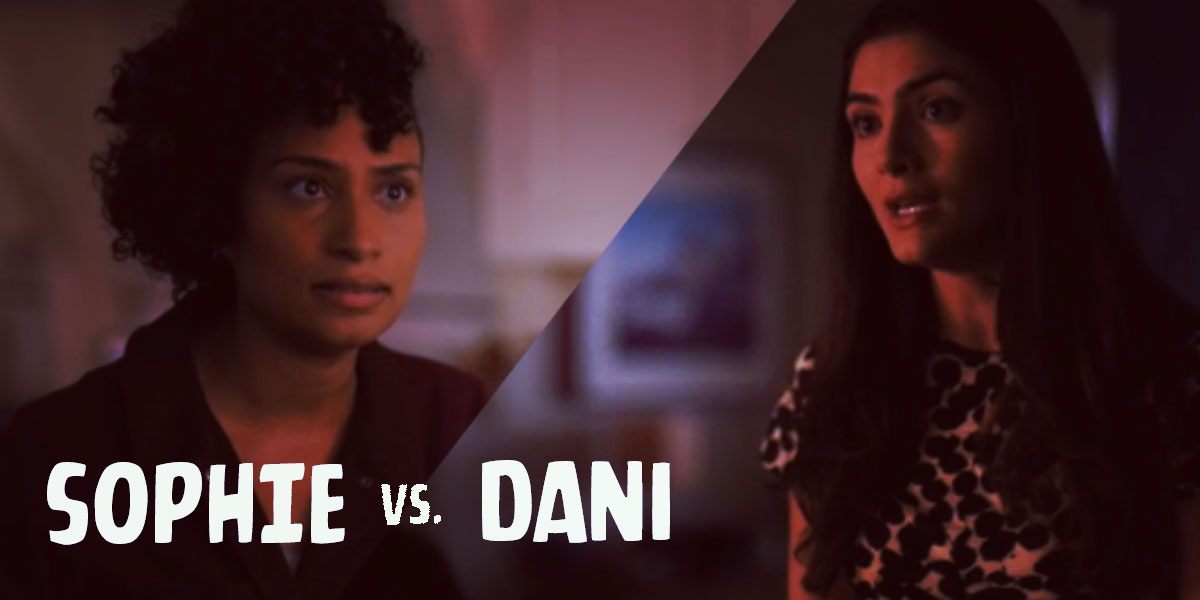 Lesbian Squabble #8: I Married In The Sun (Tell me where tell me where I can put my food)
In The Ring: Dani v. Sophie
Content: Sophie wants to feel comfortable at her wedding and eat the food her family makes and also did Dani see how they looked at her and her family? Dani says her Dad's been looking forward to her wedding his whole life and is it that big of a deal if they just marry at the Biltmore? (Which, by the way will cost, at least $110k. YES I priced it.) (YES Instagram has been haunting me with wedding venue ads ever since.) Sophie's like, yes by definition this is absolutely the biggest deal of all time. Don't couples compromise? asks Dani. Sure! But Sophie's not gonna compromise with her Dad.
Sophie: "Okay. Don't you want to marry me and not feel like we gotta keep our spines straight?"
Dani: "Of course I do. But I don't wanna hurt him. I don't wanna hurt his feelings."
Sophie: "I know. But you're hurting mine instead."
Who Wins? Sophie. That last line STUNG. But Dani's situation isn't without sympathy — her Dad's her only family member, and maybe vice versa. She wants to honor his offer and what it means about his affection for her by accepting it, and also clearly isn't sure how to negotiate him into something less Biltmorey so soon after she left his company and he was not initially stoked about her engagement. But Sophie's right to want the wedding to feel like their wedding, not a performance for Rodolfo's evil scheming colleagues, and to panic about her lack of control over next steps. I think this happens a lot, where the spouse with the wealthier family ends up getting to call a lot of the wedding-related shots. I remember when my cousin married a very rich person whose very rich family arranged for an extremely fancy and expensive wedding and it kinda felt like we were all getting away with something to even be invited. But I also love having access to fancy things I can't afford myself and that does not seem to be Sophie's style or her family's values, and Dani needs to understand that if they're going to have a successful marriage. Take it from me, a person with no business giving marriage advice! Sophie wants a wedding that reflects who they are and who her family is and how good her Mom's food is and that's fair.
---
Welp, it's time for a wee Mayoral candidate debate between Bette Porter and a Mean White Man! It looks like Nat and Gigi have settled on this event for their friend date and are having a GAY old time giggling and making inside jokes while Shane side-eyes. "I think I may have brought two best friends back together," Alice says, proud of herself.
"Two ex-wives," states Shane, who clearly is up on the facts!
Bette, looking very toppy at her podium, declares that the city doesn't need more businesses! It needs more housing, which's why it's one of the three pillars of the tiny house known as "her campaign." As she prepares her lungs to extrapolate on these pillars, her co-conspirators panic in the back row.
Bette: Housing —
Dani: Please don't say education, please—
Bette: Unemployment—
Dani: Please don't say education—
Bette: And Education.
Dani: We're fucked.
White Guy tries to gotcha Bette about her daughter being in private school but Bette's gotcha too — her daughter is now enrolled in public school at the Los Angeles School for Enriched Studies! TAKE THAT. Dani and Pierce are surprised! He could call her out for literally enrolling her today because this debate was about to happen… but instead asks if it's 'cause Angie was expelled and no private school was willing to enroll her? Bette gets VERY defensive about her daughter, who she says ANYBODY would be lucky to have 'cause she's an AP scholar, National Merit Award winner and honor roll student. Before we can dwell too extensively on what exactly is going on here, Bette's gotta Bette and she Bettes real good:
Bette: "Oh I know what you meant, you were using coded language to imply, among other things, that our city's public schools are inferior. And I would have to ask you by what measure. If all you do is look at AP scores and rankings then you're missing out on the bigger picture. Our city's public schools have a more diverse student body and faculty that reflects the students back to themselves. and that is invaluable."
Bette says "diversity matters" and everybody claps! Wow how meaningful! The Teacher's Union IMMEDIATELY sends over their endorsement while Bette repeats Dani's talking points to the rest of the room. I'm stoked for Angie to go a school she actually wants to go to.
---
Finley has, indeed, dealt with her fear around religious situations by blowing Rebecca off, and is now riding her stolen bike around town listening to a voice mail from Rebecca, who's bummed they're not hanging out. Maybe Finley should reconnect with her faith, Rebecca suggests, but also maybe not, but also who knows? Rebecca thinks maybe they met for a reason?
Finley parks her bike, and looks up. She's at church.
---
Meanwhile at Natalice's, Gigi and Nat are having a fantastic friend date where they laugh and Alice glares at them from across the room, before eventually getting up, crossing the room, and signaling the friend date's conclusion.
Alice thinks maybe they had a LITTLE bit TOO much fun? Like just a smidgen too much fun, like pee-in-your pants funny jokes were told and it was all a bit much. Nat tenderly delivers some version of "I told you so," assures Alice she finds her funnier than Gigi, and soothes Alice's pain with an offer to watch Naked and Afraid.
---
Meanwhile, Shane's drinking alone in the deep recesses of The Bar Formerly Known as Atlas in what appears to be an "office." She is surrounded by containers of alcohol and probably magical potions, I'm ready to see a model ship in a bottle somewhere. This'd be a great place for Finley to hide a body. Shane's texting "I miss you" to Quiara but it looks like her most recent texts from Quiara say "I miss you. Real bad."
An interesting text from somebody who recently sent divorce papers.
Shane gets up, stumbling over to her Wall of Drunk for another pour when lest we dwell upon one of many mysteriously withheld pieces of background information that sometimes seem to be filling in for a plot with genuine forward momentum — guess who's stopped by to remind us that she has a nice rack?
"I just wanted to thank you again," Lena says because she needs to provide some explanation for why she's come down to the dungeon at this advanced hour.
"For what?" says Drunk Shane.
"For showing up when you did," she breathes. "I didn't know how much I needed you."
This is my reaction to that and also Shane's:
Lena continues, taking additional steps towards Shane, who leans against the desk to steady herself. "Tess and I, we've been struggling for a long time," Lena begins. WHAT IS HAPPENING. "You know, at work it's one thing, but our relationship…. you know. She just doesn't see me the way you do. And I think she's starting to get a little jealous because of the way I look at you and the way you look at me. And it's over between us."
"Lena, this is not a good idea," mutters Shane.
"Lena, this is how everybody feels about Shane," everybody watching this from home screams. "You're not special bb!"
"I think you can feel it too," Lena whispers, but we can still hear her and we hate it.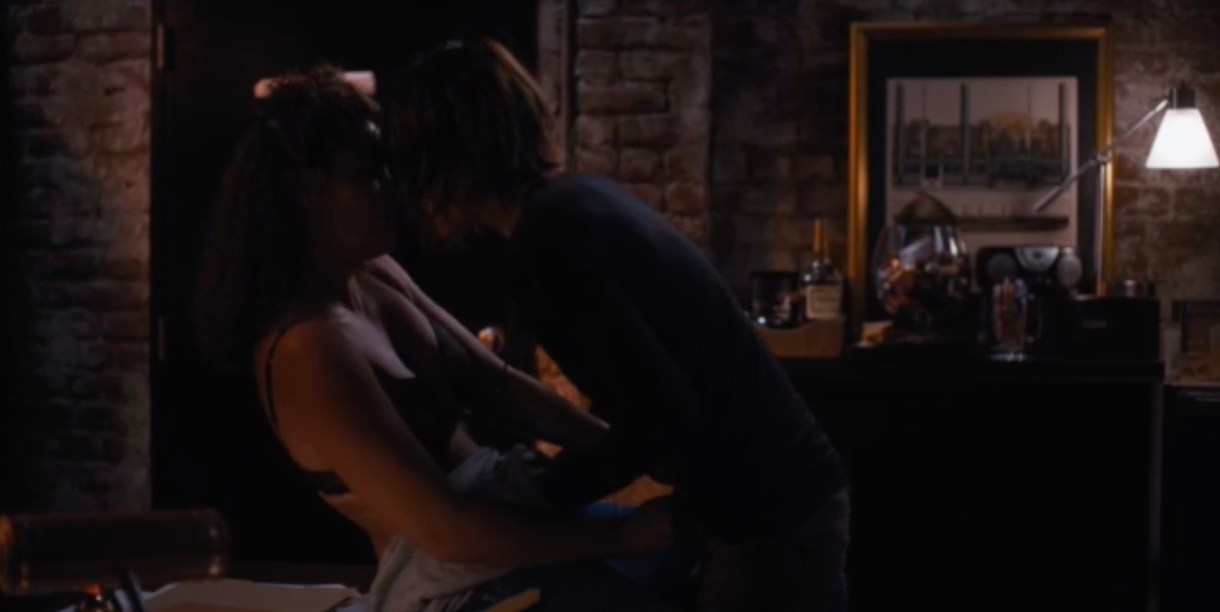 Lesbian Sexy Moment #9: Kiss Kiss Bang Bang
The Players: Shane and Lena
Hot or Not? I hate everything about this situation but when Shane flips Lena around and lays her on the desk and claws her shirt off and reaches for her belt, I cannot help but have some deep lesbian animal response to the whole scenario! But let the record show that I still hate it and Shane is VERY drunk. Truly hard to believe that Tess is the one messing up her and Lena's relationship.
---
Finley's at church over in the candle area, as one often finds oneself in film and television when confronting various inner demons and life turmoil:
Them she sits in a pew and like cries a little bit. She has feelings inside of her torso and eyeballs, lots of 'em. Guess who shows up? Okay I'll tell you, it's Rebecca:
Finley cries more. Rebecca puts her hand on Finley's leg. This is so gay.
---
Micah says Jose bailed and then he "did that thing he does," by which he means that he fucked a stranger from a dating app.
Sophie's like "it's okay to fuck a stranger!" It's 2019! Sophie wants to dance but Micah still doesn't want to!!! Sophie says she'll teach him. It's cute!
---
Dani's leaving what must have been a very quickly-planned meeting with the leader of the teachers' union who thinks Bette Porter did GREAT up there.
Meanwhile Bette's in a hotel room, watching the news talk about her while carefully removing her earrings. There's a knock at the door. It's FELICITY, AMERICAN GIRL.
The camera backs up to show Dani in the hallway, seemingly watching Felicity enter Bette's room. Are they on a starship how are all of these things happening in the same building? Also hot tip: there's also a clip in a trailer of Bette sitting in this same hotel room, clutching a pillow and looking upset. So I wonder what's next for these two!!!
---
The Round Up:
Sexy Moments: 2 this episode, 9 total
Squabbles: 2 this episode, 8 total
Throwbacks: 2 this episode, 14 total
Quote of the Week: "I fucked the priest." Finley + Fleabag
Pages: 1 2 3See entire article on one page