Back at The Aloce Show, Finley's recapping her Rude Awakening to Sophie — how Finley stuck around in the AM with Rebecca with intentions of sharing a morning meal with her beloved, only to have said beloved not-dine and yes-dash 'cause she had to attend CHURCH on a TUESDAY which Finley finds A LITTLE WEIRD seeing as they'd been FUDGING ALL NIGHT. Finley's got a lot of baggage from her religious upbringing that she maybe hasn't even shared with Sophie who, by the way, does not think it's weird.
Sophie: Where did she go?
Finley: It reminded me of the Mickey Mouse Club?
Sophie: Ohhh aww, you a little stupid. [Puts her hand on Finley's shoulder] You mean MCC? That place is on my venue list. Do you want to come with me?
Finley says no, 'cause she doesn't wanna burn in hell …. but then says yes, 'cause she wants to be Sophie's flower girl. "Not in those shorts," Sophie says what we're all thinking. "Burn 'em." How convenient for Finley who was already on her way to burn in hell!
---
Back at The Waking Dead Academy for Jerkoffs Named Mandy, Angie's been suspended and Mandy got a "stern talking-to." The reason for this is, of course, racism. So now it's time for Bette to talk to Angie about how she lives in a wildly racist and specifically anti-Black culture and systemic racism will confront and threaten to destroy her at every turn!
Angie — and me, honestly — expected something very different from Bette here, but what we got instead was truly excellent Bette Porter parenting.
Bette: Mandy is gonna get away with a lot in life and you won't. Okay? The rules are different for you and you know that.
Angie: I know. It sucks.
Bette: I know. It's not fair. But the only way to survive the system is to understand how it works, and then you stay ahead of it. And I know that's shitty. And I'm sorry.
Angie: I thought you'd be mad.
Bette: I am. I'm angry that this happened to you and I couldn't prevent it and I am fucking enraged that the world works like this. But there are two things you need to take away from this. One, you are too good for this place and two — you cannot under any circumstances hit people! You got that?
Angie: Yes. Yes ma'am.
It's great to see Gen Q confronting conversations like these head-on, as they were often either avoided or completely mishandled in the original. Tip of the hat to Regina Y. Hicks who wrote this episode! Also to me, tipping my hat to cover my eyeballs that get teary when Bette and Angie hold hands and walk out of the school together.
---
IT'S TIME FOR A VERY SPECIAL GUEST ON THE ALOCE SHOW!!! I want you to know that Showtime was VERY concerned about ensuring that we did NOT tell ANYBODY about Megan Rapinoe's surprise cameo on this show, which DESTROYED ME inside, but then they released this information to the public several days prior to the episode airing and guess what? That ALSO destroyed me inside.
Finley's about to jump out of her pants she's so fucking excited!!!!!! She HAS to tell Megan that she's her hero!!!! Sophie's really working to get her calmed down, and it's truly delightfully adorable.
Alice asks Megan Rapinoe for her coming out story — turns out Megan was in the dark about her Sapphic proclivities until college, and then went ahead and outed her twin sister for good measure.
Alice: If you could say anything to that little kid, what would you say?
Megan: YOU'RE GAY. Obviously. You're a really big lesbian. You're wonderful and it's beautiful and you're gonna love it. It's better when you get yourself out into the light.
Awwww.
Alice asks if any gay shit goes down in the women's soccer locker room and Megan says their celebrations are pretty gay 'cause everybody's in a sports bra tossing cold sparkly sticky liquids all over each other, which inspires the entire audience to generate sparkly liquids between their legs. Megan even concedes that "surprising hookups" may have occurred within the team, but "no mistakes." This is honestly incredible information and I'm delighted to have it, even though this entire scene has absolutely no relevancy to the plot of the show.
Finley's vagina is going to explode!
---
Back to Bette 2020 HQ where Henry Ford would be VERY proud of this campaign gift bag assembly line they've got going on. Dani and Pierce have a problem on their hands ahead of this debate, though: Angie got into a fight at school. And the school she got into a fight at? Private.
Honestly Angelica should've won a Nobel Peace Prize for punching that bitch in the face and the debate should be cancelled and replaced with a reception for Angie's award ceremony and Jordi should be allowed to attend, sorry.
---
Take me to church!!! Finley will worship like a dog at the shrine of your lies, she'll tell you her sins and you can sharpen your knife.
Speaking of sins, there's a big surprise for Finley waiting for her in church and it's not that, as Sophie reads in a pamphlet, MCC offers wine tastings and Mexican cooking classes.
Yup, Rebecca isn't just
going
to church, she's
working
at church. The entire congregation sits down. Finley remains standing. Rebecca sees Finley. Finley sees Rebecca. Sophie realizes what's happening and yanks Finley down to earth. Sophie's facial expressions throughout this scene are epic and perfect. "I fucked the priest," Finley says. It's a big year for people fucking priests!
Finley does the sign of the cross and mouths a little "I'm sorry" to God. God made Olivia Thirlby and is totally cool with the whole thing.
---
Cut a food truck where Dani's met up with Daddy to have a stand-and-eat, wherein he apologizes again and says he's set up a meeting to check out The Biltmore, a very fancy potential wedding location! The perfect venue for his darling daughter to marry her betrothed, who might be wearing white velour track suit. Dani's not sure that the Biltmore will fit into their budget, but obvs Dad's ready to shell out major moolah for a location where he could proudly invite his rich terrible friends. Also, he does seem to genuinely love his daughter and want the best for her et cetera.
Dani wonders what Mom would've wanted for her wedding and Dad says she would've wanted everything they didn't have, which hopefully includes lions, tigers AND bears. He describes his wedding, for which Mom spent almost their entire budget on flowers and they wore hand-me-downs, which Dani says sounds romantic. "She would want more for you," Dad says. "She always did." (Bears!)
---
Back at the M-C-C, Sophie's snapping pics of the spot for Dani. Rebecca's apologizing to Finley for not being immediately open about her gig, admitting she's more closeted about being Christian than she is about being queer. Okay. Finley's concerned that Rebecca's marriage to Jesus has been violated by doll-humping but Rebecca says it's open, no worries.
Finley was raised VERY Catholic and is resistant to Rebecca's insistence that churches can be safe spaces. Rebecca knows a lot of queers have religious baggage but she tries to "help remind them that they're not those kids anymore" and that "they can choose what they want to believe." For example, they've mostly chosen to believe in astrology. That's democracy!
---
At DaSoMi's, a half-naked man is smoking a cigarette by the pool and Micah's never seen him before. Is he an extra? A spy? A special friend of Jose's?
Inside DaSoMi's, the engaged couple are catching up after a long day apart:
Dani: How was your day?
Sophie: I mean, sexism is real but I got to meet Megan Rapinoe!
Sophie tells Dani that MCC looks like a great venue and also Finley fucked the minister!!!! Dani's like oh that's cool but I don't know just riffing here how would you feel about The Biltmore?
Sophie's down but her inner alarm bells go off when she hears Dad's already scheduled a walk-though. It's truly not Dani's fault that Dad went ahead and did that without her consent, but it seems like good faith assumptions have been off the table since Dani switched professions. Now Sophie's curious who's idea this was… Dani's or Dani's Dad??? Maybe Dani saw this 2013 video from The Biltmore Coral Gables "Love is Love" Gay Wedding Campaign. You never know! YouTube is free!
---
We zip merrily over to Nat's, where Alice's trying to set up a friend date with Gigi and Nat, like maybe they could go for coffee and discuss topics like carpentry and love affairs?
"She misses you," Alice shrugs. Gigi's taken aback, maybe flattered, but ultimately open to it. Nat, on the other hand?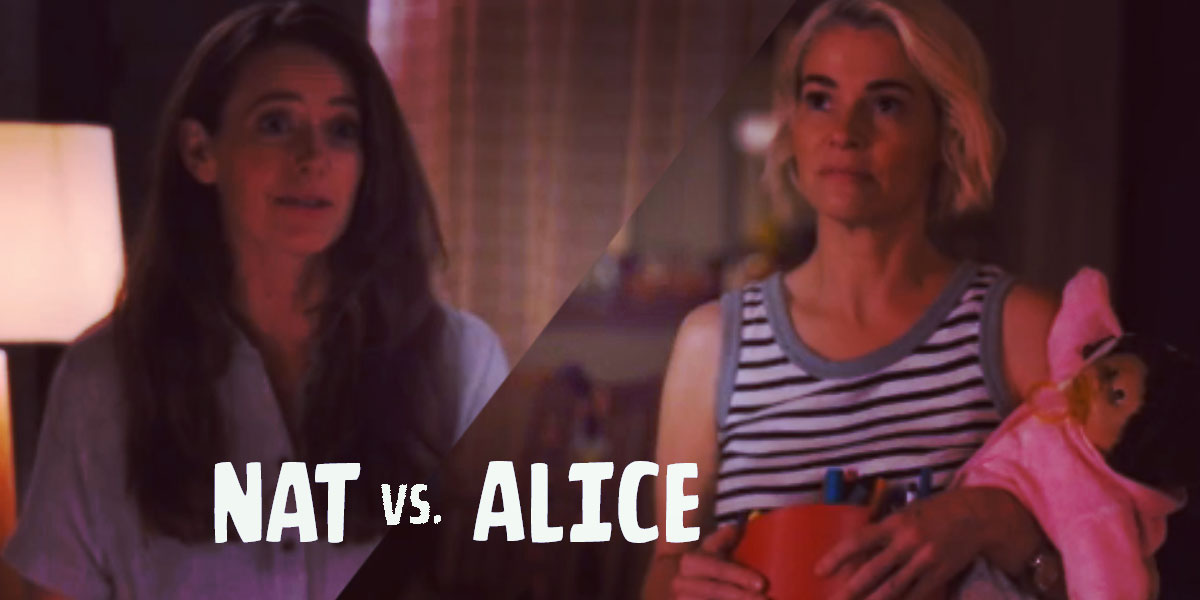 Lesbian Squabble #7: Once My Lover Now My Friend?
In The Ring: Alice vs. Nat
Content: Why would Alice tell Gigi that Nat misses her? Because she does! But she's my ex-wife!? But she was your friend!
Alice: I dated my best friend too, as you know, and when we broke up it was very painful. [Throwback #13: Alice and Dana's relationship + breakup, S2-S3}
Nat: You would really be okay if me and Gigi were just gal-palling around town having fun?
Absolutely, says Alice! They could mani-pedi, for example. They should not spa — that could involve robes and everybody's private parts being out in public — but she can totally see a mani-pedi being a valid, if brief, activity. Anyhow, Alice thinks that Nat's the cool one. Nat says now she KNOWS Alice is lying. Honestly, fair. Gigi is the cool one.
Who Wins? They actually resolve their fight and come to an agreement, so they both do! Yay communication!
---
Back in Micah's bathroom he's practicing smiling in the mirror when Jose shows up. Micah's stoked for the art show, he studied the artist on the internet and is ready to have pretentious art conversations! Jose's face does not reflect an appropriate level of excitement, and Micah asks what's up. Jose's so sorry but he's gotta cancel to take care of some personal stuff. EXCUSE ME?!!
My stomach hurts for Micah! I hate this. When you cancel literally at the moment you're supposed to leave, you owe your date more than just a casual "I'll make it up to you." You owe them, for example, a legitimate explanation or maybe some indication of empathy or perhaps physical affection or maybe even a romantic night at The Biltmore.
---
Elsewhere on the East Side, Shane's all alone at The Bar Formerly Known as Atlas when Bette shows up with flowers, which will definitely make everyone feel beautiful. Also, she'd love a drink, and to apologize to Shane for being a shitty friend, 'cause Shane's always been there for her. [Throwback #14: S2 when Shane was the only one in the friend group still talking to Bette after she cheated on Tina.] Shane admits Bette was right — buying the bar was an impulsive choice. I might be projecting here but I feel like Shane's the kind of person who never really figured out how to prioritize her own happiness, or even understand how to achieve it, and so the idea of helping to make somebody else's dream come true is what pushes an impulsive decision over the line from "interesting business idea" to "this will fill the void." So now here we are.
How's Shane doing anyway, with her heartbreak?
Shane: There are times that I feel normal and then the feeling of missing her just hits me like a fucking wave.
Bette: Are you sure that it's over?
Shane: I have divorce papers sitting in my drawer right now so I'm pretty sure it's over.
Shane says their problems aren't problems of not loving each other. She just wants to feel normal again. She wonders when that might be, and asks Bette how long it took her to feel normal after Tina? Bette says she still doesn't feel normal, sorry! Love is a lie! Bette says she misses the kind of love that she had with Tina — you know, a stir-fry and slurpee kind of love — because it made her feel alive. And. And!!!
She never thought Tina would fall in love with someone else.
She
never
thought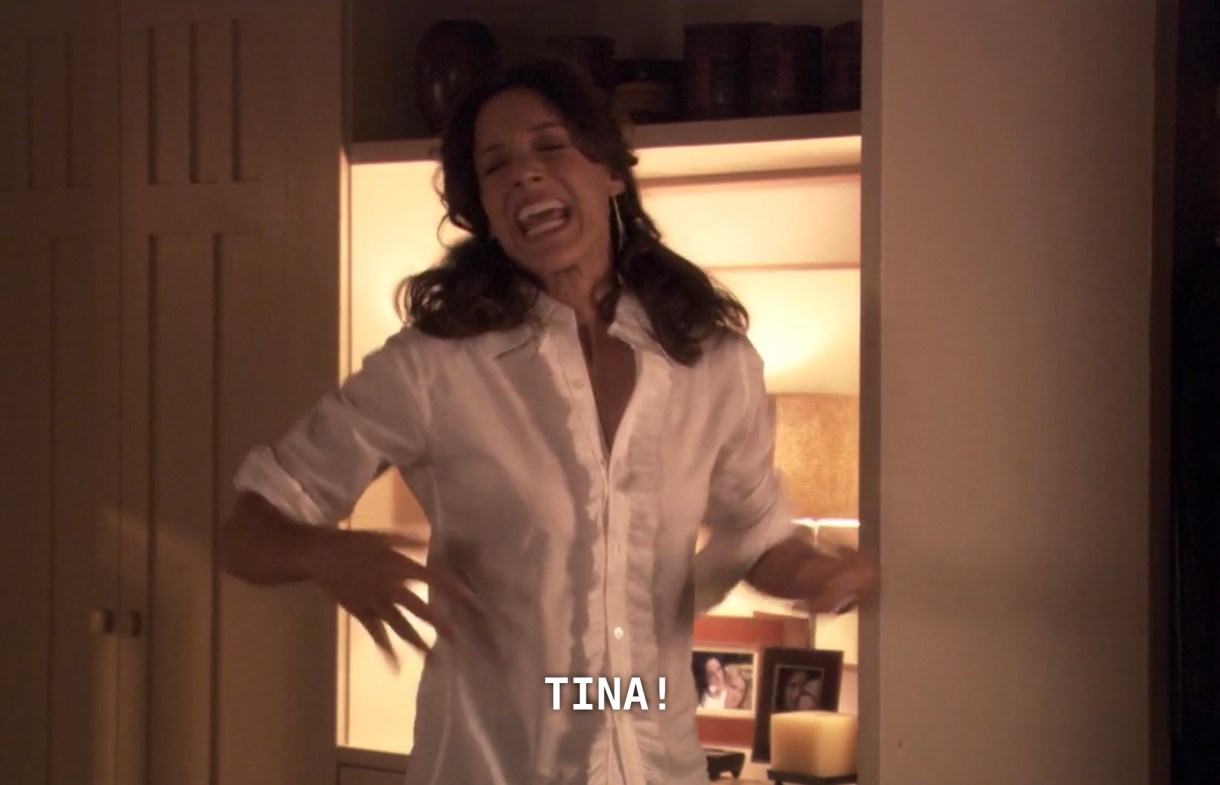 would
fall in love
with
somebody
else!!!
Phew it feels good to have that out, as indicated in the comments on last week's recap it was really killing me to not share this information with all of you! Don't worry I haven't seen 104 yet so we're all on the same page now.
Bette said everything changed when Tina left her, including that Bette began menopause shortly thereafter. Personally I'm unsurprised to hear that Tina causes menopause. But Shane's young, Bette says. She'll be okay. She needs time to pass and for days to go by. Isn't it wild that Shane is almost 40, but also that in a way, I am almost 40? ahahahsahaahahsadjkasdjklasj
---
Lest he be lonely tonight, Micah fires up the 'ol dating app and gets down to relatively immediate business with a sexy stranger named Hassan who's profile pic includes a cat, which means Hassan is a lesbian.
Queer Sexy Moment #8: Filling the Void
The Players: Micah and Hassan
The Pick Up? Swipe!
Hot or Not? Hassan says he's never had sex with a trans guy before. Micah rolls over. Honestly Micah … seems sad? I don't like it!
---
Pages: 1 2 3See entire article on one page