The next morning at Bette 2020 HQ, Bette's signed Angie up for a new private school where she won't have to look at Mandy's stupid face, which's not particularly exciting for Angie — or for Dani and Pierce, who suggest to Bette that her support of public schools (and opposition to increased funding for charter schools) is undermined by her insistence on sending Angie to private school. "Same assholes, different zip code," laments Angie.
Bette refuses to have her kindred baby pickle out there amongst the common people, despite Dani's insistence that many L.A. Public Schools are just as good and Angie's very clearly expressed desire to attend public school, where she'll be more than a diversity point for a brochure.
Bette: Look I get what you're trying to do, but I'm not about to exploit my daughter to improve the optics of the campaign.
Angie: You can if you want!
Angie wants to be where the cool people are. "T and I chose the best school for you," Bette tells her child. "You have to trust that as adults sometimes we can see a bigger picture."
"Are you sure that it's the best school for me?" Angie asks. "Or is it actually the best school for you?"
---
Cut to The Biltmore, where a shiny-faced white woman is leading Dani and Sophie's family through the hallowed and expensive corridors and ballrooms of this fine establishment, draped in all the finest things with plenty of room for 300+ guests and a cocktail hour and LUXURY. "Thank God," jokes Maribel with Sophie. Dani and her father move comfortably through the space while Sophie and her family don't feel entirely at ease but are fine to go along for the ride and make the best of things.
Nana wants to know where the food goes, but Lady Biltmore says outside food is not allowed, only delicious in-house catering served by ten million lithe gay men in white gloves who float from table to table on an invisible network of electric crystals, hand delivering Duck L'Orange Napoleons, Organic Tomato Tartlets and Sake-Compressed Watermelon into the eager open mouths of lesbian wedding fans. You're lucky to have gotten a spot, Lady Biltmore informs her pithy followers. Usually it's booked five years out!
RECORD SCRATCH.
Yup, Dad's already booked the Biltmore. For May 10th. It's just that this is very important to him. He wants a location where all his colleagues will feel comfortable and know that their Arcadian salad will be Hearty and contain farm-fresh vegetables. Sophie's livid. "Thank you," Dani says, tersely. "We're gonna discuss this and I will let you know."
As Drew and Analyssa talk about in this week's podcast, this scene and the next are getting into interesting dynamics around class never really approached in the original series, where families were too far away for anybody's background to inch its way to center stage. Everybody adapted to wealth, or aspired to it. But class differences in relationships are always complicated, and never easy to talk about, and I hope they dig into this a little more.
---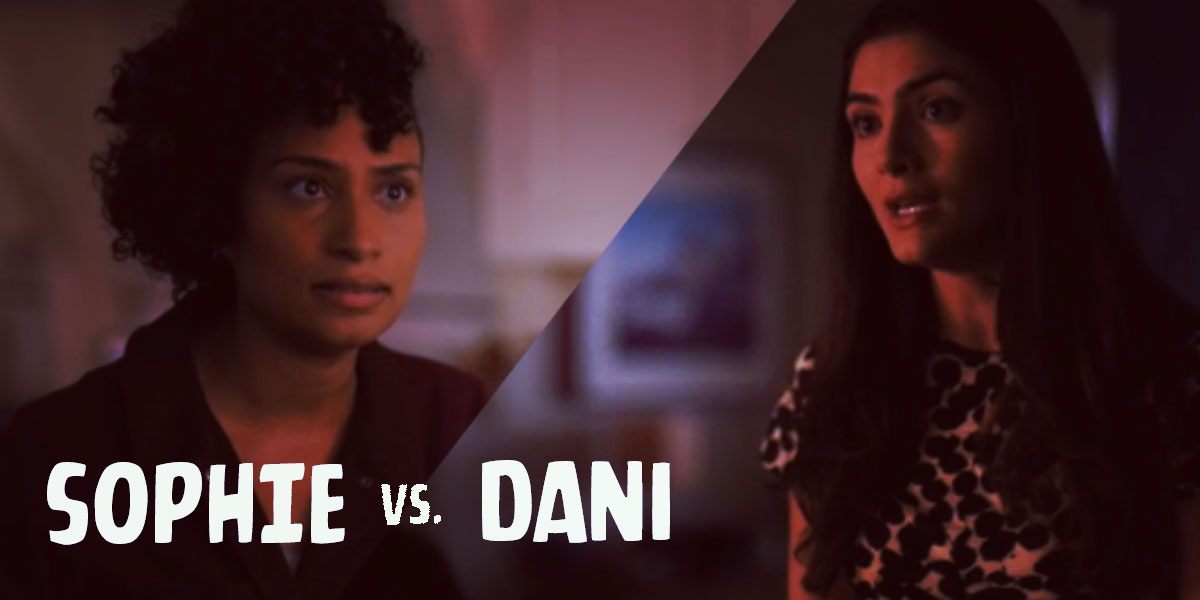 Lesbian Squabble #8: I Married In The Sun (Tell me where tell me where I can put my food)
In The Ring: Dani v. Sophie
Content: Sophie wants to feel comfortable at her wedding and eat the food her family makes and also did Dani see how they looked at her and her family? Dani says her Dad's been looking forward to her wedding his whole life and is it that big of a deal if they just marry at the Biltmore? (Which, by the way will cost, at least $110k. YES I priced it.) (YES Instagram has been haunting me with wedding venue ads ever since.) Sophie's like, yes by definition this is absolutely the biggest deal of all time. Don't couples compromise? asks Dani. Sure! But Sophie's not gonna compromise with her Dad.
Sophie: "Okay. Don't you want to marry me and not feel like we gotta keep our spines straight?"
Dani: "Of course I do. But I don't wanna hurt him. I don't wanna hurt his feelings."
Sophie: "I know. But you're hurting mine instead."
Who Wins? Sophie. That last line STUNG. But Dani's situation isn't without sympathy — her Dad's her only family member, and maybe vice versa. She wants to honor his offer and what it means about his affection for her by accepting it, and also clearly isn't sure how to negotiate him into something less Biltmorey so soon after she left his company and he was not initially stoked about her engagement. But Sophie's right to want the wedding to feel like their wedding, not a performance for Rodolfo's evil scheming colleagues, and to panic about her lack of control over next steps. I think this happens a lot, where the spouse with the wealthier family ends up getting to call a lot of the wedding-related shots. I remember when my cousin married a very rich person whose very rich family arranged for an extremely fancy and expensive wedding and it kinda felt like we were all getting away with something to even be invited. But I also love having access to fancy things I can't afford myself and that does not seem to be Sophie's style or her family's values, and Dani needs to understand that if they're going to have a successful marriage. Take it from me, a person with no business giving marriage advice! Sophie wants a wedding that reflects who they are and who her family is and how good her Mom's food is and that's fair.
---
Welp, it's time for a wee Mayoral candidate debate between Bette Porter and a Mean White Man! It looks like Nat and Gigi have settled on this event for their friend date and are having a GAY old time giggling and making inside jokes while Shane side-eyes. "I think I may have brought two best friends back together," Alice says, proud of herself.
"Two ex-wives," states Shane, who clearly is up on the facts!
Bette, looking very toppy at her podium, declares that the city doesn't need more businesses! It needs more housing, which's why it's one of the three pillars of the tiny house known as "her campaign." As she prepares her lungs to extrapolate on these pillars, her co-conspirators panic in the back row.
Bette: Housing —
Dani: Please don't say education, please—
Bette: Unemployment—
Dani: Please don't say education—
Bette: And Education.
Dani: We're fucked.
White Guy tries to gotcha Bette about her daughter being in private school but Bette's gotcha too — her daughter is now enrolled in public school at the Los Angeles School for Enriched Studies! TAKE THAT. Dani and Pierce are surprised! He could call her out for literally enrolling her today because this debate was about to happen… but instead asks if it's 'cause Angie was expelled and no private school was willing to enroll her? Bette gets VERY defensive about her daughter, who she says ANYBODY would be lucky to have 'cause she's an AP scholar, National Merit Award winner and honor roll student. Before we can dwell too extensively on what exactly is going on here, Bette's gotta Bette and she Bettes real good:
Bette: "Oh I know what you meant, you were using coded language to imply, among other things, that our city's public schools are inferior. And I would have to ask you by what measure. If all you do is look at AP scores and rankings then you're missing out on the bigger picture. Our city's public schools have a more diverse student body and faculty that reflects the students back to themselves. and that is invaluable."
Bette says "diversity matters" and everybody claps! Wow how meaningful! The Teacher's Union IMMEDIATELY sends over their endorsement while Bette repeats Dani's talking points to the rest of the room. I'm stoked for Angie to go a school she actually wants to go to.
---
Finley has, indeed, dealt with her fear around religious situations by blowing Rebecca off, and is now riding her stolen bike around town listening to a voice mail from Rebecca, who's bummed they're not hanging out. Maybe Finley should reconnect with her faith, Rebecca suggests, but also maybe not, but also who knows? Rebecca thinks maybe they met for a reason?
Finley parks her bike, and looks up. She's at church.
---
Meanwhile at Natalice's, Gigi and Nat are having a fantastic friend date where they laugh and Alice glares at them from across the room, before eventually getting up, crossing the room, and signaling the friend date's conclusion.
Alice thinks maybe they had a LITTLE bit TOO much fun? Like just a smidgen too much fun, like pee-in-your pants funny jokes were told and it was all a bit much. Nat tenderly delivers some version of "I told you so," assures Alice she finds her funnier than Gigi, and soothes Alice's pain with an offer to watch Naked and Afraid.
---
Meanwhile, Shane's drinking alone in the deep recesses of The Bar Formerly Known as Atlas in what appears to be an "office." She is surrounded by containers of alcohol and probably magical potions, I'm ready to see a model ship in a bottle somewhere. This'd be a great place for Finley to hide a body. Shane's texting "I miss you" to Quiara but it looks like her most recent texts from Quiara say "I miss you. Real bad."
An interesting text from somebody who recently sent divorce papers.
Shane gets up, stumbling over to her Wall of Drunk for another pour when lest we dwell upon one of many mysteriously withheld pieces of background information that sometimes seem to be filling in for a plot with genuine forward momentum — guess who's stopped by to remind us that she has a nice rack?
"I just wanted to thank you again," Lena says because she needs to provide some explanation for why she's come down to the dungeon at this advanced hour.
"For what?" says Drunk Shane.
"For showing up when you did," she breathes. "I didn't know how much I needed you."
This is my reaction to that and also Shane's:
Lena continues, taking additional steps towards Shane, who leans against the desk to steady herself. "Tess and I, we've been struggling for a long time," Lena begins. WHAT IS HAPPENING. "You know, at work it's one thing, but our relationship…. you know. She just doesn't see me the way you do. And I think she's starting to get a little jealous because of the way I look at you and the way you look at me. And it's over between us."
"Lena, this is not a good idea," mutters Shane.
"Lena, this is how everybody feels about Shane," everybody watching this from home screams. "You're not special bb!"
"I think you can feel it too," Lena whispers, but we can still hear her and we hate it.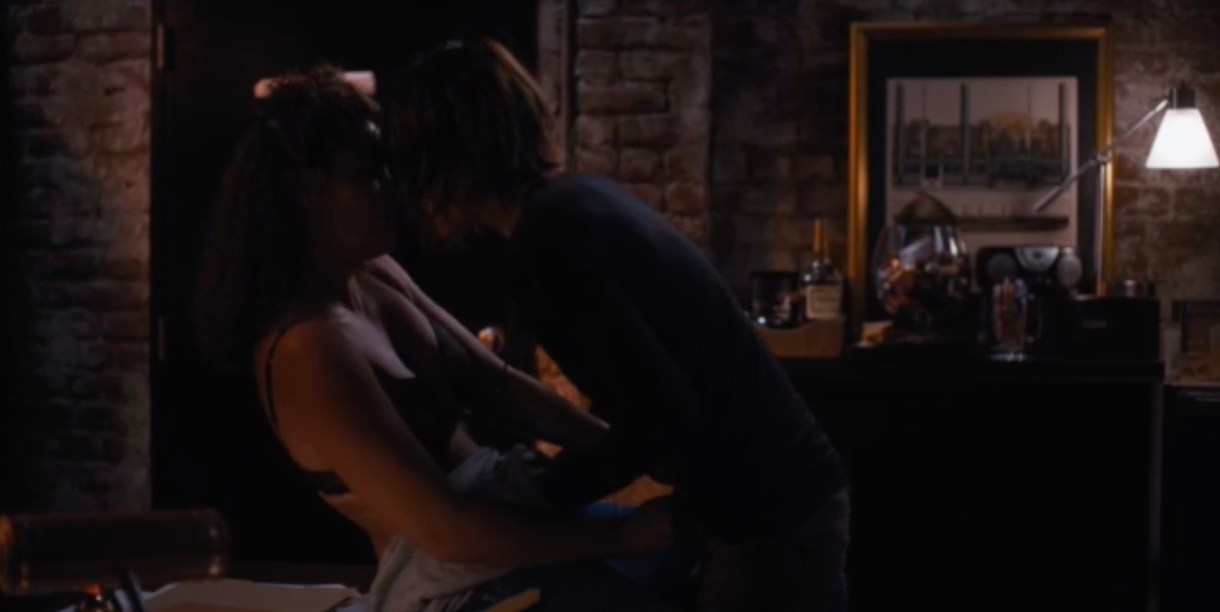 Lesbian Sexy Moment #9: Kiss Kiss Bang Bang
The Players: Shane and Lena
Hot or Not? I hate everything about this situation but when Shane flips Lena around and lays her on the desk and claws her shirt off and reaches for her belt, I cannot help but have some deep lesbian animal response to the whole scenario! But let the record show that I still hate it and Shane is VERY drunk. Truly hard to believe that Tess is the one messing up her and Lena's relationship.
---
Finley's at church over in the candle area, as one often finds oneself in film and television when confronting various inner demons and life turmoil:
Them she sits in a pew and like cries a little bit. She has feelings inside of her torso and eyeballs, lots of 'em. Guess who shows up? Okay I'll tell you, it's Rebecca:
Finley cries more. Rebecca puts her hand on Finley's leg. This is so gay.
---
Micah says Jose bailed and then he "did that thing he does," by which he means that he fucked a stranger from a dating app.
Sophie's like "it's okay to fuck a stranger!" It's 2019! Sophie wants to dance but Micah still doesn't want to!!! Sophie says she'll teach him. It's cute!
---
Dani's leaving what must have been a very quickly-planned meeting with the leader of the teachers' union who thinks Bette Porter did GREAT up there.
Meanwhile Bette's in a hotel room, watching the news talk about her while carefully removing her earrings. There's a knock at the door. It's FELICITY, AMERICAN GIRL.
The camera backs up to show Dani in the hallway, seemingly watching Felicity enter Bette's room. Are they on a starship how are all of these things happening in the same building? Also hot tip: there's also a clip in a trailer of Bette sitting in this same hotel room, clutching a pillow and looking upset. So I wonder what's next for these two!!!
---
The Round Up:
Sexy Moments: 2 this episode, 9 total
Squabbles: 2 this episode, 8 total
Throwbacks: 2 this episode, 14 total
Quote of the Week: "I fucked the priest." Finley + Fleabag
Pages: 1 2 3See entire article on one page