It's early evening at Chez Bette, where Angie is getting the full scoop on Jordi's nomination to prom court, which to be honest is not a particularly compelling narrative, but Angie is somehow enthusiastic because teenagers in love, guys!
Angie's so happy for her and wishes she could've been there to witness it and is so sorry she couldn't be! It's just that she had like an extremely bad day and didn't want to go to the gym just to sit there and cry in public.
Angie: I'm just so pissed — like they always make everything about them. They're so fucking selfish, you know? I bet they're still downstairs bitching about it right now!
Jordi: I'm sorry. But like at least now it's kinda out there and out of the way, right?
Angie: I mean, Carrie was the only one who was even on my side! Because she's the only one who even sees me as a human being instead of just a kid. And I think Mama B just hates her so much that she doesn't care about anything else, and she wouldn't even listen to me—
Jordi interrupts Angie to share breaking news that her English teacher liked her instagram post and tells Angie it's good that she got through it because now they can focus on "fun stuff." I for one find Rosie O'Donnell to be very fun!
---
Tom and Alice have taken a spiritual journey to a vacant stretch of the Pacific Ocean to free the lobsters into the wild beyond!
They then sit their butts on the beach to watch the surf roll in and ponder the dissolution of Alice's relationship. Tom says for what it's worth, he thinks Nat's nuts for not trying to work things out with her. Alice says he's not so bad himself!
Truly, if you had told 2008 Riese that in 2021 she would be sitting here rooting for Alice to date a boy, she would probably be like…… "wait how the fuck is that show still on."
Anyhoo, Alice says the chapter about Dana is her favorite chapter in the book, and that he was able to take it somewhere she couldn't. Alice says Tom cracked her open in a good way. That's probably not the only way he can crack her open HEY O!
---
What, my dearests, are Dani and Gigi up to at this moment? Dani continues to be emotionally vulnerable in a way we have not seen before! She feels separate from her pals, since they all live together and also btw Finley and Sophie fucked in the green room which's super awk, but she misses Micah. When Gigi asks if Dani's told Micah that she misses him, Dani says that Gigi sounds like Sophie but Gigi says there's more out there than just "Sophie" and "not" and that she'll figure it out.
Dani: Are you hitting on me?
Gigi: [laughs] No. I mean I don't… think so?
Dani: Okay but you're not sure.
Gigi: I like your energy.
Dani: I don't know what that means.
Gigi: Sure you do, it's what you're feeling right now.
Dani: Oh.
Gigi: But. If my feelings change, I will let you know. I'm good at that.
Dani: That makes one of us!
Gigi would probably accidentally seduce a box of rocks but on COME ON on what planet is she not CLEARLY hitting on Dani?? Bette texts 'cause she's had a bad day and wants Gigi to come over and make her feel better, but Gigi rejects the offer.
---
Cut to Shane and Tess's Poker Palace, where Cherie's rubbing her foot against Shane's leg and sliding her hand into Shane's lap and Tess clocks it all and heads into the backroom to make her escape. Cherrie, to the bewilderment of us all, follows her back there and asks if she can join Tess on her trip home.
"I don't think you should," Tess says. "Because I think you should be exactly where you want to be." Cherie cocks her head, closes the door, and pushes Tess onto the sofa upon which so many misguided lesbians have had sexual relations, including Tess herself!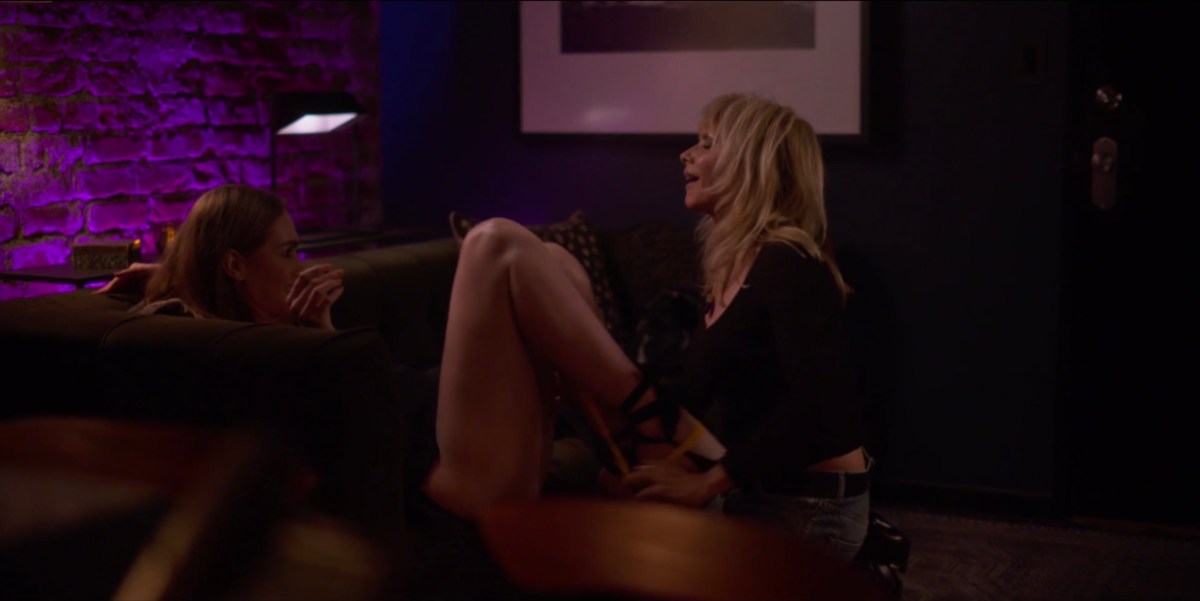 Lesbian Sexy Moment #5: I Need a Change
The Pick-Up: Cherie's cocky smile, her closing the door
Hot or Not? Tess resists this absolutely unwise erotic adventure for about 30 seconds before Cherie kisses her way down Tess's body, hikes up that skirt and goes right to town.
---
This brings us to…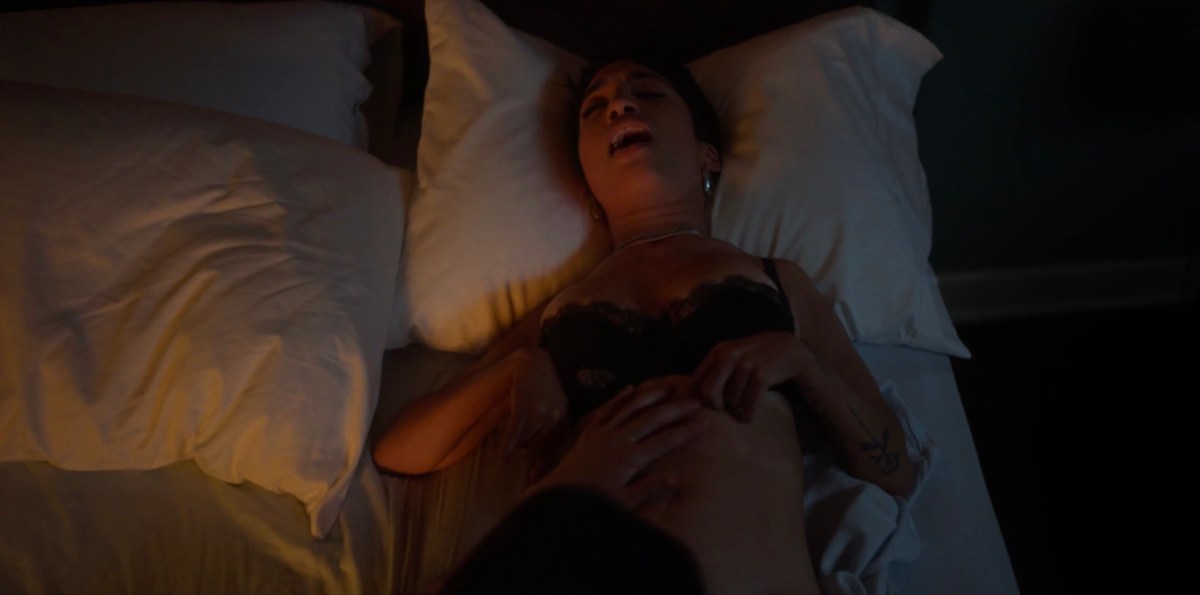 Sexy Moment #6: Sex Before Marriage
The Pick-Up: Micah does literally pick her up, which is the most classic pick-up of all time
Hot or Not? Yes! I love sex scenes that are hot but also everybody has a sense of humor? Like they are so entirely themselves but also entirely bowled over by desire and general thirst. Micah asks if he can go down on her and she chides, 'you sure you remember how?" I think he does!!!!!
---
Angie arrives home and walks right into a time warp in which Bette is wearing an Original Series XL Collar with flared pants and a blazer. Angie wants to go up to bed but her parents ask her to come in for a second.
Bette is doing the unprecedented — she is apologizing. She's sorry for acting out of her own fears and not listening to Angie. She feels ashamed. She feels sorry.
Tina and Bette give Angie their blessing to reach out to Marcus. Angie's face lights up, she heads towards them, head bobbing and thrilled, "Oh My God. I forgive you, I forgive you. And thank you so much!" They embrace! As a family!
---
Sophie, inspired by the Elder Dyke Love Story, got sushi from that place they like and has brought it home to enjoy with Finley. But hark! What strange noises beckon from the annals of the back room as she attempts to unpack her dinner! It is our dear Finley, fucking someone else. Sophie looks confused more than hurt, and then trots back upstairs to lie in bed alone, listening to everybody have sex!
Sophie pulls her blanket over her head and screams. I wonder if she knows one of those voices is her sister!!!!
---
We end this week's journey at Dana's Memorial Tavern, a place for friends, where Shane's counting up a stack of cash. There's a knock at the door, and Shane hides her secrets and guess who's at the door!!!!!
It's Cherrie Peroni!!
Cherrie says she dropped Tess off. "You gonna let me in?"
"Is that a good idea?" Shane asks because it is not a good idea.
"Don't make me beg," says Cherrie.
Shane opens the door…. TO DANGER
---
The Round Up:
Squabbles: 2 this episode, 21 total
Sex Scenes: 2 this episode, 6 total
Quote of the Week: "MICAH" (as in when Micah was rambling nervously and Maribel was like ok I'm gonna cut this kid off with a "Micah" and a MAKEOUT)
Pages: 1 2 3See entire article on one page