Listen, I don't know what you were doing last night, but I was sitting on my floor stretching and absolutely fuming as my wife read these tweets out loud to me:
I miss you like Shane misses Carmen ❤️ https://t.co/zdBiS81cXW

— kate moennig (@katemoennig) September 3, 2021
I posted it in our TV Team Slack and Natalie said, "Tell those Gen Q writers not to even think about it." And that made me feel a little bit better.
Anyhoodler, what else this week? Well, Riese recapped episode 204 of Gen Q, and Drew and Analyssa recorded a podcast about it! Valerie Anne recapped excellent episodes of Legends of Tomorrow and Supergirl. Natalie recapped maybe the queerest episode yet of Good Trouble. Riese made you a list of everything new and gay and streaming this month. And Sara Ramirez joined Lex.
Here's what else!
Notes from the TV Team:
+ grown-ish had its midseason finale and, sadly, not much of it was devoted to Nomi. In short: 1. she and Ana both took the LSAT, 2. Vivek playing wingman to Ana and Nomi (and ignores her bisexuality in the process) and 3. Nomi runs into, and promptly runs away from, Luna's deadbeat daddy playing Edward Fortyhands. Hopefully, we'll see more of Nomi when the season resumes. — Natalie
+ Reminder: the new season of Queen Sugar kicks off on Tuesday. — Natalie
---
Work in Progress 203: "Two Queens on Two Queens" and 204: "Apologies and Their Fluctuating Nature"
Written by Drew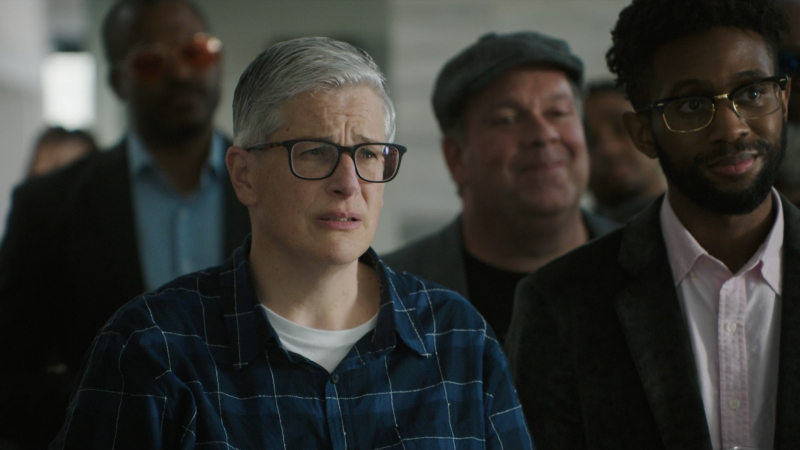 This week's pair of Work in Progress episodes are about the power of friendship. But because it's Work in Progress that's not a corny platitude but a desperate necessity.
The first follows Abby and Campbell as they act as plus ones (and provide emotional support) for each other's family gatherings. Abby's stepbrother is graduating, Campbell's grandmother has a birthday, and they're dreading it all. The ways their families are difficult feel casual in a way we rarely see — these are adult queers who have worked through years of issues and have settled into simmering discomfort. And through it all Abby and Campbell care for and enable each other in equal measure.
The next episode returns to one of the show's primary themes: harm and accountability. Abby is having nightmares about Chris' community — and therefore the entire Queer community — hating her for deadnaming him. Even as she continues her friendship with King, she avoids any social events.
This is then paralleled with Julia Sweeney who returns seeking absolution for her "woke Pat" show. At first, Abby doesn't seem to connect Chris having asked her for space with her now asking Julia space. But as she lets Julia back in and even defends her, it's clear she's really thinking about her own guilt.
Julia is not going about her apologies correctly. She's pushy and fixated on an absurd "cancel culture" guru. But Abby sees her intentions and decides to forgive. Just like King has forgiven Abby, just like Chris might someday or might not. Ultimately there's not a perfect formula for atoning for harm. Accountability means different things to different people. And it's every individuals decision if they want to forgive.
Ultimately Chris' community seems totally unfazed by Abby's returned presence. Maybe Chris hasn't told them what she did or maybe they've chalked it up to a terrible thing a sad person did during a break up. Maybe Chris would be happy about the acceptance of Abby or maybe he'd be hurt. Either way, Abby anonymously donating to Chris' top surgery fund isn't some sort of magic solution. You can't buy your way out of guilt. But it's still a nice gesture.
Ultimately what these episodes show — and what the series repeatedly shows — is that even people who cause harm deserve friendship. We all cause harm sometimes. We all deserve friendship.
---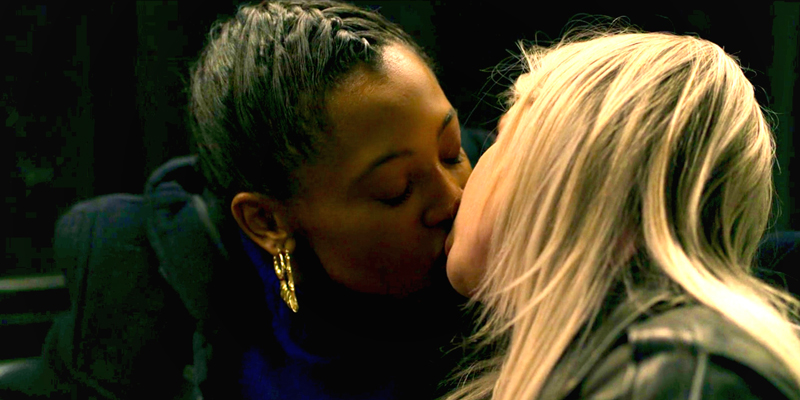 It was announced this week that next season — Raising Kanan has already been renewed for Season Two — your third or fourth favorite member of Destiny's Child (depending on where you rank Michelle), LeToya Luckett, will be joining the cast as Jukebox's long lost mother, a born-again Christian. I'm definitely not looking forward to yet another visit down tired "The Black Church Is Homophobic Lane," but it does bring me to what I loved about this week's episode in particular. For now, Jukebox is loved. Her sexuality continues to be a non-issue with her Aunt (who slyly never uses pronouns when talking about Juke's teen romance) or her friends. When Nicole goes to visit Jukebox in Southside Queens this week, she's jokingly welcomed with open arms and a few well-earned white girl jokes, a nice reprieve after Nicole's mother went on a racist-homophobic tirade and threw Jukebox out of their Upper East Side Apartment in the last episode.
Nicole took the bus (!!!!) to visit, after conspiratorially lying to her parents all week, because tonight is Jukebox's big debut showcase! She's singing the chorus on Famous' new single (Famous, loud and oblivious as always, hits on Nicole right away and dubs her "White Girl Nic" — for sure a play on the infamous drug dealer White Boy Rick — because all the kids have "street names" and it's his way welcoming her into their family). Stage fright leaves Jukebox throwing up in the dressing room bathroom and locking herself behind the door.
At Nicole's insistence, Kanan is the one to talk her out of it. First, he apologizes for threatening to use the secret of Jukebox's sexuality against her last week during a fight between the cousins ("I hated myself right away") and then tells her the story of when they were 10 and 11, stuck in Coney Island without a way home after Kanan spent all their money. Jukebox had to sing for street change, making enough for train faire and two hot dogs. Raising Kanan is a coming-of-age about how Kanan turns into a heartless villain, but it's always nice when the show reminds us that for just right now — he's still a goofy kid. He's still a Mama's Boy who thinks the world shines on his cousin. The trick works — Jukebox comes out, promptly kills it, and the teens all have a night to remember.
Sadly for Nicole, "a night to remember" also means what appears to be her first hit of cocaine, laced in a joint that Famous' older sister offers her while they watch the show. Between that and her new "White Girl Nic" nickname, I'm definitely on red alert for where this plot is going to take us (if Jukebox's girlfriend ends up a teen addict — okay, I know that's the show, but it's gonna be heartbreaking!).
Also, on my high alert? The woman cop — haven't bothered to learn her name yet — who's been tracking Juke and Kanan's family peeped that Jukebox was gay, and tried to bond as a "kind mentor figure" with the teen over their mutual lesbianism, ultimately to flip Juke against her Uncle LouLou. Jukebox knowingly doesn't fall for the trap (she's always had the street smarts Kanan lacks). But there's two episodes left this season… so only time will tell..
---
Written by Drew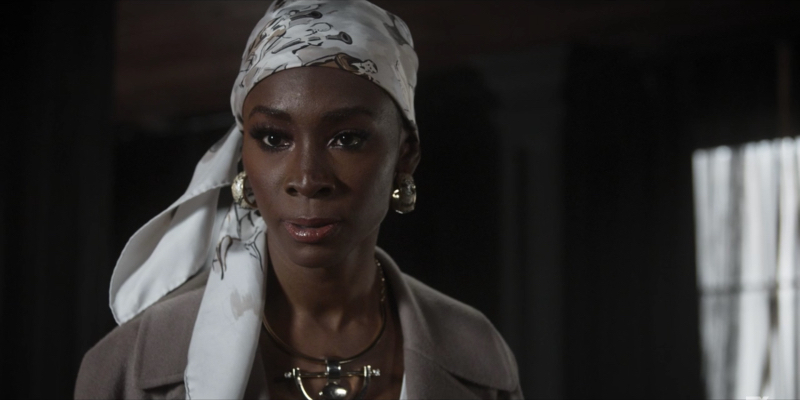 American Horror Story is good again!!!
Bumbling screenwriter Harry takes a backseat to his crazy daughter and crazier agent and we're all the better for it. Alma wants blood, Alma wants greatness, and she couldn't care less about her mother. Harry is proud! When Alma says she's not sure if she can kill people, Harry tells her that's the cost of greatness.
This episode is about the bodies that must be buried as ambitious Hollywood types seek fame and fortune. It's nice to see Ryan Murphy and Brad Falchuk writing what they know. I'm kidding! But actually? Hollywood and most arts industries are brutal and Murphy and Falchuk DO know a lot about that. It's interesting to see that explored through characters and moment to moment this episode is just goofy horror fun.
Also… The Chemist has arrived! The scenes are brief but Angelica Ross is great at doing a lot with a little. She's stunning and sinister and I can't wait to see more of her. Everyone thinks they're in control but she's the only one who really feels it. They're her creative vampire pills, after all.
---
In the Dark 308 & 309: "Power Trip" & "Excess Baggage"
I can only bring myself to watch this show every other week but in this batch I was surprised to learn that In the Dark had more gay news for me than "Jess is still missing."
The crime squad is snowed in at Felix's sister Lesley's apartment and we learn that Lesley is pansexual. We learn it first through her talking about her ex-girlfriend who was a painter, and then her telling Max not to get turned on by that fact because it's gross. Then Felix, who I think the show wants me to feel sympathetic towards but who I hate so much, tells Murphy that his sister "isn't fully into dudes" so probably not fully into Max. Trey correctly points out that this is a truly idiotic thing to say and that pansexual means she's into individuals regardless of gender, but as I mentioned Felix sucks.
Also I realized that the actress who plays pansexual Lesley also played queer on Imposters and also on Almost Family so the Queer Hattrick Law states that Marianne Rendón is officially deemed queer until proven otherwise.
Murphy's hallucination of Jess called Lesley "sort of gay" which is hopefully not how the real Jess would have said it, but on this show it's truly anyone's guess.
In the next episode, Felix literally lied to and kidnapped Murphy, taking advantage of her blindness, proving his absolute lack of humanity. And Jess is still missing! You can't just replace one queer with another and think we won't notice, show!