It's December, which means another year is almost in the books. Here at This Queer House, we've had some ups (my dining room furniture looks great!) and some downs (one word: caulk).
To finish the year off strong, I took to twitter to answer your burning DIY questions.
Question one is from @mchodora, who writes, "I need help rewiring a lamp. Please!"
Let me tell you what, the idea of rewiring a lamp is a lot more daunting than doing the actual thing. I borrowed an old, out of order lamp from a neighbor, and the whole project took well under an hour. Here's how I did it:
What You'll Need:
Lamp
Rewiring Kit – I accidentally bought a lamp-making kit, which came with a whole bunch of parts I didn't need. All you really need is a new cord and socket and you should be able to reuse the old hardware.
Pliers – I like using needle nose, for dexterity.
Wire cutters – Many pliers have built-in wire cutters, so be sure to check.
Screwdriver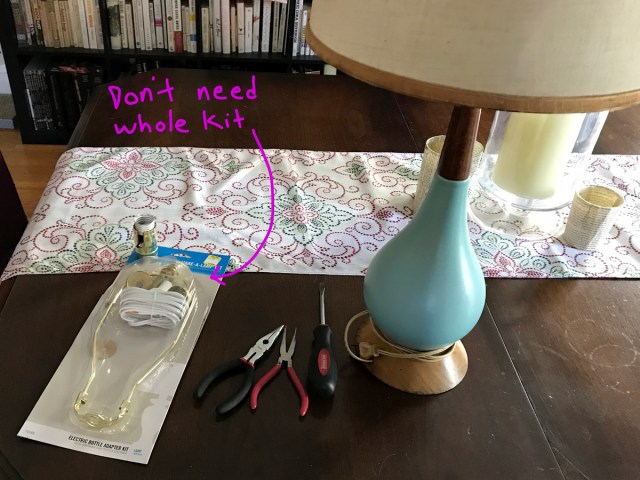 What To Do:
1. Take off the shade and remove the lightbulb. If it's an older lamp, like the one I was working on, you might need to use some WD-40 and pliers to get the top cap off.
2. Remove the socket sheet and pull out the old socket. The socket sheet should just slide right off. I was able to pull the socket out of the socket cap easily, but you may need to use your screwdriver and gently pry it out.
3. Cut the cord and remove it.
4. Thread the new cord through. My lamp was a bit tall and tricky to get the cord through, so I took it all apart.
5. Reassemble the lamp (optional). If you took your lamp apart in step 4, now is the time to put it back together up to the socket cap.
6. Tie an underwriter's knot with the cord extending out of the socket cap. I had absolutely no idea what this was, or how to do it, but I found a woman on YouTube who showed me how. She is lovely!
7. Identify the neutral conductor. Your kit should tell you which one it is. My kit claimed that one conductor had ribbing on the insulation, but tbh they both kind of looked ribbed. I asked my wife for a second opinion and she said, "Yeah, I think you're probably right, but it's a 50/50 chance anyway – just go for it." Wise words when dealing with electrical work, indeed.
8. Connect the wires. Again, consult your kit here because they should tell you which wire should go to which screw. Loosen up the screws, wrap the conductors around, and then tighten the screws up.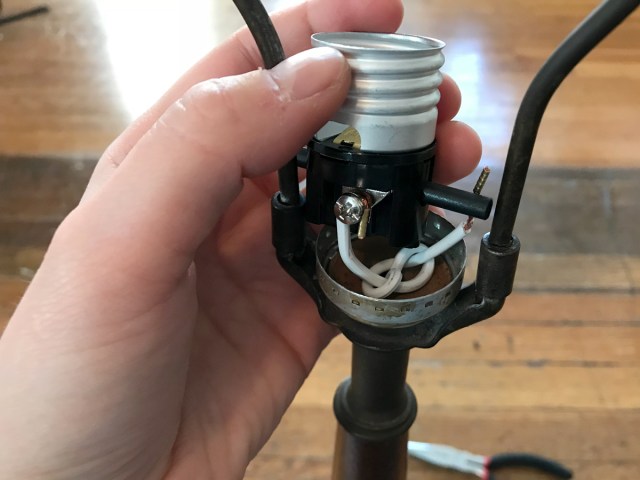 9. Push the socket into place and cover it with the socket sleeve. That's it! All that's left to do is grab a bulb and plug it in.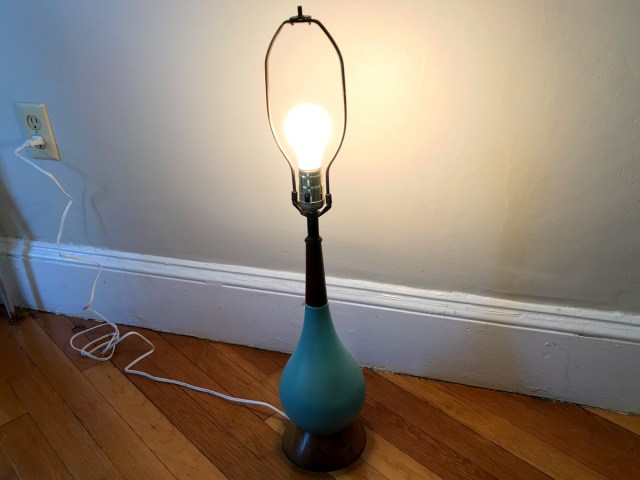 The next question comes from @33katiek: "Love this column! I'd also love to know how to replace moldy silicone between my vanity unit and the tile backsplash!"
Katie, just reading this question gave me intense flashbacks to a column I wrote a few months back where I replaced the caulk in my bathtub. Assuming what you need to do is similar to that, I'll direct you there and let you learn from my mistakes.
Our final mailbag question, from @lucyhallowell, asks, "how do you stop a toilet from running?"
This actually happened to our toilet recently, and it wasn't too difficult to get it to stop. Here are some possible fixes:
Check the fill tube. If something is wrong with the connection of the fill tube, the tank might not properly fill up. Check to make sure the tube is firmly secured onto the fill valve and that it sticks up about an inch out of the overflow tube.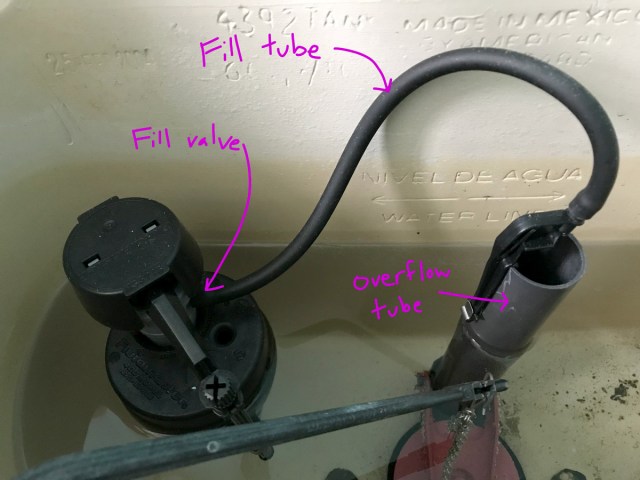 Adjust the float. If your float is set too high, it could cause water to spill back into the overflow tube and make the toilet keep running. The float should be easily adjustable – look for a clip to squeeze.
Check the flapper chain. Ideally, the chain should connect the flush rod (the piece that attaches to the actual handle on the outside) to the closed flapper (the red seal on the bottom of the tank) with just a little bit of slack.
Replace the flapper. This is what we had to do to fix out toilet, which would run intermittently, and it seems to be a common issue. If the flapper doesn't seal thoroughly, the water will leak through slowly and cause the toilet to run. We weren't able to match the type of flapper exactly, but buying a universal replacement has done the trick. Flappers are easy to install – most snap right on.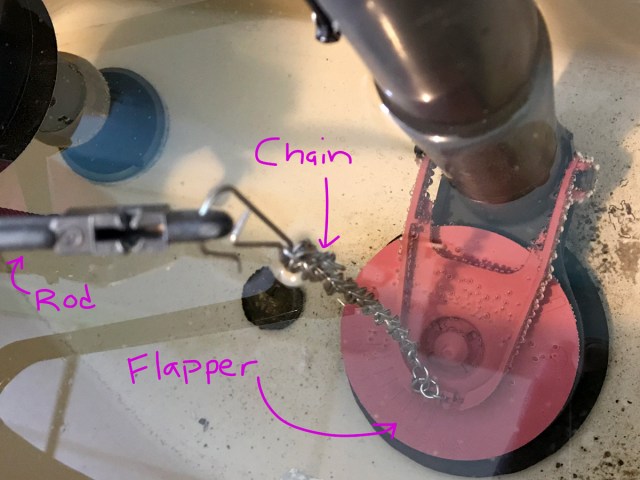 Well that's it for This Queer House in 2017. I'll see you with more DIY tips/projects/lessons in 2018!