Welcome to the fifth recap of the second season of The L Word: Generation Q, brought to you by the same network that brought you The L Word, a show about a vaguely European cafe owner and "book club" doyen who seduces an allegedly heterosexual female "writer" through intense eye contact and a shared passion for Eros the Bittersweet, leaves the writer erotically charged messages on her answering machine, is caught giving cunnilingus to the writer by the writer's male fiancee (an esteemed swim coach named Tim), invites the writer to her palatial and tastefully designed Los Angeles home for sexual intercourse only to reveal in the morning that she's actually already in a relationship with a traveling costume-designer who pays all her bills and recently seduced a prima ballerina, invites the writer over for a group dinner which ends with the writer hurling a full bottle of alcohol at her towering glass windows, spars with the costume designer and eventually empties a glass of red wine into her open suitcase, downs three bottles of pills at the Chateau Marmont, has her apparent husband sell her portion of the cafe to Kit Porter, and then returns to Los Angeles several years later to crash the writer's book reading, announce that she is the benefactor for an "unusual" dance troupe, and fuck the writer's French lover Claude in an earth-toned hotel room. Art!
We have now reached the midway point of our season of love with the wonderful humans of The L Word Generation Q. It's time for Episode 205, Lobsters Too, which has only a small sliver of lobster content, much like the Lobsters episode from Season 3 of the original series. Minimal shellfish content in general, honestly.
---
We open in FiSoMi's apartment, where Finley is throwing up yesterday's beer to clear out some space for today's beer. Clearly things are going well around here and everyone is thriving.
Finley is strategically re-arranging the recycling bin to hide her beer cans when Sophie shows up, having somehow avoided Finley for several consecutive days even though they live in the same house.
Sophie admits her trip to Ojai was actually not to curl up with a Tangerine Iced Latte at Beacon Coffee and pound out some segment ideas, but in fact was to visit Dani, who was having a crisis and needed someone. Finley acknowledges that she was already aware of Sophie's dishonesty, and then avoids eye contact while Sophie rambles about how she and Dani are not together. Sophie also somehow misses every subtle emotion radiating from Finley's wound-up body.
Sophie: Well, thank you for understanding. You're always such a good friend.
Finley: [not liking that she used the word "friend"] Sure, uh….
Sophie: We're not back together, if that's what you think.
Finley: Uhhh I… I don't think anything.
Alas, the vulnerable hopeful Finley who returned to Los Angeles on a misguided love mission has been replaced by vulnerable hopeless Bender Finley. I can't wait for the episode where we actually directly address Finley's relationship to alcohol. Fingers crossed!
---
We then journey to Gigi's gorgeous loft apartment, replete with exposed brick, high ceilings, multiple large trees and a majestic view of our expansive city. Bette's typeity-typing away on her little laptop and denies Gigi's offer to discuss their recent spat. Gigi swallows this rejection in the way that you do when you're already pretty sure that your relationship is is over.
Gigi: You're welcome to stay as long as you like, but you should know I have plans to meet someone.
Bette: [scoffs] That was fast.
Gigi: No, not like that, I'm seeing Dani.
Gigi attempts to initiate some physical affection, insisting Bette can tell her how she really feels about her seeing Dani. "I just did," says Bette, bristling at her touch and by the possibility of any sort of actual intimacy. She has enthusiasm for one topic, though: Pippa Pascal.
Bette tracked Pippa down and is willing to cut out her heart to work with her. Unfortunately she is going to have to compete with this girl, who is ready to give up WAY more than just her heart: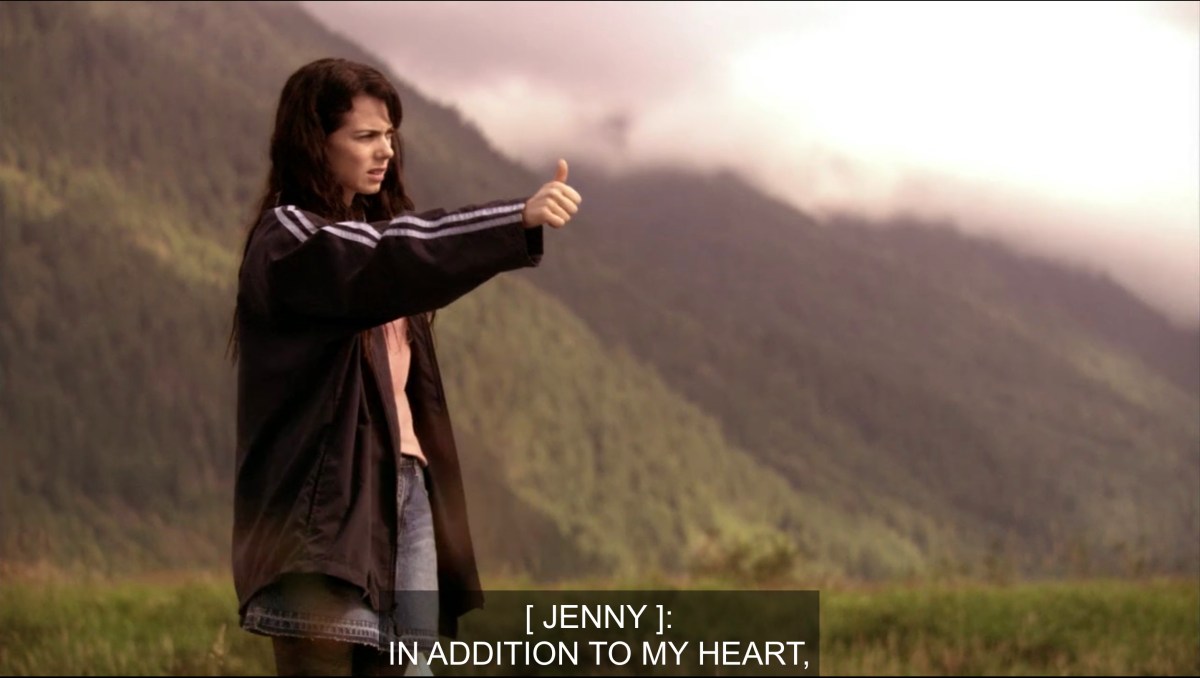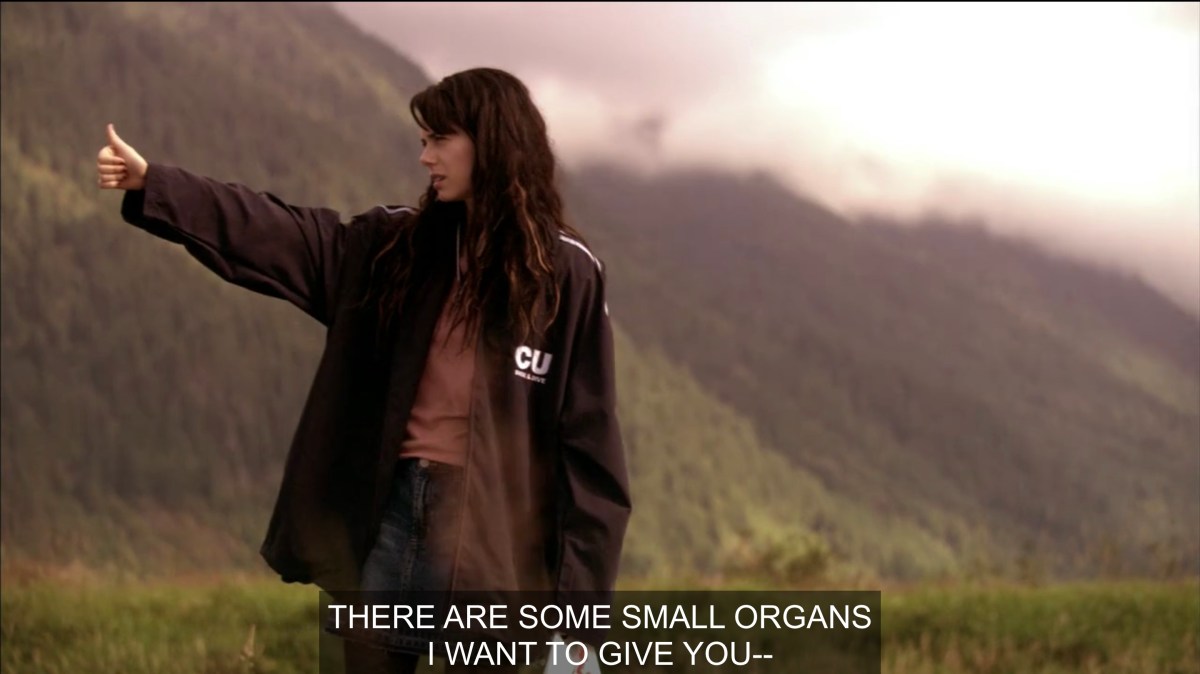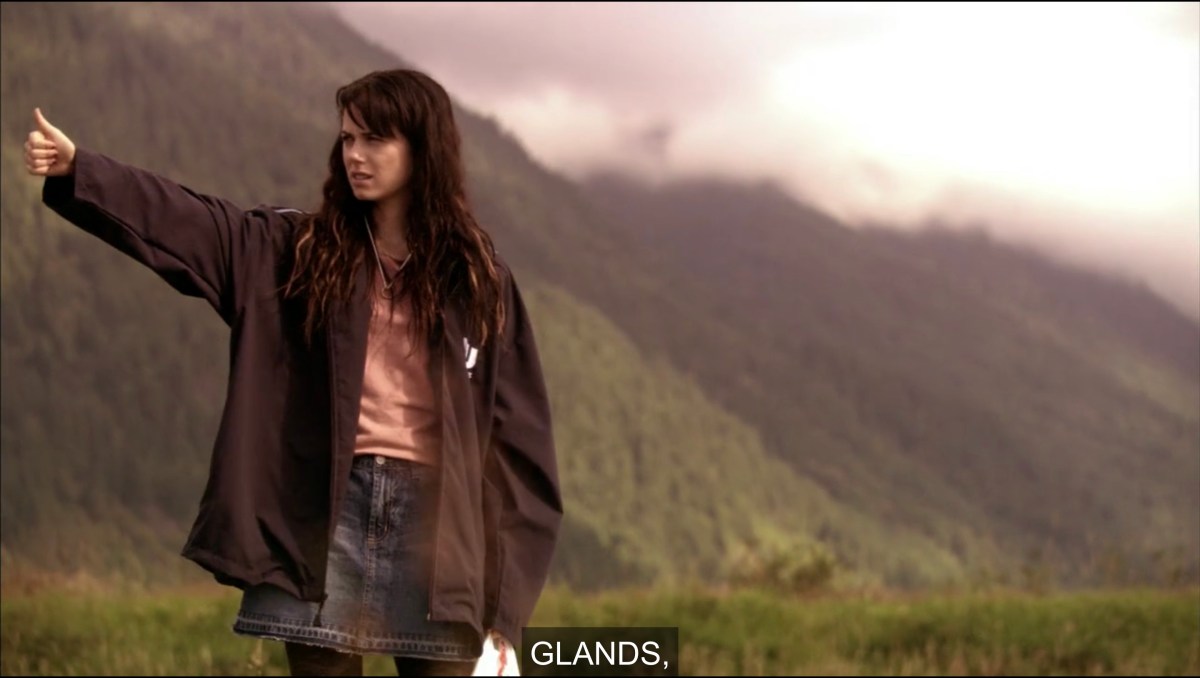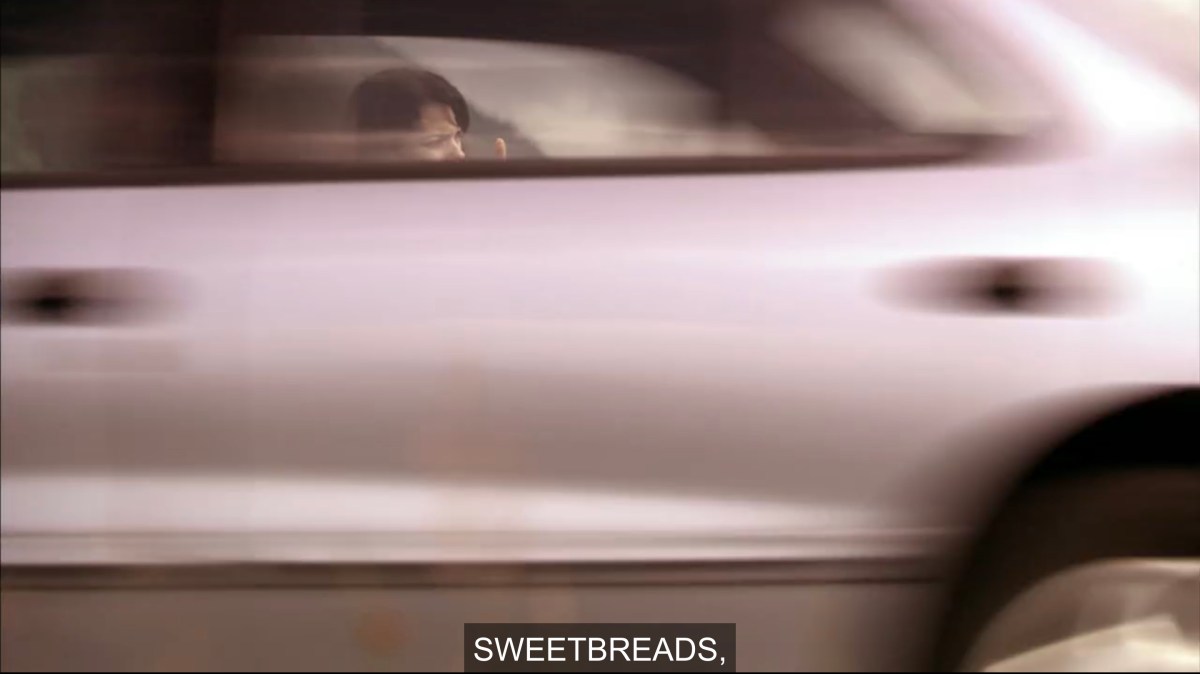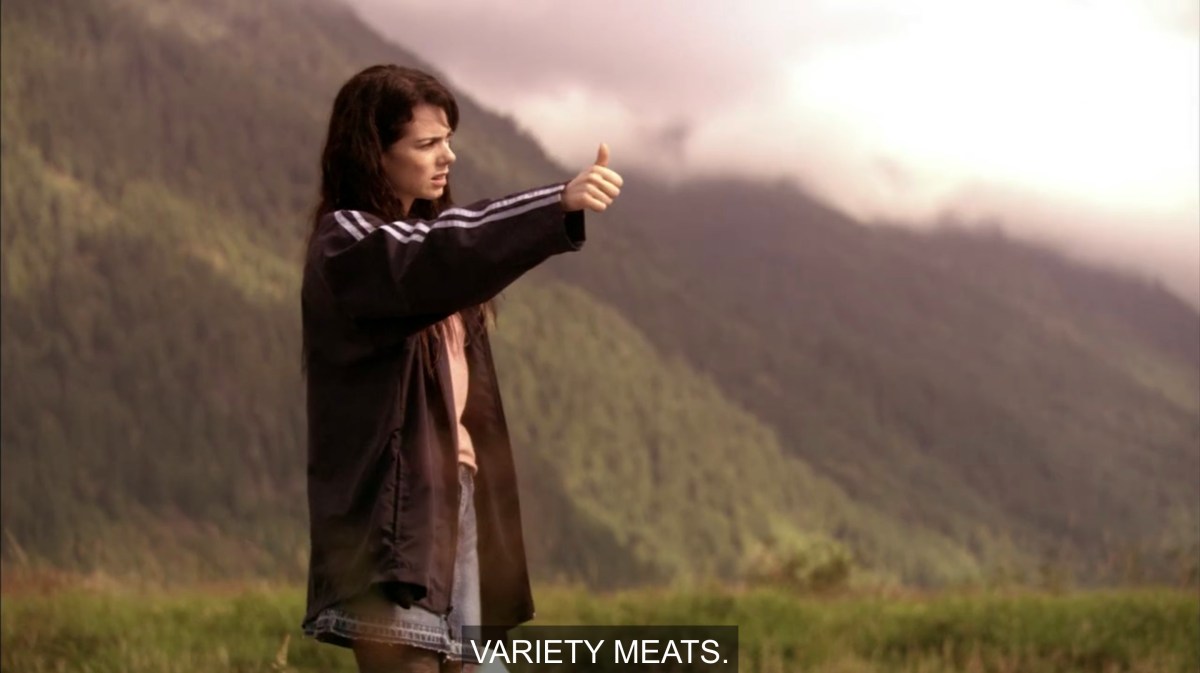 Let the bidding war begin!
---
Another little afternoon at the Dana Fairbanks Memorial Tavern — Finley is participating in this season's theme of "patchwork flannel" while unpacking boxes of alcohol and Tess, wearing a denim jacket that was recently attacked by a massive family of baby birds, tells Shane that the woman she's allegedly "seeing" is someone she JUST MET at a fancy Hollywood Hills party?!! Tess you are not seeing someone you met only once!!! You should've banged Shane in your backyard!!! As a wise re-capper once said, "HAVE SEX."
Anyhoo, because Tess and her Someone can't go out tonight (due to Poker Night), said someone is on her way to Dana's, right now, to take Tess out for coffee.
And, well WELL WELL AS I LIVE AND BREATHE HOLY HELL IN A HANDBASKET
Tess introduces them but Cherie demurs: "we've met." They acknowledge one another. They think about how many hot sex scenes they had in the original series. Tess crosses her arms. "Of course you have."
From the back, Finley gives a big clueless wave like a kitten so excited to meet my dog, who is completely uninterested in the kitten.
---
Back at The Aloce Show, it turns out that Alice has finished the rewrites on her book 500x faster than I have finished the re-writes on my book, which as of this moment, remain unwritten. Enough about me, let's focus on these two creative aspirants negotiating the end of their editing relationship and whether or not they can remain friends, perhaps?
Alice: Does it always feel this weird? Because I'm so used to spending so much time with you and now I'm not gonna see you tomorrow and I don't know, I can't put words to it—
Tom: We're done professionally but we're definitely friends, right? I feel like we're friends.
Alice: You think?
Tom: Well, I wept in front of you, so yeah.
Alice: And I pretty much had like a full mental breakdown. Just keeping score.
---
Dani is taking a field trip to lockup to see her Daddy, who informs her that she's now interim CEO of the company, according to the documents he secretly coerced her into signing!
Dani: I refuse to be your puppet.
Daddy: All of your family's assets are tied into this company. You walk away from this job, you walk away from everything.
Dani: Then I need to know the truth. As your daughter. I need to know what you knew and when you knew it.
If he tells her the truth, she'll run the company. If she finds out he lied she will burn it to the ground, just like Paige did to Wax Surf-and-Turf! I don't care about this story and it annoys me. However, I'm tickled to discover that Gigi's waiting outside to chariot Dani, who she now calls 'Boss Lady," away from this compromising situation and to her apartment.
---
Thusly we proceed onwards to the glorious LGBTQIA+ Center of Los Angeles, where we find Carrie atop a sofa with Tina and Angie, who is experiencing stomach upset and therefore will be treating herself to a glass of water. Carrie expresses nervousness about this group therapy session because it unfortunately involves her nemesis, Bette Porter, who she finds unpleasant and difficult. Carrie suggests they hightail it to Mexico but Tina declines this opportunity for a little R-n-R.
Carrie: What I have to do is I have to just start feeling sorry for her and not get as pissed off, you know? That's the trick.
Tina: Whatever it takes.
Carrie: It's gonna work, because I already feel sorry for her.
Tina: Why is that?
Carrie: Because she doesn't have you.
Tina: She doesn't want me. You say this about everybody!
Carrie: Yes she does! Yes she does!
Tina: It doesn't matter, honey.
Carrie: Why not?
Tina: Because I love you. I want you here, and Angie does too. You belong here, okay?
Meanwhile, Angie is face-timing Jordi, who admits that she too is frightened by Our Lady of Porter, but that she has asked the universe to be on their side. Angie's stoked for Jordi to be nominated for prom queen this very day.
---
Big news red alert Sophie's Segment Idea is here and it's…. bad. But everybody is going to pretend that it's good, probably eventually including me, because it's hard to complain about highlighting actual queer people on a major premium cable TV show! The pitch is: we didn't see lesbians on TV growing up, so now we have stock photographs of everyday queer heroes who we will feature because nobody knows that lesbians have existed in history! There are definitely already 5,000 interviews with queer heroes that already exist on the internet but okay.
Alice loves the idea which's great 'cause Sophie's already booked a cute old lesbian couple to come on down for their Segment Interview and make both Sophie and Alice feel sad about the states of their own relationships. Alice is currently battling the temptation to respond to Nat's texts begging her to get back together. I will be contacting the United Nations to hold Nat accountable for this behavior.
---
We now pivot onto the showdown top-off of the year — a group therapy session between Bette, Carrie, Tina and Angie, moderated by our trusty pal Micah! It turns out Marcus Allenwood's kidneys have had quite enough and he'll die without a transplant, and Angie wants to see if she's a match. Which brings us to our first Fight of the episode, and boy is it a doozy!
Gay Squabble #20: We R Family
In The Ring: Carrie vs Bette vs Angie vs Therapy? Hard to say exactly.
Bette is a hard no on Angie sacrificing her kidney, which puts her in line with the actual medical policies around kidney donation that do indeed forbid humans under 18 years of age to donate their organs. But this is television so let's just proceed.
Bette: No. God. No.
Micah: Ms. Porter, before we shut her down—
Bette: Look she can't donate a kidney, is that clear?
Carrie: But shouldn't we hear her out?
Bette: You don't have a say in this.
Micah: Ms. Porter—
Carrie: I'm not trying to have a say—
Bette: Well good because you don't.
Carrie: I'm just saying I can relate because I'm adopted too—
Bette: She's not adopted. She is our child. Mine and Tina's.
Adopted children also are the children of their parents, but okay Bette go off. Bette accuses Tina of wanting her to be the bad guy and shuts down Carrie's attempts to speak, and eventually Angie, no longer capable of sharing air with this chaos, storms out, followed by Tina, leaving a very disgruntled Bette alone with a trying-very-hard Carrie, who'd like to finish the sentence she began earlier.
Bette: I'd prefer it if you didn't
Micah: Of course you can.
Carrie knows she and Angie have different situations, but she always felt kinda lost not knowing her biological mother and if she needed anything, Carrie would be there for her. Bette says her family is different, and Micah asks Bette what her relationship with her own family is like. She shares that her Dad died years ago and that she hasn't seen her Mom in 30 years.
As you may or may not recall, Daddy left Kit's Mom for Bette's Mom and then cheated on Bette's Mom and then Bette's Mom left the fam. Honestly I've thought Bette's Mom was dead this entire time but I went back to the source material and I was wrong, they never declared her dead; only gone. This means Bette's Mom could appear at any time, ideally played by Jane Fonda.
Bette: I am who I am despite her, not because of her.
Micah: Is she still alive?
Bette: I wouldn't know. She left me.
Carrie: Wouldn't it be amazing if you could reconnect with her?
Bette: No, it wouldn't be amazing.
Carrie: How do you know?
Bette: The same way you know you don't like fucking scallops, Carrie. I tried it once and it wasn't for me.
JESUS CHRIST ON A CRACKER BETTE MY SWEET LORD IN HEAVEN YIKES
Meanwhile, Tina is deftly handling Angie in the hallway, reminiding her that Bette is generally an impossible person and just needs time to process, eventually earning Angie's return to the negotiation table. The kidney remains in play.
Who Wins? I think Micah did his best here so I'm gonna give it to him.
Back at the Dana Fairbanks Memorial Tavern, Shane's shoved into a booth with Tess and Cherrie and the inquiry begins regarding their knowledge of one another. Cherrie says Shane used to do her hair.
Shane is like, "Come on. We had an affair. An intense, destructive affair. She was married, it did not end well. Did it?"  Cherrie dodges the question but shares that Shane was a notorious homewrecker, which Shane points out is all in the past now, she is completely reformed! Just in case Tess was wondering about that wink wink! This is a big moment for Shane to be calm, collected and comfortable in her skin while Cherrie still radiates destructive energy in everybody's direction.
Cherrie thanks Shane for being her root because now she is divorced and "gloriously and aggressively out of the closet." Then I thank both of them personally because their affair in Season One was actually MY root.
(Is it just me or does it feel like this show forgot that Shane and Cherrie have seen each other three times since the end of their affair and that Shane has been aware of her divorce since 2006?)
Shane invites Cherrie to join that evening's Poker in the Rear Game and Tess, attempting to glide serenely through this terribly awkward love triangle and maybe dissolve into the carpet, escapes to the back room to say "FUCK" over and over to herself. But Finley's back there, and she needs advice. "Sophie said she's not together with Dani anymore," Finley explains, "But then she used the word friends to describe us, but I do think that could mean friends for right now, and then eventually lead to something more, right?"
Tess, who understandably was clearly not listening, tells Finley that if Sophie told her that she just wants to be friends (she didn't), Finley should believe her, and go out there and find someone who knows her worth!
---
Back in therapy, Micah gives Angie the floor, and Jordan Hull steps into the spotlight and absolutely crushes the scene. She's been thinking about everything happening with Black Lives Matter, and what it's been like for Marcus to move through this world — and how nice it's been to speak with Kayla about "race stuff." She can do that with Bette, too, but it's different.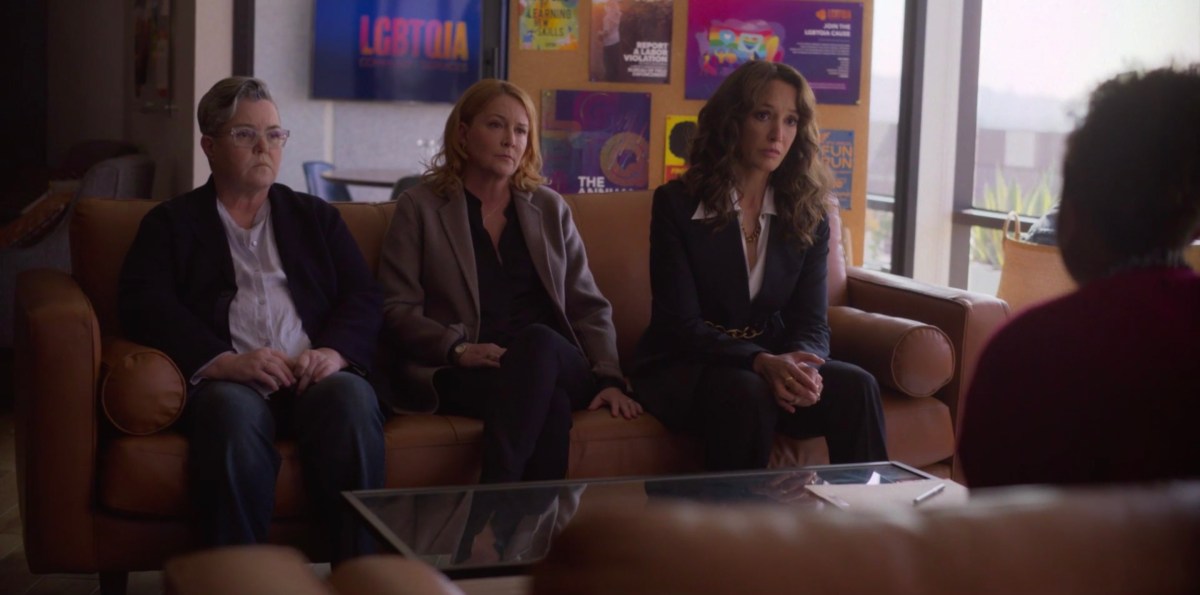 Angie: You know that the two of us walk through this world differently, Mom.
Bette: I know. I mean just because some white people mistake me for Italian or whatever that doesn't mean that I don't know who I am. And you know who I am.
Angie: I do. But it doesn't change the fact that you experience more privilege because of the way you look.
Bette: I know that.
Angie: Kit looked more like me, and I can't talk to her anymore. So. I guess it's just really nice to talk to Kayla because there's a kind of shorthand with us, and um I guess I don't want that to go away.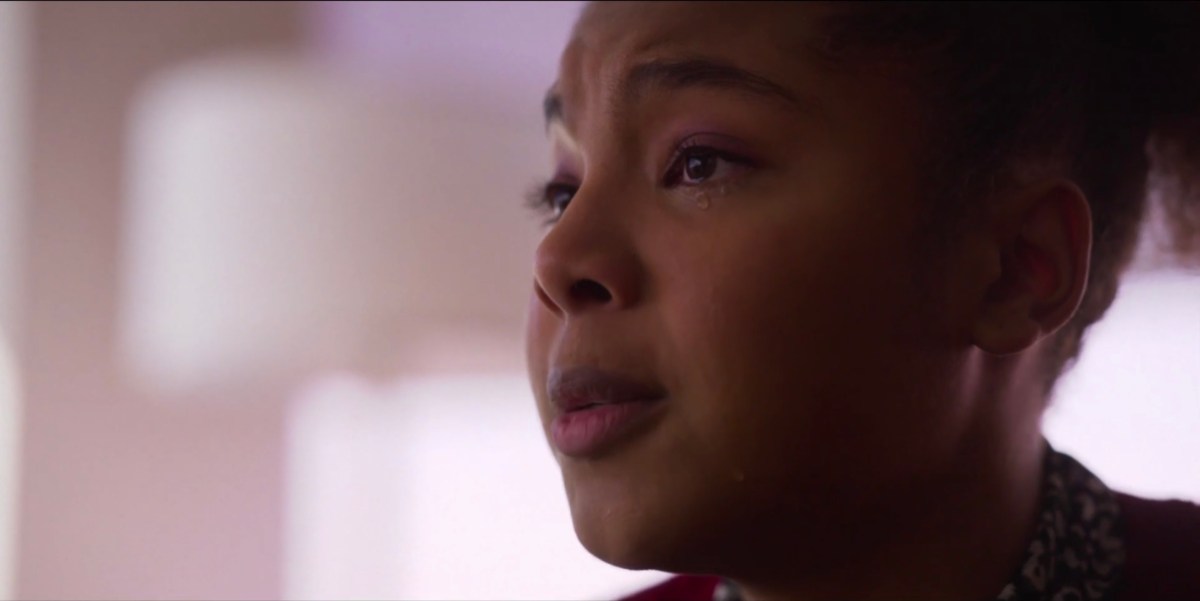 Now we are all crying! Angie doesn't wanna lose something bigger than her that she is a part of. Micah tells them to sit with this for a bit and they can re-discuss at a later time. Bette reaches for Tina's hand and holds it.
---
We then descend into the bowels of a parking garage, where Carrie has some complaints and needs, like tea and a hot tub. Carrie loves Angie, but Bette's a "tough one" and Carrie doesn't know how Tina ever married her. Tina does not care for this Bette slander!
Lesbian Squabble #21: The Ex-Factor
In the Ring: Carrie vs. Tina
Tina dislikes Carrie's tone. "I just got verbally beat up by your ex-wife and you wanna talk about my tone?" Carrie asks, which is a fair question. We've become numb, as a viewership, to the slings and arrows of Bette Porter Discourse but my G-d she was a beast in that room, and Tina should address this with Bette instead of being a Tina. Carrie's okay being a second to Angie, but she won't be third to Bette.
Tina: "Look I love you, you belong here, okay?"
Carrie: "Yeah you keep saying that."
Who Wins? Carrie. Also the Lyft driver who just got a ride from a lesbian who probably over-tips because Carrie's going back to the office instead of riding along with Tina.
---
Back at The Aloce Show, Sophie's interviewing a very cute old lesbian couple about their very cute relationship, and how they met and courted each other at a time when it was not okay to be gay and they triumphed over adversity to be together!
They tell her the "real deal" doesn't come around that often but when it does, you hold onto it and you fight for it! Sophie and Alice promptly project this situation to their own lives. Sophie asks Alice if it's true about the real deal not coming around that often. Alice says she can count on one hand the people she has loved, which feels unlikely, but I will accept it.
---
We then journey over to Dani's box-filled Castle in the Sky, where Gigi and Dani are drinking wine and sharing the easy banter and emotional intimacy of two women destined to have sex.
Dani says she has to believe that her Dad is innocent because she can't lose him on top of losing her Mom and Sophie. Also, Dani tells Gigi that she saw Sophie in Ojai and at first it was strange and then really great but then at the end, Dani felt relieved. A part of her knew they weren't right together. "I don't know why we lie to ourselves like that," Gigi says. "Self-preservation I guess."
Gigi's tendency to strategically dig into the below-the-surface emotions of the women she speaks to never worked with Bette — she's just walls upon walls — but it works with Dani, because she's got so much she needs to say but kinda has to be tricked into saying it. She has to feel seen, first. And Gigi seems to see her.
---
We then return once more to the legendary Dana Fairbanks Memorial Tavern, where Shane and Tess are giving Finley permission to leave work early to fuck a person she just met.
Shane and Tess are bumbling around each other behind the bar. Shane says Cherie was a lifetime ago and she's not gonna get in their way, Tess says it's fine she just has a lot of things in her head.
Shane: Did you tell [Finley] to move on?
Tess: Yeah, she can't keep pretending to not see what's right in front of her.
Shane: That's true.
Tess: You think I'm wrong.
Shane: I didn't say that, I just think — I think people are complicated and I think timing is complicated. Life can be complicated. What do I know?
Tess: True. But she can't expect Sophie to change and she's made herself pretty clear, so.
Shane: I'm sorry but what the hell are we talking about?
Tess: Finley.
First of all, WHEN WAS SOPHIE CLEAR? Everybody is just walking around quoting Sophie but nobody is talking to Sophie.
---
Micah returns to FiSoMi's after a long hard day at work and texts Marbiel to see if she can come over, citing a "mild emergency." Mild emergency, thy name is Bette Porter.
---
We then sojourn across many blocks or miles to find Alice is at home when Nat calls to, it seems, cancel the dinner Alice was preparing. While condoning her flowers for being stupid, she knocks over the vase and it shatters into a million little pieces, which is, as they say, the straw that broke the camel's back.
Tom texts her to tell her that her publisher loves the manuscript and, overwhelmed by conflicting emotions, Alice stars sobbing.
---
Maribel shows up at FiSoMi's looking hot to trot because she cancelled a date to come over for Micah's mild emergency. He's immediately alarmed because not only did he just express a desire and assert a feeling, but now he is having that desire and those feelings addressed.
Micah begins rambling about his day and how he felt bad at his job and he just needed to see her and talk about nothing or eat vegan pizza but it's okay it's totally fine and she is like, "Micah…."
Genuinely confused when exactly Maribel figured out that Micah is interested in her but ummmm THEY GO UPSTAIRS TOGETHER TO MAKE OUT MORE!!!! LET'S FUCKING GO!!!!!!!!!!!!
---
Speaking of bisexuality, Tom has come to the rescue at Alice's home because he knows his way around a broom and a dustpan! He is HORRIFIED to come across two live lobsters in Alice's sink, which she admits she was going to murder and serve to Nat for a nice fancy dinner.
Well, if they're not gonna EAT the lobsters, what are they gonna do with the lobsters?? Too????
It's early evening at Chez Bette, where Angie is getting the full scoop on Jordi's nomination to prom court, which to be honest is not a particularly compelling narrative, but Angie is somehow enthusiastic because teenagers in love, guys!
Angie's so happy for her and wishes she could've been there to witness it and is so sorry she couldn't be! It's just that she had like an extremely bad day and didn't want to go to the gym just to sit there and cry in public.
Angie: I'm just so pissed — like they always make everything about them. They're so fucking selfish, you know? I bet they're still downstairs bitching about it right now!
Jordi: I'm sorry. But like at least now it's kinda out there and out of the way, right?
Angie: I mean, Carrie was the only one who was even on my side! Because she's the only one who even sees me as a human being instead of just a kid. And I think Mama B just hates her so much that she doesn't care about anything else, and she wouldn't even listen to me—
Jordi interrupts Angie to share breaking news that her English teacher liked her instagram post and tells Angie it's good that she got through it because now they can focus on "fun stuff." I for one find Rosie O'Donnell to be very fun!
---
Tom and Alice have taken a spiritual journey to a vacant stretch of the Pacific Ocean to free the lobsters into the wild beyond!
They then sit their butts on the beach to watch the surf roll in and ponder the dissolution of Alice's relationship. Tom says for what it's worth, he thinks Nat's nuts for not trying to work things out with her. Alice says he's not so bad himself!
Truly, if you had told 2008 Riese that in 2021 she would be sitting here rooting for Alice to date a boy, she would probably be like…… "wait how the fuck is that show still on."
Anyhoo, Alice says the chapter about Dana is her favorite chapter in the book, and that he was able to take it somewhere she couldn't. Alice says Tom cracked her open in a good way. That's probably not the only way he can crack her open HEY O!
---
What, my dearests, are Dani and Gigi up to at this moment? Dani continues to be emotionally vulnerable in a way we have not seen before! She feels separate from her pals, since they all live together and also btw Finley and Sophie fucked in the green room which's super awk, but she misses Micah. When Gigi asks if Dani's told Micah that she misses him, Dani says that Gigi sounds like Sophie but Gigi says there's more out there than just "Sophie" and "not" and that she'll figure it out.
Dani: Are you hitting on me?
Gigi: [laughs] No. I mean I don't… think so?
Dani: Okay but you're not sure.
Gigi: I like your energy.
Dani: I don't know what that means.
Gigi: Sure you do, it's what you're feeling right now.
Dani: Oh.
Gigi: But. If my feelings change, I will let you know. I'm good at that.
Dani: That makes one of us!
Gigi would probably accidentally seduce a box of rocks but on COME ON on what planet is she not CLEARLY hitting on Dani?? Bette texts 'cause she's had a bad day and wants Gigi to come over and make her feel better, but Gigi rejects the offer.
---
Cut to Shane and Tess's Poker Palace, where Cherie's rubbing her foot against Shane's leg and sliding her hand into Shane's lap and Tess clocks it all and heads into the backroom to make her escape. Cherrie, to the bewilderment of us all, follows her back there and asks if she can join Tess on her trip home.
"I don't think you should," Tess says. "Because I think you should be exactly where you want to be." Cherie cocks her head, closes the door, and pushes Tess onto the sofa upon which so many misguided lesbians have had sexual relations, including Tess herself!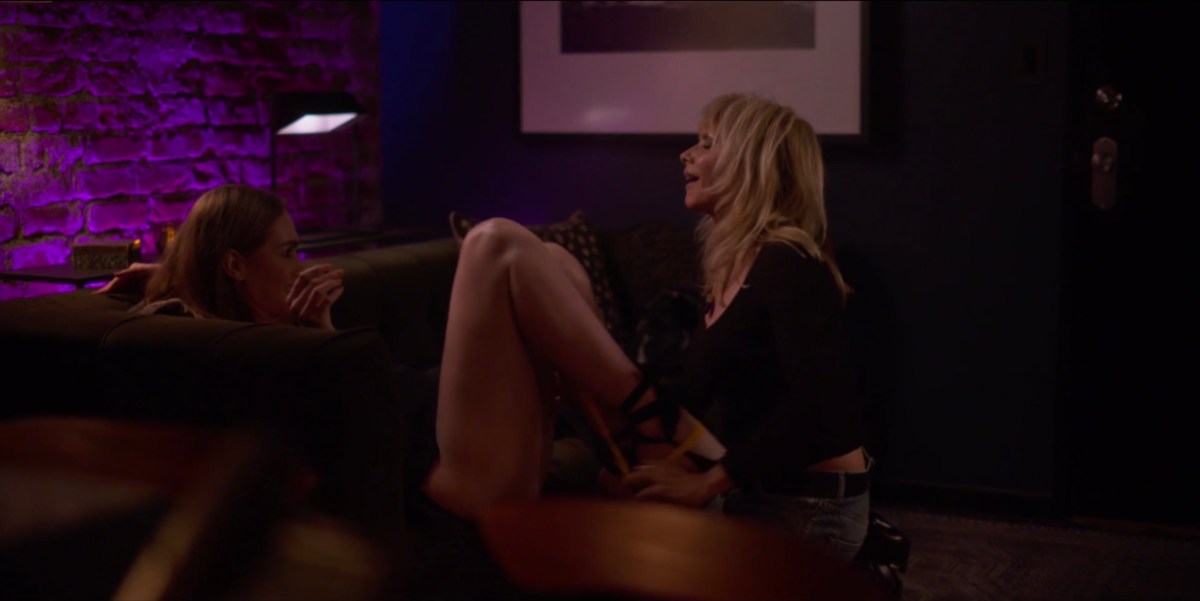 Lesbian Sexy Moment #5: I Need a Change
The Pick-Up: Cherie's cocky smile, her closing the door
Hot or Not? Tess resists this absolutely unwise erotic adventure for about 30 seconds before Cherie kisses her way down Tess's body, hikes up that skirt and goes right to town.
---
This brings us to…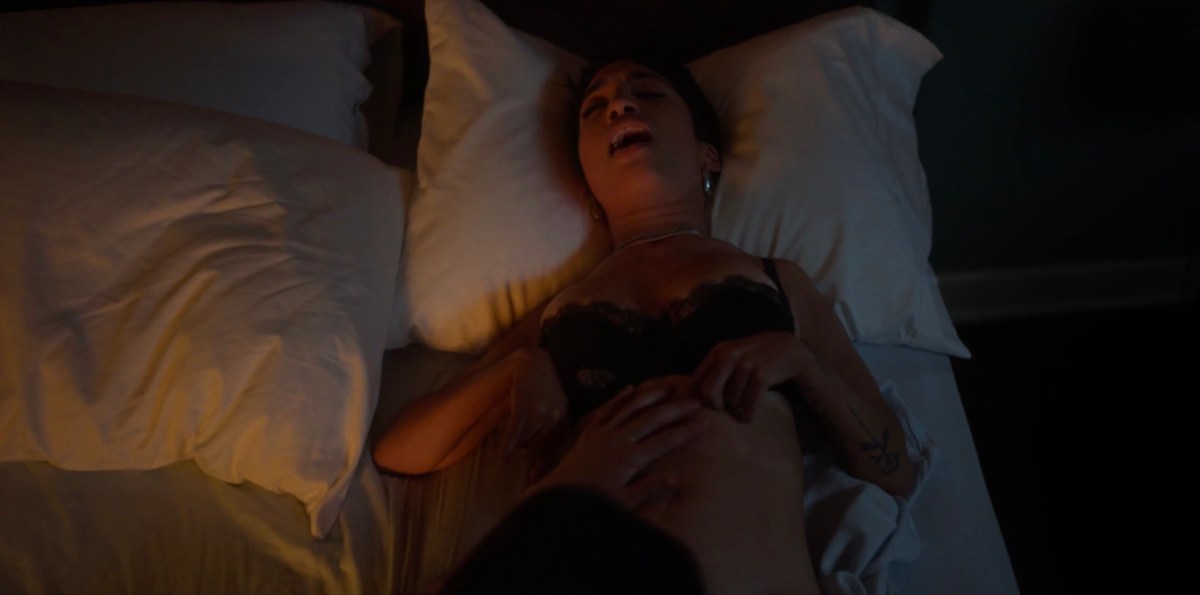 Sexy Moment #6: Sex Before Marriage
The Pick-Up: Micah does literally pick her up, which is the most classic pick-up of all time
Hot or Not? Yes! I love sex scenes that are hot but also everybody has a sense of humor? Like they are so entirely themselves but also entirely bowled over by desire and general thirst. Micah asks if he can go down on her and she chides, 'you sure you remember how?" I think he does!!!!!
---
Angie arrives home and walks right into a time warp in which Bette is wearing an Original Series XL Collar with flared pants and a blazer. Angie wants to go up to bed but her parents ask her to come in for a second.
Bette is doing the unprecedented — she is apologizing. She's sorry for acting out of her own fears and not listening to Angie. She feels ashamed. She feels sorry.
Tina and Bette give Angie their blessing to reach out to Marcus. Angie's face lights up, she heads towards them, head bobbing and thrilled, "Oh My God. I forgive you, I forgive you. And thank you so much!" They embrace! As a family!
---
Sophie, inspired by the Elder Dyke Love Story, got sushi from that place they like and has brought it home to enjoy with Finley. But hark! What strange noises beckon from the annals of the back room as she attempts to unpack her dinner! It is our dear Finley, fucking someone else. Sophie looks confused more than hurt, and then trots back upstairs to lie in bed alone, listening to everybody have sex!
Sophie pulls her blanket over her head and screams. I wonder if she knows one of those voices is her sister!!!!
---
We end this week's journey at Dana's Memorial Tavern, a place for friends, where Shane's counting up a stack of cash. There's a knock at the door, and Shane hides her secrets and guess who's at the door!!!!!
It's Cherrie Peroni!!
Cherrie says she dropped Tess off. "You gonna let me in?"
"Is that a good idea?" Shane asks because it is not a good idea.
"Don't make me beg," says Cherrie.
Shane opens the door…. TO DANGER
---
The Round Up:
Squabbles: 2 this episode, 21 total
Sex Scenes: 2 this episode, 6 total
Quote of the Week: "MICAH" (as in when Micah was rambling nervously and Maribel was like ok I'm gonna cut this kid off with a "Micah" and a MAKEOUT)
Pages: 1 2 3See entire article on one page