Back at the Dana Fairbanks Memorial Tavern, Shane's shoved into a booth with Tess and Cherrie and the inquiry begins regarding their knowledge of one another. Cherrie says Shane used to do her hair.
Shane is like, "Come on. We had an affair. An intense, destructive affair. She was married, it did not end well. Did it?"  Cherrie dodges the question but shares that Shane was a notorious homewrecker, which Shane points out is all in the past now, she is completely reformed! Just in case Tess was wondering about that wink wink! This is a big moment for Shane to be calm, collected and comfortable in her skin while Cherrie still radiates destructive energy in everybody's direction.
Cherrie thanks Shane for being her root because now she is divorced and "gloriously and aggressively out of the closet." Then I thank both of them personally because their affair in Season One was actually MY root.
(Is it just me or does it feel like this show forgot that Shane and Cherrie have seen each other three times since the end of their affair and that Shane has been aware of her divorce since 2006?)
Shane invites Cherrie to join that evening's Poker in the Rear Game and Tess, attempting to glide serenely through this terribly awkward love triangle and maybe dissolve into the carpet, escapes to the back room to say "FUCK" over and over to herself. But Finley's back there, and she needs advice. "Sophie said she's not together with Dani anymore," Finley explains, "But then she used the word friends to describe us, but I do think that could mean friends for right now, and then eventually lead to something more, right?"
Tess, who understandably was clearly not listening, tells Finley that if Sophie told her that she just wants to be friends (she didn't), Finley should believe her, and go out there and find someone who knows her worth!
---
Back in therapy, Micah gives Angie the floor, and Jordan Hull steps into the spotlight and absolutely crushes the scene. She's been thinking about everything happening with Black Lives Matter, and what it's been like for Marcus to move through this world — and how nice it's been to speak with Kayla about "race stuff." She can do that with Bette, too, but it's different.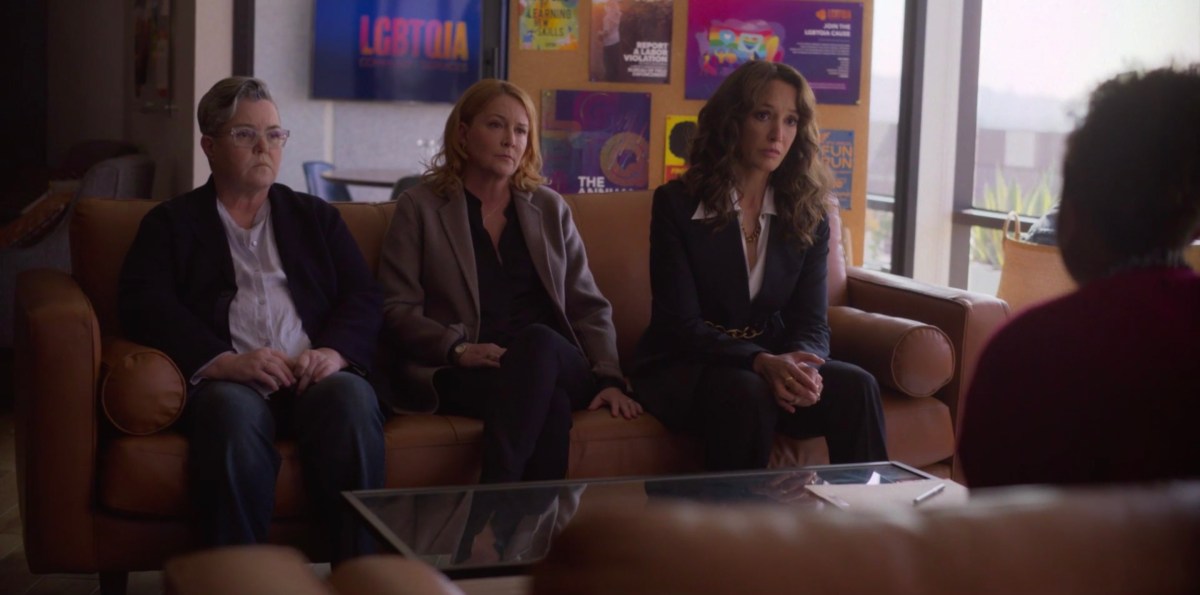 Angie: You know that the two of us walk through this world differently, Mom.
Bette: I know. I mean just because some white people mistake me for Italian or whatever that doesn't mean that I don't know who I am. And you know who I am.
Angie: I do. But it doesn't change the fact that you experience more privilege because of the way you look.
Bette: I know that.
Angie: Kit looked more like me, and I can't talk to her anymore. So. I guess it's just really nice to talk to Kayla because there's a kind of shorthand with us, and um I guess I don't want that to go away.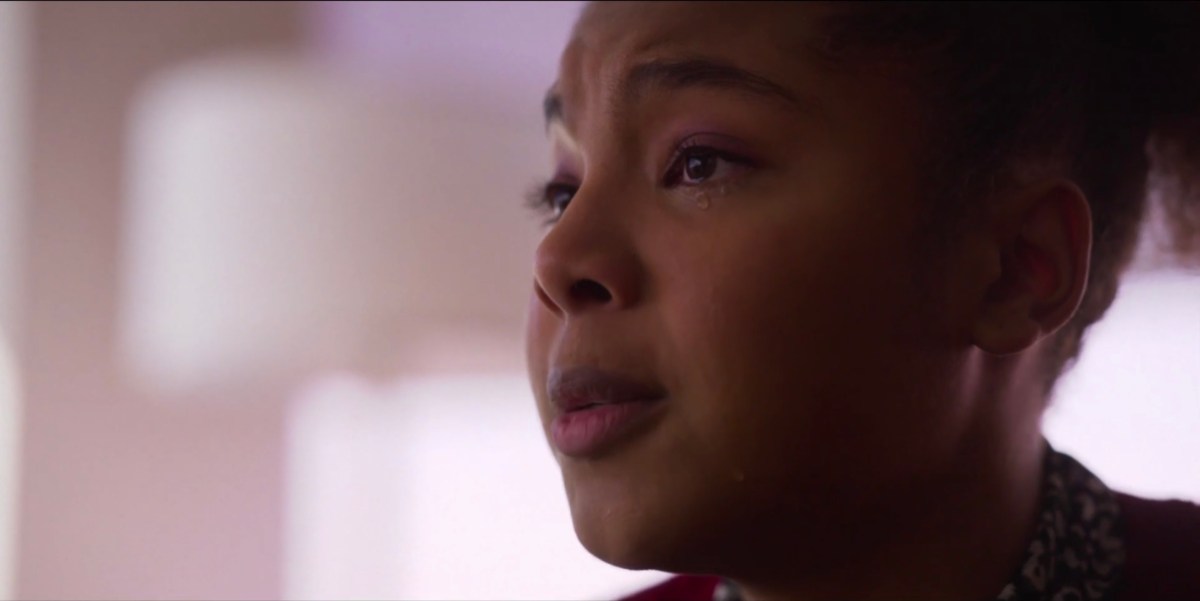 Now we are all crying! Angie doesn't wanna lose something bigger than her that she is a part of. Micah tells them to sit with this for a bit and they can re-discuss at a later time. Bette reaches for Tina's hand and holds it.
---
We then descend into the bowels of a parking garage, where Carrie has some complaints and needs, like tea and a hot tub. Carrie loves Angie, but Bette's a "tough one" and Carrie doesn't know how Tina ever married her. Tina does not care for this Bette slander!
Lesbian Squabble #21: The Ex-Factor
In the Ring: Carrie vs. Tina
Tina dislikes Carrie's tone. "I just got verbally beat up by your ex-wife and you wanna talk about my tone?" Carrie asks, which is a fair question. We've become numb, as a viewership, to the slings and arrows of Bette Porter Discourse but my G-d she was a beast in that room, and Tina should address this with Bette instead of being a Tina. Carrie's okay being a second to Angie, but she won't be third to Bette.
Tina: "Look I love you, you belong here, okay?"
Carrie: "Yeah you keep saying that."
Who Wins? Carrie. Also the Lyft driver who just got a ride from a lesbian who probably over-tips because Carrie's going back to the office instead of riding along with Tina.
---
Back at The Aloce Show, Sophie's interviewing a very cute old lesbian couple about their very cute relationship, and how they met and courted each other at a time when it was not okay to be gay and they triumphed over adversity to be together!
They tell her the "real deal" doesn't come around that often but when it does, you hold onto it and you fight for it! Sophie and Alice promptly project this situation to their own lives. Sophie asks Alice if it's true about the real deal not coming around that often. Alice says she can count on one hand the people she has loved, which feels unlikely, but I will accept it.
---
We then journey over to Dani's box-filled Castle in the Sky, where Gigi and Dani are drinking wine and sharing the easy banter and emotional intimacy of two women destined to have sex.
Dani says she has to believe that her Dad is innocent because she can't lose him on top of losing her Mom and Sophie. Also, Dani tells Gigi that she saw Sophie in Ojai and at first it was strange and then really great but then at the end, Dani felt relieved. A part of her knew they weren't right together. "I don't know why we lie to ourselves like that," Gigi says. "Self-preservation I guess."
Gigi's tendency to strategically dig into the below-the-surface emotions of the women she speaks to never worked with Bette — she's just walls upon walls — but it works with Dani, because she's got so much she needs to say but kinda has to be tricked into saying it. She has to feel seen, first. And Gigi seems to see her.
---
We then return once more to the legendary Dana Fairbanks Memorial Tavern, where Shane and Tess are giving Finley permission to leave work early to fuck a person she just met.
Shane and Tess are bumbling around each other behind the bar. Shane says Cherie was a lifetime ago and she's not gonna get in their way, Tess says it's fine she just has a lot of things in her head.
Shane: Did you tell [Finley] to move on?
Tess: Yeah, she can't keep pretending to not see what's right in front of her.
Shane: That's true.
Tess: You think I'm wrong.
Shane: I didn't say that, I just think — I think people are complicated and I think timing is complicated. Life can be complicated. What do I know?
Tess: True. But she can't expect Sophie to change and she's made herself pretty clear, so.
Shane: I'm sorry but what the hell are we talking about?
Tess: Finley.
First of all, WHEN WAS SOPHIE CLEAR? Everybody is just walking around quoting Sophie but nobody is talking to Sophie.
---
Micah returns to FiSoMi's after a long hard day at work and texts Marbiel to see if she can come over, citing a "mild emergency." Mild emergency, thy name is Bette Porter.
---
We then sojourn across many blocks or miles to find Alice is at home when Nat calls to, it seems, cancel the dinner Alice was preparing. While condoning her flowers for being stupid, she knocks over the vase and it shatters into a million little pieces, which is, as they say, the straw that broke the camel's back.
Tom texts her to tell her that her publisher loves the manuscript and, overwhelmed by conflicting emotions, Alice stars sobbing.
---
Maribel shows up at FiSoMi's looking hot to trot because she cancelled a date to come over for Micah's mild emergency. He's immediately alarmed because not only did he just express a desire and assert a feeling, but now he is having that desire and those feelings addressed.
Micah begins rambling about his day and how he felt bad at his job and he just needed to see her and talk about nothing or eat vegan pizza but it's okay it's totally fine and she is like, "Micah…."
Genuinely confused when exactly Maribel figured out that Micah is interested in her but ummmm THEY GO UPSTAIRS TOGETHER TO MAKE OUT MORE!!!! LET'S FUCKING GO!!!!!!!!!!!!
---
Speaking of bisexuality, Tom has come to the rescue at Alice's home because he knows his way around a broom and a dustpan! He is HORRIFIED to come across two live lobsters in Alice's sink, which she admits she was going to murder and serve to Nat for a nice fancy dinner.
Well, if they're not gonna EAT the lobsters, what are they gonna do with the lobsters?? Too????
Pages: 1 2 3See entire article on one page