feature image via Shutterstock
Hello bits and bytes — today I'm going to chat with you about existential crisis. I love the internet. I love gadgets. I love science and new things and (mostly) I love the tech sector. We're living in a fast-paced science fiction novel that we couldn't have dreamed up even ten years ago. Things are changing so fast that we can almost hear the boom-crack of our movements breaking the sound barrier; there is so much noise.
And that's what I love about it. It wasn't until I worked in the tech sector that I began to take a certain pleasure at existing on the bleeding edge, but I have since. Being at the front of the pack means playing with fun new toys as soon as they come out; it means being a decider on what our new super powers are used for; but most importantly (at least to me), it means never being left behind. And left behind is something I often was as a nerdy kid in middle school. It sticks with you.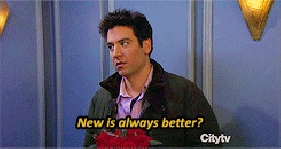 It is also what I hate about it.
That, and this: our iPhones contain computers more powerful than the computer that landed people on the moon for the first time. I know this from reading Geek Sublime by Vikram Chandra (which, if you haven't read, I highly recommend although your brain will smell like bacon after). We are living in a world where so many things are possible due to science and technology that we practically posses magic. But with our newfound superhuman abilities, are we really doing anything new?
Sometimes I think yes — we can tell stories in so many different ways now, and in the fragmenting of how we receive our cultural narratives I actually do believe great social change is possible. I actually do believe that technology is a democratizer — it actually does give power to those who didn't have it before, and at a relatively low cost. I believe this. Most of the time.
The anxiety about using our power wisely is a low rumble underneath everything. It's prevalence is exactly why I don't notice it often. This particular acute bout started when I finally got around to reading Super Sad True Love Story by Gary Shteyngart…on my Kindle. The book came out in 2010 when I was but a wee babe graduating from college with a degree in theatre, starting out in the tech sector and just realizing that what I wanted was to write. It didn't land on my radar — considering the book is a confluence of many things I think about often, I can only imagine the reason for my missing was total self absorption; I was 22 and fit the stereotype. It chronicles a relationship between a bookish man stuck in a materialist-yet-economically-crumbling, technology-obsessed dystopian United States and a much younger Korean-American woman who, though she outwardly appears to buy into the culture, is far more ambivalent about it than she initially seems. I am not finished with this book — I had to stop and rest for a bit. I got the e-book from the New York Public Library not realizing that a central theme is the disappearance of physical artifacts of story. It seemed antithetical to continue on a screen, but to be honest I probably will: I do not have a lot of money and I can get it back on loan from the library for free without waiting. What does that say about me?
The reason I bring this book up now, other than it being my personal entry point into my current musings, is that it appears in five years the anxiety hasn't gone away. In February of this year, MRC announced they were adapting the book for television. There's a rumor floating around among my friends that I can't seem to verify, but I'm going to share it with you anyway on the understanding that it might not be true, but is still important: people have told me that the television series will be replacing the ubiquitous apparats (a smartphone-like device that does everything and hangs around your neck) with Google Glass. The rumor is important because of the anxiety it displays — we think we've reached the dystopia. It only took five years.
And I was a fan of Google Glass. Still am, actually. I think it does more new things than the Apple Watch, which is really just a rehash of things your phone already does. But I digress —back to television.
Television, television. This week, we learned the next Apple TV launch might be delayed because Apple wants to feature live content from local providers the same way you'd get if you had bunny-ears-antennae on top of your set. Negotiations are going to be bananas. This month, The Awl predicted that The Next Internet is TV. From that essay:
And so one more obvious theoretical question for this particular view of the future that seems to be quite popular right now, in which we have circled back to TV via the internet or apps or social media or even TV itself: Wasn't the internet supposed to be BETTER, somehow, in all its broken decentralized chaos and glory? The TV industry, which is mediated at every possible point, is a brutal interface for culture and commerce.
Way to feed my existing anxiety. The models we are using to sculpt the internet look suspiciously like models that already exist. Is that a bad thing? I don't know, actually, but the promise of all we sacrifice to be constantly connected to one another is for things to be better, right? Easier, somehow, or more meaningful. Can something that's not new be better? Can we really improve by building from the same blueprint we've used before?
I find myself asking the same questions even as I make the totally reasonable claims that the internet helps boost marginalized voices. Gaby Dunn tweeted this week about male celebrities using Twitter and Instagram to coerce teenage girls. The surrounding conversation even calls out non-famous people with a lot of power in their individual communities using their power or perceived power to manipulate people into relationships they otherwise would not be down with. That is the same old story on a brand new platform — people have been doing this to each other since the patriarchy was but a baby neckbeard, knee-high to a fedora.
And speaking of Twitter, this week Australian feminist Caitlin Roper was the victim of an impersonation account — and the troll tweeted a horrendous message for trans folks and THEN PROMOTED THE TWEET WITH ACTUAL MONEY so that more people would see it. Same story, new platform — those with the most money get the most voice. It doesn't matter if that voice is hateful. Sure, the best stuff can rise to the top on its own merits, but a little bit of cash can give it a boost. I don't even really blame Twitter for missing it at first — Twitter is f*cking giant, and as soon as they were made aware they took tweets down and deleted the advertisement.
What I mean to say is this: we are doing old things with new tools.
And yet. And yet. We are also doing new things with new tools — The Planetary Society (led by Bill Nye the Science Guy) is exploring space in a new way with LightSail. Granted, the idea was proposed a century ago. I suppose we could consider it old — but the technology has finally caught up.
It's this tension that leads me to ask the question: is technology really a frontier? Now technically a frontier just means a border between countries or two different types of things. But I suppose I'm talking frontier in the American lore sense — a place where brand new things are said to happen, a place where new territory is staked out, a place of expansion.
The cynic in me says yes — the American frontier was made possible by a group of humans playing at discovering things that had already been discovered; taking things that weren't theirs. I am stressed that we might be using our powers to spin our wheels faster without ever moving forward, that the tech sector prides itself on disrupting the same way frontiers-people prided themselves on settling. To settle, something must be previously unsettled — and it wasn't. To disrupt implies something other than the status quo, and it's not. We are bad at frontiers, historically.
Technology can't actually do that for us — it can't disrupt the status quo. We've created superpowers and have no idea what to do with them — idle superheroes are terrifying. There is no shortage of problems we should be tackling: climate change, for instance. Speaking of Bill Nye, during his commencement speech last weekend at Rutgers University, he stated that there's no technology that can save us from our own carbon emissions at the speed at which we need it. No, what can save us (and it can) is the actual hard work. Actually cutting emissions. Actual political action. All this technology, and the solution is still people.
I think that's true a lot of places — ending those in power using technology to manipulate and harass others? That's about using our resources to change people, not to come up with a better algorithm. Making sure that we explore space efficiently and without repeating past mistakes? People, work and ethics that have nothing to do with how fast we can implement a prototype. How about story — narrative is at the center of people. If you don't believe me, check out The Storytelling Animal by Jonathan Gottschall. Finding new and different ways to approach the way we tell our stories isn't entirely about technology (though I am using a platform to research and type this post in a way that literally would not have been possible a decade ago) — it's about what we do with our superpowers. To avoid the dystopia, we need to grab the human parts of ourselves, the parts that are messy, misbehaving and creative, and hang on tight.
---
This has been the one-hundred-twenty-ninth installment of Queer Your Tech with Fun, Autostraddle's nerdy tech column. Not everything we cover is queer per se, but we talk about customizing this awesome technology you've got. Having it our way, expressing our appy selves just like we do with our identities. Here we can talk about anything from app recommendations to choosing a wireless printer to websites you have to bookmark to any other fun shit we can do with technology. Header by Rory Midhani.