I love gadgets. Love love love them. I love software—yesterday I opened my applications folder in front of another writer and he actually stepped backward. "Whoa," he said. "You have…a lot. Just…a lot." I think trying new things with technology is the bee's knees. I'm all about it.
But y'all. I cannot, for the life of me, figure out the smart watch thing. Which is unusual—I'm all about wearables like Google Glass. If I had any disposable income at all, I would have immediately purchased Google Glass and worn it everywhere. Alas, as of January of this year, I will never get to do that. I'm not immediately on board with all new tech, however. And this is one that might require a little convincing.
Maybe it's because I have a watch. It tells the time, and that's all I need it to do. It does this without my needing to charge it every two seconds. Maybe it's the extreme out-of-touch-ness of a $10,000 piece of technology that needs replacing every two or three years.
Seriously. It's the darn silliest investment of ten thousand dollars I can think of. Like I'd rather hear about someone buying a pony with their disposable ten thousand dollars.
Normally I wouldn't care. I'm the kind of person who's all, "Bah. If I don't like it, why bother interacting with this information at all?" But I got pissy, I think, because of the press releases. I won't say who all they're from, names removed to protect the guilty and all that. But this week I got, like, four separate enthusiastic emails from different people about their exciting new Apple Watch accessories. Everyone is "thrilled" to present me with myriad charging stands, band enhancements and the like.
---
I'm sorry, but the exciting thing you're emailing me about is an accessory for an accessory? Have we really reached a point in the tech industry where people are putting accessories on top of accessories? Do we, as a society, really need this?
Maybe I'd be excited, too, if I were sold on smart watches. Or sold on the Apple Watch. According to Wired's profile of Kevin Lynch, "Apple decided to make a watch and only then set out to discover what it might be good for (besides, you know, displaying the time)." When I was watching the release announcement, it felt like that. It felt like Apple went into this without answering the 'why' of it. They finally hit upon a problem they themselves created—we're always looking at our phones. So the Apple Watch is designed to take our face out of technology, the opposite of Google Glass which was designed to put technology in and on our face. Also from the Wired piece:
Take the feature called Short Look: You feel a pulse on your wrist, which means you've just received a text message. You flick your wrist up and see the words "Message from Joe." If you put your wrist down immediately, the message stays unread and the notification goes away. If you keep your wrist up, the message is displayed on the Watch's screen. Your level of interest in the information, as demonstrated by your reaction to it, is the only cue the Watch needs to prioritize. It's interactions like this that the Watch team created to get your face out of your tech.
But really. Is looking at your watch every two seconds as the tap-tap of incessant emails and messages any less invasive or rude to the people around you than looking at your phone? Is this solving a problem or creating a new one? Making it's even less possible to disconnect by strapping something to your body that vibrates every time another person somewhere on the planet wants you to LOOK AT THIS LOOK AT THIS LOOK AT THIS.
Or maybe it would be that way if the Apple Watch didn't run out of battery several times in a work day. The battery, in fact, is what's preventing this piece of tech from being more of a blockbuster, according to "You Guys Realize The Apple Watch is Going to Flop, Right?" over on Fast Company:
As a result, the novel interactions that could have made the Apple watch a must-have device aren't in the company's launch product, nor are they on the immediate horizon. And all Apple can sell the public on is a few tweets and emails on their wrists—an attempt at a fashion statement that needs to be charged once or more a day.
Whyohwhy do we have this when Google Glass is being discontinued? Sure, Glass made you look kinda awk, but it also enabled things like:
Perhaps it's foolish to compare Google Glass and Apple Watch, but it's hard not to—they're the highest profile wearables so far. To me, Glass is an actual real technological development—it allows for entirely new and life-changing interaction as seen in the above video. It's not some text messages on your wrist. I suppose what really gets me about the Apple Watch is this: there is no innovation here. Nothing about this makes the world a better place. It doesn't even make the world a more connected place—the Apple Watch does nothing that existing technology can't do. I'd go so far as to say it does nothing that Apple's own existing technology can't do. And despite titles like the one above, like "You Guys Realize The Apple Watch is Going to Flop, Right?" people will probably buy it anyway. The preorder is next week; the launch is April 24th. To me, the only thing the Apple Watch will do is solve a problem they created—their phones are two damn big to interact with meaningfully anymore.
Then there's the problem of the complete elitism of the $10,000 Apple Watch—something that the aforementioned Fast Company article thinks is directly related to the lack of innovation present in the new device:
The Newton, Apple's original, failed tablet, didn't sell because tablet technology wasn't polished, and we didn't have the wireless networking infrastructure to make its experience particularly meaningful. Sound familiar? Meanwhile, the iPhone was a mega success, not just because it put the Internet in our pocket like every other smartphone out there, but because it had an interface that made the world's information truly searchable and legible from anywhere. Whether it was the original Mac or the iPod, Apple's best moments haven't been about building elitist filigree but about democratizing meaningful function, and releasing a technology only when the time was right.
And now the controversial thing I'm going to say: I think, even if you're a gadget person, even if normally you would try this out, I think we should just not buy this iteration of the Apple Watch. A commercial flop might be necessary to spur the same kind of true innovation in wearable technology on Apple's part. If you really, really feel like maybe you need to try a watch, consider breaking out of the Apple spin cycle. Try the new Pebble Time or Pebble Time Steel when their preorder date comes 'round—a smart watch that's compatible with both iOS and Android, is an e-paper display and lasts for seven days rather than less than one. Check out their video from their successful Kickstarter:
https://www.youtube.com/watch?v=ycPjktP8rjg
And bonus, they have this image on their website: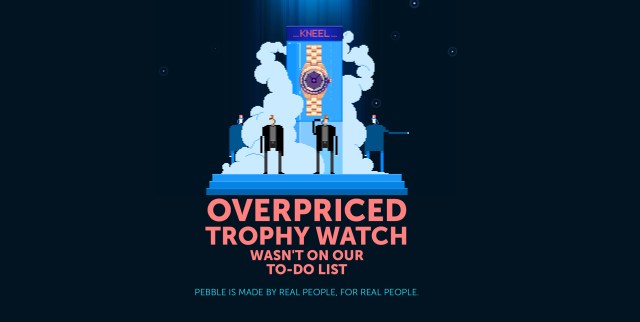 So if you are sold on the concept of the smart watch, do us all a favor—pick something other than Apple Watch so Apple can get back to making the world a better place.
---
This has been the one-hundred-twenty-second installment of  Queer Your Tech with Fun, Autostraddle's nerdy tech column. Not everything we cover is queer per se, but we talk about customizing this awesome technology you've got. Having it our way, expressing our appy selves just like we do with our identities. Here we can talk about anything from app recommendations to choosing a wireless printer to web sites you have to bookmark to any other fun shit we can do with technology. Header by Rory Midhani.