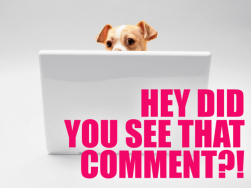 Hi, loves. Guess what: we made it through Thanksgiving! I even somehow managed to play Cards Against Humanity with my conservative cousins without anyone saying anything racist — and I got to explain what heteronormativity was! Sending a very big, friendly internet hug to whomever needs one. I'm so very proud of all of you.
This week, Cat Cora wrote for mother-effing Autostraddle dot com!
Mey explored a future for Transparent without Jeffrey Tambor.
Need to keep warm this winter? Jenna's here to help us help ourselves.
Kat Sandoval Kat Sandoval Kat Sandoval Kat Sandoval Kat Sandoval full stop.
And then there were your comments!
---
On Y'All Need Help #14: Yes or No Edition!
The She Who Must Not Be Named Award to Carmen SanDiego and Chandra: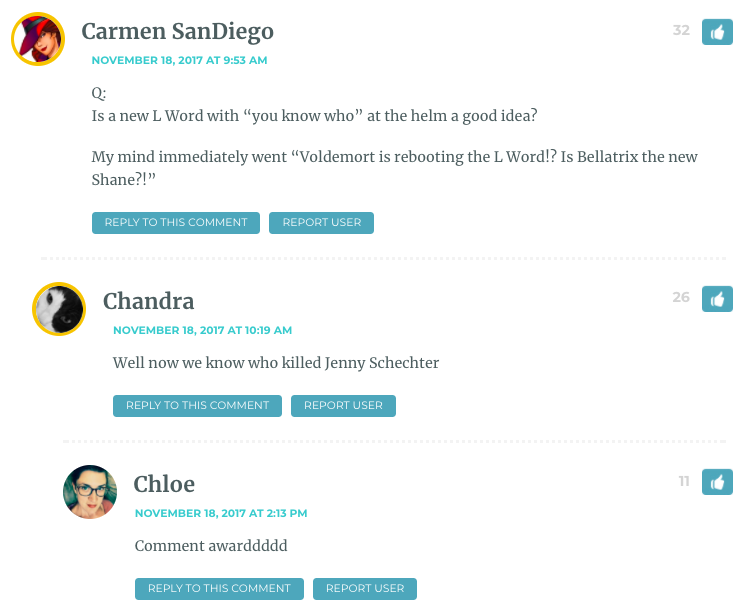 On Excuse Me, Did True Blood's Rutina Wesley Just Come Out By Announcing Her Gay Engagement On Instagram?
The Buddy System Award to Allison:
On Also.Also.Also: 'The L Word' Reboot Has Its Showrunner and It's Not You and Other Stories for Your Short Week:
The Take a Chance on Me Award to Chandra:
On 29 Slightly Melodramatic Fears and Insecurities of a Baby Dyke:
The Flung Out of Fate Award to Kristana and AnnieStinkle: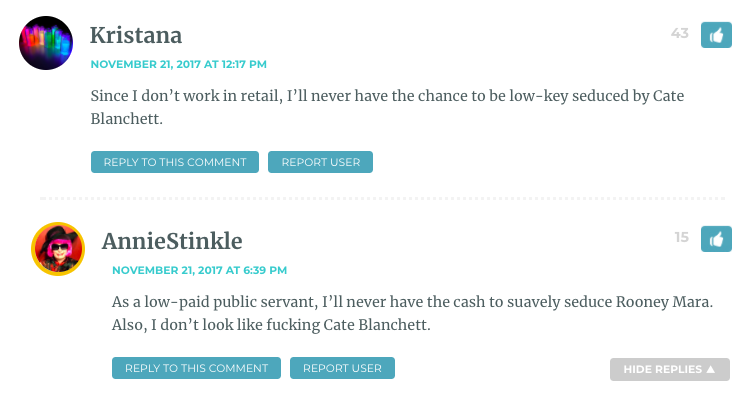 And the Chaikened Out Award to jane: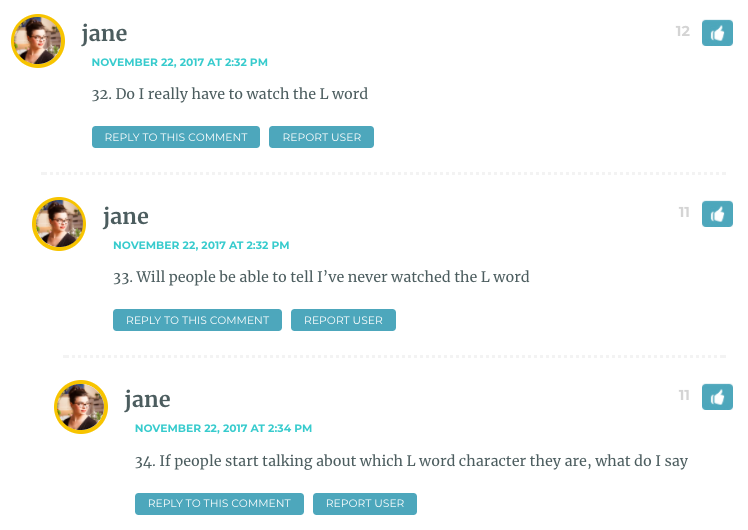 On Pop Culture Fix: Catherine Zeta-Jones Is a Bisexual Queenpin and Disney Unveils Its First "Boy Princess":
The Dream Team Award to Kristana:
And on OPEN THREAD: Your Internet Friendsgiving Extravaganza:
The Tryptofantastic Award to SpaceKace:
---
See a funny or amazing comment that needs to be here? E-mail me at queergirlblogs [at] gmail [dot] com!