Black Friday is a special day in which we celebrate the disaster that is Capitalism by buying a lot of stuff! Usually we buy stuff for other people but sometimes we buy stuff for ourselves, because life is hard and we deserve it. Maybe you've been buying stuff for a while now because we've been rolling out such incredible gift guides this holiday season. As you may or may not know, Autostraddle has affiliate accounts with numerous retailers so that when you shop there, a percentage of your purchase goes back to us. It's really great and important. Wow let's not waste any more time with this introduction and instead jump into talking about Black Friday deals and what fantastic Black Friday deals you'll want to deal with this Black Friday.
---
Black Friday Clothing & Accessories Deals
Wow! All of these stores that sell clothing you can put on your body are having big Black Friday sales!
American Eagle – 40% Off Storewide & Free Shipping
Asos – Black Friday 30% Off Everything for Bl with code: EPIC30!
Athleta – Black Friday 20% off your purchase online and in store with code BLISS. Plus, take $25 off select Down outerwear.
EddieBauer – 50% Off Your Entire Order with code DEALS
The Gap – 50% Off Everything
H & M – Black Friday H&M Sale – 20% Off Everything, Free Shipping. Black Friday Collection from $4.99+.
J Crew – 50% Off Sitewide, Free Shipping
Nasty Gal – Black Friday Sale – 50% off Everything! No code needed at Checkout!
Nordstrom Rack – Take an additional 30% Off Clearance. Get Free Shipping at Nordstrom Rack Friday – Monday! Offer Valid: 11/23-11/27
Old Navy – Take 50% Off Entire Purchase at Old Navy Black Friday
TopMan – 20% Off Sitewide, 50% Off Black Friday Items at TopMan
Urban Outfitters – Everything for Black Friday Is Buy One, Get One 50%
Universal Standard – They're not doing a Black Friday Sale, but this is your big day to check 'em out 'cause all profits made today go straight to Dress for Success!
---
Wildfang Black Friday Sale – 25% Off Sitewide
---
Listen I don't have time to go through the entirety of this bohemeth website but I want you to be aware that there are big discounts on Roombas and also if you shop on Amazon today, and chances are really good that you will, you really gotta do it through our affiliate links. It's good luck!
---
Sex Toys
Babeland – 20% Off Everything Sitewide with code BSSAVE at checkout
Unbound: Take 30% off sitewide including sale items with code BLACKFRIDAYBABES
Lelo: Take up to 50% off beloved toys
Adam & Eve – 50% Off One Item with code BONUS50
GoodVibes – 20% Off Sitewide
---
ETC
Think Geek: Black Friday Sale! 30%-70% Off Select Items for Black Friday
Showtime: Save up to 70% off at the official Showtime Store and get FREE SHIPPING on orders $35+ with code FRIDAY.
Barnes & Noble: Take 20% Off Your Order With Code GIVETHANKS and Take 50% Off Collectible Edition Books
PetSmart – Black Friday Get 50% Off and Free Shipping On All Orders
Sephora – $15 Items for Black Friday
---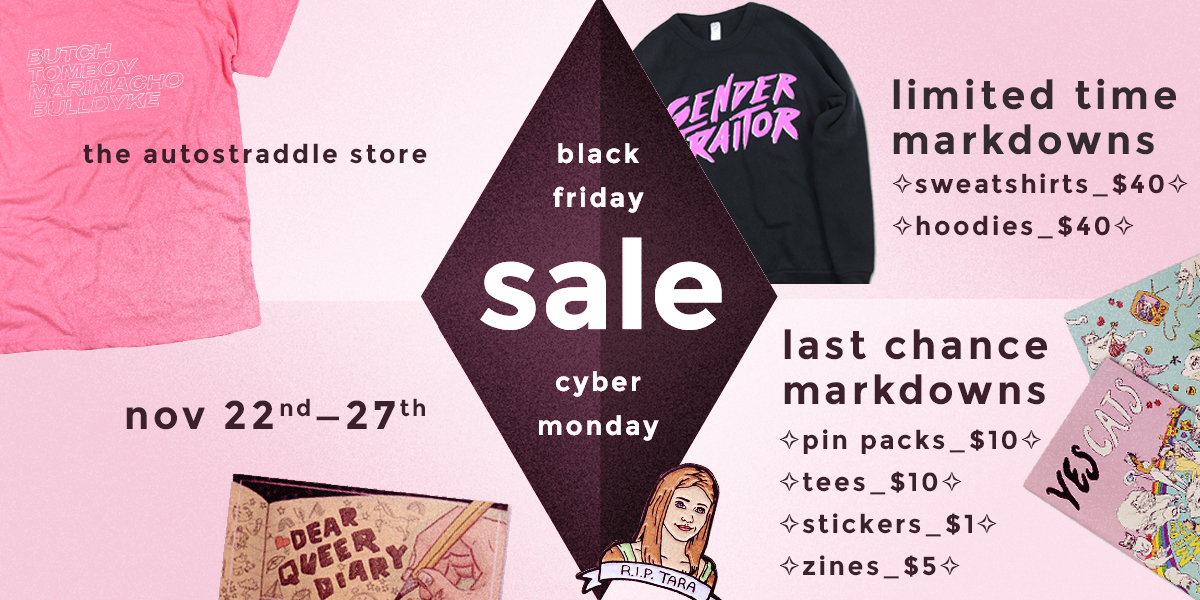 We did a big 20% off everything sale for a holiday we invented a few weeks ago, so this weekend what we've got for you is: all sweatshirts are a mere $40! Plus we have last-chance markdowns on tees, zines and stickers, from $1 – $10.