​​​​​​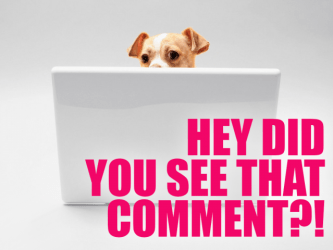 This week was huge with rulings on Prop 8 and DOMA in favor of gay marriage (henceforth known as "marriage") and Wendy Davis's filibuster marathon in Texas. Not to mention 6 year old trans girl Coy Mathis, who won a landmark civil rights case in Colorado. Yay, Coy! Then registration for October A-Camp opened  and DeAnne Smith started a podcast and everything was beautiful.
Mostly.
As Katrina explains, there's still a long road ahead for queer equality (and don't get us started on the Voting Rights Act). Even still, this week was nothing short of historic. Hope you find some time to celebrate this weekend! I hear canned champagne is a thing now.
---
On Supreme Court Declares DOMA Unconstitutional, Rules "No Standing" On Prop 8:
The This Week In A Gif Award to becca: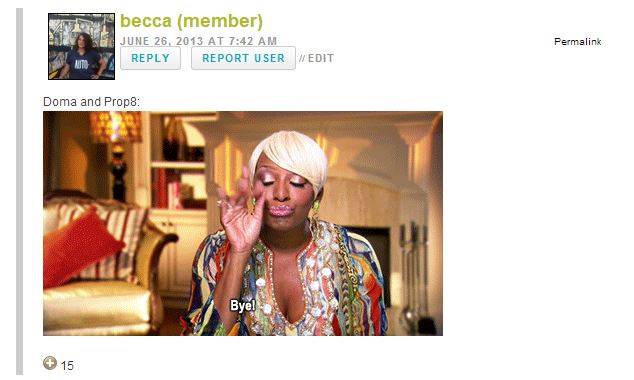 The Kacey's Mom Has Got It Goin' On Award to Kacey:

The Credit Where Credit Is Due Award to Carmen SanDiego:
The Help Your Local Hetero Award to Lora: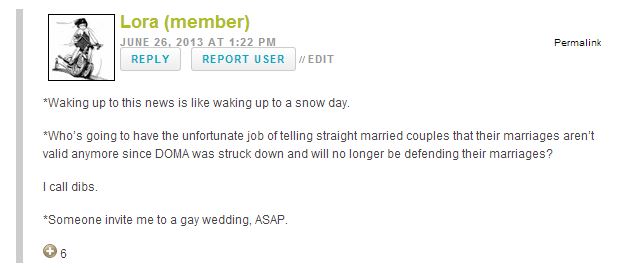 On Introducing Camp Autostraddle 4.0:
The Priorities Award to Eli:

On Barbara Buono's Gay Daughter Rips Chris Christie A New Orifice:
The Enemy of My Enemy Award to Victoria:

On South African Straddler Meet Up:
The We Swear We're Not Sponsored by Them Award to everyone who had strong feelings about Curly Wurlys (and Vanessa):





​​
---
See a clever, hilarious or thought provoking comment around this website-ship? Email it to me at: carrie [at] autostraddle [dot] com!