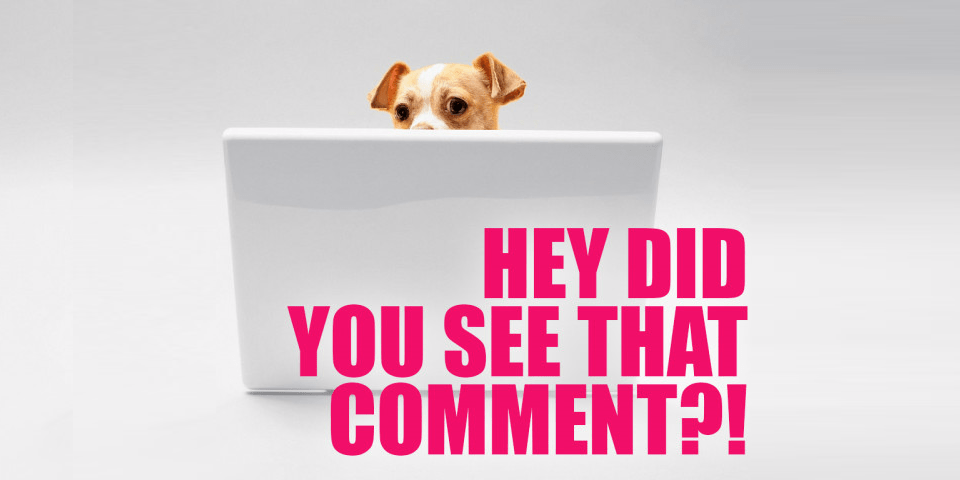 Good morning, muffins! How are your Decembers going? We are SO CLOSE to turning points in so many ways, right now — soon, the days will start to get longer again, as the vaccine rolls out! It's narratively almost TOO perfect, but I feel like the writers of 2020 are trying to redeem themselves by giving us a little bit of hope to float through to the New Year on, and I'm here for it! Let's all float on!
This week, Casey brought us all the best books of the year. My wishlist is so rich and full now!
Well, this is perfect! Taylor Swift's "evermore" Songs, Ranked by Gay Subtext.
Kayla wrote up a holigay gift guide for the kitchen, and I NEED that dutch oven!
The TV team brought us all of their favorite episodes from this strange, long year.
If you're an A+ member, the bonus content this month has been AMAZING — check out this fisting workshop that Malic lead!
Speaking of fisting, Shelli reviewed Best Lesbian Erotica Vol. 5.
And for something completely different, Dickens brought us my very favorite installment of Foolish Child to date! Oh, to be a baby dino, sliding down your mama dino's tail.
And then there were your comments!
---
On Netflix's "The Prom" Review: Broadway's Favorite Teen Lesbians Warmed Our Unruly Hearts:
The Prom: Under the Sea Award to BettyOnIt:
On Disney Characters, Ranked by Bisexuality:
The Trans Rat Thing Award to Caitlin and Maria: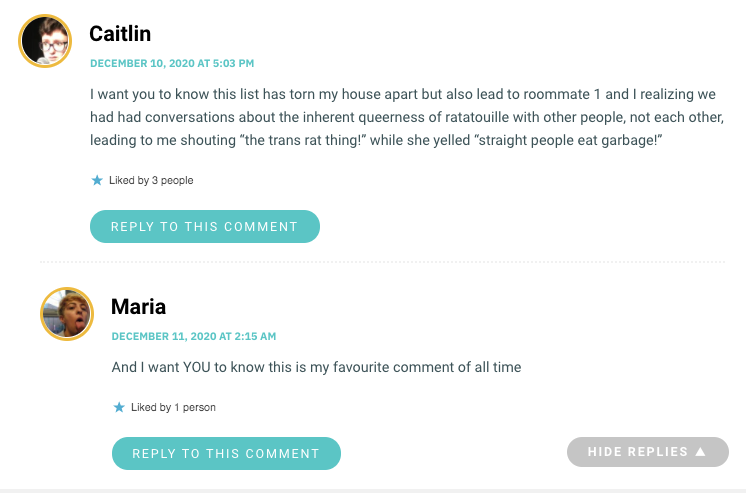 On Which Happiest Season Character Are You? Quiz:
The It's Not Me, It's You Award to Sally:
On Holigay Gift Guide: For The Loved Ones You Want To Survive The Apocalypse:
The Fees Please Award to Elena:

On No Filter: Hayley Kiyoko in Nature, Listening to Sarah Mclachlan, Casually Leveling Up the Gay:
The Holy Ghost? Award to Kristana:

And on Foolish Child #86: Dinosaurs:
The Baby…DINO Award to thatottergirl: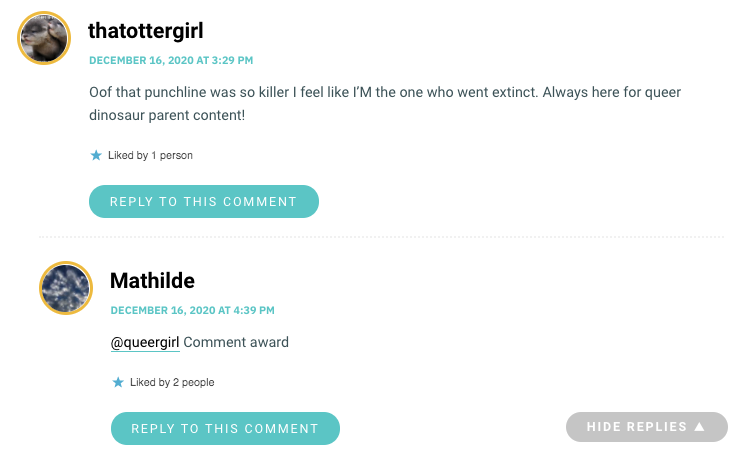 And the Thank The Academy Award to Iarran Mé and Dickens: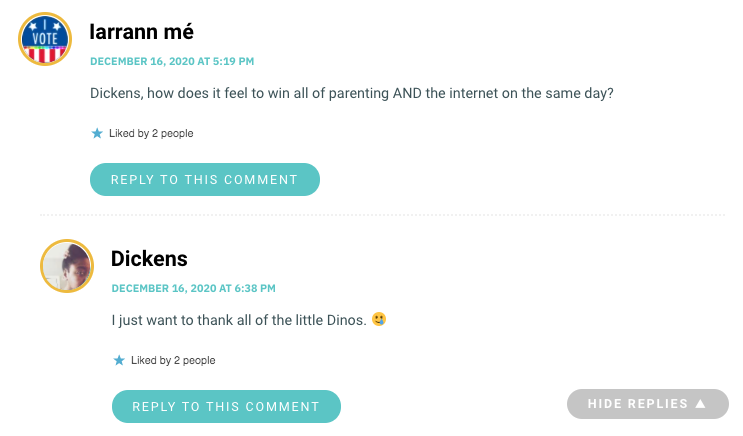 ---
See a comment that needs to be here? Let me know! Tag me [at] queergirl.