2020 may have been an all-round terrible year, but it was a banner year for queer books. Here are 67 of them!
---
Comics / Graphic Novels and Memoirs
This charming graphic memoir chronicles, as the titles cutely declares, the times when Eleanor Crewes's knowledge of her gayness was unavoidable, wrapped up in her coming out and coming of age story. From wearing black, finding dating boys very confusing, and loving Willow on Buffy the Vampire Slayer, it seems clear in retrospect that all signs pointed to: gay.
SFSX (Safe Sex), Vol. 1: Protection by Tina Horn, Michael Dowling, Jen Hickman, Alejandra Gutierrez, and Tula Lotay
As the review on Autostraddle sums up, the first volume of SFSX "builds a purity-obsessed sci fi vision of our dystopian present." In this dystopia, it's sex workers who keep the magic alive in an underground club full of queers, kink, and fighting the oppressive government to free incarcerated friends.
In this horror comic, the town of "Shudder-to-Think," Pennsylvania is plagued by a mysterious illness that steals memories. When BFFs El and Octavia discover they are the disease's latest victims, they set out to cure themselves, and save their town from its own deep secrets and monsters.
A hopeful queer comics collection was exactly what we all needed in 2020. Whether or not you're already familiar with Xiao's regular column on Autostraddle, this collection will be a delight: favorites published on this very website are included, as well as brand new comics about looking for belonging, finding life's simple beauty, and the poetics of life as a young queer immigrant.
---
Fantasy / Horror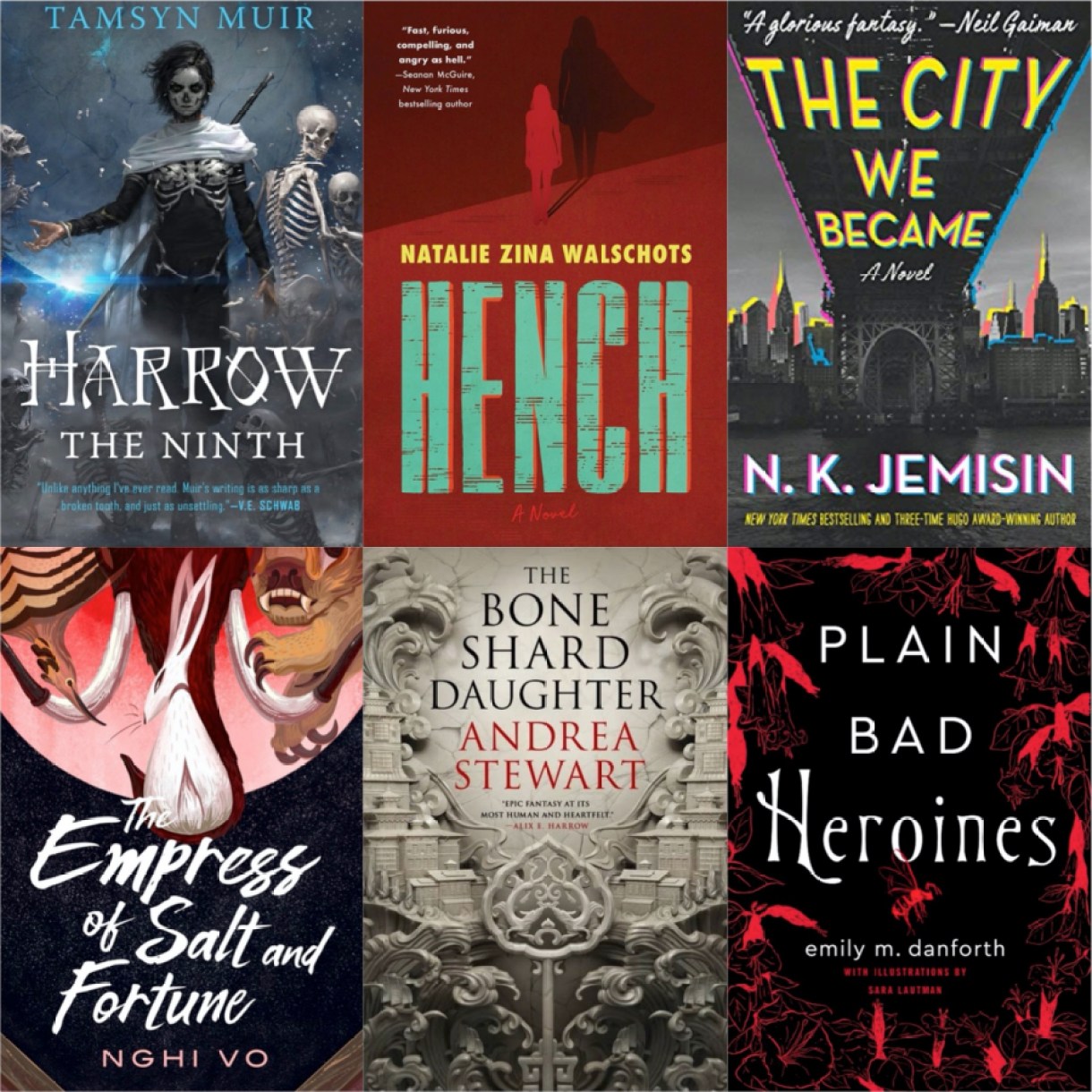 Queer girls have been waiting for Emily M. Danforth's follow up to the YA The Miseducation of Cameron Post for what feels like forever and this genre pivot is perhaps unexpected but certainly not unwelcome. It's a delightful mix of horror, comedy, history, and gothic that celebrates the lesbians in boarding school tradition, queer love, female rebellion, and storytelling itself. There is also wonderfully whimsical period-appropriate illustrations by Sara Lautman. Read Autostraddle's full review.
The first book in brilliant speculative author N.K. Jemisin's new "Great Cities" series is a unique take on urban fantasy in which the boroughs of New York are characters unto themselves. Literally. The Bronx, Brooklyn, Manhattan, Queens and Staten Island must come together to fight an ancient evil stirring beneath the earth.
The much anticipated follow-up to Gideon the Ninth turns to focus on Harrow the necromancer as she tries to continue amidst the wreckage of the Emperor's haunted space station where she's been left. Just like its predecessor, Harrow the Ninth somehow succeeds at combining searing poignancy with black magic, wacky references to 20th century Earth memes, and dysfunctional queer relationships. Lindsay Lee Wallace has done a full review on Autostraddle here.
The first book in the lush new series "The Drowning Empire," The Bone Shard Daughter features Lin, the emperor's daughter whose father has refused to recognize her as his heir. She has to turn to the forbidden art of bone magic to prove her own worth. At the same time, her father's empire is crumbling and revolution is brewing.
This tightly plotted and lushly written fantasy follows a young royal woman's journey to an arranged marriage, as told by her handmaiden. An indictment of the patriarchy as well as the monarchy, Nghi Vo's debut interrogates themes of women's anger, feminism, empire, and storytelling itself.
Hench by Natalie Zina Walschots
Who knew all what we all needed in superhero narratives was the story from the perspective of a queer henchwoman who uses her own superpower: spreadsheets. After losing her job as a supervillain office worker due to a hero's actions, Anna turns her skills to investigating data on civilian injuries caused by heroes. Her discovery? The line between heroes and villains is mostly marketing.
---
Historical Fiction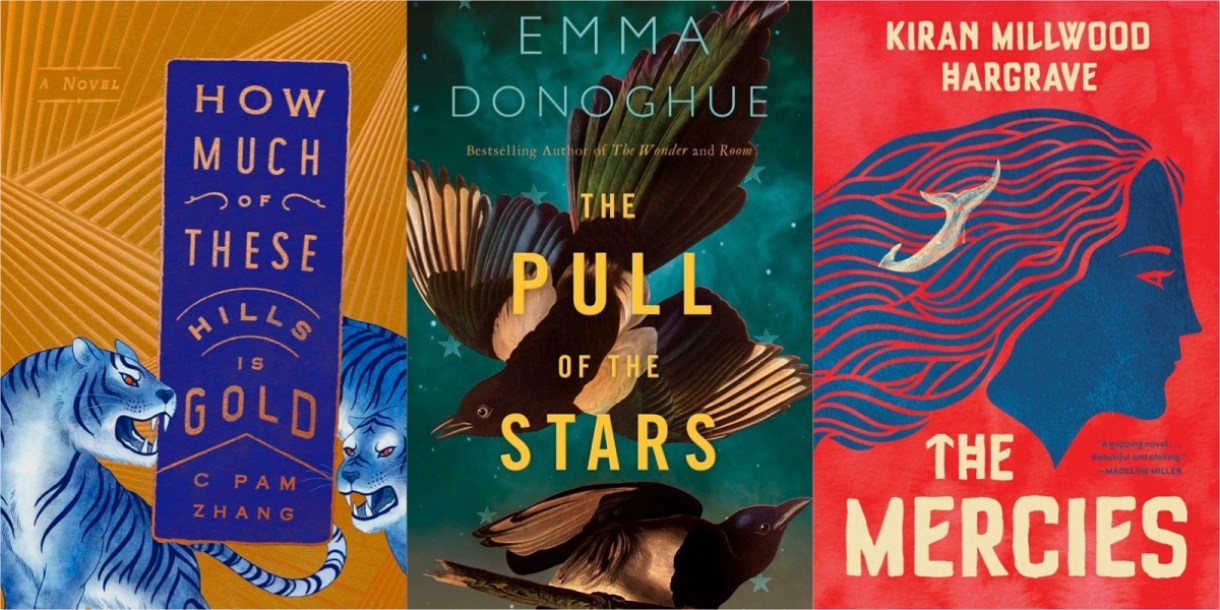 Set at the tail end of the American Gold Rush, Zhang's debut novel follows two siblings newly orphaned after only recently immigrating. Leaving their western mining town, they set off to bury their father in a story the blends Chinese symbolism with unique prose and historical vividness.
Dublin in 1918 has been ravaged by both war and the influenza epidemic. There Julia Power, nurse and midwife, is in charge of her hospital's flu maternity ward. Over the course of just a few days, two new women—a young volunteer and a controversial doctor—enter her life and become intertwined the thrilling, graphic stories of life and death.
The Mercies by Kiran Millwood Hargrave
In a small Norwegian coastal village in the 1600s, a terrible accident at sea has killed all their community's men, except the very young and old. The women pull together and take charge of their town, but three years later a Scottish witch hunter and his Norwegian wife arrive under ominous circumstances.
Literary Fiction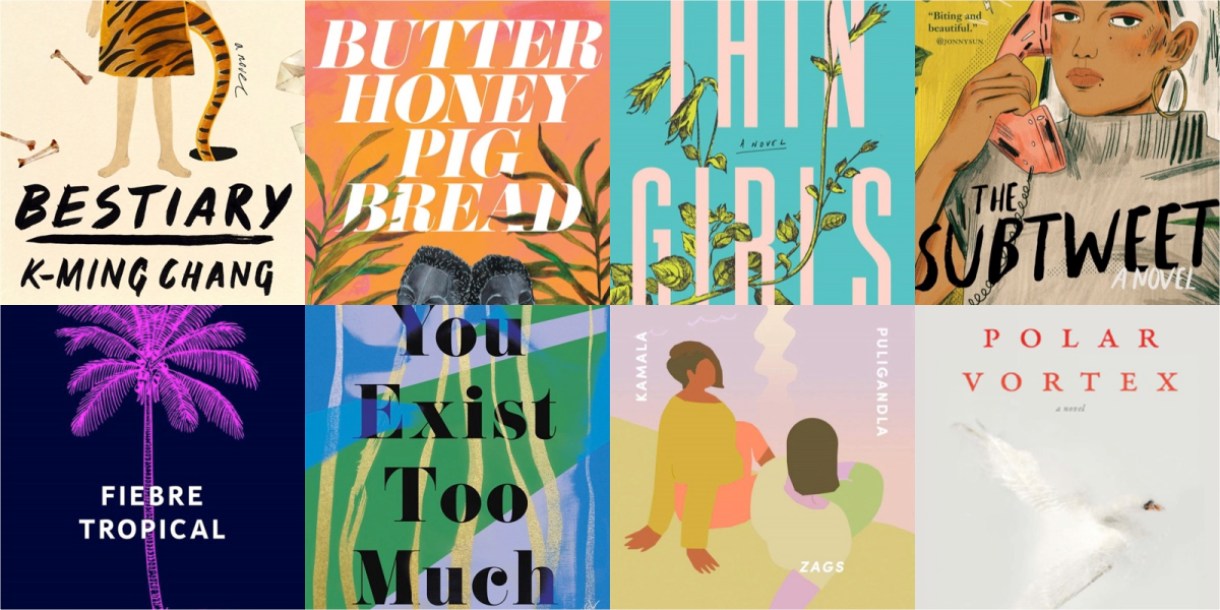 With such a striking and poignant title—pulled from what the protagonist's mother says to her after she comes out—it's no wonder Arafat's debut has garnered such acclaim. The story is told in vignettes giving snapshots of the life of a Palestinian American young woman, moving from New York to Lebanon, Jordan, and Palestine. Check out this interview with Zaina Arafat on Autostraddle about queer Arabs taking up space.
In this poetic magical realist tale of three generations of Taiwanese American women, Chang traces themes of migration, queer lineage, and girlhood. It centers on a folk tale that appears to be true. One night, Mother tells Daughter a story about the spirit of a tiger that lived in the body of a woman. Daughter wakes up with a tiger tail.
This dark provocative debut follows twin sisters Rose and Lily as they each deal with the misogynist pressures of American beauty standards and toxic diet culture. Moving in different directions—living in an anorexia habilitation center, searching for fulfillment in abusive partners, joining fad diet cults—Rose and Lily learn that they can once again lean on their bond of sisterhood and friendship to save each other and themselves.
Spanning three continents, two generations and many diverse lives, Butter Honey Pig Bread tells the story of three Nigerian women: a mother, Kambirinachi, and her twin daughters, Kehinde and Taiye. Themes of homecoming, trauma, sisterhood, queerness, food, and more emerge in Ekwuyasi's gorgeous prose.
A uniquely multilingual Spanglish novel set in Miama, Fiebre Tropical covers a Colombian queer teen's coming of age—and coming into lust and evangelicalism. As her mother falls into the clutches of a church, Francisca fall in love with the pastor's daughter.
Mooto's latest novel is a brilliantly dark, twisty psychological thriller about a longterm lesbian relationship on its way out. It's also about complicated, fraught friendships, mainstream white discourse about queer sexuality and identity, refugee experiences, and the triple effects of sexism, racism, and homophobia on queer women of colour. Check out this review and interview with Shani Mootoo
Zigzags by Kamala Puligandla
Can you believe our very own editor-in-chief Kamala Puligandla wrote this one?? The tender, life-giving novel traces a summer in the life of Aneesha, as she returns to Chicago to write, revel in old friendships, attend dance parties, bike home at night from dive bars, and maybe rekindle things with an old flame.
This majestic new novel by the multi-talented artist shows that Vivek Shraya remains an original, as Drew writes in her review for Autostraddle. In sharp, modern prose Shraya tackles professional jealousy between women, brown female friendship, the pleasures and price of making art, social media and call-out culture, and more.
---
Memoir / Biography

Andrea Bennett's debut book is an important intervention into mental health and parenthood memoir from a nonbinary perspective. Told in 14 essays, Like a Boy But Not a Boy also interrogates creativity, class, doing your own bike mechanics, and mortality.
Untamed by Glennon Doyle
As Heather wrote in her review for Autostraddle, Glennon Doyle's memoir is "a gay love story about a grown-ass woman who does what the fuck she wants." She begins with the idea that women are culturally conditioned to be good; then rejects it in order to claim her untamed self.
Fairest by Meredith Talusan
A trans immigrant memoir that blows the conventions of both subgenres out of the water, Fairest chronicles Meredith Talusan's life growing up in the Philippines with albinism, moving to the US, and realizing "that womanhood itself might be the vessel that best contained [her] being." She combines her life story with insightful reflections on class, race, gender, and sexuality.
Pamela Sneed's searing, poetic memoir tackles coming of age during the AIDS epidemic and the culture and art that shaped and was shaped by that time—late 1980s—and place: New York City. Honing in on queer Black life, Sneed reaches out both to her queer Black forebears like James Baldwin, Toni Morrison, and Audre Lorde as well as her own lovers.
As we learn in the review on Autostraddle by Luna Adler Charlotte Cushman was a "leading man of the 19th century," although you might have never heard of her. Tana Wojczuk dives into Cushman's well-off, bohemian, white queer, genderfluid life in this rich biography.
---
Middle Grade
Lexie Bean wrote on Autostraddle about their experience writing the book and how the experience helped them come out. The Ship We Built is about Rowan, who isn't "the right kind of girl" or "the right kind of boy." Rowan wants to reach out, and so writes letters, attaches them to helium balloons and lets them go into the world. Then a new classmate arrives who might be the first person to understand Rowan.
The first book in a new illustrated novel series focused on roller derby, Kenzie Kickstarts a Team introduces us to ten-year-old BFFS Shelly and Kenzie as they try to gather members for their new team. Complications ensue with jealousy in their friendship, disagreements about who are the best candidates, and Kenzie's just discovered crush on Bree, who Shelly wants for the team. Also featuring a trans dad!
Beetle & the Hollowbones is a gorgeously colored graphic novel perfect for Halloween season. Can goblin witch Beetle and skeleton sorceress Kat save their nonbinary friend Ghost Blob, defeat the villain Marla, and admit their feelings for each other? Can kindly old healer midwife witch Gran bring back the badass sorcery from her youth?
In this magical realist and just plain magical graphic novel, Snap becomes friends with the town witch, Jacks, and discovers that she might have some magic inside her too. And it turns out that Jacks may have an improbable connection to Snap's past.
Brie Hutchens is a big soap opera fan, a student actor, and an okay student in the eighth grade at her Catholic school. When her mom walks in on her looking at maybe inappropriate photos of Brie's favorite actress, she tries to distract her mom with a big lie: she's been selected to crown the Mary statue at the school May Crowning ceremony.
---
Mystery / Thriller

In the first installment of Candas Jane Dorsey's postmodern, clever, and self-consciously mystery genre Epitome Apartments series, The Adventures of Isabel follows unnamed, snarky, grammar-conscious, tell-it-like-it-is bisexual social worker turned amateur detective. She unwittingly gets drawn into the mystery of her friend's granddaughter's death. Featuring an almost all queer cast!
Scarlett Clark is a very accomplished English professor; she's even better at murder. Every year, she finds the most despicable man on campus and meticulously plans to kill him. As her latest murder plan goes awry, her story intersects with that of a first year student looking for revenge against the man who sexually assaulted her best friend.
"A gay noir must-read" according to Kate Gorton's review on Autostraddle, the second book in Rosalie Knecht's Cold War-set mystery series picks up in 1967 New York with lesbian spy Vera Kelly. There is just as much complex, smart action as the first book, but with more tender exploration of heartache.
The fourth installment in Lepionka's exceptional series featuring bisexual PI Roxane Weary follows Roxane as she looks into a so-called hiking accident that leads to investigating a culty fundamentalist church, a Canadian casino, and a charismatic politician who runs a women's health organization. Lepionka delicately balances page-turning pacing, intricate and twisty plot, and complex fascinating characterization.
In this dark debut thriller, we're introduced to Jo, whose job involves blackmailing terrible men in L.A. Eager to prove herself to her boss, known only as "the lady upstairs," Jo takes on bigger and more dangerous cases, only to find her latest targets murdered. To avoid the wrath of both the LAPD and the lady upstairs, Jo risks it all to pull off her hugest con yet—behind her boss's back.
---
Non-Fiction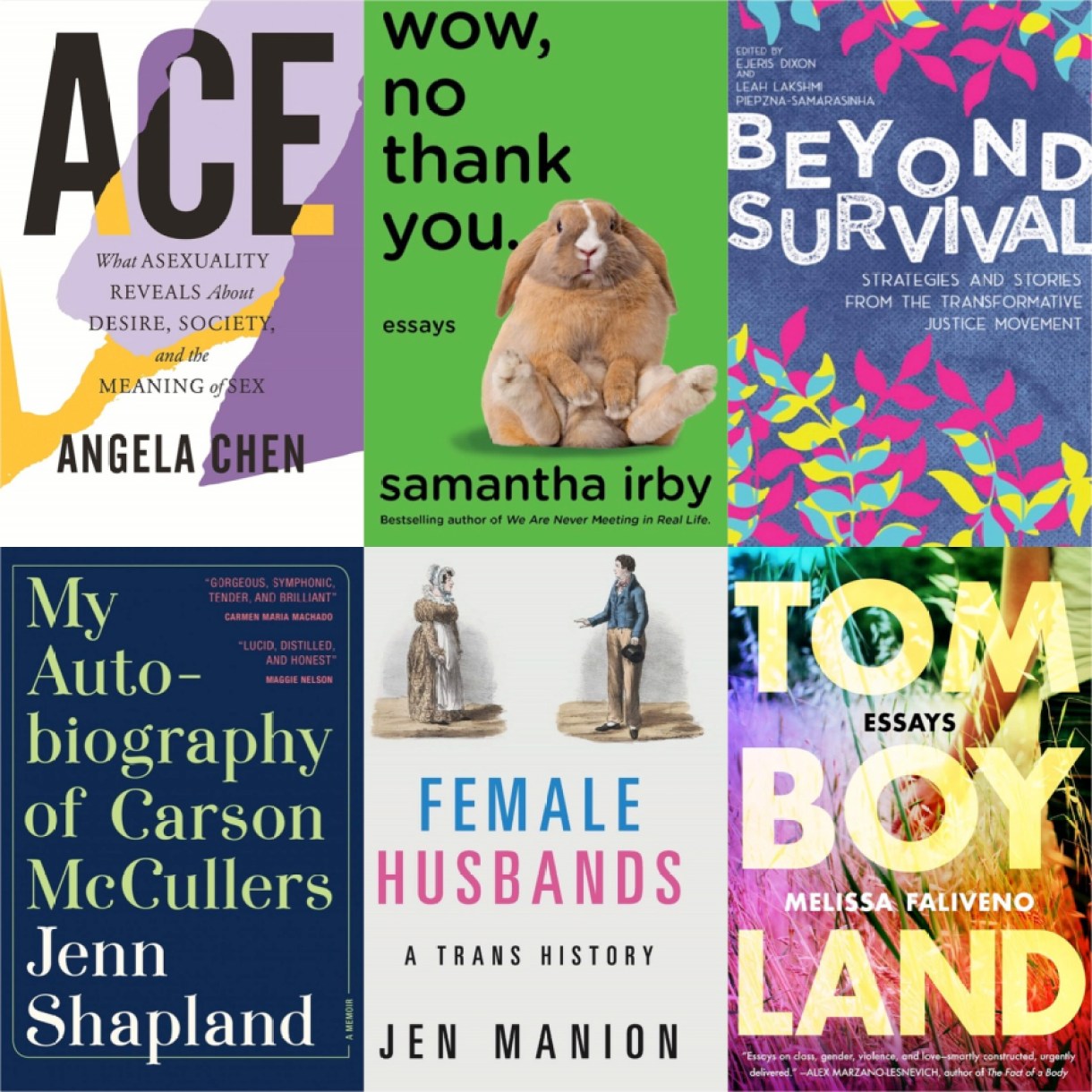 Autostraddle readers were lucky enough to get a glimpse of Angela Chen's incisive thinking and unique analysis in her piece on asexuality and consent. It's exactly what you get, and more, in her full length book harnessing an ace perspective to interrogate contemporary culture surrounding sexuality and desire.
Faliveno's collection of essays tackles a variety of issues including gender, class, desire, home, identity, and stories centred in her growing up in the working class American Midwest. Combining personal narrative and insider cultural reporting, Faliveno dives into the intersections of identity, place, and mythology with crystal clarity and bare intimacy.
Samantha Irby's latest collection was a balm to 2020's soul: hilarity, realness, and poignancy. With her usual self-deprecating humor and brutally honest self-awareness, she navigates the perplexities of home ownership, the round about way she got published, friend dates, writing for the TV show Shrill, queer fat identity, unsuccessfully trying to sell her own TV show, and Crohn's disease.
Delving into a time before people used terms like transgender or lesbian, Female Husbands takes on the 18th and 19th century lives, loves, struggles, and resistance of people known as female husbands. To quote trans historian Morgan M. Page, Jen Manion's book does a "huge amount of work pushing back beyond the earlier histories of trans people that situation trans as a post-1930s, largely white phenomenon."
Abeni's review for Autostraddle explores how Ejeris Dixon and Leah Lakshmi Piepzna-Samarasinha's book does the immense work of addressing the big questions of transformative justice and activist communities: "what do we do about harm and abuse if the criminal justice system is racist, sexist, transantagonistic, whorephobic, xenophobic, ableist? If it perpetuates and exacerbates harm rather than resolving, solving, or healing it?"
In this unique blend of biography, memoir, and literary criticism, Jenn Shapland dives into Carson McCullers' life to find that which is gay. Read a full review on Autostraddle, where Kate Gorton writes that this book "above all else, … is a love story: or, better still, this is a story about love and all the forms it can take."
---
Poetry
This incredible, beautiful collection of poems very much feels like its roots are in slam poetry but they work so well on the page. Jillian Christmas's inventive lyricism and images go straight to the heart and gut as she writes about reclaiming spirituality as a queer person; the pain of living in a racist, sexist, homophobic world; Black joy; depression; and more. She writes: "What dainty fish-hooks have danced in your heart / dangling the whimpering shadow of which sadness / what tiny worries."
This exquisite, hard-hitting collection of poetry is full of an ample amount of free verse experimentation as Amber Dawn writes about the burden and joys of writing from the perspective of a woman, a queer person, a survivor, and a sex worker. Poetry might be a queer femme: "I wouldn't mind if poetry mimicked racing tipsy down the subway stairs / in platform heels to barely catch the last train of the night."
In Dani's review of Natalie Díaz's collection she calls it "the love poem for our lives." The topics of Postcolonical Love Poem are as varied as Díaz's brother, romantic love, steamy lust, violence towards and erasure of Indigenous people, and basketball. While she often harnesses her expansive vocabulary, Díaz also breathes meaning into simple words: "I am doing my best to not become a museum / of myself. I am doing my best to breathe in / and out. / I am begging: Let me be lonely but not / invisible.
ZOM-FAM by Kama La Mackerel
Taking its title from the Mauritian Kreol word for transgender, Kama La Mackerel's debut poetry book is a gorgeous collection of narrative, lyrical poems. The poems center on a gender creative, queer, trans, femme coming of age on the island of Mauritius. They explore looking for and imagining trans ancestry, the joy of trans identity, and celebrating resistance: "it is in these spaces you learn / that resilience is not the silent bruise under your skin / but the hallowed space lodged inside your breastbone."
Homie by Danez Smith
Themes of friendship, Black identity, queerness, solidarity, intimacy, and suicidal ideation dominate Danez Smith's latest collection. Playing with syntax, imagery, and passionate emotion, Smith embodies exhilaration and joy even while they address pain. They tell us: "here, standing in my own body, i say: next time / they murder us for the crime of their imaginations / i don't know what i'll do. / i did not come to preach of peace / for that's not the hunted's duty."
---
Romance

In this very fun rom-com loose contemporary retelling of Pride and Prejudice, modern day Darcy is an uptight actuary who goes on a disastrous blind date. Elle, a social media astronomer, agrees, which is why she's flabbergasted to hear from Darcy's brother—and her new business partner—that he's glad the date went so well. Fake dating and sapphic hate-to-love ensue.
Set in summertime Maine, this lovely romance is about two women overcoming their own heartbreak and falling in love with each other at the same time. Morgan's fiancée broke up with her when she realized Morgan's job as a vet would always come first. Emilia is a vet too, burnt out and reeling from her father's death.
A World Between is the kind of queer love story that takes years to come to fruition. Eleanor Suzuki and Leena Shah first meet in college, become friends, and have a whirlwind romance. Years later, they meet again as adults, each separately partnered. Yet they are still intensely drawn to each other. In addition to the romance, there's a lot to enjoy in Hashimoto's unique use of language.
Olivia Waite is single-handedly doing leaps and bound to insert queer women into mainstream historical romance. The second in her "Feminine Pursuits" series follows Agatha Griffin, a grumpy widow and owner of a print shop, and Penelope Flood, a beekeeper who defies the gender norms of 19th century England by going about in trousers. A colony of bees in Agatha's warehouse bring them together.
This delightful and very real queer romance set in Hollywood is a love story between a showrunner and her assistant. Beautifully and thoughtfully done, Something to Talk About addresses the power dynamics of a boss/employee relationship, burns realllly slow, integrates interesting #MeToo and career subplots, and features a bisexual Jewish woman and a Chinese American lesbian.
---
Science Fiction / Speculative

This incredibly intricate, deftly weaved space opera has a majority queer cast, not surprising since it was conceived as a gender-swapped retelling of Alexander the Great. Unconquerable Sun has an action-packed plot of political scheming and fight scenes, thorough unique world-building, and fascinating complex women characters who are not squeezed into likability or palatability.
Julian K. Jarboe's speculative collection of short stories includes fairy tales infused with body horror, stories of working class queer resistance, Catholic cyberpunk set in mid-apocalypse, and queer fabulism. In gorgeous prose, Jarboe investigates themes like body autonomy, (trans)gender transformation, and the "urgent question of how to build and nurture meaning, love, and safety in a larger world/society that might not be 'fixable.'"
In the protagonist Cara's future world, multiverse travel has finally been made possible. The only caveat? You can't visit any universe where your counterpart is still alive. Cara's other selves seem to have a propensity to die, so she's a perfect candidate. But as she works for the shady Eldridge Institute, she uncovers a plot that might endanger every multiverse. Themes of identity, privilege, and belonging are deftly explored.
Yoon Ha Lee's latest book is a delightful, unique mix of steampunk and folk tale set in a fictional country heavily inspired by Korea under Japanese occupation. Gyen Jebi, a nonbinary artist oblivious to the world outside of art, finds themselves caught up in a political revolution they have no interest in. They also end up in a found family of sorts with a prime duelist and a mechanical dragon who loves philosophy.
This groundbreaking anthology offers a breathtaking selection of unique SFF stories by Indigenous authors from across Turtle Island, including Darcie Little Badger, Mari Kurisato, Kai Minosh Pyle, David Alexander Robertson, and jaye simpson. The collection sets out to "show how queer Indigenous communities can bloom and thrive through utopian narratives that detail the vivacity and strength of 2SQness throughout its plight in the maw of settler colonialism's histories"; that's exactly what it does.
---
Young Adult Contemporary / Historical
Felix Ever After is a beautiful example of the kinds of rich, nuanced QTPOC storytelling currently happening in contemporary YA. Felix, a Black queer trans demiboy, is allowed to make mistakes, have doubts about how he doesn't fit into the "always known" trans narrative, struggle with being an artist, and fall in love.
While readers can look forward to a happily-ever-after in this contemporary romance and self-discovery story, there is a lot of heartache on the journey. Nishat is a Muslim teen whose parents who don't support her queer identity. Things get even more complicated when her old best friend, Flávia, returns to Nishat's school and starts a rival henna business—even though Flávia is appropriating Nishat's culture.
Liz Lighty's story of losing the scholarship she was depending on to go to college and deciding to throw caution to the wind and enter her school's Prom Queen competition, which comes along with a cash prize, is an absolutely delightful, heartwarming story. Although she's too often felt too Black, too poor, and too socially awkward to even contemplate something like running for prom queen, Liz is about to learn what she's made of. Johnson achieves a delicate balance of content about family, romance, and career dreams; you can read about where some of these themes came from in her moving, vulnerable personal essay for Autostraddle.
Bisexual Korean American teen Skye's dream is to be the first plus-size K-Pop star. But when she gets through the audition process and finds herself practising nonstop, coming up against the industry's fatphobia, and falling for her fellow competitor Henry (also bisexual!), she's in for more than she bargained for. It's a treat to get such a nuanced look at the journey to fat-positivity, relationships between bi people, and the trauma of fatphobic parenting.
This wonderfully warm and heartfelt YA is about growing beyond the person your friends from kindergarten know you to be, first queer kisses, and queer solidarity friendship between Codi and her BFFs JaKory and Maritza (lesbian, gay, and bi respectively) . When Codi forms an accidental friendship with a closeted popular guy, she meets a girl and finally starts having the kind of teenage adventures she thought she might never have. The only problem? She never tells JaKory and Maritza.
---
Young Adult Science Fiction / Fantasy / Horror

Elatsoe by Darcie Little Badger
Lipan Apache author Darcie Little Badger's debut YA novel takes place in a United States shaped by the mythologies, magic, epistemologies, and monsters of its Indigenous and settler peoples. Elatsoe, the asexual main character, has the ability to raise animal ghosts, a skill she inherited from her Lipan Apache family. After the death of her cousin, Elatsoe is determined to solve the murder. The enchanting story and characters are accompanied by equally enchanting illustrations.
This unique retelling of Cinderella takes place 200 years after the original story and is all about queer Black girls in love overthrowing the patriarchy. When 16-year-old Sophia escapes the ceremony of forced marriage that is the norm for her culture, she teams up with Constance, the last known descendant of Cinderella. Love, politics, and ass kicking ensue.
The Scapegracers turns the tropes of mean girl high school social hierarchies and lesbian teen witchery on their heads. Sideways, said teen lesbian witch who is also a major outcast, gets sweep up in a popular girls clique. They create a coven, working together to curse dudebros and elude the fundamentalist witch hunters. They become a "mercilessly supportive" group, but for Sideways the supernatural peril is easier to deal with than the complications of authentic relationships.
In Corinne Duyvis's latest sci fi adventure, Hazel Stancza is one girl in all the world, and it is her task alone to try to save the world. Well, hers and her three doppelgangers from other dimensions who have entered Hazel's world via an interdimensional rift from which Hazel has never been permitted to stray far. Allowed away from home for the first time, Hazel ventures out unsure if even four of her can be heroic.
Marie Rutkoski's lush fantasy is set in a beautiful but terrifying oppressive world where half-kith (read: lower class) citizens have to pay tithes for any crime. Nirrim is a half-kith young woman who is arrested and sent to jail, where she meets Sid, a woman thief who helps her discover life can be different and about midnight lies: "a kind of lie told for someone else's sake, a lie that sits between goodness and wrong, just as midnight is the moment between night and morning."
---
What were your favorite queer books in 2020? Please chime in in the comments!