feature image via (Rodger Mallison/Fort Worth Star-Telegram/TNS via Getty Images)
by Yvonne and Rachel
Texas Lt. Gov. Dan Patrick Repackages Anti-Trans Bathroom Bill to "Women's Privacy Act"
+ Texas Lt. Gov. Dan Patrick told the Dallas Regional Chamber that bathrooms would be a priority next legislative session. He's hoping to rename and repackage an anti-trans bathroom bill to the "Women's Privacy Act," which he did not give further details about. "Transgender people have obviously been going into the ladies' room for a long time, and there hasn't been an issue that I know of," Patrick said. "But, if laws are passed by cities and counties and school districts allow men to go into a bathroom because of the way they feel, we will not be able to stop sexual predators from taking advantage of that law, like sexual predators take advantage of the internet." Equality Texas and a group of Texas businesses say they aren't backing down and will take a stand against these bills.
---
Law & Order
+ On Tuesday, Judge Reed O'Connor clarified his injunction barring the Obama administration from enforcing it's directive on transgender bathroom rights applied to all states, not just the 13 states that filed the lawsuit. This means, no school needs to abide by the guidelines that required schools to allow transgender students to use the restroom and locker room that matched their gender. On Thursday, the U.S. Department of Education and other federal agencies said they will file an appeal against O'Connor's injunction to the 5th Circuit Court of Appeals, one of the most conservative courts in the nation.
+ A judge rejected "riot" charges against journalist Amy Goodman of Democracy Now!. A North Dakota state prosecutor filed charges against Goodman for participating in a riot because she filmed an intense pipeline protest that showed security guards for the oil company attacking Native American water protectors with dogs and pepper spray.
+ While we're seeing new Russian hacks and email leaks every week, the hearing of Harold T. Martin III, an NSA contractor who "allegedly embarked on a 20-year campaign to take home national security secrets, an effort the Justice Department calls "breathtaking in its longevity and scale," to decide if he'll remain in US custody will soon begin.
+ An investigation by the Houston Chronicle has revealed that the state of Texas may arbitrarily be capping access to special ed services to which students with special needs are entitled to by federal law.
+ Britain has said it will pardon the gay and bisexual men once convicted of having sex with men, a crime at the time. Thousands of these men, although the exact number is unknown, are still alive today.
---
Police/Violence
+ About 40 police officers from eight different departments surrounded and threatened 5 Water Protectors praying near a road in Canon Ball, North Dakota. Think Progress reports:
Native News Online reports that five Water Protectors left a pipeline protest and stationed themselves on the side of a road in Cannon Ball. Soon after, roughly 40 officers from three states and eight departments arrived at the site to disband the group. Many of those officers were clad in riot gear, and equipped with firearms, batons, an acoustic weapon, and an armored vehicle. As officers blocked the road, one informed the praying men that they were unlawfully protesting, threatening to arrest them for doing so. The Water Protectors ultimately dispersed after praying for about ten minutes.
+ Milwaukee police officer Dominique Heaggan-Brown, who shot and killed Sylville Smith in August and set off a period of protests and public grief in the Sherman Park neighborhood, has been charged with sexual assault, with five counts total including two felony counts. A man reports that Heaggan-Brown, "who was off-duty, had raped him at about the same time that other Milwaukee officers were responding to reports of gunshots, making arrests and having rocks thrown at them in the area of the demonstrations." Investigators say they've "found evidence that Heaggan-Brown had sexually assaulted a second man and paid for sex with two others."
+ NYPD were called to the apartment of Deborah Danner, a 66-year-old Black woman who police had occasion to know was schizophrenic based on previous 911 calls. When police arrived, Danner was naked and holding scissors; she picked up a baseball bat after police entered the apartment, a fairly reasonable reaction when strange men are entering your apartment unannounced. Although the officer in question is reported to have had a taser on him, he instead shot Danner twice in the chest, killing her. Deborah Danner's sister, Jennifer, was present and had to experience her sister being shot firsthand.
"[Jennifer Danner] said she'd seen it done the right way and expected it to be done that way this time as well. You can only imagine the pain she feels having had to stand there and hear the shots fired and the recognition coming over her that she had lost her sister," Mayor Bill de Blasio told press this morning. "Something went horribly wrong here. It's quite clear our officers are supposed to use deadly force only when faced with a dire situation and it's very hard for any of us to see that that standard was met here."
+ The Justice Department has announced an investigation into the conditions experienced by incarcerated people in Alabama's men's prisons; any changes to the system didn't come soon enough for Robert Deangelo Carter, who committed suicide in solitary confinement this week. His suicide is at least the second at the facility this year.
---
Trump Slump
+ It hasn't been a banner 48 hours for Donald Trump. Multiple reporters have asked him to comment on his own racism, and he's responded by just walking away (and, in one case, yelling back over his shoulder that he's the "least racist person you've ever met"). He was very soundly booed at the Al Smith Foundation dinner last night, when his attempt at a comedy roast of Hillary bombed horrifically. Despite his claims that voter fraud is rampant, footage of Trump from 2004 shows that he actually had trouble voting because restrictions of his ability to vote to his own district were so well enforced. Also, a tenth woman has come forward to accuse him of sexual assault.
+ Billy Bush, the other person on Donald Trump's "hot mic" tape who colluded with him about sexually assaulting women, no longer works at Today.
+ Just sort of some interesting info: when you look at them side by side, it appears that Trump's campaign has released basically the exact same statement on each one of his scandals, variations on the statement "The campaign had no knowledge of [Latest Screwup] and strongly condemns these views."
---
Election 2016
+ A Washington poll reveals Texas is now a battleground state in the election. Trump leads the polls in Texas with 44 percent and Hillary Clinton not far after him with 42 percent.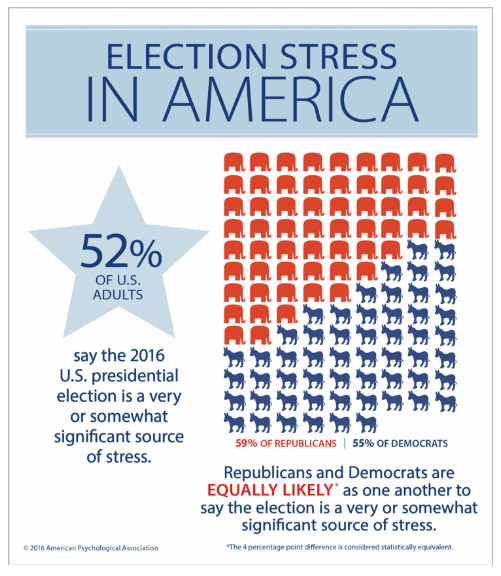 + Are you stressed the fuck out about this election? You're not alone! The American Psychological Association released its findings from a new survey about stress that asked about the election. It turns out more than half of the adults who responded, regardless of the party, felt very or somewhat stressed about the election.
+ As you are likely aware by now, Trump has been encouraging his supporters to "watch your polling booths," something which sounds a lot like coded language for voter intimidation. Certainly some of his supporters seem to be interpreting it as such, like this gentleman who spoke to the Boston Globe:
Steve Webb, a 61-year-old carpenter from Fairfield, Ohio, told the Globe, "Trump said to watch your precincts. I'm going to go, for sure … I'll look for … well, it's called racial profiling. Mexicans. Syrians. People who can't speak American." And what will Webb do if he finds any? "I'm going to go right up behind them. I'll do everything legally. I want to see if they are accountable. I'm not going to do anything illegal. I'm going to make them a little bit nervous."
Unfortunately, when it comes to stopping voter intimidation and possibly violence (most states have no laws about guns in polling places), laws differ widely and may make safety and security hard to enforce. According to Slate, "in 46 states the laws permit private citizens to challenge a voter's registration on or before Election Day. In Wisconsin, the report adds, "any voter can challenge someone's ballot based on the suspicion that they are not qualified. The same goes in Virginia, Oregon and South Carolina."
+ A piece on the intense Senate race in Nevada to fill the seat of retiring Dem Harry Reid, and the canvassers who are trying to make a difference.
+ Surprise! A private security group has determined that the Podesta email hack was performed by Russian foreign intelligence.
+ NPR talks to a political scientist to figure out how common the idea is that US elections are rigged. Unfortunately unsurprisingly, they find that the belief has been on the rise since the 2000 election, but is highest among Trump supporters, at an unnerving ⅔.
+ A piece on the "wall of taco trucks" that surrounded Trump's Las Vegas hotel as part of a protest, and how "The fear of Mexican culture and "taco trucks on every corner" is, of course, a fear of Mexican women as both laborers and mothers."
---
Grab Bag
+ Dr. Tamika Cross, a 28-year-old Black woman, was not believed to be a doctor when she was on a Delta flight from Detroit to Minneapolis. While on board a man suddenly became unresponsive and a flight attendant asked if there was a doctor on board and when Cross raised her hand to help the man, the flight attendant told her they were looking for "actual physicians."
+ The Rape, Abuse, and Incest National Network's (RAINN) live chat hotline has seen a 33 percent spike in the last week since more women have reported sexual assault allegations against Donald Trump.
+ A watchdog agency has determined that the EPA "had enough information and authority to issue an emergency order [in Flint, MI] under the Safe Drinking Water Act as early as June 2015." They declined to until seven months later.
+ Surprise! When budget cuts and bad legislation close prevention programs and local health clinics, STI rates rise! The number of people with the three major sexually transmitted infections — chlamydia, gonorrhea and syphilis — is now at an all-time high, with teens and young adults the most affected.
+ In a city-wide action on October 19, almost 2000 Seattle educators wore Black Lives Matter shirts and conducted before-school rallies to address police violence and "opportunity gaps that disproportionately impact students of color."
+ John McCain openly admitted in a radio interview that the Republicans plan to try to block any nominee to the Supreme Court that Democrats put up, something which wasn't really a secret but is still not the kind of thing you're supposed to say out loud. His office is now backpedaling on the statement, saying McCain will "thoroughly examine the record of any Supreme Court nominee put before the Senate and vote for or against that individual based on their qualifications as he has done throughout his career."
+ A federal inquiry into NYC Mayor Bill de Blasio's fundraising investigates whether donations were exchanged for "beneficial city action."