Can I be honest with you? This is the first TV season since Glee premiered that I haven't felt optimistic about the state of queer women on television. I'm am super psyched that Maggie Sawyer is coming to Supergirl next week (and will be triply happy if she really does start a relationship with a bisexual Alex Danvers), but that's really all I'm finding to be excited about. This week is a perfect example of why. No queer stuff on show's with established lesbian/bi characters like Grey's Anatomy, How to Get Away With Murder, and Younger. No queer stuff on shows with new lesbian/bi characters like The Real O'Neals and American Housewife. Scream's Halloween special promo made it seem gay, but nope! Betty's girlfriend got killed on Masters of Sex while giving birth to their baby. 
It's a sorry state of affairs when I'm legitimately disappointed that baseball playoffs disrupted Fox's regularly scheduled programming because I was expecting the gay highlight of the week to be Rosewood. Rosewood, y'all.
There's a queer storyline in the Black Mirror's new season in an episode called "San Junipero," and we'll cover that next week, but it's … complicated. We need to talk about it for a minute before we write about it.
Do you know what that leaves us with this week? Oh, friends. It's Empire and Gotham. It's taken five episodes of each show to have enough queer content to make two paragraphs out of it.
---
Gotham
Mondays on Fox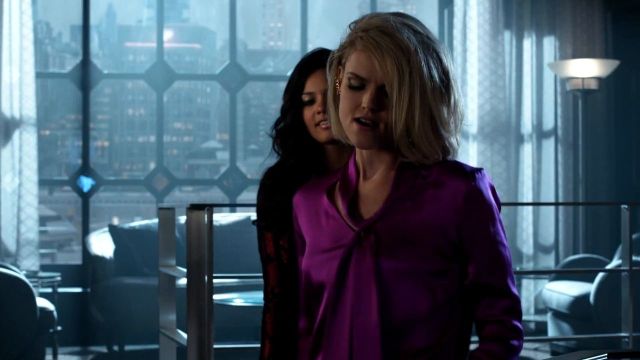 Remember when Gotham premiered and Rene Montoya existed? Latina lesbian Rene Montoya, one of the most beloved badasses in comic history? Sigh. Yeah. Well, Barbara is back to her same old hijinks this season. She and her girlfriend-ish, Tabitha, own a club in Gotham where dirty dealers do dirty deals. Because they're surrounded by criminals all the time, and because they're both Psychotic Conniving Bisexuals, Barbara and Tabitha are in the business of learning everyone's secrets and exploiting them. Except, of course, when it comes to Jim Gordon. Barbara's still in love with him, so when he shows up asking her to dime out gang leaders, she does it.
She says he must be "monumentally screwed" if he's rolling up asking for her help, and of course he is. At one point she also says, "It's Gotham, baby; we've all got flair!" Which is actually really good, really classic Gotham villain talk. Unfortunately for Barbara, all the other villains get hours of screentime and the show still has no idea what to do with her. Season one, she mostly sat in her apartment waiting for Jim. Season two, she mostly sat in jail waiting for Jim. Season three, she's mostly sitting in her club waiting for Jim. She's so boring even Tabitha is thinking of dumping her to get back together with her stupid horrible boyfriend. The only time they touch each other, it's so I Kissed A Girl male gaze-y I can't even deal with it. But you know they brought on a whole bunch of new villains this year, including Mad Hatter. Dude villains, of course.
---
Empire
Wednesdays on Fox
Hey, guess what? I'm not going to include a photo from Empire because it's either going to be Freda Gatz in an orange jumpsuit and chains, or Freda Gatz in an orange jumpsuit and no chains but with her face beaten beyond recognition. Because if you're a Black lesbian on TV, you're either going to: 1) be in jail, 2) be dead, 3) be a PSA for white people who somehow don't know police violence against Black people is a real thing, 4) be a sidekick to a white main character. The only other option is to be on a Shonda Rhimes show. Or on The Fosters. (But not on Freeform, just in general, because whooooo boy, Pretty Little Liars.) Anyway. Feda Gatz. You'll remember in Empire's season two finale that she shot Lucas on the red carpet because of how he'd had her father murdered.
Lucious has the audacity to visit Freda in jail and ask her why she's mad at him. And then even more audacity to ask her to record a song for him. She does, and of course Lucious is doing it for Jamal; he's trying to inspire him to record his new album. Well. "Inspire." More like "guilt and coerce." It helps, but then Jamal decides what he really needs to do is get Freda out of jail, especially after he goes to visit her and she's been beaten down by some of his fans. Jamal hires a lawyer and gets an emergency hearing and the argument they use is that Freda shot Lucious because she wasn't in her right mind because Lucious exploited her as a recording artist. That works and the judge lets Freda out on bail to await trial.
When TVLine asked our old pal Ilene Chaiken about Freda, she said Freda would be a part of this season. "She's part of our story," Chaiken said. Translation: "She's an agency-less catalyst in a story centered on Jamal."
Also, I think Empire has forgotten Tiana is bisexual.
I can't end on something this bleak. Hey, speaking of Taraji P. Henson, Fox is giving Hidden Figures a limited December release date, which means they know it's going to pull down some Oscar noms! That's something to get excited about!
---
Maggie Sawyer is coming into our lives next week. Come on, Maggie. Be the hero we need this TV season.