In April, Carmen told us about Testimony, an online exhibition that served as a "creative space to tell our stories in our voices, to document history, spark dialogue, remember those we've lost, educate each other and others, show off our badass selves and create change." It was purely virtual at the time but promised to get born IRL come July 2012. Well kids, it's July, and as we told you yesterday, the time has come. Be excited.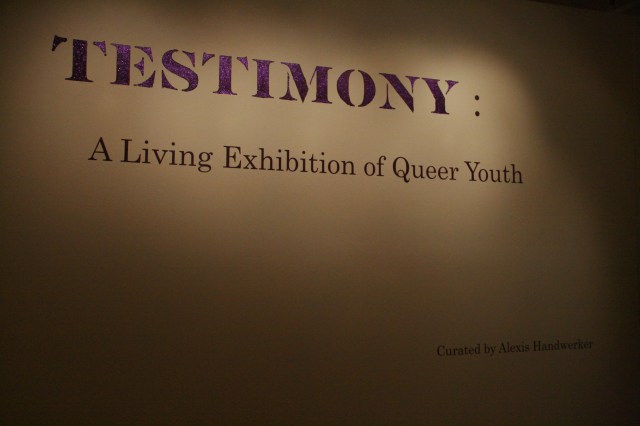 I attended the opening reception of "Testimony: A Living Exhibition of Queer Youth" at the Leslie-Lohman Museum of Gay and Lesbian Art last night in Soho, New York. It was beautiful and fun and emotional and perfect. I even braved the freak hail storm that hit Manhattan, which is important to mention only because I hate rain even more than I hate season 7 of Buffy, but this exhibit was totally worth it.
I wandered around the room, taking in the artwork and the submissions that told stories I both wanted and needed to hear, even if — especially if — the story was not a direct representation of me and my experiences. Learning about our differences is just as powerful as reveling in our similarities, and the combination of both feelings as I walked through the exhibition hit me hard. My heart felt full and my eyes felt a little bit watery. I felt safe. I listened to the stories the artwork seemed to whisper and I heard the subtle but persistent message: There is a place for you in this world. There is a place for all of us.
Alexis Handwerker, head of Coalition for Queer Youth and curator of the show, told me that she has always thought of Testimony as a storytelling project, and that it evolved from a need to make queer stories and dialogues more visible both within and outside the community. She pointed to the homeless LGBT youth in Samantha Box's portrait series "Invisible" and the trans women who were killed in hate crimes in Molly Steadman's prints as examples of groups that are typically left out of the conversations we have. As a social worker, Alexis says she's always examining the world to see which people need more help, support, and love.
The exhibition features honest, revealing work from prominent queer artists such as Box and Steadman, as well as Amos Mac, Brian Shumway, Bkyln Boihood, Gerard Gaskin, Michael Sharkey, Valerie Shaff, and Laurel Golio and Diana Scholl of We Are The Youth. It also includes submissions from individuals and organizations from around the world, and there is an area where visitors can hang out and create their own testimonies, nestled under a sign that reads, in sparkly purple letters, "Be Heard."
Handwerker said her dream is to take the exhibition all over the world, connecting with local artists in different cities and working to represent queer experiences across the globe. She hopes that both young and old folk will recognize themselves and learn something new when looking at the testimonies, and she'd ultimately like the art to spur action and positive change where it's needed.
Did you testify when Carmen first introduced this project? If not, what are you waiting for?
"Testimony: A Living Exhibition of Queer Youth" will show from July 18–July 28 at Leslie-Lohman Museum of Gay and Lesbian Art, 26 Wooster St., New York, NY as part of the 10th Annual Fresh Fruit Festival. On Wednesday, July 25 at 7pm the museum will host "The Evening of Testimony," which features readings by authors Kate Bornstein and Emanuel Xavier.