Feature image via 'Rainy Butterfly' on fuckyeahgirlsreading.tumblr.com
Reading Fall on Your Knees by Ann-Marie MacDonald will make you aware that you have a heart that is squishy and maybe a little too colourful; and like a glass of wine it can get broken into a million little pieces and make a big mess, spilling red.
So, to help you be prepared to clean up this mess while staying sane throughout your Fall on Your Knees reading experience, I've made you a list of things to have on hand:
1. Your therapist on speed dial
2. A box of Kleenex for cleaning yourself up
3. Something soft to squeeze for comfort. Examples: a teddy bear, a kitten, a boob, an afro.
Before you begin this book, I should also warn you that it will wreak havoc on your social life. Seriously. First off, it'll significantly decrease your good looks. You'll get dark circles under your eyes from staying up reading. No matter how many times it breaks your heart you will keep coming back to this goddamn book. You'll find yourself awake and emotionally broken at three in the morning. Also, you may forget to wipe the snot stains, caused by spurts of booger-expelling crying, from your sleeves. This is not attractive and will not help you pick up chicks. Also: You will be a Debbie Downer at parties and all other social gatherings. In response to a "how are things going? " from a cute girl, you'll murmur something about dead babies and ghosts before retreating to the bathroom to pull out Fall on Your Knees and recommence breaking your own heart.
All of that being said, Fall on Your Knees by Ann-Marie MacDonald is seriously the best book ever and you should totally read it, like right now. Get to it. Don't dawdle. Hey, hey, wait. Have some manners and at least finish reading my review first, okay?
Fall on Your Knees and Ann-Marie MacDonald are Relevant to Your Interests:
Ann-Marie MacDonald is totally gay and is a big literary crush of mine. You know that cheesy Canadian film, Better than Chocolate? It's the one where the two girls fall in love and paint each other with chocolate. Yum. They also hang out a lot in a bookstore called 10 Percent Books. Get it? Get it? It's funny, isn't it? That's Canadian humour for you. Anyways, MacDonald plays Frances, the nerdy, socially inept bookstore owner. Double yum.
And you know that awesome documentary series, Doc Zone, on the CBC? She's the host! You know what would be cool? If I could be in a Rachel Maddow-Ann-Marie MacDonald sandwich. Someone make this happen.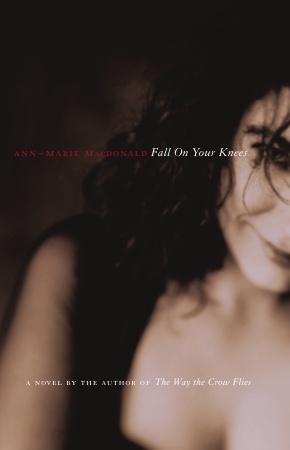 Now onto the book. It has, hands down, one of the most badass femme lesbian characters in Canadian fiction. Kathleen is hot and has great early 20th century style (everyone in the book goes on about how beautiful she is), but more importantly, she's got guts. [SPOILER ALERT] Alone, she moves from the tiny island of Cape Breton to New York, where she studies hard to become a singer and has a beautifully written romance with an African-American, cross-dressing, piano-playing, chick. All of this happens against the backdrop of the roaring twenties, when jazz music was becoming a thing. Ann-Marie Macdonald's voice is even kinda like jazz music when she writes as Kathleen. There's almost too much life in her words. They want to dance off the page and into your body, wake up even your toenails and make you shout.
Here is Kathleen writing in her diary at 1:12 am shortly after moving to New York, when she feels too alive to sleep:
I am burning. I have to live, I have to sing, I want to transform myself into a thousand different characters and carry their life with me onto the stage where it's so bright and so dark at the same time, just knowing there are three thousand people out there longing to be swept away by the passion that's about to flood out from the scarlet curtains, to this I consecrate my body and my soul, I can give no more than all of myself, I feel my heart is a throbbing engine and my voice is the valve, like a wailing train, and it has to sing or blow up, there's too much fuel, too much fire, and what am I to do with this voice if I can't let it out, it's not just singing.
Anyone else need a cigarette after that? By the way, Kathleen or MacDonald (however you want to see the narrator) just described exactly how I feel about writing.
Fall on Your Knees is Oh-So-Canadian:
It takes place in Cape Breton, Nova Scotia. Back in the day, when people immigrated to Canada via ships, seeing Nova Scotia would've been one of the first signs that their cross-Atlantic journey was coming to an end. There's a real sense of hope at the beginning of Fall on Your Knees, before MacDonald starts turning her characters into monsters and/or having the most god-awful things happen to them. James Piper, who is Irish, marries Materia who is Lebanese, and their future is as wide open as the early Canadian landscape. Yet, the couple becomes trapped — by religion, by tradition, by secrets, by the past. Maybe that's the great Canadian paradox– that you can feel trapped even when you are surrounded by so much space and so much beauty. But Fall on Your Knees is as much about being trapped as it is about wanting to be set free. And the four Piper sisters, including Kathleen, want freedom on their own terms. As the family expands, James is traumatized by his experiences in WWI and is polluted by religion, which grows and festers in him like a wound, eating up his insides like cancer.
Materia, bowing down to James' ever-increasingly dogmatic family law, loses her voice. First, she stops speaking her native tongue, and then she hardly speaks at all. She's always busy cleaning, wiping away the messes and sanitizing every surface of the house until the reader realizes that what she is really wiping away is herself. She meticulously erases her personality like she clears the supper table — removing everything delicious — until there is nothing left and she is a ghost.
There's a dead baby in this novel. And a ghost. Yes, a ghost. Can I say that there's something very Canadian about ghosts? Will you buy that? Let me explain. Every Canadian family has at least one ghost story from the early days when they came from Europe and were given a plot of land in the middle of nowhere. You would hear ghost too if you had no neighbours except for wheat fields, a forest, a never-ending dirt road.
But the ghosts in Fall on Your Knees are real. So is the abuse, the prostitution, the murder. MacDonald shows how life can get really fucked up while still being beautiful. By the end of the novel you will be a snotty-sleeved, tired-eyed mess of a person on the floor, having imaginary conversations with MacDonald. Why? How could you? You'll have fallen on your knees — at once begging for answers and worshipping her genius.