Thursday night TV! Comedy! Funny people! Laughter! Who needs dramas? Not NBC, man. Not NBC. Why would you when you have the best comedy (Parks and Recreation) and the most innovative comedy (Community) on television. Emmy voters definitely agree with me so you should too. My word is law. There is no room for dissent. So let's get right into it, shall we?
Parks & Recreation
by Brittani
There are only two things I love in this world: Everybody and television. And my favorite show is Parks and Rec (that's what the cool kids call it *wink wink*). After a first season that struggled to find its footing, Parks and Rec came back swinging with a stellar second season and unbelievably genius third. It doesn't seem like it's been around that long but this is already its fourth season and it's settled nicely into NBC's comedy line-up of hilarious shows with mediocre ratings. Really, the entire cast is perfect but Amy Poehler leads the charge portraying the unapologetic feminist/dorky person, Leslie Knope. Then there's hot Rashida Jones who portrays a hot character not named Hot Rashida Jones. Maybe they should rethink that decision.
"I'm Leslie Knope" picks up right where the last episode left off. I love when shows do that because it doesn't afford the writers the chance to let the hiatus do the work for them (ahem, Ryan Murphy). Tommy Haverford is running Entertainment 720…probably into the ground, Andy and April continue being adorable and weird, Ron flees from Tammy 1, and Leslie struggles with how she's going to handle telling Ben she's running for office. This results in one of the most touching scenes ever on the show. I didn't cry but I know people that did. All in all it was a solid start to the season. Although there was a lot of penis talk this episode, I promise there usually isn't. LESBIANS AND PENIS. I think that's how SEO works.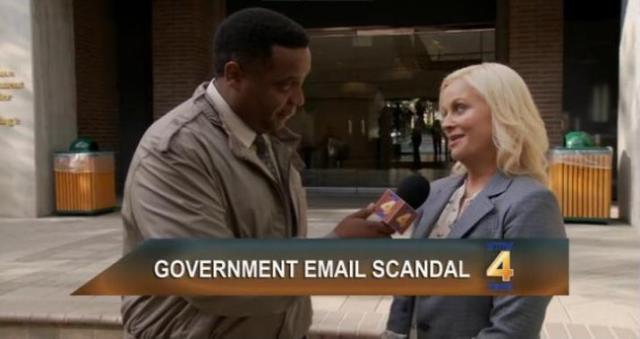 Perd: The lewd photo, just how big a deal is it?
Leslie: Well, frankly Perd, it's just not that big a deal. If you know what I mean.
Perd: I don't know what you mean but it had the cadence of a joke.
Community
by Brittani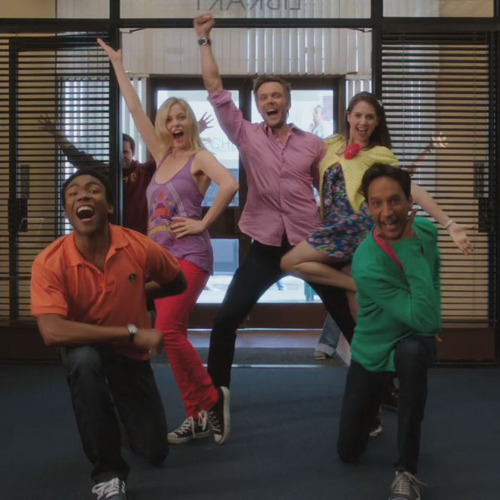 Community on the other hand had just an okay premiere. The third season began with the most meta of musical numbers, promising that this season will be a lot less weird. Which of a course was a joke on top of a joke because it parodied Glee which is super weird but still managed to be a ratings success and media darling. I'm fairly confident that this toned down more appealing version is a do-not-want situation for the biggest Community fans. Its uniqueness is part of what drew a lot of the abandoned Arrested Development crew to the Community bandwagon. You can't just rip away the weird after bringing us claymation, Dungeons and Dragons, and an illegal magic trampoline. If less weird means less funny then it's going to be a long season in Harmontown.
As for the actual season set-ups, I'm excited to see how Britta handles her newly decided major, if Chang continues to be ineffectual, and if Pierce will transform into a decent human being. New additions thus far include John Goodman and Omar from The Wire. This episode included a Downton Abbey reference which may excite some of you and Dr. Who references which will excite some of you A LOT.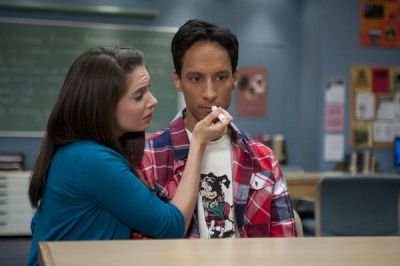 Shirley: I don't want to push it but this would be a great time to baptize him.
Also worth mentioning, I watched Revenge this week solely because the girl from Everwood (Emily VanCamp) stars. I will do the same next week using similar reasoning. I watched Whitney and wondered why the male lead had to hold back laughter throughout the entire show when I didn't laugh once. That ends on kind of a low note. Take this. I'm sorry.
The Big Bang Theory
by Lizz
Jesus christ. What is up with all of these double length premier episodes? What is network television trying to do to me? That's right, Big Bang Theory started off the season with two episodes in a row. I'd like to pretend that I was all angry and wanted to take a walk or go canoeing, but actually I love to rot my brain in front of the TV on Thursdays so it worked out really well. Last we saw the whole gang, Penny had just slept with Koothrappali, Priya was about to go home to India and Jim Parsons hadn't yet won the Emmy for funniest TV dude yet.
501: The Skank Reflex Analysis
As the title might suggest, Penny has to face the awkward consequences of sleeping with Koothrappali. So, of course, Penny decides she should leave LA. Luckily she discovers she didn't actually have male-female penetrative copulatory sex with Koothrappali. Since that's the only real type of sex, everyone can be happy and totally go back to normal as if nothing took place whatsoever. Plus then Penny got an acting job in a hemorrhoid commercial! If only this would happen in real life when you try to sleep with your friends. Instead you just actually sleep with them and it's awkward forever.
Important Science:
Amy: You can't blame yourself. When your prefrontal cortex fails to make you happy, promiscuity rewards you with the needed flood of dopamine. We neurobiologists refer to this as the Skank reflex.
The Answer to All Your Burning Question:
Sheldon: For the record I do have genitals. They're functional and aesthetically pleasing.
 502: The Infestation Hypothesis
The second episode of Big Bang confirmed two things I always knew in my heart to be true. First, that you should never take a piece of furniture in from off the street. It probably has bedbugs or roaches. In this case, Sheldon's OCD was actually correct and yes, there was something crawly and gross living in Penny's chair from off the street. Secondly, that video-chat sex is a bad idea and your roommate can definitely hear you. I will say seeing Johnny Galecki (Leonard) try to have Skype-sex with Priya was pretty hilarious and indicative of how funny Galecki has to be since, wow, that man has zero sex appeal (could just be the wrong crowd).
King Sheldon:
Leonard:You know, some people might say that it's great that we're trying make things work long distance. They'd say things like, love is stronger than the miles between you.
Sheldon:When I rise to power, those people will be sterilized.
I'm Rooting For This:
[discussing what it would take to get Amy to convince Penny to throw out her chair]
Sheldon: Okay, name your price.
Amy: Kiss me where I've never been kissed before?
Sheldon: You mean like Salt Lake City?
+
The Office
by Riese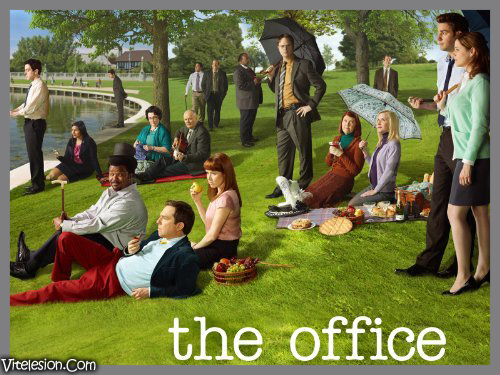 I was supposed to write about The Office but didn't because it was my birthday. So just quickly off the cuff — I was fucking impressed. I was scared, because The Office is the only sitcom I actually like, but honestly I was impressed by how they handled the last few episodes of the last season and how they kicked off this year. I was sorta hoping they'd hire Ricky Gervais, Chris Rock or Ellen DeGeneres to be the new boss but you know. Anything could happen!
I'm actually interested in how this will play out — I think Andy seemed really human, like he actually wants to be a good manager? Which'll be a compelling dynamic, I think. I LOL'ed like 56 times, too.
Also, Kevin is played out and needs to stop talking, I just cannot.
Aaaaaand that's Thursday! What did you think?