Everyone! This week Drake released a new album and I freaked out. Also I communicated with Eileen Myles. So it's definitely been like Week of Amazingness for one lesbian in this big gay place called Earth.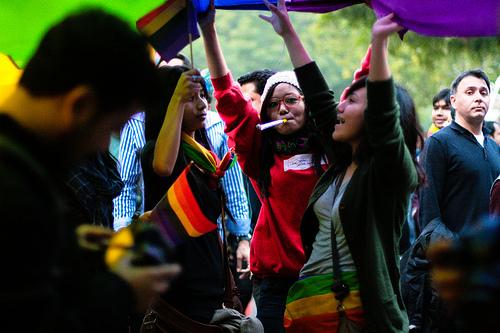 The good news is, though, that "Take Care" is for everyone, and the good news this week will make yours just as good as mine.
We're On a Boat: The Biggest Gay Cruise Ever In Time
I think we've talked about this before, but just so you know, I really dig girls on sailboats. There's something about the salty air and the showing of skin and the sun and the showing of skin. In fact, the only thing better would be a bunch of gay girls on a huge cruise ship, where the air runs through everyone's hair and the water washes away everyone's #lesbianproblems.
Of course I'm not the first one with this idea; the lesbian cruise market already features such shining stars as Rosie O'Donnell's R Family Cruise and the Sweet Cruise that was attended and liveblogged by Alex and Riese in 2009. But next year, gay cruise company Atlantis will organize the largest gay cruise in history:
The company has chartered Royal Caribbean's Allure of the Seas, the world's largest cruise ship, and it hopes to put 5,400 gays and lesbians on board for a weeklong tour of the Caribbean. […]
[T]he company promises top-notch entertainment, elaborate parties and innovative ways of introducing people to each other. There are, for example, five different dance venues showcasing different types of dance parties. 
Canadian Watchdog Talks Safety in Schools for Gay Kids
Mary Ellen Turpel-Lafond, the British Columbia Representative for Children and Youth and "children's watchdog," has made an "It Gets Better" video:
Turpel-Lafond also spoke in support of gay-straight alliances and affirming school policies as a route to reducing bullying for gay youth.
The Queer Concert For a Good Cause
The One Voice Mixed Chorus, an LGBT choral group, held a concert called "The Brave Souls & Dreamers" in Duluth, Minnesota to raise proceeds for Minnesotans United for all Families, a coalition working to defeat a proposed gay marriage ban.
My favorite queer chorus performance is this one, which isn't by them but is a great motivation to begin seeking out gay choral groups:
Gay Politics
+ The openly gay Denver State Representative Mark Ferrandino became the state's House Minority Leader on Friday.
+ On Friday, legislation was introduced in both the U.S. Senate and House of Representatives that will provide domestic-partner benefits for federal employees.
The Binational Love Story
You should read this couple's story, because news coverage of binational LGBT couples is lacking the heartstring-pulling factor:
Every night I would stay up late until 2AM or 3AM, sometimes later than that. Just so I could be with her as possible.
She became my daily dose of happiness.
Lady Gaga to Receive LGBT Honor
On December 4, Lady Gaga will be honored by the Trevor Project, a non-profit focused on suicide-prevention services for LGBT people.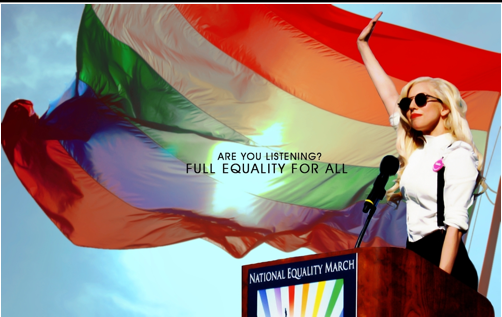 Kelly Osbourne Loves Trans People
So Kelly Osbourne got into trouble for "dehumanizing" language about trans people, and then not only apologized, but began advocating for their greater rights:
Now Osbourne has written a post on GLAAD's blog to not only admit her error, but to help raise awareness for this weekend's Transgender Day or Remembrance. "Transgender people are some of the bravest people on Earth and among the LGBT community," she writes in the essay. "I cannot imagine the courage it takes to live your life openly and honestly, reflecting who you truly are, or the hurt that comes from having to hide who you are because others may not support and accept you." Osbourne adds, "A part of me is happy I've made such an awful mistake because I can now use this as a platform to help speak out against the use of such hurtful and dehumanizing words."
You can read the full essay here.
The Two Spirit Movie Everyone Loves
Two Spirits, a documentary now on DVD, broke PBS records this year:
Fred Martinez, a Navajo boy who was nádleehí, or male-bodied person with a feminine spirit. When Fred was 16-years-old, Shaun Murphy bludgeoned him to death for being different. The film interweaves the tragic story of a mother's loss along with Native American cultural traditions that once held places of honor for people of integrated genders. Being nádleehí was, in ancient Navajo culture, a special gift but in modern culture Martinez was not honored; his brutal murder made him one of the youngest hate-crime victims in modern. But the film brings home the resounding message that being true to oneself is the bravest thing anyone can do. 
Madonna in Bazaar Looking Totally Fly
Madonna recently had a 3-page spread in Bazaar and is beautiful:
Dog and Horse Play, Restore Faith in Humanity
I think the only thing cuter than this video is the description:
Lucy and Whiskey Brown getting frisky in the back pasture. Lucy is a 2 year old mixed Portuguese Water Dog. Very special. The horse is one of a kind. He is a 4 year old Quarter Horse stallion. My two "pets" will always be together. They work as a pair, keeping the back pasture safe for me. I witnessed them both running side by side, chasing a wild hog. Coyotes are not welcome either.