According to the New York Times, I'm partially to blame for the failing economy. You see, like 14.2 percent of young adults, I live with my parents. I moved back home after I graduated five months ago and I don't plan on leaving until next summer.
If you'll believe Catherine Rampell, I'm depriving the economy of $145,000 by living here. If I moved out, I'd be buying Pöalågnar frying pans at IKEA, banging my head against the wall while I wait for Mr. Comcast to show up between 9am and 7pm, and hiring "a handyman to hang a newly framed diploma."
Let's gloss over that fact that anyone who needs a handyman to hang a frame has more basic issues on their plate than stunting economic growth and talk about the real costs of living at home. It might be true that moving out and spending money benefits the economy, but where's that money supposed to come from? With only 74 percent of 25-34-year-olds currently employed and the average graduate carrying over $25,000 in student loan debt, it's no longer clear what the responsible choice should be.
Rampell did an exceptional job of finding two people, Jay Bouvier and Hollis Romanelli, who are unlike to garner any sympathy. Both have full time jobs–Bouvier makes $45,000 a year after taxes — and neither pay their parents rent. Romanelli even admits that she's spent her first 2 months worth of paychecks treating herself. Rampell all but paints a picture of selfishness — Romanelli is guilty of indulging when so many are un- or underemployed and Bouvier saves his money when he could be out buying houses and helping "the economy."
Am I wrong to think that the economy is a means and not an end? There's always more to an issue than just money. In order to better understand what's going on, I've compiled a pros and cons list for those of you considering moving back home.
Top 5 reasons living with your parents is irresponsible:
5: You're hurting the economy by living in your old bedroom. (See above)
4: You're missing out on character-building rites of passage like cockroaches and park bench masturbators*.
3: You can't develop real relationships with friends or significant others due to lurking parents.
2: You're putting financial strain on your parents who once again have to feed and shelter you.
1: You're not taking on responsibilities like a Real Adult® and will never properly learn how to pay rent, take out the trash, and shovel your stoop when it snows.*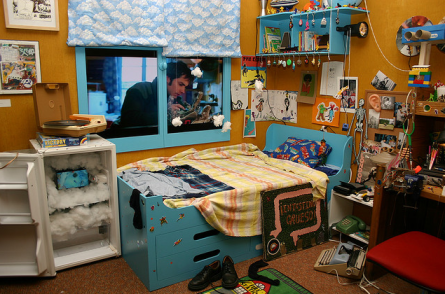 Top 5 reasons living with your parents is responsible:
5: Remember how much people like to talk about how 20-something are all capricious nincompoops who have no sense of self-control, no plans for the future, and no moral fiber? By living at home, you can learn all about budgeting and credit scores at the dinner table, overhear FOX News playing on the TV downstairs, and never ever have sex ever. It's like a conservative's dream world.
4: Do you really need to live on your own? If roommates are out of the question and your only options are living with your family and living by yourself, your family could be the better option. Environmentalists will thank you for keeping plastics production, waste, and energy usage down.
3: Do you know where college students and recent college graduates tend to live? I will tell you: in poor neighborhoods. If you're in college, you know that you'll only be living there for 4 years max. Which means that you probably won't get involved with your community or care if you keep your neighbors up until 4 a.m. with your frat party. If you're a graduate, you'll probably be moving away when you can afford it and are similar to undergraduates in terms of how you see your 'hood. Treating neighborhoods as disposable isn't helpful for people who will live there for many years or their whole lives. Clearly not everyone does this, but if you've ever looked at the amount of trash on the streets in university off-campus housing you'll know that there are enough people who do to make it a problem. By living at home, you help keep neighborhoods neighborhoody.
2: Two words: mental health. Have you ever tried finding a therapist? It's really effing hard work. Having people (or dogs) who care about you around can make it easier to get through really bad days. They might even help you look for a therapist. On the other side of the coin, if you find you're losing the motivation you once had, going home can be a refresher course on all the reasons you wanted to leave Ohio/wherever in the first place and get you back on track.
1: I bet your grandparents are lonely. I bet your parents need help cleaning out the basement. I bet your little brother needs to be picked up from school. Living at home can be fantastic because you can help people and they can hug you.
So. This may be a slightly skewed list, but we home-livers get a bad rap. We all make choices that work for us. Some of us move home because we're not sure where to go next. Some don't have the option to go back because it's no longer a home for us. I chose to move home because I needed a place to make decisions, my family needed my help, and I needed reminder that I wasn't alone. It's about more than just money. What works for me probably doesn't work for you and that doesn't automatically make any of us less responsible for our lives or more responsible for the economic crisis. When I move out next year, I know I'll be ready, I'll be thankful, and I won't be back.**
Who do you live with? Where do you live? Do Europeans really think we're crazy for moving out before we can really afford it?
*Been there, done that, character built.
**Except to visit, obviously.
Feature photo via: New York Magazine