This Sunday Funday, gay rights are human rights and the sun has finally made amends with the Eastern coast! Plus, gay marriage is still the hottest bandwagon in town and even Harvard likes gay people. And lastly, pretty girls still exist.
So go outside, smoke a cigarette with your girlfriend, and settle in for a short but sweet morning with good news from around the world. And with puppies AND cats! Everybody wins.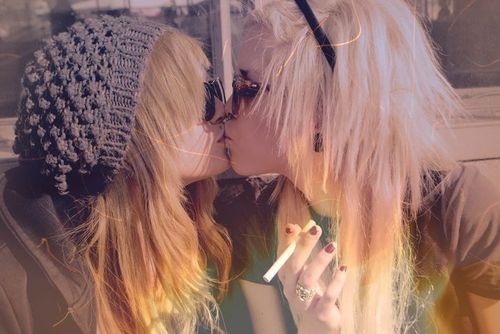 "Gay Rights Are Human Rights" in Kenya
Chief Justice Willy Mutunga in Kenya is really sick of people fighting about gay rights, and told lobbying groups Friday that gay rights are human rights:
 "The other frontier of marginalisation is the gay right movement. Gay rights are human rights. Here I am simply confining my statement in the context of human rights and social justice paradigm and avoiding the controversies that exist in our constitutions and various legislation. We have succeeded in demanding our rights of movement and association although we cannot take them for granted. We should see less of the workshopping in hotels, less of flip charts and tooth picks as we move to the country sides and make sure our people own and protect the human rights and social justice messages."
Mutunga called for a need to bring together the opposing views on the marginalisation of the gay rights movement to a final and conclusive debate.
He made the announcement in Uganda, a country known for some extremely harsh legislative disses toward gay unions in the past and some violent crimes targeting the gay community.
Organizations, Celebs Working On Gay Marriage
Everyone loves a good wedding and a great open bar. And this week, the movement for legal same-sex marriage around the globe enlisted some new support:
+ Tasmanian and world-champion axeman David Foster has a lesbian daughter, and he loves her very much. And so he has started speaking out about gay marriage, as unlikely a match for the movement as he may be:
"Sally is my daughter," Foster said, "and I love her and I'm proud of her. Sometimes you've got to stand up and be heard." The way he sees it, "she is a nurse, she has a beautiful partner and a child, and if they wish to get married, I can't see why they can't."
He is scheduled to speak at the Australian state's capital about same-sex marriage during an upcoming public forum.
+ In Maryland, the NAACP Chapter in Baltimore recently joined the umbrella group "Marylanders for Marriage Equality."
Harvard and Gays Getting Along
Harvard has hired its first Director of BGLTQ life.
This Fat Cat Is In The Wrong Paintings
This fat tabby cat has managed to make his way into some astute classics.

Ellen and Portia Make A Good Business Team, Too
NBC is considering a new sitcom about a pair of sisters, one of whom is going to be played by Porta de Rossi.
And Ellen? Well, she'll remain a part of the entire process as an executive producer. So turns out they can do more than be the cutest couple ever – they can also be the cutest, most collaborative couple ever.

Emma Watson Is Magically Attractive
Emma Watson was in Elle France. You can read the translated article, but pictures are worth a thousand words I think. So.
Jesus Loves You, GLEE Star Told Me So
Kristin Chenoweth, or April Rhodes from "Glee," is a "self-identifying Christian" who also likes gay people. And she isn't shying away from talking about it. The Advocate interviewed the theater and television star and asked her about her faith in relation to gay rights and the anti-gay movement, and it seems pretty cut and dry – Kristin Chenoweth thinks gay rights are common Christian sense:
"I don't judge you for your opinions, so please don't judge me for mine," the actress said in response to critics.
"I read my Bible and I pray and all of that – I really do," Chenoweth told The Advocate. "But at the same time, I don't think being gay is a sin. Period."
Kate Winslet Teaches Comprehensive Sex Ed.
Kate Winslet has a 7-year-old son named Joe who calls her darling. And he already told her that he may bring a boy home one day:
"[Joe] turns to me the other day and says, 'One day I will have a girlfriend or a boyfriend, darling. Which would you prefer?' And I said, 'My love, that would be entirely up to you, and it doesn't make any difference to me.' But that he knows! It's a real privilege."
Winslet values diversity and prides herself on exposing her children to it, through travel and education. She talks to them openly, even now, about sex, relationships, and sexuality. She's a perfect role model parent (ahem, Tracy Morgan can you hear me) and hey, her son sounds pretty fabulous.
This Puppy
There's nothing like a sweet baby puppy in a soft blanket.