"What arrived instead [of a "selfless wartime patriotism"], sadly enough, was another hijacking—of 9/11 by those who exploited it for motives large and petty, both ideological and crassly ­commercial. The most lethal of these hijackings was the Bush administration's repurposing of 9/11 for a war against a country that had not attacked us. So devilishly clever was the selling of the Saddam-for-Osama bait-and-switch that almost half the country would come to believe that Iraqis were among the 9/11 hijackers. No less shabby, if far less catastrophic, was the milking of 9/11 for the lesser causes of self-promotion and product placement by those seeking either power or profit. From the Bush-reelection campaign ad with an image of a flag-draped stretcher carrying remains at ground zero to the donning of flag pins by television anchors and pandering politicians, no opportunistic appropriation of 9/11 was too sleazy to be off-limits."
– Frank Rich, 9/11: Days End
I didn't want to write anything about 9/11 on Autostraddle today but I was outvoted in our editorial meeting.  I was reminded that a lot of you probably are surrounded by people with opinions about 9/11 which resolutely differ from your own, and that a "safe space" of sorts would be expected. I was reminded that it's an important political event, not just a day when I think a lot of people's outsized entitlement to grieve does a disservice to those whose lives were actually tangibly impacted by 9/11 and its ensuing wars. I didn't want to seem like one of those people. I worry that my feelings about 9/11 are, at best, irrelevant, and, at worst, inappropriate.
But mostly it's that, in my opinion, the mainstream media's handling of 9/11 — during, after, and right this very minute — was/is the most catastrophically inappropriate and shamefully exploitative media coverage of any event in my lifetime. And I lived through The Gulf War (which, according to the news, was a war between avatars; news networks, lacking photographs from the ground, complacently accepted the government's post-Vietnam informational muzzle tactics and used computer graphics on-air to illustrate its pre-packaged propaganda).
So, saying anything at all makes me feel like I'm a part of that machine. I didn't lose anyone that day, though like many New York City residents (I lived in NYC in spells during the early '00s, moved there for good in 2004 and left in 2010) I know many people who did lose someone that day and for them I think this day is entirely different than it is for the rest of us. Their grief is tangible and insurmountable and I imagine that grief can only be appropriately dealt with far away from whatever's on television or in the news today or anything I could write here. And so it makes me insane when these shows use this very real, very painful grief to justify their marketing strategies.
40 TV specials about 9/11 are available for your consumption today including Animal Planet's Hero Dogs of 9/11 and Oprah Winfrey Network's Twins of the Twin Towers, about twins who died in the Twin Towers. The National Geographic Channel has devoted itself to 9/11 programming all week.  Today CNN will air four separate documentaries about 911.  Joe Scarborough of MSNBC's "Morning Joe" has released a new song for the occasion — a "reflection on 9/11."  NBC, ABC and CBS's evening anchors started work at 8 a.m. EST to cover memorials and, after the memorial, all these networks will pre-empt regular coverage for 9/11 themed shows hosted from Washington DC or from the Ground Zero site.
You are welcome to complement those experiences with merchandise ranging from 9-11 Memorial Wine to a Never Forget Coloring Book to an $89 "We Will Never Forget" Pendant Necklace.
I mean, how do we represent and acknowledge and make space for the incredible sadness of what was lost that day to so many Americans without feeling like we're participating in the exploitation of it? How to say anything at all without encouraging an endless comment thread full of "where I was on 9/11" stories?
When I see that clip of the plane flying into the towers replayed again and again, I want to close my eyes. Every time reminds me of the first time and I wish the first time was the only time I ever had to see it. Now that image has been exploited for financial or political gain by so many fucking people. That image has been used to justify more killing and more death all around the world. That's not the proper way to pay tribute to what we lost that day.
For your reference:
+ A MUST-READ –> 9-11: The Winners: "The September 11, 2001 attacks have been a symbol of many things and many causes, but like the lavish, flag-draped rebuilding of the site, it has also been a vehicle for enrichment. From corporations to politicians to government officials to nonprofits to the security industry to publishers to the health industry (not to mention the incidents of outright fraud over the years), many people have found ways to profit from one of the nation's biggest disasters. 9/11 has created an economy all its own."
+ The True Cost of 9-11 – Trillions and trillions wasted on wars, a fiscal catastrophe, a wasted America: "Even if Bush could be forgiven for taking America, and much of the rest of the world, to war on false pretenses, and for misrepresenting the cost of the venture, there is no excuse for how he chose to finance it. His was the first war in history paid for entirely on credit."
+ The Legacy of 9/11 and The War on Intellectuals: How complex thinking about the situation was discredited and questioning The Bush Administration became "anti-American." Anyone concerned with nuance just hated freedom, duh!
+ Thanks, 9/11! – Gawker looks at the lovely things America got out of 9/11, from The Housing Bubble to The Crawl to The Surveillance State.
I left New York City two weeks before the attacks, for school in Michigan, and I returned a month after the attacks for a weekend visit that got extended to a very very long weekend when a plane crash in Queens shut down the airport — you couldn't be too careful, then. We stayed with friends who lived in the NYU dorms downtown, which was a quick walk to the devastation at Ground Zero. Around this time I started having this recurring nightmare where I'm on a boat and Al Qaeda attacks it.
But on 9/11 itself I was in Michigan with my best friends — one from Westchester, another from Philadelphia — at their sorority house, primarily composed of girls from New York or New Jersey. We stood on the balcony with ten or fifteen others, frantically dialing our friends and family in NYC, but all the phone lines were down there.
I worked dinner that night at The Macaroni Grill. When I walked in, Ahmed, a server, fake-ducked behind the bar and yelled "It wasn't me! Don't shoot!" and later, standing next to me in the expo line waiting for lasanga, told me that growing up in Lebanon, "this shit happened all the time." He said, "you've got it so easy here." It felt like a punch in the stomach but I didn't know why. People kept calling to ask if we were open.
After work I went with a co-worker I was dating who I'll call "Nate" back to his frat house, probably to watch him play video games with a few of his "brothers." "Brad," one of the brothers who was there that night, would go on to join the army and six years later Nate would track me down after years of silence to tell me that Brad had been shot and killed by a sniper in Fallujah. There was a memorial myspace page if I wanted to see it.
The number of U.S. causalities abroad from the "War on Terror" now far outnumber casualities of terrorism on American soil. What do we do with that?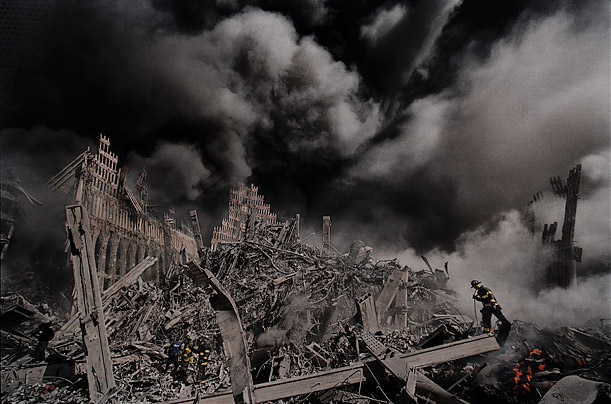 To me, today is the ten-year anniversary of the last time this event was what it was and nothing else. When this event was devastating and purely so — before Bush led the crowd chanting USA USA, before the subsequent invasions of Iraq and Afghanistan, before first responders were dying of cancer while the US turned a blind eye to its uninsured heroes, before The Bush Doctrine, before the EPA lied about the toxicity of the 9/11 site, before The Patriot Act, before the rash of hate crimes against people who "looked Muslim," before the misallocated funds contributing to the bloated budgets of The September 11 Memorial and Museum and The Freedom Tower, before the phony charities, before Bush decided to launch and fund a $1.283 trillion dollar war with debt, before Abu Ghraib, before The Tea Party, before MISSION ACCOMPLISHED — the ten-year anniversary of the last time we could see this event clearly, through all the smoke and rubble that still remained, for the terror and tragedy that it was.
Read September 11th: The Reckoning at The New York Times
Read Gay Priest Was September 11's First Recorded Casualty