Whatever happened to J-Beals, Kate, MK, LuH, Leisha/UHH, Sarah "goddess of hotness" Shahi and the rest of the sprawling cast of The L Word? We know where they are, and you should too.


THREE RIVERS: The Pittsburgh Post-Gazette tours the set of Kate Moennig's new show Three Rivers: "Odd, clingy scrubs that resembled "Star Trek" uniforms in the Pittsburgh pilot have been discarded in favor of more normal-looking scrubs."
GAY MARRIAGE: American-Dutch gay couples wed in Amsterdam: Basically on all counts Amsterdam is funner, their parties are better, their drugs druggier and their homosexuals freer. What are we doing here.
REALITY TV IS HARD: As three-year confidentiality agreements expire, reality contestants are speaking out about their treatment on set, like 12-hour drinking parties without food before meeting the Bachelor, being sequestered from the world for three days before shooting began for Project Runway, Olympic-gymnast style, etc. "The bread and butter of reality television is to get people into a state where they are tired, stressed and emotionally vulnerable."
GAY MARRIAGE POSITIVE: Quakers in the UK have approved same-sex marriage and called on the government to provide full and equal marriage rights to same-sex couples. "The society has already held religious blessings for same-sex couples who have had a civil partnership ceremony. But agreeing to perform gay marriages, which are currently not allowed under civil law, could bring the Quakers into conflict with the government." (@timesonlineuk) [Fun fact – Riese is half quaker!]
DEGRASSI THE NEXT GENERATION: Christina Schmidt, a.k.a. Terri from Degrassi, has had enough of playing a plus-sized model on the teevee. Now she's gonna do it in real life.
GET A JOB: Whatchu doing Tuesday? Well, if you're in NYC, SEX AND THE CITY is seeking extras including Fashion Models, Upscale socialites, Urban Club goers, Gays and Lesbians, Professional Soccer Players.
VAMPIRES ARE SEXY: Somehow Uta of The L Word Season 3 is not included in Entertainment Weekly's list of hot vampires. Luckily it's a long list so many others are. (@ew)
MADONNA: The trailer for Madonna's new Greatest Hits album, Celebration!
FALL TEEVEE: Curve Magazine has put together a roundup of things lesbians should look forward to this autumn on the television.
LINDA'S FILM ABOUT MENSTRUATION: This 1974 video called Linda's Film About Menstruation manages, in less than twenty entertaining minutes, to cover everything from ancient tribal taboos to the different types of tampons, including the now defunct "stick tampon." (@jezebel)
WOMYN ON FILM: NPR analyzes women in today's romantic comedies, e.g., The Proposal & The Ugly Truth – you never know if pop culture will be ahead of the times, or behind it. But where women are concerned: "Nobody gets ruder treatment than career women, who are routinely portrayed as bossy, uptight and utterly without personal lives. What they need, we're supposed to think, is a man. But before they can get one, they must have a mortifying comeuppance."
CELEBRITY DETOX: Why do we celebrate when an actress falls apart? And why oh why do we blame the actress herself? (@jezebel)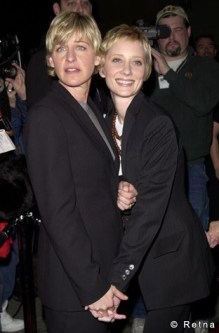 THE WAY THEY WERE: The New York Times Magazine talks to Anne Heche, who is allegedly "Playing it Normal Now." On her breakup with Ellen: "I think people saw how hard it was for me. It's what makes me the artist that I am, it's my bag of sorrow, of human tragedy that I've lived through, and I go to this well every single time I create a character. But that no longer dictates my daily life."
WE ARE ALL SPIES: "Peep culture involves watching and being watched, snooping and spying, gawking and gossiping; it means exposing our intimacies with an eye toward bonding with others and growing comfortable with the increasingly common slippage between public and private. Peep culture, like pop culture, informs the atmosphere — it is the atmosphere — in which we live. Writes Niedzviecki, "It's like that famous line about pornography: you know it when you see it. And you do see it. All the time, everyday, everywhere." (@salon)
GAGA: Lady Gaga pontificates how attending a music festival is suffering for your love of music, the good ole days with Lady Starlight (Rodeo Disco, holla!), straddles a motorcycle on stage wearing a 1-inch miniskirt, sans panties, and performs Money Honey.

Photo from our favorite photographer Ellen Von Unwerth's Women in Love, with Jenny Shimizu and Maria Luisa.
Audacia Ray/Waking Vixen celebrates five years of blogging and 10 years of living in NYC with a dirty photo retrospective.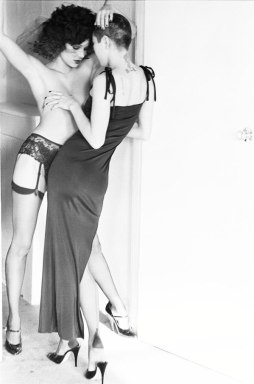 Newsweek asks: Is Polyamory "The Next Sexual Revolution"?
Club Sapphic.com is an all-girl erotica site where fans can watch real sex occur between beautiful, orgasmic women. All Club Sapphic models are truly bisexual and/or lesbian, and sex scenes are not choreographed or directed.
In celebration of their 300th birthday, i-D gets the birthday gift that keeps on giving … Naked Models!
nerve.com presents The Ancient Book of Sex and Science: So you're a group of super-successful animators who work on Pixar films and your studio has recently become a subsidiary of notoriously conservative Disney. What do you do? Well, release a book of drawings called The Ancient Book of Sex and Science, Right?
Also, in today in Sex Ed: The Ottawa library defends the addition of racy sex guides to its collection. Canada: 100, USA: 0.

A preview of the upcoming Tim Burton exhibition at the Museum of Modern Art. The exhibition and film series presents all things Burton, including his earliest childhood drawings and storyboards created during the production Edward Scissorhands and other movies. The exhibition will be open November through April 2010!