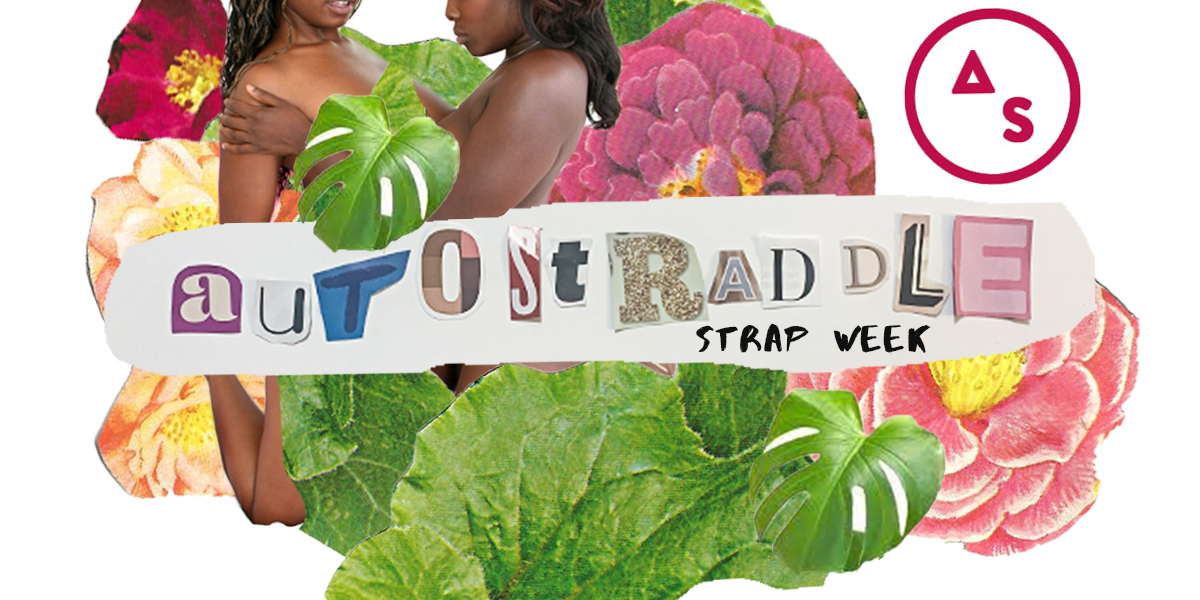 Autostraddle Strap Week 2021 – All Images by Demetria.
In this series, two babes chat through both sides of one strapping topic — sharing personal narratives with you on their perspective at this point in their queer story. Next up — Should you play suck and blow or what's the point?
---
Save Your Mouth For Me
"It became a perception vs. reality thing; it looked better than it actually felt."
When I mentioned what I'd be writing about to my wife, she immediately said "Yes thank God you got over that phase, I hated having silicon breath." As a stud and masc identifying person, my strap used to play a huge part in my sex life. It wasn't just the strokes I was there for, I wanted to get my strap sucked. That was thanks to the movies, music videos, and porn I watched in place of the queer sex education I wasn't getting.
I'd watch them and take mental notes on how the cismen in them had sex. What positions they used, what they said during sex, basically I'd pay attention to what got them off. When it specifically came to the porn I was watching, straight or gay, one act stood out over them all (and seemed to be the most requested), and that was getting head. So, I mimicked them and used them as a guide in my younger stud days. It's not like I was totally uninterested in the act, I'm a lover of the undeniable power dynamic that came from telling a partner to suck my strap. It was bomb for foreplay— I liked watching my partner suck me off before/after getting to it. But after a while, it didn't do much for me.
It became a perception vs. reality thing; it looked better than it actually felt. It was just aesthetically pleasing and there was only so much pleasure I felt from getting my strap sucked. Pretty much all the magic came from the friction of someone riding the strap or stroking them down. I can't tell you exactly when the shift happened, all I remember was getting my strap sucked at one point and thinking "This is a waste of time and energy", "I'm not getting anything out of this" and "Am I really fake moaning right now?" I realized I was blocking my blessing by letting my strap have all the fun.
It came at the same time that I was trying to be less self-conscious about what was "acceptable" during sex as a masc presenting person. I wanted to stop worrying about everything from how my moans sounded, to my stretch marks, to my natural BBL (it's a wagon). I wanted to relax, enjoy the moment, and stop fretting over my more feminine qualities being present while I was fucking. It took some patience with myself, time to unlearn the antiquated views I had of sex, and a partner that I loved and trusted to get to the next level of pleasure.
When I released myself from the shackles of getting my strap sucked, and mimicking the cisgendered sexual masculinity I learned from, I unlocked new pleasures. For example, It gave me the courage to go full lips to lips and explore the magic of scissoring, and as Tammi Terrell and Marvin Gaye tried to tell us, ain't nothing like the real thing baby.
Ever since I reduced my reliance on my strap, and learned to be better with my hands and mouth, my sex life has been out of this world. Plus strapping is easy, everything else takes real practice and skill. Maybe it's an age thing, I look at sex differently from when I was younger and now want the most skin-to-skin contact I can get. My strap is an afterthought. I want to feel all the sensations —the warmth, the lips, the pressure — on me.
---
Suck It Good
"I feel a smug sense of satisfaction knowing that my brain can help contribute to feelings of arousal, like I am the Charles Xavier of clapping cheeks."
I'm constantly amazed at how hot sex can be, especially when it comes to the small things. Feeling your partner smile into your neck before they bite it, or watching them grab a washcloth before rubbing me down like a prized stallion. I don't have to be touched directly to feel like rockets are taking off in my panties, so it's no wonder that watching someone suck my strap is so amazing — our brains are really cool like that.
The brain is a wonderful organ. It has over 80 billion different neurons that fire at any given moment, and we have yet to explore its full potential. I feel a smug sense of satisfaction knowing that my brain can help contribute to feelings of arousal, like I am the Charles Xavier of clapping cheeks. I can imagine that Tessa Thompson is waiting in my bedroom to stomp me into next week, and the thought of that alone is enough to make me cum on my off-brand Hitachi wand.
I find that I am aroused by ideas just as much as a physical sensation. Before I ever used a strap-on, I remember watching my partner suck on her dildo before using it on me. That, along with already being helplessly turned on, had me imagining ways to propose to her. My legs shook and I thought I was going to pass away from the mental picture and sensation of the dildo. It was the combination of that imagery along with the physical sensation of the dildo afterward that ruined me. If watching her wet the dildo with her mouth felt that great, I could only imagine what it would feel like if it were attached to me while she did it.
When I finally found the perfect strap-on for myself, I opted to buy the more expensive version. The salesperson was hot and I'm weak to an upsell, but mostly because I'm plus size and needed something that would actually work with my body in bed. With my new purple dick and soft faux leather wrapped around my pelvis, I was ready to put it down the next time I saw her.
It's all a turn-on for me, watching someone suck on fingers, popsicles, or clits — and if my partner enjoys sucking on things as well, then watching her mouth on my strap is like watching her pleasure herself. The first time I watched her suck on my purple dildo, I felt this incredible feeling of euphoria. Her saliva gave it an otherworldly sheen, and I was immediately bombarded with memories of when that same mouth was on me. When she was sucking me, it wasn't the gagging performance that you see being played out on a cishet-centered porn site — but more of quiet adoration. We were connected and I live for that moment during sex when we both are blissfully and mutually enjoying pleasure and thinking of the future where we will both come apart together.
I may not physically feel anything while she's sucking, but in that moment that's not what I'm there for. That lack of physical sensation will be fulfilled later so I'm unbothered by that, in this moment — while they are using their mouth to express their own arousal and enhance mine — I'm here for intimacy. I'm seeking the closeness that I feel from watching her and the pleasure she gets from wrapping her mouth around this object that's momentarily connected to me. My brain knows that there isn't anything physically touching me, but it also knows that this shit is hot as hell. I get off on the implied domination of my partner. Not only am I in control of the strap that will later bring her pleasure when I'm inside her, but I'm being indirectly worshipped through her sucking. Her willingness to get on her knees, submit and put me in her mouth is what I'll think of while fucking her, again attributing to another moment of mutual pleasure.
When I slip that dick through the O-Ring and tighten the straps around my thighs and waist, my strap becomes a part of me. We're connected and my brain accepts that notion, it registers her movements, sounds, and looks as pleasure and knows that I'm not limited to tactile sensations to achieve that feeling. Having my strap sucked is without a doubt the shit, and how incredible is it that my brain taps in to enhance each component of sex, helping to make it all even more gratifying.
---