Welcome to the third installment of Style Thief, where I steal the clothes off queer style icons' backs. Metaphorically, that is. I'll try figure out just exactly what makes queer style icons tick by breaking down their look into itty bitty bite size pieces. I get a lot of questions about how to look like different celebrities/characters, so I'm finally tackling the question "How the hell do I dress like that?"
Header by Rory Midhani
---
I get a style question about Kiyomi McCloskey basically every day of the week.
It seems that queer women across the land want to capture that rockstar something that makes girls go weak at the knees. Unfortunately Kiyomi's style is hard to pin down. One day she's in head to toe menswear and the next she's wearing a women's tanktop. It's not that her look is gender-free, it's that she embodies androgyny in such a way that she seamlessly blends butch and femme. But you lovable weirdos want to know how to dress like this Hunter Valentine singer/The Real L Word person, and hell, I do too. So with a little help from Kiyomi's interview at dapperQ we're going to steal all that black leather right off of her.
From the dapperQ interview:
I hate when people are like… they see your look being one way and then the next day you decide to wear something different, and they're like "what the hell that's so weird that's not her style.wp_postsI like to be able to play with different looks and sexualities in fashion on a daily basis in whatever way that I want. So, if I want to wear like… a blazer and heavy eyeliner to counterbalance that and fuck with people then I'm gonna do that. The next day I might wear a leather jacket with a low cut shirt. I'm not afraid to play with my masculine side of my feminine side.
Generally speaking, Kiyomi's wardrobe is one color: black. While Kiyomi certainly mixes it up with white shirts, silver jewelry and the occasional red hoodie, black is the name of the game. What Kiyomi's look lacks in color she makes up for in texture. Her wardrobe is made up of studs, distressed leathers, worn-in tees and shiny satins. And of course, that hair.
Let's start from the bottom. Kiyomi rocks a lot of skinny jeans. Keep in mind, though, that these are more like men's slim-fit/skinny jeans than women's jeggings. You want the denim to be thick and supportive instead of thin and elastic. Similarly the leg should be more tapered-straight than it is tapered-tight. It's like a European men's jean. So while her jeans have that tight appearance that screams rock star, it's more Keith Richards than it is Katy Perry.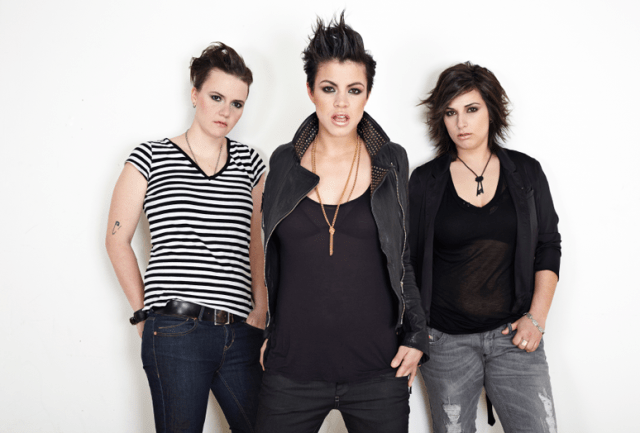 Next, you probably will need a shirt. Basically Kiyomi wears a couple of different types of shirts. First, she wears a lot of good old fashioned black tank tops. These are sometimes stylized with different graphics or cuts, but frequently they're just regular black or white ribbed men's undershirts. I like getting the type that are billed as men's slim-fit because they are longer than the regular women's but tighter than most other men's. This is especially good if you're a little bustier and need extra length to keep from wearing a belly shirt.
Second, Kiyomi wears a lot of soft black vintage-feel t-shirts. These tend to be solid blacks shirt or have somewhat abstract writing or graphics on them. Remember, artsy and stylized, not a shirt thats says Gap or has the Batman symbol on it. Allsaints is a particularly good company to check out. While you can certainly buy vintage feel tees, you can also make your own easily. Take any cotton shirt you have and soak it for three days in a salt water bath (1/2 cup salter per quart water). This should give it that faded color and super-soft texture you normally only get from wearing a shirt in.
Finally, Kiyomi wears tons and tons of button ups. These are usually either short sleeve or with the sleeves rolled to the elbows. Button-ups are where Kiyomi most often breaks her all black dress code and subs out for a white button-up. One of the things I like best about Kiyomi's style is she is as unafraid to unbutton her shirt to her navel as she is to button it to the collar. It leaves a lot of room for variety when dealing with many of the same items.
One thing to keep in mind while trying to snatch Kiyomi's shirt style, is that though she isn't super busty, she also doesn't bind flat. Though her look can be adapted for a variety of gender expressions, you don't need to feel like you have to be bust-free to steal her look. Kiyomi often will go for a masculine cut shirt that low enough to show cleavage or a high cut shirt that still emphasizes her bust. People often get hung-up when they want to wear androgynous clothing but feel like can't or don't want to bind down flat enough. Kiyomi is a great example that you don't need to bind or be extra small busted to rock a very hot center-of-center style.
Now that you have you base of jeans and a shirt, it's time to really bring Kiyomi's look home with some layering. The importance of layering is clearly not lost on Kiyomi and she nearly always has an extra layer or two on top. While she has, perhaps, the largest collection of jackets I've ever seen, her two most classic looks are either a leather jacket, a vest or suspenders.
When looking for a Kiyomi-inspired leather or pleather jacket, you want something with a ton of distressed texture. Basically you're looking for a biker jacket. The great thing about textured leather jackets is that they come in a variety of price ranges. Though Kiyomi's are likely actual leather from Diesel or G-Star, you can find a great cheap pleather jacket a place like Topshop, Forever 21 or even a thrift store. Keep the studs and zippers simple enough that it doesn't seem like you're trying too hard. Remember we're trying to play it Kiyomi-cool here.
If a leather jacket is a bit more than you bargained for, Kiyomi also rocks a vest like nobody's business. While she's occasionally seen in a denim vest, she is literally the poster child for a white shirt and black suit vest. The thing to keep in mind is that you don't button the vest. Nope. Not even a little bit, not even at all. The black vest/white shirt look is all about wearing the vest fitted but unbuttoned.
For suspenders you want to go simple or not at all. Think classic black skinny suspenders over a white short sleeve button-up. While funky suspenders are fun, this look is about bringing suspenders back to their classic roots. You can buy suspenders at most department stores, or you can just make your own. Of course, life's big suspender question is on top of the boobs or to the side. Honestly I say whatever you're comfortable with. Generally speaking on top only seems to work if you've binded or you've very small-busted. Aim for a skinnier width strap so that whatever you choose this is less of an issue. For the Style Thief record, Kiyomi seems to wear them to the side.
To accessorize your Kiyomi look you're going to need some long necklaces. Kiyomi tends to wear a cross, however I'm Jewish and would basically never do that even under any circumstances. You might also have reasons you don't want to wear a cross. That's totally fine! There are tons of other long silver chain necklaces you can wear. The best part is, this is the kind of jewelry you can buy for super cheap at Forever 21 or Target.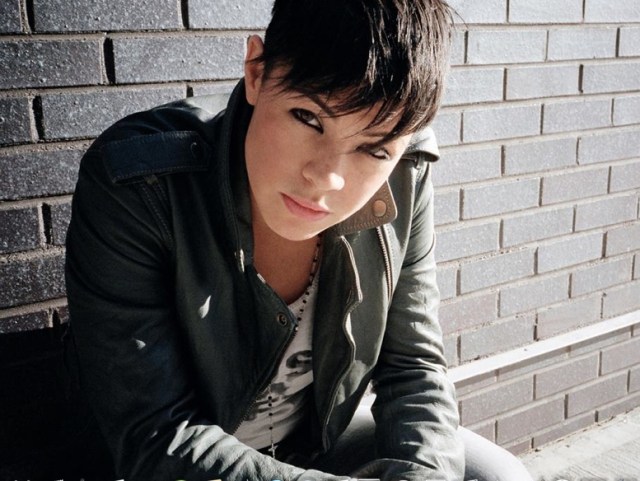 Finally, there's that hair. The reason Kiyomi's hair is so cool is that she can do so many different things with it. It looks drastically different when she spikes it up as it does when she wears it down. An easy option is to bring a picture of Kiyomi into your friendly neighborhood queer hair salon to get that short on the sides long on the top look. The hard part is getting that gravity defying volume. Luckily, this girl seems to know how to do it:

Once you have the clothes and the hair all you need is to slap on some heavy black eyeliner and you'll be telling girls "I can't be in a relationship with anybody because of my job" and then changing your mind when you meet someone hotter before you know it!
---
If there's a queer style icon you'd like to see stripped down in Style Thief, send me an ASS message, ask on my formspring, or tweet me @Ohheyitslizz