Hi crush monsters, this is Straddler On The Street, a feature where I celebrate all of you incredible Autostraddle readers by hunting you down, demanding you chat with me, and then writing about you on the Internet so we can all crush on you. Get excited, because butterflies in your stomach 24/7 is a fantastic way to live.
Header by Rory Midhani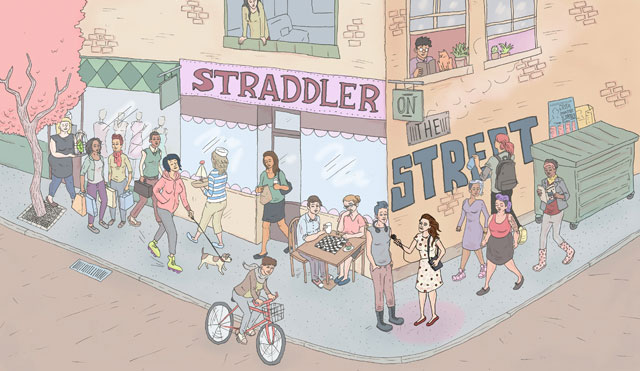 ---
Straddler On The Street: Sam, 25
Sam was born in the Bay Area, went to school in New York, has traveled a whole bunch and now lives in Chicago, which she describes as "the love of my life." She has just started her next big adventure, an ASL-English interpretation bachelor's program at Columbia College Chicago, and FYI she is interested in meeting more people from the Autostraddle community that know ASL (American Sign Language).
Working toward a career as an interpreter has been a longtime dream for Sam, but she initially put it on hold to study acting in New York. After "falling out of love with theater," she moved to Chicago and started studying the circus arts. A few serious injuries and a year of traveling later, she's finally ready to pursue this particular dream.
The Sunday before her new program began, Sam took some time to chat with me about A-camp, traveling, couch surfing and her celebrity crush, amongst other things. She's also the first Straddler to submit black and white images for this column, and they're beautiful. Everyone, say hi to Sam!
Tell me why you love Chicago!
The midwest just feels like where I should have always been. My best friends from college were all from the midwest and my entire family is from either Wisconsin or Illinois. Everyone here is so nice and Chicago is just small enough that I run into someone I know every day. I also feel like you can meet people at any time. Your barista becomes your best friend or the woman on the bus tells you her life story. Things are more relaxed here and my quality of life is so high because it is so much cheaper than either California or New York.
Do you miss anything about New York?
Sometimes I miss the purposeful pace. I always knew my schedule for the entire week. People seem to be more spontaneous here which is fun but sometimes stressful when I got used to planning things out.
You are someone who has been to both A-camps so far. What does camp mean to you?
Camp is the world I wish I lived in. I have a lot of queer friends now but I haven't always. It's been so fabulous being in a safe space where I can talk about anything and meet lots of new people. It feels like four years of therapy each time I go. Everyone is so positive and I learn so much about myself each time. I come home more positive and confident.
You've traveled a lot — can you talk about the places you've been?
After I graduated from college in 2009 I spent five months backpacking around South America with my girlfriend (at the time). We spent a month in each of the countries we visited. My favorite parts were the month we spent in the animal reserve in Bolivia. I got to work with pumas and monkeys and gigantic birds. The architecture in Brasilia is so alien-like and modern. I have one of the buildings tattoed on my leg. I'd never seen so much modern architecture in one place and I never realized how much I love architecture. Chicago has a lot of cool buildings too.
I also will always love Valparaiso, Chile. It's a beautiful town full of murals. My paper plane tattoo comes from a mural there that says "under the asphalt there are flowers that are waiting to be born" in Spanish. I didn't want text so I just got the planes.
Two summers ago I went to Israel and last winter I spent three months traveling solo in Europe. That trip was so important for me. I was scared to be alone and I relied heavily on couch surfing, which forever changed my life. Do you know about it?
I know about it but I've never done it! I was actually going to ask you to tell me about it.
It's the best thing ever ever ever. It's a website for travelers. You can find hosts, host people or just hang out with people. It's almost everywhere now. I have used it for all three purposes. People are always friendly and amazing and sometimes they become your really good friends. I have had the most epic, personal one night conversations with people thanks to couch surfing. I've helped plant trees, I've been taken on architecture tours, I've been to dinner parties. Every interaction is different but it's always magical. It reminds me of A-camp in some ways — you just get a brief, beautiful moment with people.
Have you always felt safe using it?
No, I was nervous at first but I am really careful about who I meet up with. There is a built-in reference system.
That sounds amazing. I have been hearing about it for years but have always been nervous to try it out.
Just don't take just anyone. Make sure they really want to meet you and aren't just looking for a place to crash.
What would you say is the most important thing you've learned while traveling?
I've learned that what I value in life most are the people. When I'm old, I hope I look back on all of the beautiful relationships and friendships. I think that is all that will matter in the end. I also love not having a phone for months and removing myself from technology for a while. I journal a lot and think more.
Ah, "removing myself from technology." A crazy magic trick I have yet to master. On an entirely different note — you mentioned being in the middle of the butch/femme spectrum. What does that mean for you?
I never realized how much gender issues affected me until the most recent camp. I've always felt like I was different than other girls. I definitely don't feel comfortable presenting as femme — dresses — but I also don't feel comfortable in really MOC clothes. I've been trying to create my own style that has aspects of both. I find it frustrating because I think people view me as more femme than I want to be viewed and some people view me as really boyish occasionally and that seems weird too because I hear "you are femme you are femme" a lot. I'd like to be more dapper because that seems very in the middle to me but I haven't had the money or time yet to buy clothes that work for that. Maybe if I was really lucky, people would call me a "hipster boy" or something. That'd be hot.
I secretly love when people call me a hipster even though I don't think it's supposed to be flattering.
I don't think it is either, but I love hipster men's fashion, sometimes anyway.
Do you have any celeb style icons?
Does Carly count as a celeb style icon?
OBVIOUSLY.
I love her flamboyance and she is so dapper. I don't really have a celeb style icon but I love everything on tomboyfemme. I love men's fashion on women.
Do you have any celeb crushes?
I am currently crushing on Anne Hathaway. I think she is really talented and also a total babe. And I will always have a deep love and respect for Ellen. I think her coming out directly paved the way for me to be comfortable and out. Also, when I was an actor I was grateful for her for being visible in a world that doesn't have loads of visible queer women, especially then.
Is there anything else you'd like to share with the AS community that I haven't asked you about?
Yes! This is sort of personal but I'd be interested in seeing more people talk openly about kink. It's something I've become interested in recently and I know a lot of kinksters but not a lot of queer ones. I was so excited to see Ali's article about her Christmas flogger because I think talking about [kink] makes it less taboo.
I'm so glad you liked that post! Everyone talk about kink in the comments, please. One of Autostraddle's goal for 2013 is more sex all the time, so let's get this party started ASAP.
---
If you would like to be featured as a future Straddler on the Street, please email vanessa [at] autostraddle [dot] com. Include a few photos, 3-5 sentences about yourself and put "Straddler Submission" in your subject line. Approximately a million people have submitted so far, so please be patient as Vanessa goes through her inbox — you're all sexy with really smart brains, and don't you forget it!