Hi crush monsters, this is Straddler On The Street, a feature where I celebrate all of you incredible Autostraddle readers by hunting you down, demanding you chat with me, and then writing about you on the Internet so we can all crush on you. Get excited, because butterflies in your stomach 24/7 is a fantastic way to live.
Header by Rory Midhani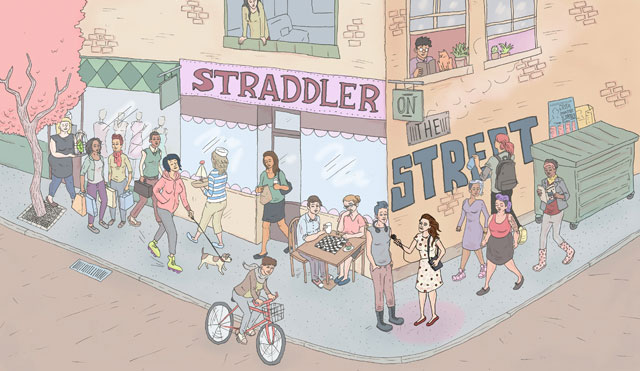 ---
Straddler On The Street: Ketzel, 16
Ketzel is our very first teenage Straddler On The Street! She emailed me a while ago and said, "I'm asking to be considered for Straddler On The Street because I want to see more teenage queers, and I'm a teenage queer, so I thought maybe I'd ask.wp_postsTalk about taking initiative! I honestly wasn't sure how to proceed (could I legally interview someone under the age of 18?) but once I got her mom's approval I decided that Ketzel was really bold and awesome and deserved an interview just as much as anybody else.
Hailing from NYC, Ketzel is a 16 year old high school junior and a self-described "feminist, hunter/jumper rider, activist, book lover, and art junkie.wp_postsShe says she's "as nerdy as they comewp_postsand she's got a crazy busy schedule but she still finds time to read one or two books a week, do lots of homework and of course read Autostraddle.
At the end of her Straddler submission email Ketzel wrote, "Thanks for being Autostraddlewp_postswhich obviously made me teary-eyed, but I'd just like to take this moment to thank Ketzel and all the other teens who read this website for being the future. Seriously, if you're all as smart, funny, sophisticated and caring as this girl is (and if you're an Autostraddle reader then I know you are!) then I feel pretty good about this world of ours.
Hi! Thanks for submitting to Straddler On The Street — I am really excited, you are our first straddler under the age of 20.
Thanks for choosing me!
Of course! So you are 16 and a junior in high school. Are you maybe kind of thinking about college?
Yeah, I go to this tiny school and I take mostly senior classes so I'm kind of floating in between grades right now. College is kind of the million dollar question, but I have no idea where I want to go. I'm starting to think about schools like Vassar, Wesleyan, Oberlin… but honestly they're more like random guesses than solidly researched schools.
That is totally valid. Are you factoring queer campus life into your decisions at all?
I'm definitely looking at schools that are either in big cities or that are well known for being LGBT+ friendly. But there are so many other things I'm looking for that I don't know how big of a factor it's going to be.
What are some of the other things you're looking for?
I want somewhere where I can continue riding horses in some capacity, a really cool art department, resources for people with learning disabilities and that has an awesome community, which right now is the most important part for me.
That sounds perfect! I'm a little bit envious — I loved college, and you're right at the very beginning of that adventure. You mentioned you do a lot of activism — will you tell me a bit about that?
Last year when SlutWalk was a big thing I got really into helping organize SlutWalkNYC which was an amazing experience. I was also one of the planners for the event after the walk and I got to lead one of the meetings, but mostly I just showed up and listened and then spoke when I thought I had something to add. Now I'm doing a lot of work inside my school and with other people my age working on making schools safer spaces.
Do you think you'd like to work on something of that size again, or do you prefer the smaller work you're doing in your school?
I would LOVE to work with [the SlutWalk organizers]… working with so many activists who were so passionate about what they were doing was one of the best experiences of my life, plus most of the organizers were queer and it was awesome to be in a queer space. I'm still in touch with some of the organizers and some of them have become close friends. But I really like doing things with my school because I get to work with parents, teachers and students and really see what opposition is where, plus its a lot lower risk and there are always people monitoring my self care. At SlutWalk I got really burned out.
Yeah, activist burn out is definitely a real thing. How did you find out about SlutWalk and decide to get involved?
I was super miserable as a freshman and felt totally isolated so right before my sophomore year I took a deep breath and told myself if I was going to be miserable I might as well do things I thought mattered. I went into the SW meeting terrified and didn't talk until someone talked to me. From there everyone was so nice that I couldn't not go.
I'm sorry you were so miserable. I hope things have gotten better.
The thing that has really made me happier is learning to schedule myself so I always have something to look forward to and making sure I have the support I need.
I don't want to sound condescending, but you should know that you are really super on top of your stuff for someone who is 16. You told me you're a feminist. Do many of your peers identify as feminists?
No, they don't. I end up tiptoeing around the word "feministwp_postsbecause they all really care about the topics I bring up but feminism gets such a bad rep. So instead of saying, "Here's this thing about feminism," I'm just like, "Here's this problem, how do we fix it, or do we even think it's a problem?" Then I get a much better reception.
Sigh, okay, so the times are not a-changing just yet. I have super similar situations with my friends — they are totally feminists! But they don't all like the word.
I know! But at the same time I totally understand where the stigma comes from. There are so many problems in the feminist community that even when you find people who are feminists they all think different things and are fighting totally different battles a lot of times in really damaging ways.
That's true, "feministwp_postscan be a slippery word. Is there any sort of queer community at your school or in your life?
I'm a member of my school's GSA but I get kind of frustrated with it sometimes. The people from SlutWalk used to be in my life all the time and I still hang out with them sometimes. Other than that I tend to attract queer people. Plus I have these two amazing mentors who are family friends who helped me through coming out and now are just my go-to people, but they live in San Francisco. And I have a girlfriend right now… so yeah, basically my life is a whole lot of queer.
That's so great. Well I think it's great… my mom teases me that I live in a queer bubble, but I really like it!
It is really nice, especially because in my other life I ride horses which is this totally conservative atmosphere where I just haven't brought up my queerness, so it's nice to come back to the city and be surrounded by a bubble.
Let's talk about horseback riding! What is it like? I want all the details, please!
I started riding when was 12 or so. It's really weird for me to transition between BarnKetzel and CityKetzel because I just have to bite my tongue on a lot of things at the barn. It's one of those things that I couldn't live without — my horse, Noah, is literally my life and I would be a totally different and much less happy person without him, and the my barn family means so much to me — but it's also really hard to live with it because it puts so much pressure on me and takes away all my free time and it's a totally different mindset from how I usually think. [You can't] break the rules or change them and being different [is not seen] as being good. Almost all my friends from riding have totally different life experiences from me and if it weren't for horses I wouldn't be able to understand anything about them. But I love it more than anything in the world so all the early mornings and the lack of parties and things like that are worth it.
What do you and your friends do for fun on the weekends?
I don't really "get" weekends because I spend all my time either at the barn, tutoring or doing my homework so my weekends aren't all that exciting. Usually I go on a date with my girlfriend or make dinner with some friends or else I'll ride Friday night to prep for a show, then my best friend comes over for dinner and a movie on Saturday night and sometimes if we're feeling ~wild~ we'll go to a local coffee shop or concert hall and listen to some music. I'm sorry my weekends are kind of boring!
That doesn't sound boring, that sounds like my typical weekend! When and how did you discover Autostraddle?
When I was a freshman my school had the most awesome librarian who was super nerdy, like me, and she became one of my best role models ever. She told me about Autostraddle and I've been obsessed ever since.
Oh my god best librarian ever! I love her! What are some misconceptions about younger humans that you'd like to clear up?
I feel like everyone is terrified to talk to teenagers because we seems awful and loud and a little dull. But if you give teenagers role models we turn out more like awesome older folks and stop being insecure and unfortunate seeming.
I'm gonna go ahead and say on record that you definitely qualify as an awesome NOT unfortunate seeming human, FYI. Finally, do you have anything else to say to the AS community?
Reach out to people you feel like you can't or don't want to understand because its more likely that they're really interesting than not.
I love that advice! It sounds like you've had incredible role models in your life thus far.
Yeah, I'm really really lucky that I was able to find people who make me a better person!
---
If you would like to be featured as a future Straddler on the Street, please email vanessa [at] autostraddle [dot] com. Include a few photos, 3-5 sentences about yourself and put "Straddler Submission" in your subject line. Approximately a million people have submitted so far, so please be patient as Vanessa goes through her inbox — you're all sexy with really smart brains, and don't you forget it!