Hi crush monsters, this is Straddler On The Street, a feature where I celebrate all of you incredible Autostraddle readers by hunting you down, demanding you chat with me, and then writing about you on the Internet so we can all crush on you. Get excited, because butterflies in your stomach 24/7 is a fantastic way to live.
Header by Rory Midhani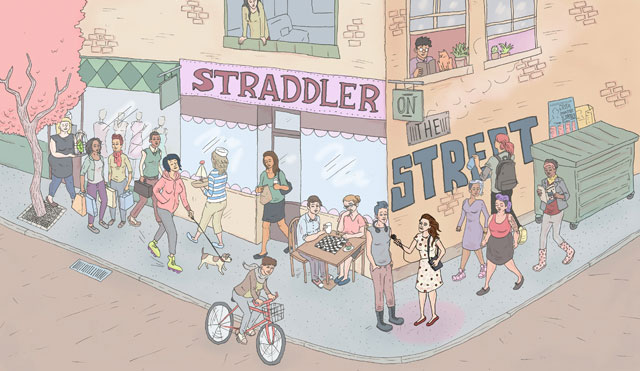 ---
Straddler On The Street: Amanda, 24
Amanda is a 24 year old student in veterinary medicine and comparative biomedical sciences at Cornell University, and she jokes that she'll be living in Ithaca forever (though she actually has some plans to move around in the future, hopefully!).
When she's not studying or working on her research project (which you should feel very excited about because it is all about CATS) she works for a ball python breeder. When I expressed surprise/terror at this prospect she explained, "I have an irrational love for reptiles."
Along with her research and her cool job she also participates in musicals and dance groups within her vet school, is an active member of the co-ed fraternity Omega Tau Sigma, a leader of Broad Spectrum Veterinary Student Association and an avid cook. In her "spare time" (what spare time?!) she crochets, bikes and binge watches TV based on Autostraddle recaps. Meet Amanda (and her rad red mustache)!
Can you talk about your studies? What brought you to where you are now?
I'm currently working on my masters in a virology lab at Cornell and in January I will go back to finish up the rest of the veterinary curriculum. I got started working in this lab during my summers off from veterinary school, and I really loved it so I kept finding things to apply to that would give me more lab time. I just really like the idea of discovering something new, especially if that thing can help cats – I study feline calicivirus.
What would you like to do in the future?
I still have no idea what I want to do when I graduate. Hopefully something that will combine veterinary work with research. I also really like exotic animals. I seem to like too many animals.
Do you have a rough idea of what you'd like to do with all your work moving forward?
I'm currently thinking that I should go get my PhD. I went to the American Society of Virology conference last month and there were so many awesome people doing really exciting work. I think I need a stronger basic science foundation if I want to continue with research. I also think pathology is really cool. So I keep finding myself coming back to that. If you want to study infectious diseases in animals it's a sensible career path. But a PhD plus a pathology residency is a commitment of about… 9 more years of training type work. It's kind of daunting to think about planning that far ahead, but it's necessary if I'm thinking about my career.
Woah, that's definitely daunting, but also really cool that you're so certain about what you want to do!
I'm glad you feel certain. I don't feel certain most of the time.
Well you sound more certain than I feel about all aspects of my life! Since you study cats, I should ask: Do you have cats? Did you grow up with cats?
Yes and yes! I currently have one cat named Scherbatsky (goes by Scherbie for short). I grew up with two cats in an apartment in Queens. I'm an only child so I basically required them to entertain me. I'm a crazy cat lady.
I think you will find your people here at Autostraddle! You also work with reptiles. Do you have a favorite reptile? Is that a silly question?
Haha, well I have a favorite genus. Varanus. It includes all the monitor lizards, including the komodo dragon. I volunteered at the Bronx Zoo reptile house one summer and my favorite animals to take care of were the monitor lizards. They're so quick and curious. They have one monitor that was a surrendered pet. I think she was a Savannah monitor. You could pet her and feed her. She was very well socialized. Someday when I have a house with lots of space I hope to have a few green tree monitors.
Cool! Where do you hope to live one day?
I really want to live in California. Two of my best friends from high school moved out there and I miss them a ton. I've also become open to the idea of living somewhere in the South. If I did a residency or a PhD at a university with a big college town, I think I would survive. I also love the food! California also has wonderful things like the San Diego Zoo and Wild Animal Park. But, I'm really open to moving anywhere. My family is basically what keeps me in New York. [Me] going to college a five hour drive away was almost too much for my mom.
Aw, I totally get that. My parents are South African and the concept of moving far away from family is not one they really understand.
Yeah, my mom was born in El Salvador and basically her entire family is either back near San Salvador or in Queens.
Got it. So you mentioned that you perform in musicals. Confession: I am a huge musical theater junkie. Please talk to me about this.
Cornell's veterinary college has a performance group called the Veterinary Players. It basically pulled out all the music nerds in the vet school, and I was super excited to have a musical outlet. We put on I Love You, You're Perfect, Now Change this past spring. I'd never heard of the show, but it was so funny and a little provocative for the vet school. It was a fun choice. The audience loved it!
I love that show!
We had a big cast so I was in a handful of scenes… The director gave me "Shouldn't I Be Less In Love With You" and turned it into an old lesbian couple. I was thrilled. Our director was great. Her issue with the show was that it was so heteronormative so once she heard me sing – I'm like an alto 2 – she gave me that song.
That's amazing. Is Ithaca a super queer friendly place in general?
It's very queer friendly. There's not really a gay bar, but there's a queer dance party held every month at Silky Jones. I wish there was a gay bar. There's one bar, Felicia's Atomic Lounge, and it's basically a lesbian bar, depending on when you go. I think most of the bars in Ithaca are very gay friendly. My favorite place to go on dates is Bandwagon Brew Pub. They have amazing fries and beer flights.
YUM. I just discovered beer flights – I am very late to the party – and I'm so into them.
I go to weekly beer tastings. Vet school has taught me to appreciate good beer, mostly because I hang out with people who like good beer.
Perfect. So you work with a ball python breeder. Can we talk about that? Like I said, I'm not great with animals, so I read that in your email submission and my jaw dropped.
It's mostly animal husbandry and handling. When animals get sick we medicate them at our facility. I'm one of two vet students who work there, but everyone's really experienced at giving snakes injections now. The breeding part is my favorite. It makes genetics fun to actually think about the odds of getting certain color combinations. People go crazy for their ball python color morphs. Some of our animals are worth over $1000. You should check out some pictures. There are some gorgeous snakes out there. I totally want one someday.
Oh, they're beautiful, but I definitely do not want one someday.
It's not all great. Sometimes I worry about breeding exotic species. Generally our animals go to other breeders looking to expand or diversify their collections. But I always worry about people not taking care of exotic species correctly. The snakes have so much personality and you can totally socialize them to frequent handling so they're not bite-y.
I once held a snake and I felt like I was so brave.
Ball pythons are a nice reasonably sized snake with a generally docile personality. My boss has other constrictors that we don't breed. We just take care of them and make sure they're healthy. Some of the species are 7, 10, 11 feet long. I only handle the bigger ones if I have a co-worker there. I've been bitten quite a few times, but snake bites aren't as bad as cat bites. I love bringing people to the snake house! Especially people I date. If you're not excited about being around that many snakes… that's definitely a minus in my book.
HAHA, oh my gosh. I think you sound very brave.
It's really not that scary. I promise.
Hmmm. Well anyway. What are some of your favorite things to cook?
I cook a lot of vegetarian dishes and a lot of Mexican and Central American type food. I love cheese and avocados and black beans and rice… I love making enchiladas.
Delicious! What are some of your favorite books?
Interview with a Vampire is definitely up there. I love Anne Rice. My favorite book is Geek Love. I read it for a freshman writing seminar examining bodies in popular culture. It's about a family of circus freaks. I've been meaning to reread it and see if I still love it as much as I did in college.
Favorite movie?
My favorite movie is The Fifth Element. Strong female plus sci-fi plus romance? Done! I also really love Across the Universe. Evan Rachel Wood bisexual is so talented.
I love her. Though I actually didn't love Across the Universe – I always joke that the trailer for Across the Universe is my favorite film, but I thought the execution wasn't the best.
True. But I love the music so much!
Oh absolutely! Do you have any favorite styles or brand names or clothing items?
Most of my clothes come from Old Navy or the Gap. I actually saw my friend's boyfriend wearing a button down that I own (and almost wore that night). I really like when the guys in my fraternity compliment my outfits at formal events. That's my favorite feeling. I like to think that I look better in a blazer than most of them.
I'm 100% sure that you do look better in a blazer than all of them. Can you tell me a bit about your fraternity?
Yes! It's a co-ed professional veterinary fraternity. It's open to anyone within the vet school willing to join and pay dues. It's my social outlet. Basically all of my close friends in vet school are in Omega Tau Sigma.
That's so cool! Is it frustrating to deal with assumptions about Greek life, or does that not really happen?
A little frustrating. I think the people not in OTS assume we're just a drinking club. And yes, we do drink together, but sometimes that means we sit around and drink wine and talk about our summers. We also do philanthropy for our local animal shelter, and raise funds the Patient Assistance Fund (funds treatment for animals whose owners can't afford expensive hospital bills). It's OTS members that I go to beer tasting with. We do a lot of fun stuff and I think that's reason enough to join. School is so stressful. It's nice to have organized fun that you didn't have to plan.
Absolutely. Do you have any celeb crushes?
Evan Rachel Wood. I also really love Hannah Hart. I'm both really happy for her and sad for me that she is dating someone. She is a hilarious lady.
I had really similar HH feelings! How did you discover Autostraddle?
My friend Sonia! She was at this past A-Camp. [We] met a vet student conference where we talked about LGBT clubs at vet schools and she told me I should be reading the site. I now introduce it to every girl I date/hook up with.
Awww, thank you for the PR! It's a very good test – if someone doesn't like Autostraddle, obviously you can't date them.
Right. Clearly they have poor taste.
Exactly! And now my last question: Do you have anything else you'd like to share with the Autostraddle community?
Broad Spectrum Veterinary Student Association! You can find us on Facebook or on our blog.
This is how I met Sonia! BSVSA is working to create a larger LGBT for veterinary students at different veterinary colleges. We had our second annual meeting this year, mostly attended by officers of LGBT clubs at different veterinary schools. We want to empower students to create active clubs at their school and build support from the colleges.
On our blog we update about events that we've had and opportunities that our student leaders have taken advantage of. There are also interviews with out veterinarians working in diverse areas of veterinary medicine. So if [any readers are] pre-vet or in vet school, I think it's a good resource. We've heard from incoming first years worried about being out in veterinary school. Students are really excited when they find out their school already has an LGBT club or an LGBT friendly school contact.
So cool! Thanks for sharing that – hopefully some of veterinary-inclined Straddlers will join BSVSA in the future!
---
If you would like to be featured as a future Straddler on the Street, please email vanessa [at] autostraddle [dot] com. Include a few photos, 3-5 sentences about yourself and put "Straddler Submission" in your subject line. Approximately a million people have submitted so far, so please be patient as Vanessa goes through her inbox — you're all sexy with really smart brains, and don't you forget it!