Welcome to another week with more Boobs on Your Tube! Wynonna Earp is BACK for what might be it's final (sob!) season and it came out the gates swinging, convincing Valerie that love might not be a lie, after all! On RuPaul's Drag Race, it was time for the infamous Snatch Game and Drew breaks down all the winners and losers in the show's grand make-or-break tradition! Kayla is over the moon about Riverdale's decision to turn Toni and Cheryl into frenemy exes. Kayla also reviewed Netflix's new movie Moxie, and found it missing the feminist revolution it proclaims to be fighting for. On Good Trouble, the mamas returned to remind you it's not where you come from — it's where you belong (more sobbing!).
In our biggest television news, Autostraddle's March Madness IS BACK!! And Natalie has cooked up something exceptional for you all! The official bracket announcement is landing on Monday, but if you're an A+ member you can vote some fan favorites into the tournament as a part of our Selection Committee. Seriously it's so good! Are you not an A+ member? For $4 a month, it's never been a better time to become one.
Notes from the TV Team: 
+ Black Lightning gave Anissa and Grace another storyline about a couple's fight they probably should have had years ago, before they got married — this time about the emotional walls that Anissa puts up to keep her now-wife out of her life. The spat ends with Grace being welcomed into Gambi's lair, just in time to meet the actress swap on the new Jennifer Pierce (we'll miss you China McClain!) — Carmen
+ 9-1-1's midseason finale brought some unexpected angst for Hen and Karen. After fostering Nia for a year, the couple expected the social worker to get the ball rolling on adoption but instead she came with news: Nia's birth mother is ready to start the reunification process. — Natalie
---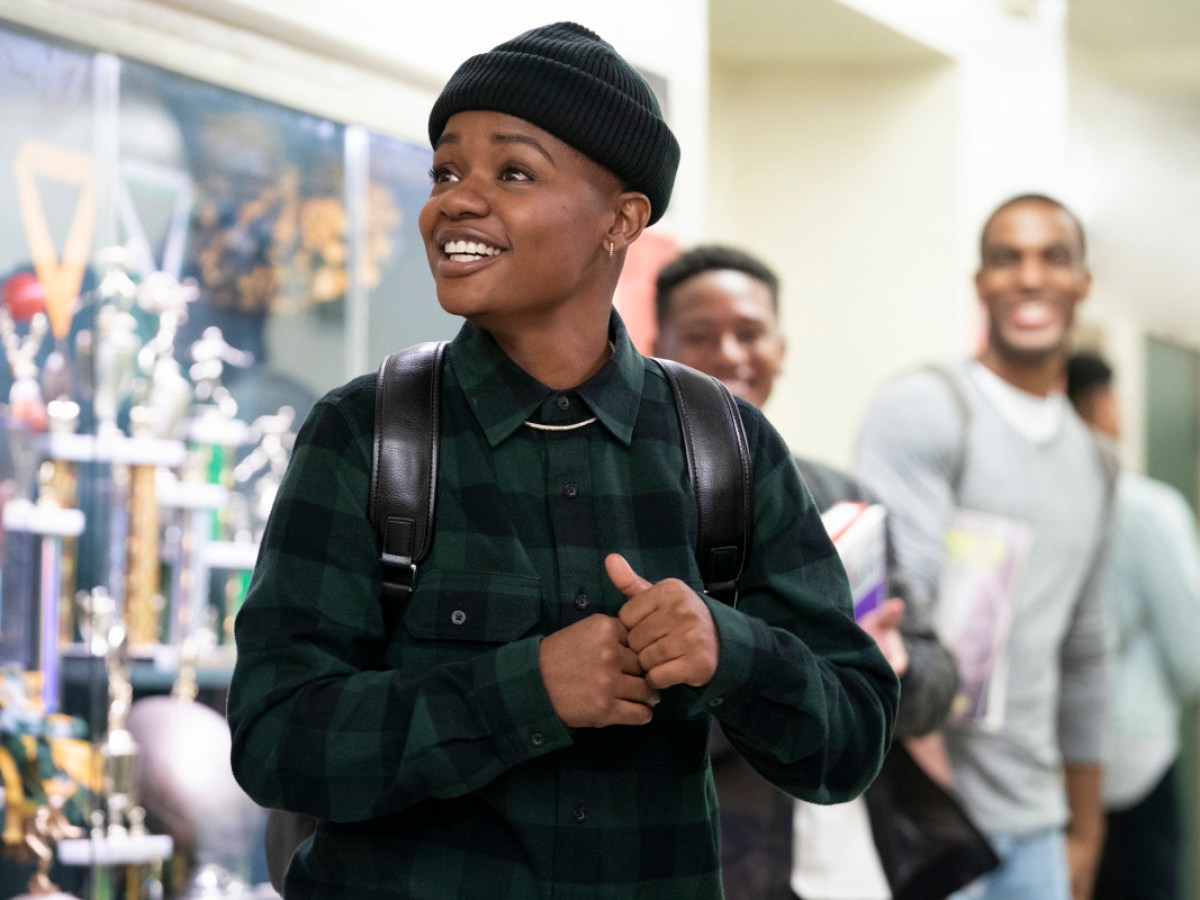 When All American picks up this week, Patience is gone…as expected, having accepted Lil' Jewel's offer to join her on the road. We don't get to see Coop and Patience have a conversation about it…or see Patience waver between going and staying to support Coop as she grieves the loss of her friendship with Spencer….she's just gone.
Moments like these frustrate me. Can you even fathom one of Spencer's love interests just leaving without them having so much as a conversation about it on-screen? Of course you can't — when Layla left for rehab in Season 2, it was a whole thing — because TV writers don't take straight relationships for granted the way they do gay relationships. All American used to be better than this.
At any rate, wherever she is, Patience is thriving and Coop's trying to level up to match her girlfriend's success. Coop's hoping that her upcoming meeting with DJ Relish will help but with a math test coming up, she's got more pressing concerns. Much to her surprise, Coop is announced as a finalist for Ms. South Crenshaw — the school's version of a Homecoming queen — but to her dismay, Spencer joins her on the court, as a finalist for Mr. South Crenshaw. The looks they throw at each other vacillate between anger and heartbreak.
Later when Coop meets with Layla, her manager lets her know that she cancelled the meeting with DJ Relish so that she could focus on her studies. Coop's worried that Relish will find another artist to promote before his big tour but Layla assures her that the meeting can wait; besides, she's got school to focus on and a campaign for Ms. South Crenshaw to run.
And, for a while, that works: Coop creates and distributes flyers promoting her campaign but the pain of seeing Spencer at school every day is wearing on her. After updating her on the background information he'd uncovered about Mo, Preach advises Coop, "Don't put your life on hold for nobody, as hard as it is…you got to do you, and don't nobody else know what that look like but you."
She takes his advice to heart ⁠— abruptly quitting school during her Ms. South Crenshaw nomination video ⁠— and is determined not to let anything hold her back again.
---
S.W.A.T. 411: "Positive Thinking"
Everytime I think S.W.A.T.'s on the verge of giving me a meaty storyline that'll address Chris' grief from the loss of Erika, the show lets me down. This week, S.W.A.T. sticks Chris' story beneath a story about a 15-year-old cold case and Hondo's ongoing beef with Darryl's father, Leroy…which doesn't leave enough time to really dig deep into what Chris is going through.
Still, we're getting to slowly watch Chris' grief and guilt drive her to new lows. While out at a bar, a patron grabs her and Chris strikes back. She's asked to leave by the manager but because she's had too much to drink, he won't had over her keys. She's forced to call Tan for help and greets him with a black eye. He's surprised that Chris didn't call Street but she's sober enough to know what a bad idea that'd be. Tan surveys Chris' apartment ⁠and admits he's worried about her. Chris assures him that she's okay but Tan recommends that she take the day off and promises to stop by after his shift so they can talk. As he's making his way out, Chris asks him not to tell anyone else what happened.
Unsurprisingly, Chris is at HQ when Tan arrives the next day. When Street asks about her shiner, Chris makes up a story about a blender that fell and Tan doesn't bother to correct her. Tan doesn't buy Chris' assurances about being okay because when they're partnered in the field, he doubts if she can have his back. When they confront each other later in the locker-room, Tan admits he's worried that she was operating at half-speed. Chris wonders Tan's doubts are due to what happened earlier or if he holds her responsible for what happened to Erika. He quickly tries to disavow her of that notion.
"Chris, you know what happened to Erika wasn't your fault, right?" Tan asks. "What happened to Erika could have happened to any one of us and it's no one's fault that she died but the person who pulled that trigger."
He urges her deal with her grief because he's seen first hand how it can eat people up. He recalls his father's death and how he couldn't really start recovering until truly mourned the loss. He found solace in surfing and volunteers to help Chris find hers in the boxing ring. Chris accepts and it feels like she's finally turned a corner: she successfully shoots out the tires of two drug dealers, trying to escape during a raid, she trains with Tan and when she gets home, she dumps all the alcohol she has in the house in the trash.
But a few seconds later, she fishes a bottle out of the trash and washes her grief and guilt down with some vodka.
---
Nancy Drew 207: "The Legend of the Murder Hotel"
One thing I love about this reimagining of Nancy Drew is that while sometimes a ghost is a ghost and the supernatural element is a real threat to their lives at any given moment, it sticks true to the original books in that sometimes a ghost is just a secret door and a hoax. I also love that now that their Aglaeca problem isn't their biggest concern, that they're starting to take on PI cases. This week's case was a girl who was being lightly hazed by her college volleyball team and disappeared while locked into a seemingly inescapable haunted hotel room. The Drew Crew eventually figures out that this disappearance is not ghost related, but quarter life crisis related, and Nancy can relate. My favorite serious line from the episode was, "Maybe you're not who you thought you should be, but who you are is pretty badass."
My favorite less-serious line in the episode was Bess very earnestly saying, "You did an exorcism without me?" because George finally (finally!) came clean to Bess and Nancy about the fact that she's been hosting the lesbian ghost of Odette LaMar for WEEKS. She tells them about how when Odette is driving she doesn't remember anything, but it's thus far unclear what exactly Odette wants. She's still a gay human in there somewhere because she comes forward when Nancy threatens to burn the last lesbian love letter she wrote but who knows what it will take for Odette to leave George alone.
---
Legacies 306: "To Whom It May Concern"
Legacies continues to devalue Hope, the only tribrid in existence, literally a first-ever, one-of-a-kind combination witch/vampire/werewolf, and have her spend her days pining over a very boring boy who isn't even a phoenix anymore. On one hand, I understand why Hope would be a little off suffering more loss, sbut on the other hand, LANDON ISN'T DEAD. And they have already shown us this so it's frustrating. If the stakes were real, if I really thought Landon was on death's door, I would buy into Hope's pain, and Danielle Rose Russel is doing a fantastic job, I just miss the leader of the Super Squad we know and love. At least this week, Hope got some fun moments with Lizzie as they convinced two new girls to apply to the Salvatore School, Cleo and Gaby, thus saving the future of the entire establishment. (Technically Wade saved the day because he plays D&D with Gaby so basically she's in the running for my new favorite character. Also, Gaby knows Penelope Park, who told her that Josie was the best part of this school, which isn't wrong.)
Speaking of, it's Josie's first day at her new regular human high school and her new gal pal Finch is waiting for her when she gets there, locker decorated and everything. Starting a new school with a flirtationship with a cute girl is literally winning high school, so congrats Josie. They are cute and flirty and Josie has a brief moment of guilt when she realizes halfway through the day that she was having a great day without even thinking about Lizzie until she read a note from her, but Finch talks her down and tells her that she understands what it's like to feel guilty for getting out of a situation that wasn't good for you, to feel like you don't deserve happiness, but that she'll learn how to let go and embrace the joy eventually.
---
Station 19 406: "Train in Vain"and Grey's Anatomy 1707: "No Time for Despair"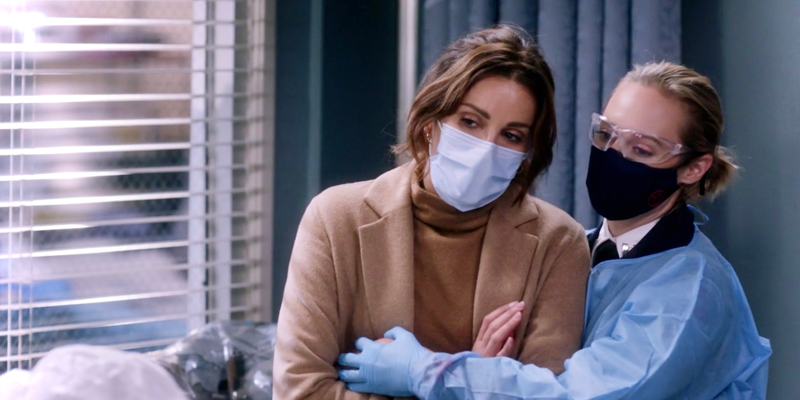 This week's Station 19 picks up where Grey's Anatomy left off in December's midseason finale (they are truly just expecting the audience to watch both shows as a weekly two-hour commitment, and while I am a bonafide Shondaland addict and this causes me no problems, I do wonder how the strategy works for the average causal viewer? Anyway!) Andrew Deluca and his sister Carina (our love) are in pursuit of a child trafficker who Andrew first clocked last season, but that plot got put on hold due to the Coronavirus, and has since been brought back full circle.
While they are in this super ill-advised chase, the rest of the station is still reeling from their altercation with the racist cops in the show's very powerful December episode. Maya, in particular, is weighing the ways that her role as "the first woman captain" meant that she play by certain rules of white privilege, and how that had devastating effects for the Black members of her team — the kind of introspection I'd love to see more white women partake in on screen, and off, to be honest. Part of what she decides from this reflective period is that she's willing to break the rules to do what's right and stand up for the young Black girls who were being trafficked, so she — along with Ben Warren and other firefighters — follow Carina and Andrew.
Meanwhile, the Deluca siblings get to spend some real time together on screen, I think honestly with a kind of vulnerability together we haven't seen before from either of them! And while I loved every moment of it — finding out that it was Carina's idea to send Andrew away to America when they were younger, watching her sing the same lullaby to him that they did as children, of course the story about the two siblings SHARING SKATES when their father's mental illness meant there wasn't enough money for two (cue major tears for that one!) — all those details definitely started to put together for me that these episodes were going to be Andrew Deluca's last.
And so yes, Andrew Deluca gets stabbed while pursuing the child trafficker (don't worry, she ends up arrested). And yes, Carina and Maya go with him to Seattle Grace in the back of Maya's ambulance. And Maya holds Carina back while she cries to Owen to please save her brother. Maya sits with her in the hospital chapel while Carina shakily lights candles. It is all, honestly, some truly gorgeous acting by Stefania Spampinato. We make a lot of jokes about how hot (and horny!) Dr. Orgasm is, but after four years in the combined Shonda Universe, she is finally getting to show off her chops in a major way. And it is so, so worth it.
I won't speak ill of the dead, even the fictional kind. I wasn't Andrew Deluca's biggest fan. I am a huge fan of his older sister. And I look forward to seeing what Spampinato does with Carina's grief in the weeks to come, now that she's finally getting her rightful moment center stage.
---
Support Independent Queer Media
We're raising funds to make it through the end of July. 99% of the people who read this site don't support. Will you be one of the ones who do? Joining A+ is one of the best ways to support Autostraddle — plus you get access to bonus content while keeping the site 99% free for everyone. Will you join today?