New Kid on the Block
+ As you have likely heard by now, Obama has revealed his pick for the next Supreme Court justice: Merrick Brian Garland, who graduated from Harvard Law and has spent 19 years at the DC Circuit Court. He's also pretty old — 63 — for a justice being added to the bench, which means, to put it delicately, his tenure there likely won't last as long as some other justices'. He's not as progressive as many progressives were hoping, and is in fact sort of a Republican fan favorite — now-infamously, Republican Utah senator said just a few days ago that Obama "could easily name Merrick Garland, who is a fine man," but complained that he'd probably choose a liberal instead. Sike! Of course, even though Republicans should be falling all over themselves to confirm Garland based on their own beliefs, they're still mostly saying they're going to block this nomination for pretty specious reasons. In the meantime, we have some time to figure out what this guy's deal is.

From ThinkProgress: who is Merrick Garland?
Garland's record does not suggest that he would join the Court's right flank if confirmed to the Supreme Court. He would likely vote much more often than not with the Supreme Court's liberals, while occasionally casting a heterodox vote. Nevertheless, as Goldstein wrote in 2010 when Garland was under consideration to replace the retiring liberal Justice John Paul Stevens, "to the extent that the President's goal is to select a nominee who will articulate a broad progressive vision for the law, Judge Garland would be a very unlikely candidate to take up that role."
NPR describes him as collegiate and kinda liberal:
Garland also has been a persuasive voice for liberals, managing to bring conservatives over to his side on issues ranging from the environment to national security. For example, in a case involving Chinese Uighurs detained at Guantanamo Bay, Cuba, Garland asked the Justice Department for the particulars of its evidence and then wrote an opinion for himself and two conservative judges that concluded that the Bush administration's claim that they were enemy combatants was utterly unsupported by the evidence.
Vox points out that Garland has a conservative "tough on crime" side:
It's of course hard to predict how Garland would rule in future cases. But his "track record shows a substantial sympathy for the government in criminal cases. He rarely votes to overturn a criminal conviction," Goldstein told me. "That 2010 post tells the story: He goes opposite of his more liberal colleagues 10 times, but never goes opposite in the other direction of being more favorably inclined to the defendant."
The NYT has a pretty solid profile as well.
Election Shmelection
+ This past Tuesday saw more voting and more primaries! Clinton took Florida, North Carolina, Ohio and Illinois; Trump won Florida, which was very embarrassing for Rubio, but Kasich took Ohio — on the surface this isn't remarkable since Ohio is Kasich's home state, but it does keep 66 delegates away from Trump, which counts for something. Missouri was a tie for Hillary and Bernie, which I can't remember ever seeing before although I'm sure it's happened. Most people are saying that this latest round of primaries is the death knell for Bernie, and that he just won't be able to have the number of delegates he'd need to get the nomination. Confusingly, I have seen the Republican primary results interpreted both to mean that Trump is now more likely to be the nominee AND that it's now more likely than it was previously to be a contested convention, so you know what, who knows. By the way, if the rising number of states and votes and delegates is getting hard to follow for you, too, I think the NYT's organization of it is easiest to follow.
+ Florida governor Rick Scott has endorsed Donald Trump, although even his endorsement sounds very resigned: "With his victories yesterday, I believe it is now time for Republicans to accept and respect the will of the voters and coalesce behind Donald Trump."
+ Marco Rubio has suspended his campaign, and is now free to go back to not really doing anything as a Senator.
+ In Ohio, a poll worker was threatened by another poll worker carrying a gun. The attempted shooter, Alan Bethea, threatened her while there were 50 people in the building casting votes, including children.
+ Florida is in the news for Trump's primary victory over Rubio, but there's more news than just the results. Many voters were uninformed and confused about their voting rights, not to mention a bomb threat and malfunctioning poll books. Florida is also one of only three states where felons are not legally allowed to vote even after their sentence is over.
+ Ben Carson seems to have said that he's endorsed Trump because he's been promised a role in his administration, which I did not realize until reading this article is actually in violation of federal law! The more you know.
+ Yet another news story about Trump supporters attacking marginalized people who don't support Trump! It's almost like there's some sort of larger force at work here? One Muslim and one Hispanic student were assaulted by a white man "using racist language toward a black man."
"Then suddenly it turned onto us, calling us 'brown trash, go home. Trump will win,' wp_postsUsama told the Wichita Eagle. "You want to live in this country, you better leave.wp_postsUsama said his friend responded with defiance. "This is my country; who are you to tell me that?wp_postsThe situation escalated, and despite Usama's best efforts to make peace, the confrontation turned physical as the man punched Usama's friend and took him to the ground. Usama tried to get in between the man and his friend but was punched, then backed away because he thought the man might be reaching for a weapon. "He kept kicking the student who was laying on the ground,wp_postsUsama said. "He was kicking him; it was a gut-wrenching scene. He saw that I was calling the police and got back on his motorcycle and circled around us and was saying 'Trump, Trump, Trump, we will make America great again. You losers will be thrown out of the wall.'"
+ Samaria Rice, the mother of Tamir Rice, has written an essay on Medium about why she hasn't endorsed any candidate for President.
While I've continued to push my state's officials towards real changes, several Presidential candidates have said my son's name in their mouth, using his death as an example of what shouldn't happen in America. Twelve year old children should never be murdered for playing in a park. But not a single politician: local, state or federal, has taken action to make sure it doesn't happen again.
+ Jezebel did an analysis of the employment practices of the various presidential campaigns wrt gender Unsurprisingly, both the Dem candidates generally score better on this than the Republicans.
Police/Prison/Violence
+ Guillermo Hernandez has been detained in the Imperial Regional Detention Facility for two months — and he just married his husband there.
+ After votes in Ohio and Illinois on Tuesday, the two reviled prosecutors of the Laquan McDonald and Tamir Rice cases respectively are out of office. Anita Alvarez of Illinois, who's been despised for delaying, putting off, and failing to effectively prosecute cases where police officers have killed civilians, has been replaced with Kim Foxx. Prosecutor McGinty, who advised a grand jury not to indict the officers who killed Tamir Rice despite video showing them opening fire two seconds after appearing on the scene, has been voted out and replaced with Democrat Michael O'Malley.
+ Jane Sanders, a social worker and also wife of a Dem presidential candidate, visited the notorious "tent city" prison of Arizona's Joe Arpaio. As one would expect, it was horrifying.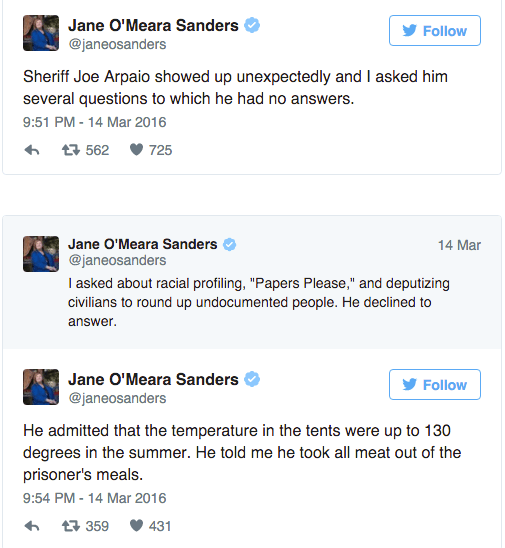 + You may recall Owen Labrie, the prep school student who was convicted of sexually assaulting a 15-year-old student at his school. A reporter who covered his case ran into him on a train recently, and tweeted the conversation she had with him. Aside from her own account that interacting with him was disturbing, calling him "pathological," her tweets may end up landing him in jail — Labrie's bail includes a number of restrictions, like being inside his home by a 5 pm curfew, and the fact that he was on the train to visit his girlfriend in Boston suggests he has not been obeying those restrictions.
+ At the William C. Holman Correctional Facility in Alabama, prisoners are organizing for their rights. A number of uprisings are linked to a series of demands.
1. We inmates, at Holman Prison, ask for immediate federal assistance.
2. We ask that the Alabama government release all inmates who have spent excessive time in Holman Prison — due to the conditions of the prison and the overcrowding of these prisons in Alabama.
3. We ask that the 446 laws [Habitual Felony Offender laws] that Alabama holds as of 1975 be abolished.
4. We ask that parole board release all inmates who fit the criteria to be back in society with their families.
5. We ask that these prisons in Alabama implement proper classes that will prepare inmates to be released back into society with 21st century information that will prepare inmates to open and own their own businesses instead of making them having to beg for a job.
6. We also ask for monetary damages for mental pain and physical abuse that inmates have already suffered.
The Holman facility has previously been the subject of numerous investigations which have found medical neglect, indefinite solitary confinement of mentally ill prisoners, overcrowding, poor sanitation, untreated Hepatitis C, and more.
+ Previously, leaders in Ferguson had refused to comply with an agreement offered by the DOJ that would require them to perform their policing practices, which led to the DOJ filing a lawsuit. Now, Ferguson has unanimously agreed to accept the DOJ's offer. The civil rights division of the Justice Department had told Ferguson that it "overestimated the costs" of implementing the proposed changes, and that they would drop the lawsuit if they complied. Michael Brown's father, Michael Brown Sr, said "This is Mike Brown's legacy."
Legalizing Anti-LGBT Discrimination
+ The dangerous Tennessee bill designed to require students to use the bathroom associated with the gender they were assigned at birth seems to be gaining momentum, passing unanimously in the Education, Administration and Planning Subcommittee.
+ Kentucky wants to join the club when it comes to laws that allow discrimination; it's advancing legislation that articulates "protected rights" and "protected activities" that symbolize even greater rights to religious convictions than Americans already have, allowing people to refuse to serve anyone else if it would "violate their conscience."
+ In Winchester, Tennessee, resistance is still strong to high school gay-straight alliances; the school is considering an option it feels like we saw a lot of in 2011/2012: restricting all student organizations as a pretext for avoiding having a GSA, or rationalizing their refusing to have one.
+ Democrats in Missouri filibustered for 39 hours to try to stop a bill that would have okayed anti-LGBT discrimination in the name of religion, only to see the bill pass. But now Governor Nixon is speaking out against the bill, although seemingly mostly just because he's frustrated it meant people weren't paying attention to stuff he personally cares about more.
Nixon believes that spending nearly all of last week on the divisive issue has distracted from the other goals he hoped the legislature would address before it adjourns on May 13. "It just shortens that field again and takes away the focus of what they said are their priorities this year. I just want to reorient folks here as to what we need to get accomplished."
Nixon doesn't ultimately have any say in whether this bill becomes law, but it is perhaps a helpful thing that the governor is publicly opposing a Republican-led effort to pass it.
Protests and Protestors
+ Feministing has been doing a great job covering the Indian Student Movement, and right now they have a piece on its similarities with resistance to right-wing fascism in the US.
+ The tactic of civil disobedience that calls for engaging in illegal activities knowing that you'll be arrested in order to protest unjust laws is basically as old as America — which, you may recall, became a country after activists planned a series of illegal direct actions, like throwing tea into the ocean. Now a Minnesota lawmaker would like to discourage protesters from not dispersing when an officer tells them to and thereby being arrested, as is common practice during protests, by making protestors civilly liable for law enforcement costs in that case. In simpler terms, if you're protesting the killing of unarmed civilians by police officers and are arrested by a police officer in doing so, you won't just have to pay bail, you'll also have to pay for the police officer arresting you (even more than you already do through your taxes!). This might sound unconstitutional to you, and the ACLU agrees.
"What's to say you don't simply deny protest permits?wp_postsSamuelson told ThinkProgress. "So if your city doesn't like Black Lives Matter — doesn't want 'those people' protesting — then you just deny them the right to protest, arrest them, charge them with illegal demonstration, and go after the individuals and the groups… driving those groups out of the public sphere is wrong and it's unconstitutional."
+ In some extremely gross rhetoric responding to the organized walkout of thousands of Boston public school students protesting enormous budget cuts to their education, Boston's politicians and administration have suggested students are just confused. It's been argued that students have been "misled" by teachers and aren't acting on their own behalf, and Mayor Walsh has said "I'd love to see who's behind the walkout," apparently refusing to believe that the movement is student-led and organized.
"I find that sometimes people who push for corporate education reform state that when youth protest against standardized testing or budget cuts, there must be a union or another organization instructing their every move. It's condescending,wp_posts[Nikhil Goyal, the author of Schools on Trial: How Freedom and Creativity Can Fix Our Educational Malpractice] said. "In recent years, young people, on their own, have organized, lobbied, and engaged in direct resistance against tuition fees and hikes, high-stakes testing, school closures, deportation policies, police brutality, and war. Adults need to trust and take the concerns of young people seriously."
Grab Bag
+ Today Michigan governor Rick Snyder is testifying at a hearing before the U.S. House Committee on Oversight and Government Reform regarding the Flint water crisis, and so far it seems like he is committed to lying like a rug. You can watch live here.
+ LA has become the first city in the US to have a permanent council of trans community leaders to advise the city. Council members include Karina Samala, Diana Feliz Oliva, Jaden Fields, James Wen, Jazzmun Crayton, Justine Gonzalez, Talia Bettcher, Terri Jay, and Zoey Luna.
+ Tyler Dunnington, drafted to the Cardinals in 2014, shares his story about how homophobia led him to quit professional baseball.
+ This is a news story that I think I should probably be upset about because of what it shows about the state of knowledge and critical thinking in our legislative body, but to be honest it mostly fills me with glee! The House Rules committee wants to make it easier for magicians to apply for grants because they love magic and think magic is important and great. This story is largely being reported as "Republicans think magic is real," which unfortunately I don't actually see any evidence of in the documents because I would LOVE that, but the documents are still amazing. Please, do yourself the favor of clicking through and reading.
Whereas there is not an effective national effort to support and preserve magic;
Whereas documentation and archival support required by such a great art form has yet to be systematically applied to the field of magic; and
Whereas it is in the best interest of the national welfare to preserve and celebrate the unique art form of magic: Now, therefore, be it
Resolved, That the House of Representatives—
(1) recognizes magic as a rare and valuable art form and national treasure; and
(2) supports efforts to make certain that magic is preserved, understood, and promulgated.
+ Siri and other voice-activated AIs are programmed to help you with a lot of things, like getting emergency medical care or driving directions, with minimal prompting — but it seems like no one has programmed them with how to deal with sexual assault.
+ In a study of LGBT people in physics, up to one third reported they had considered leaving their school or work in the past year as well as reporting high levels of harassment and discrimination.
+ Currently, Georgia is one of the only states in the US that still has a lifetime ban on access to food stamps for felons — but it may be changing that policy, and Nebraska isn't far behind.
+ Three Democrats are pushing the Wage Theft Prevention and Wage Recovery Act, proposed federal legislation that would aim to reduce wage theft by disincentivizing employers from "refusing to pay at least the minimum wage, denying overtime pay, making people work off the clock, stealing tips, or illegally misclassifying them."
+ At Centennial High School, the assistant football coach told black players he would "hang them from a tree by their toes if they didn't listen to him."
+ The "People's Budget," unveiled by progressives in Congress, looks very different than the House majority's plan.
The "People's Budgetwp_postsincludes $1 trillion towards infrastructure, including $765 million for Flint, Michigan and billions in water line improvements. It also takes a huge step forward on climate change, introducing a carbon tax, closing tax loopholes and ending subsidies for oil, gas, and coal companies, and investing in renewable energy and the electric grid. "It's a serious budget for renewable energy, and it's a serious budget for keeping fossil fuels in the ground,wp_postssaid Lukas Ross, a campaigner for Friends of the Earth, which, along with 15 other environmental and environmental justice groups, sent a letter Tuesday to the House supporting the budget.
+ Although the US federal government is still not really making any moves as far as paid sick leave goes, many local governments in the US are, like Plainfield, New Jersey.
+ Derrick Gordon, an out gay NCAA basketball player, will be the first out player to take to the court in an NCAA tournament game — although it's actually his third time in the tournament, with Western Kentucky in 2012 and UMass in 2014. Are there more contours to this story that I'm missing? Explain March Madness to me!
+ Jesus H Christ! A family "friend" poured boiling water on this Atlanta gay couple as they slept.
"The pain doesn't let you sleep. It's just, like, it's excruciating, 24 hours a day, and it doesn't go anywhere,wp_postsMarquez Tolbert said. "It doesn't dial down, anything. It's just there." Tolbert believes that the second and third-degree burns along his neck, back and arms are scars of hate. "Why else would you pour boiling hot water on somebody?" Tolbert asked.