Feature image via shutterstock.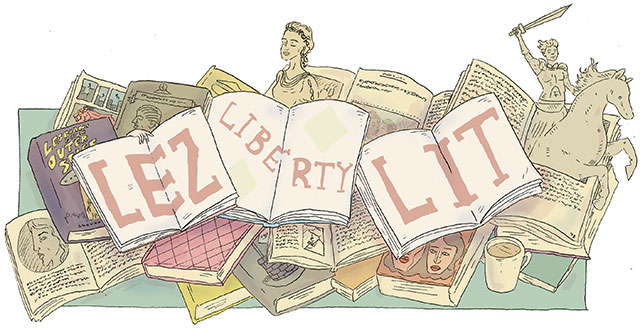 Things About Queer Books (And Other Books Relevant To Your Interests)
The Lambda Literary Award finalists were announced! Some of them include The First Bad Man, Under the Udala Trees, The Life and Death of Sophie Stark, Lost Boi, The Gay Revolution and more.
At Vox, Constance Grady writes about women's writing in the past, why it's forgotten, and where to find it:
"When a woman writes the kind of piece that is celebrated by male critics as "serious literature," she is told it is the kind of writing to which women are least suited and that she should avoid it at all costs, and her writing is dismissed on the grounds that it cannot possibly be as good as what a man might write.

When a woman writes about the home and domesticity, she is told her subject matter is frivolous and unimportant and unworthy of any kind of serious consideration, and her writing is dismissed because it cannot possibly be worth the time required to read it.

Men write literary fiction; women write women's fiction. And women's fiction is disposable."
Marijane Meaker, a lesbian pulp writer who wrote Spring Fire, one of the first in its genre, was profiled in the Advocate.
"The way to make something good is to make it well."
The best characters of color in science fiction and fantasy include Lauren Olamina from The Parable of the Sower, Mercy Thompson in the eponymous series, Alana in Saga and more.
At the New Yorker, Morgan Jerkins writes about black women writers and the secret space of diaries.
It's okay to not classify and sort everything, sometimes.
It's time the bestseller list became more diverse.
Loved (and out of) classic feminist books? Next, you should read We Should All Be Feminists, Black Feminist Thought, Feminism Without Borders, Bad Feminist and more.
Zines! They are great. (Disclosure slash brag, oh gosh press, which I help run, is featured in the article.) Also at Bitch, Anne Bean discusses zines and minicomics that explore the magical girl genre.
I don't even want to talk about History of Magic in North America so I'll let the GIF at the top of this post do it for me.
To help Native American girls and women deal with sexual assault, the Native American Women's Health Education Resource Center and Lucy Bonner have created a free illustrated book on what to do afterwards.
The best books about breasts include The Color Purple, Sex In History, Femen by Femen and more.
At Open Democracy, Kate Bornstein discussed the gender binary, anti-normativity, political impact, cancer and more.
Joanna C. Valente gave a fun interview about tarot and poetry, noting:
"Tarot is all about finding your way to fulfillment—how can you become more whole, more satisfied with your inner and outer lives. Nothing in life is perfect, but the Tarot forces us to evaluate ourselves on every level—emotionally, spiritually, psychologically, materially—so that we can move forward, not backwards. Poetry does the same thing for me—writing is an act of therapy—in general, writing allows you to become more self-aware and observant of the world around you, so I thought, I love both—why not merge them?"
And, in the New Yorker, Peter Bebergal writes about making the tarot literary (again).
Book Things To Do In Person
26 March, New York: Gabby Rivera's release party for Juliet Takes A Breath will be at Bluestockings (172 Allen St.), 7 p.m.
1 April: Submissions for Best Women's Erotica are open until April 1. The editor is looking for more queer stories, looking for stories starring trans women and open to a wide variety of stories featuring queer sexuality as long as they fit the guidelines.
Know of a queer event with literary merit? Send it to us! The Liberty Lit is bi-weekly.
---
Books! They are really great. You just won't believe how great they are. You may think that the Internet's great, but that's just peanuts compared to books. In Lez Liberty Lit, we talk about queer books and literary shit that's happening that you should probably care about.
The name "Liberty Lit" was inspired by the short-lived literary journal produced by Angela Chase at Liberty High School in 1994.