When Sharon Shattuck was a kid, her dad told her that she identified as a woman and that she was going to change her name to Trisha. Now, Sharon has decided to explore her father's experience, along with the experience of LGBT families across America by making a documentary. She's currently working on raising money for her film through Kickstarter (just one day left!).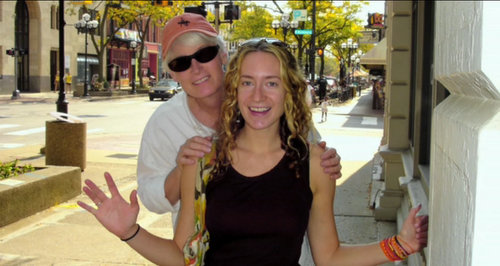 I recently had some back and forth with Sharon about what is was like to grow up with an LGBT dad in a time and place that wasn't necessarily always the most queer-friendly. As a future LGBT parent myself, I found Sharon's perspective to be both useful and educational.
GINA: Because I think it would be very useful for future LGBT parents to hear from a "kid" perspective, looking back on your experience with your dad, is there anything you wish either of you had done differently? Any questions you wished you had asked?
SHARON: I think the one thing that really sticks with me from my childhood is that I felt very alone–I felt like no one else's family was like mine, so I just sequestered that part of my life and didn't talk about it with my friends or acquaintances. Trish (my dad) became the elephant in the room — everyone in town knew of her, but no one wanted to ask questions or to understand our family dynamic. It was very Midwestern and stoic, but there was also an undercurrent of fierce suspicion and fear from some people in the community.
I guess I wish I had talked about it more, and been more open from the start, open to answering questions and diffusing the fear that some (but not all) people exhibited. It would have been an opportunity to educate people who might not otherwise know any LGBT people. I also wish that I could have met other kids from LGBT families, but I think that when I was younger, that Midwestern tendency to not talk about things also ran pretty strong in me, so it might not have really changed things much.
I also wish that there was some sort of template for us during dad's transition. I think that it was as confusing for my dad as it was for the rest of the family — much more confusing, I think, than not having kids, or transitioning prior to having kids. We never really nailed down which pronouns to use, or what to call dad, besides "dad" — because I feel like "mom" is off-limits, since I have a mom. And dealing with all that in a very small, conservative town only compounded the stress, because we were getting negative feedback from certain people in the community.
G: Speaking of that, let's talk a little about your mom. How was the experience for her?
S: Well, dad told mom about being transgender before they got married, although I'm not sure they knew the term "transgender" back then. Luckily, my mom decided she was ok with that part of dad's identity… back then, it wasn't something that dad wanted to express in public, and so they've definitely had to evolve together over the years to make the marriage work once Trish realized that she wanted to identify as a woman. My mom considers herself straight, in that she's attracted to men, so I think that being with Trish posed some challenges. Trish never had "sexual reassignment surgery" (SRS) though. I think that eventually my mom and dad came to a compromise and learned to love one another for the people that they are. There is an element of gender compromise there for my dad, too — over the years, Trish has oscillated from being more feminine to being almost gender neutral, and I think partly that was due to her desire to stay with mom.
G: That must have been tough for both Trish and your mom. How has your extended family reacted to your dad's transition? Has everyone been supportive?
S: I don't think dad's gender identity was necessarily a surprise to anyone in my extended family. Trish grew up in the 60s, and was a long-haired hippie, so there's always been an "alternative" element there. I think it was somewhat difficult for my dad's brother and sister, because they grew up with "Michael," but I was recently in Chicago with my extended family and it was really heartening to hear my aunts and uncles refer to dad as "Trish," and to hear my cousins just use "Trish" automatically. My grandparents, dad's parents, also were fairly supportive, after an initial adjustment period. Really, I think ours is one of the more happy stories of a trans person finding acceptance within the family; there are unfortunately a lot of transgender people who feel they have to hide that side of themselves from their family indefinitely, or who are completely ostracized. I'm so glad that didn't happen to dad.
G: What were some of the biggest positives of having a trans dad? How about the negatives?
S: I think the biggest positives of growing up with a trans parent are probably the same as the positives of growing up with any LGBT parent. I grew up painfully aware of how it feels to be different and so I was uncomfortable talking about people behind their backs, and tried not to judge people for being different. I think it also helped me to understand the unique struggles and discrimination that LGBT people sometimes face, so I've been an advocate and ally for LGBT rights for many years now. Also, growing up with a parent as unique, creative and unabashedly "weird" personality-wise as Trish made me realize that it's okay to be different. Trish always says to "follow your bliss," and I try to do that with every decision I make.
On the negative side, I think it's just tough to feel drastically different because of something that's out of your control. I felt embarrassed of dad when I was in elementary and middle school, because kids would ask me questions about my family that I didn't know how to answer. I worried about offering my friends a ride home from school, because I wasn't sure what Trish would be wearing when she picked us up. Trish was very uncompromising with her femininity when my sister and I were in elementary and middle school, and that caused some serious tension in our family, because that was also a point in our lives when the most important thing seemed to be fitting in with our peers. I did wish for a "normal" dad back then.
G: Because this has come up a lot in comments about your piece and because there is a wide variation in terms of knowledge about the trans community, I'm wondering if you can talk a little about your dad's use of gender pronouns. You refer to her as "Dad," and sometimes "him," and "he." Does she go by both male and female pronouns?
S: Sure. I'm learning that calling a transgender parent "dad" is far more contentious in the trans community than I realized! My sister and I grew up using "dad," and Trish never requested any other term. When I say "dad" I almost automatically say "he," because, well, my brain is hardwired that way, but I'm trying to change that by using "Trish," which reminds me to say "she." In a recent interview, I posed this pronoun confusion to my dad, and asked what pronouns people should use when addressing her. Trish said, "whatever they're most comfortable with." But I think that she appreciates it when we use feminine pronouns, because it's an issue of respect.
What I want to make clear, though, is that this is how MY family chose to be, but it's not how every transgender family is. That's part of the reason I want to meet and interview lots of other LGBT families, as well as experts, journalists and researchers, so that I can incorporate their stories and viewpoints into the film, too.
To learn more about Sharon's film, Project Dad, check out the official site–or watch a section of it on The New York Times.