With Heart and Teeth is a radical trans* punk lady's exploration of embodied selfhood wherein she takes voyages through the permeable boundaries of self and the ever shifting sea of identity. She claims investigation of self as a worthy venture and critiques social construction with the compassion and fierceness that inhabit her heart and teeth.
---
I haven't come in three months, and for me that's a hot minute. This isn't for lack of trying though; I've spent a lot of time with my arched back pressed against my mattress working for it. You see, I am much too numb. I'll push and pull, wiggle here, massage there and then, covered in sweat and lube, I'll let out a final sigh and give up.
I just had surgery, The Surgery, and have a brand new cunt which I affectionately termed my "lady bits." These lady bits are numb and, although sometimes it feels like something approximating good, nothing I do is ever quite right. There's always something holding me back from bursting into the beautiful, bright starburst of orgasm.
I don't tell you this because I think my surgery status or lady bits are any of your business; they're really not. But I had to introduce myself somehow, and this is just too good a metaphor to pass up. I exist in a way that defies naming and cannot be perfectly captured in words, much less in simple labels. My gender (and subsequent presentation) is unique and constantly shifting.
I'll try things on and toss them off again. The confluence of my particular sort of punkesque femme, gender non-conformity and transness leave me without a simple way to say "this is me." I cannot simply say that I'm a tranny femme, or a punk rock faggot, or a radical queer, or a woman, or a creature because I've been all of that, I am all of that. The process of finding a comfortable gender feels a lot like searching for the right sex toy to appease my numb and swollen cunt.
A few weeks ago I did a ton of internet research on sex toys, by which I mean glorified window shopping for silicone phalluses, and it really reminded me of searching for a way to be embodied and gendered in the world. I have been playing with my gender identity and presentation for a long time now, and nothing has stuck around forever.
It's as if I'd grabbed one of these plastic penises off the digital shelf and used it either until I was bored or until I realized that, no matter how I angled it, this just wasn't going to work out. The first time I shifted my gender consciously and with intent was literally years after becoming aware of my latent transness. I'd dealt with so much shit for being a faggot and "a boy who thinks he's a girl" that it took me a while to build up anything amounting to the courage I needed to make life livable.
But when I was 19 or 20 I realized that I hadn't overdosed or killed myself like I thought I probably would. It was as if I were waking up from a traumatic dream, legs twitching and kicking, arms ensnared in a sweat drenched bed sheet, eyes pounding from side to side. I found myself staring through tears at hands that felt as if they were on fire wondering what my body was, what I was. Luckily, I was enrolled in an English course that was cross-listed as a Gender Studies course. In many ways, it saved me.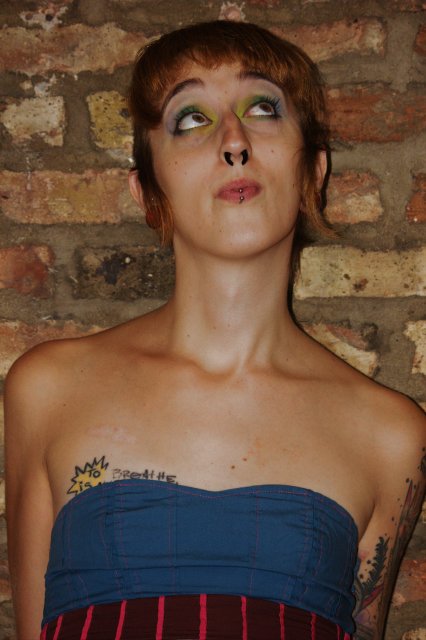 I remembered moments from my whole life that mapped onto this looming gender question mark. I talked about it with a few queer friends of mine and signed up for every gender studies course I could; I needed information to deal with the impending shift in my life. I needed to know that there was space to exist in. I needed to believe in the possibility of being able to feel.
As big as it all felt, it happened slowly. A pull here, a wiggle there. I grew out a slightly longer mohawk and started sweeping it off to one side and, not too much later, added a glittery barrette. All of a sudden I felt something through the numbness. When I went to the grungy bathroom I shared with another punkish human and looked into our greasy, smoke-stained mirror, I cocked my head to one side and connected my eyes with their own reflection. This is a practice that had been happening throughout my life, but until that first intentional shift, I would stare at the mirror as if it were a stranger every time. This first shift, however subtle, allowed me to feel as if I were somehow connected to my body in a new way.
It was more exhilarating than cocaine snuffed off a gay boy's keychain in an alley, but eventually I built up a tolerance to this slightly transformed self and started to feel numb again. Now, when I find something that works for my new cunt, it will often stop feeling good as soon as it starts. There's something about numbness and nerves reconnecting and learning to associate with my (new) body that means things just stop working for me. So, despite my shifting presentation, I was still nominally living as a boy and I once again became detached from my embodied existence.
My queer boy presentation increased the amount of interpersonal social violence I experienced but didn't bring me long-term connectedness to myself. Our culture's binaristic view of gender didn't allow me to exist as what I was, a creature between genders. There is no template for the kind of boy I was so I was socially pushed to either reinscribe masculinity onto my body or shift further into normative femininity.
Over the course of time I shifted a lot. There have been many pushes and pulls in my gendered life, like fingers on swollen labia, that have twisted and shaped who and what I am. I won't suggest that there is some essential me buried somewhere beneath the surface of my now-estrogen-soft-skin that is trying to rip her way out. Personally I believe that I have been shaped by the world around me in myriad ways and that my current incarnation is just that, the shape I am now.
I won't pretend that I have it all figured out. I'm still learning what works and what doesn't, and I know that even when I find something that does work it could change. I'm trying to stay open to that process, no matter how tedious or complicated it may get. Mostly though, what I mean to say, "Hello, my name is Ellie (for now) and I think a lot about myself/my body and how I am in the world. I try to cultivate love and fierceness and I'm going to try to come to this new relationship with heart and teeth."
---
About the author: Ellie June Navidson is a blogger, poet, workshop facilitator, dressmaker, and all around crafty radical. Last year, in 2012, Ellie was name as a Windy City Times 30 under 30 Honoree; this year, in 2013, she was named a Trans 100 Honoree. More essays and contact information can be found at her personal blog: invisiblyqueer.tumblr.com.